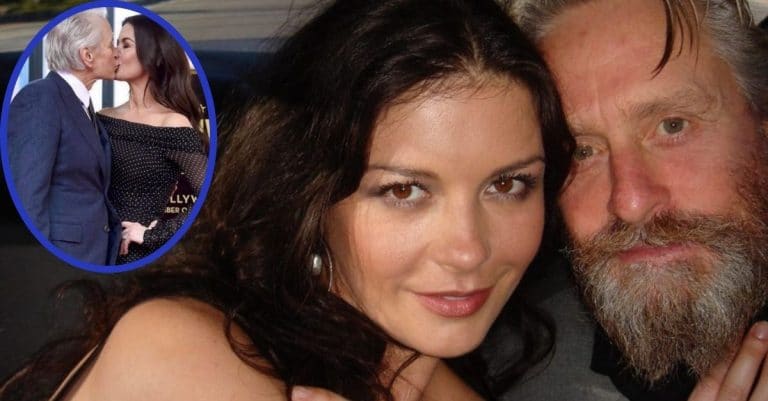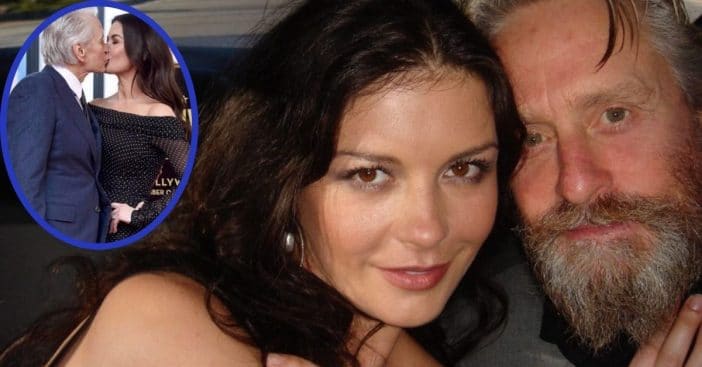 So many years spent together can cause the days to bleed into each other. Time flies when you're having fun, and Catherine Zeta-Jones and Michael Douglas have two decades and counting of fun together. After seeing them together so often, taking a look back in time can be jarring. That's just what happened when Zeta-Jones shared a throwback photo of her and Douglas.
The photo comes from a time "when there was more hair on Michael's face than on my head." Shared to her Instagram on Sunday, it gained a lot of fast praise from fans.
Catherine Zeta-Jones shares throwback photo of her and Michael Douglas that has fans reeling
View this post on Instagram
"When there was more hair on Michael's face than on my head," Zeta-Jones captioned her throwback photo with Douglas, ending with a laughing face. The picture in question shows the two of them sat close together as they smile at the camera.
RELATED: Catherine Zeta-Jones's Snow-Covered Mansion Looks Like Wintry Palace
Indeed, Michael's head is covered with graying locks on top of his head and covering his chin. Meanwhile, Zeta-Jones has her characteristic long dark locks, absent only briefly last year for a little Halloween experiment. Since going live on social media, the photo received over 151,000 likes. Comments continue to pour in praising the couple's romantic life and their looks. The debate rages over who has the best smouldering stare.
20 years and counting
View this post on Instagram
Today, pictures of Douglas and Zeta-Jones show him with grayer hair, cut in a more tame manner. But at the heart of each picture is a couple still enjoying a strong union across two decades. They met back in 2000 when Douglas attended a screening for The Mask of Zorro, in which Zeta-Jones co-starred alongside Antonio Banderas and Anthony Hopkins. Though at the time Zeta-Jones was still considered a rising star, Douglas recalled seeing the film and knowing, "Wow, who is this girl, she's incredible."
In a sort of game of telephone, Douglas asked his assistant if, during a film festival a month later, he might secure an audience with the actress. He got his first meeting, which proved to be a dream come true, and the two met up at a bar later. Douglas described her entrance like looking at a "mirage." Per Fox News and an audio story shared to social media celebrating their 20th anniversary, Douglas recalls how lucky he felt that the stars aligned for their first meeting to go so well. Imagine how lucky he'd felt if he knew how far it would go!