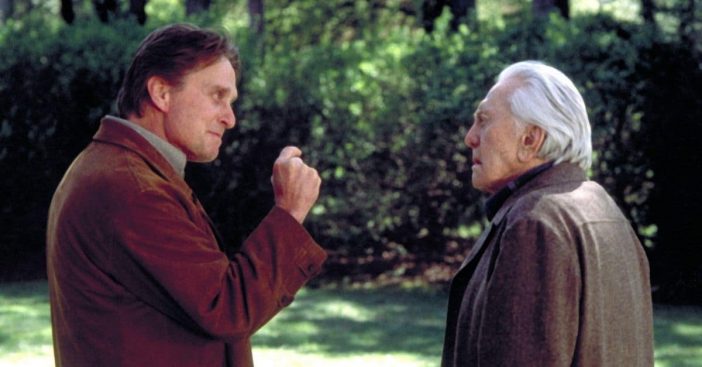 Kirk Douglas would have turned 104 years old this year. Sadly, the iconic actor died in February at the age of 103. To celebrate the anniversary of his birthday, his son Michael Douglas and Michael's wife Catherine Zeta-Jones paid tribute to him on social media.
Catherine shared a black and white photo of Kirk giving her a kiss on the cheek. She wrote, "Missing you every day. Happy birthday Pappy " What a sweet photo and message from his daughter-in-law.
Kirk Douglas would have turned 104 years old this year
View this post on Instagram

Meanwhile, Michael shared a video with several photos of himself and his father over the years. He wrote, "Happy Birthday Dad! I miss you and thank you for always giving the best advice! Love, Michael (Volume ⬆️) #KirkDouglas" What a special tribute!
RELATED: Michael Douglas And Catherine Zeta-Jones Reflect On Memories Of Late Kirk Douglas
Catherine previously said, "He crosses our minds every day. But for me, during this time of, 'OK, we are all locked down, what do you do?' It's so easy to go into a procrastination vibe. And Kirk, he went through so much from a helicopter crash to a stroke and then just age, being alone and what does he do with this time."
View this post on Instagram
She continued, "And what was so admirable about him was he was always involved with courage events, he wrote 11 books, he worked with his rabbi, he worked with his philanthropic endeavors and he always created something to do and he taught me that lesson. He always said to us, 'Write a book, do something else. What are you doing?' And he'd be working on something right now, I'm sure."
RIP Kirk.