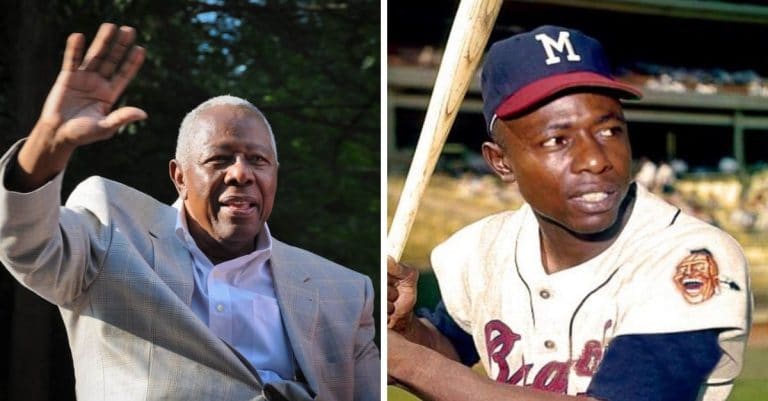 MLB legend Hank Aaron dies at age 86.
He was known for surpassing the home run record of Babe Ruth in 1974.
Aaron has previously discussed the hate mail he would receive in a time of bigotry and racism.
Major League Baseball icon Hank Aaron has been reported dead at the age of 86. He was an MLB Hall-of-Famer who was also the league's all-time home run leader for over 30 years, surpassing the similarly legendary Babe Ruth in 1974.
CBS 46 in Atlanta first reported Aaron's death, but no cause of death was disclosed.
Remembering the legacy of Hank Aaron
The baseball world loses an icon and a great man today. Hank Aaron is a Hall of Famer, a champion, an MVP and a Presidential Medal of Freedom recipient. pic.twitter.com/wfRPEFFI1c

— Scott Grodsky (@ScottGrodsky) January 22, 2021
Aaron first began and ended his career in Milwaukee, spending his first 11 years with the Milwaukee Braves and then his final two with the Milwaukee Brewers. He was a 25-time All-Star World Series Champion and national league MVP. Both of his Milwaukee teams have retired his number, No. 44. The sports legend was also awarded the Presidential Medal of Freedom.
RELATED: 'Jeopardy!' Fans Lose It After Contestant Mixes Up Jackie Robinson And Babe Ruth
Aaron, who is now known as a national sports legend, came into the world during a time of bigotry, segregation, and racism. In 1974 there was no sports record more celebrated than the all time home runs record. Babe Ruth, an outsized legend both on and off the field, had retired in 1935 with 714 home runs, an astounding 336 more than his closest competitor. In the years since no one had come close to Ruth's total, with only Willie Mays even breaking 600. But by the end of the 1973 season, Hank Aaron of the Atlanta Braves  had whacked 713, making the record falling an inevitability.
That year Aaron received more mail than anyone in the country except politicians, much of it racist hate-mail not wanting a black man to break the most hallowed record in sports. But most of the country rallied around him, with Ruth's own widow stating that her husband would have loved to have Aaron break the mark. And on April 8th, 1974, with the eyes of nation on him, Aaron did just that. In front of 53,000 spectators, Hammerin' Hank smacked a fly ball to left field that landed in the Brave's bullpen, and calmly trotted around the bases and into the list of baseball's all time greats.
RIP to the home run king, Hank Aaron pic.twitter.com/bJl5NjKwB0

— Aaron Rupar (@atrupar) January 22, 2021
Actually, on the night that Aaron broke the record previously held by Babe Ruth, his bodyguard stood disguised as a fan with a gun hidden in a binocular case with police snipers on the stadium roof… just to be on the safer side. "These people feel this is going to be a weak part of me," Aaron would say about the hate mail he received. "They think they'll upset me with their words or their shouts, that they'll get me where I can't do the job. This won't happen. I don't like it, but I always do my best. This only makes me more determined."
Rest in peace to one of the MLB greats.