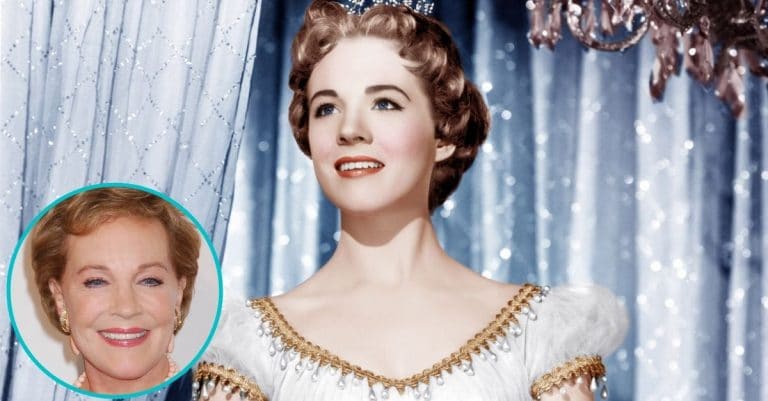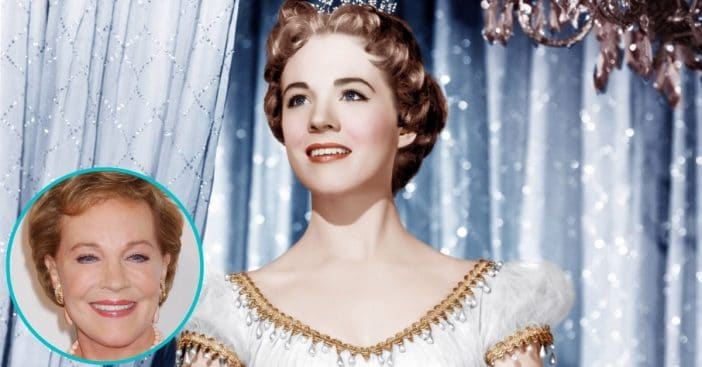 UPDATED 12/21/2021
Nearly a decade before she starred in Walt Disney's adaptation of Mary Poppins or brought Maria Von Trapp and The Sound of Music to the big screen — and long before she desperately tried to change her image — actress Julie Andrews was capturing the hearts of America in the one-two punch of the Broadway hits, The Boy Friend and, especially, My Fair Lady. Some people would be pleased to have that kind of success somewhere in their career, but that's how hers began. And, 70 years later, she's still going strong.
Julie was born on October 1, 1935, and her eventual road to show business seems to have been inevitable. In 1960, The Tribune of Indiana offered up this description of her background: "Julie Elizabeth Andrews made her stage debut at the age of three in a children's pageant in which she played the timid member of a trio, 'Winken, Blinken and Nod.' Julie's parents, a musical variety team, enrolled their daughter in the act at about the age of 12. Her stepfather introduced her to Val Parnell, the impresario of London's famed Palladium, who auditioned her on the spot for the production of Starlight Roof. Parnell signed her immediately, and when Julie performed, at the age of 12, an aria from Mignon on opening night, she stopped the show."
RELATED: Whatever Happened to Julie Andrews, Maria Von Trapp from 'The Sound of Music?'
Added The Charlotte Observer, "And she's been busy ever since. There have been stints in variety and revue shows in London and the provinces, which enabled her to sing serious as well as popular music and roles in those elaborate spectacles of the British show world called pantomimes. She was playing the part of Cinderella when director Vida Hope, casting the upcoming  The Boy Friend company for New York, asked her to join up."
Broadway Bound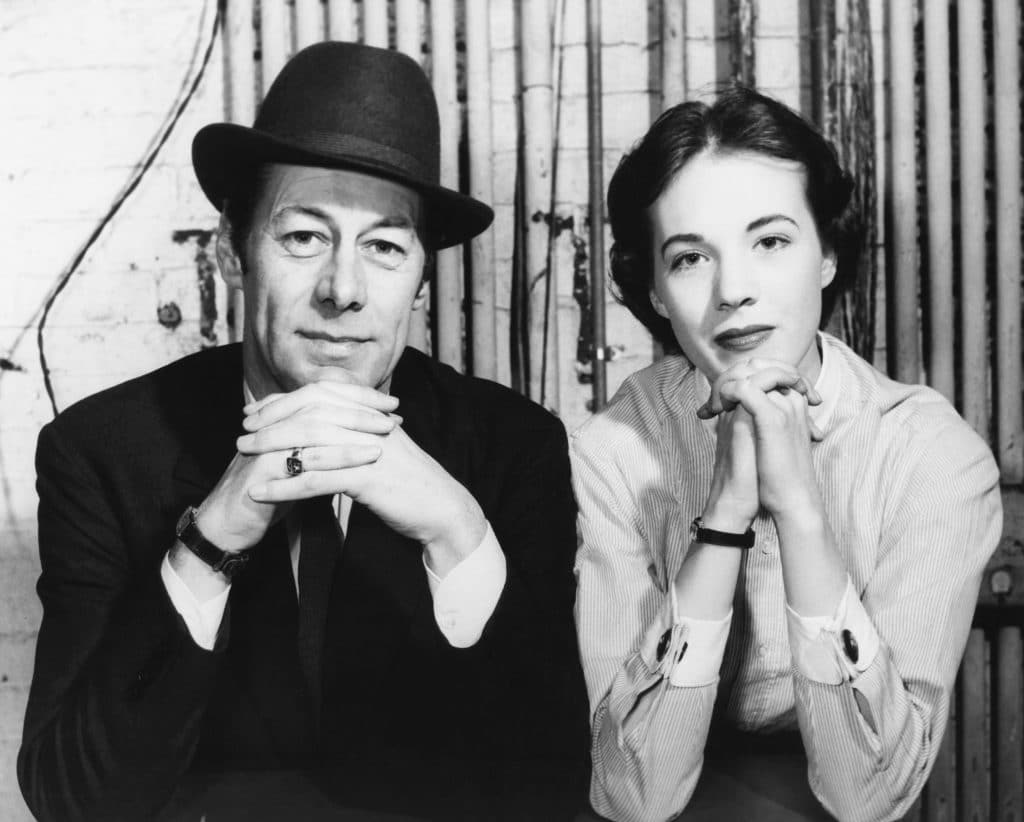 Just before she turned 19, Julie made the temporary move to New York (which would become longer than she ever thought it would) to star in the musical comedy The Boy Friend, a spoof of revues from the 1920s. Reflected the actress to the Star Tribune of Minnesota in 1955, "This is my first show that my parents haven't seen me in. I worked a lot in the pantomimes in London and I was in television and radio. The picture companies want me to do all sorts of things over here, but I'm in the lovely position of not having to make up my mind right away. I have a long time to run with The Boy Friend — at least they say it's going to run a long time."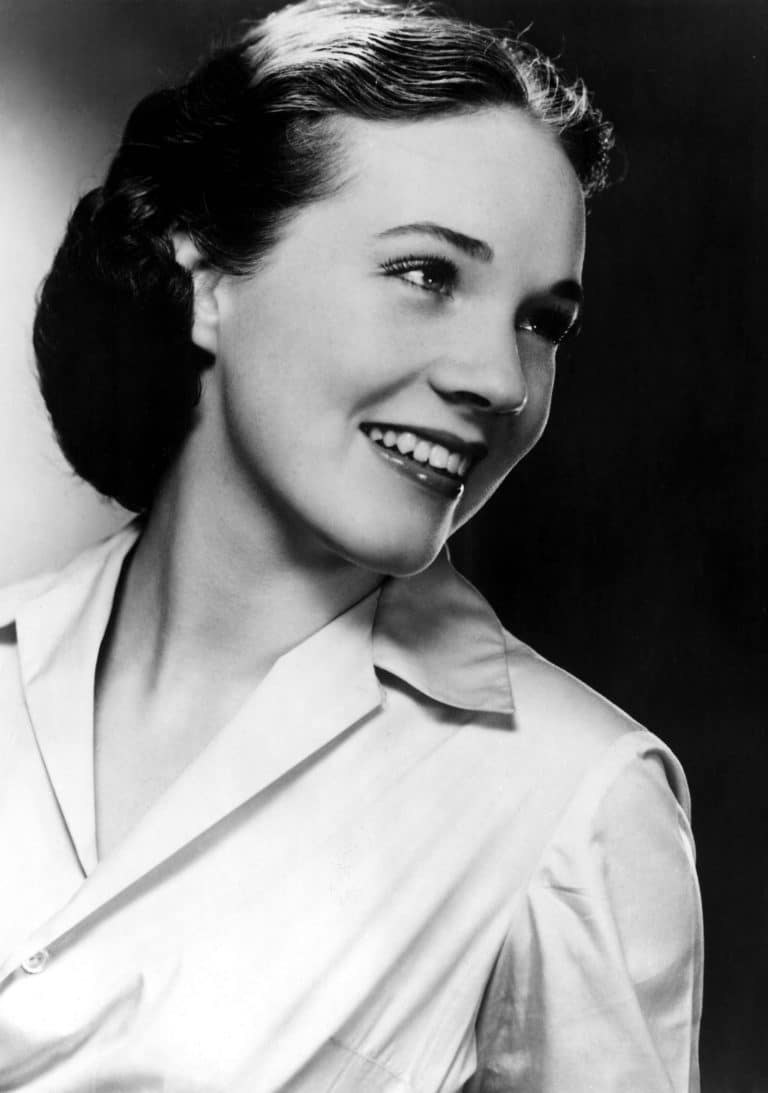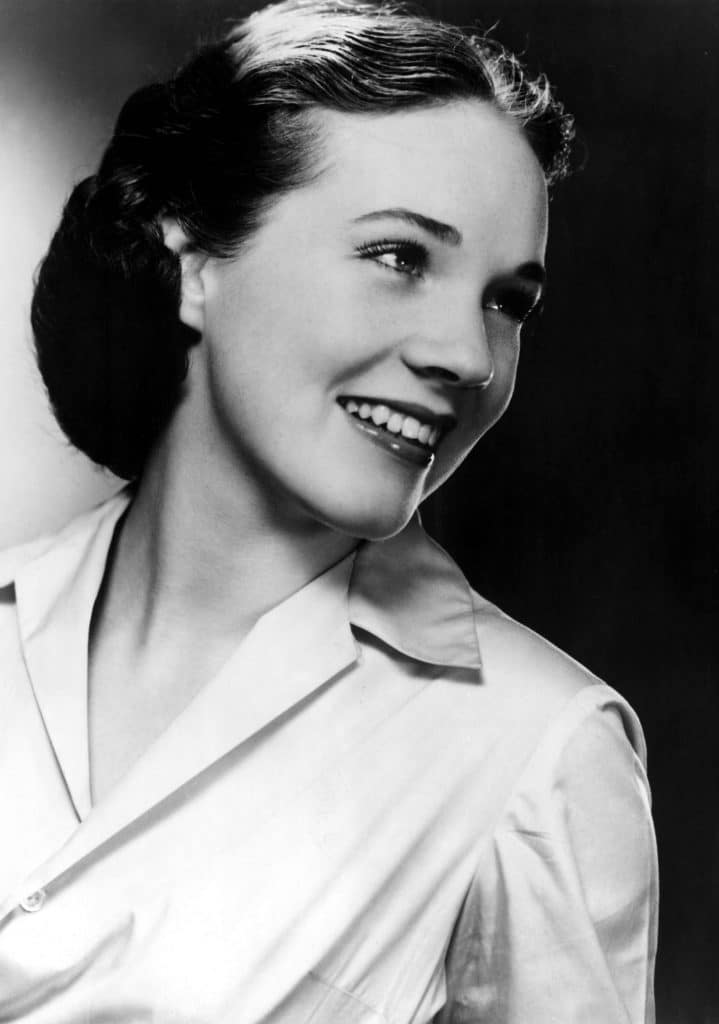 Actually not that long, relatively speaking. In 1956, though, she was back on the stage co-starring with Rex Harrison in My Fair Lady, playing Eliza Doolittle. Between the American and London productions of the show, she would play the part for three-and-a-half years. Somehow, all of this success wasn't overwhelming to her.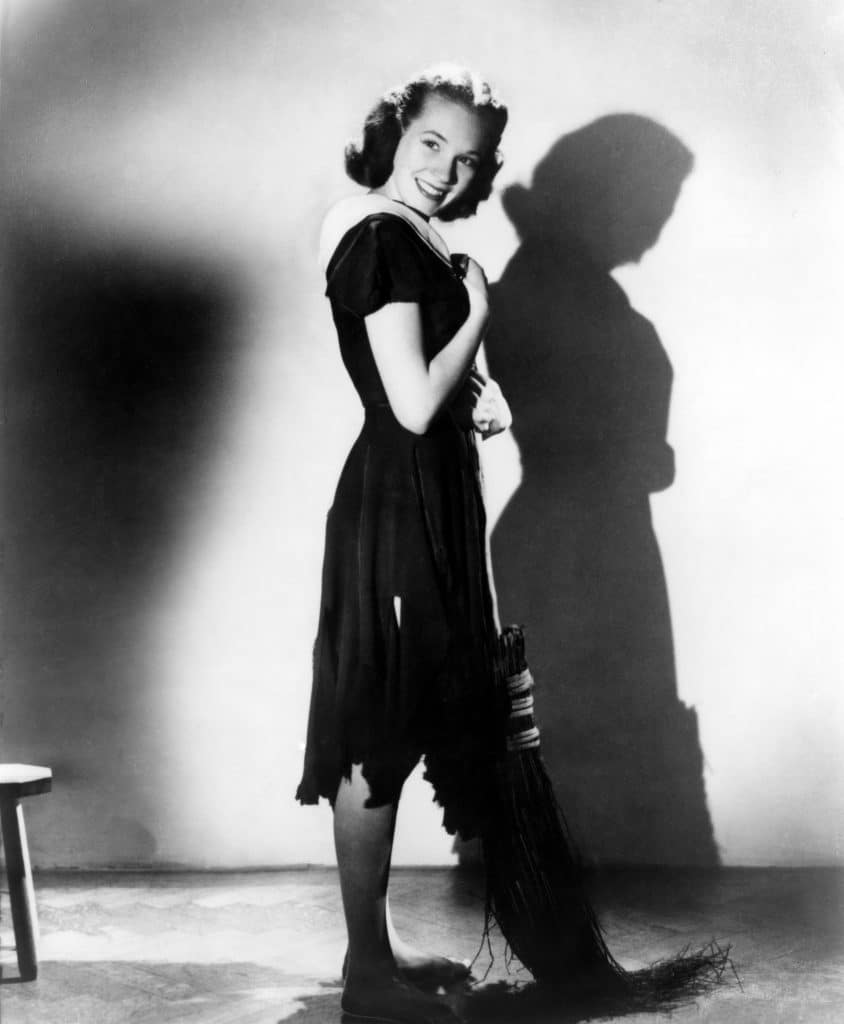 "When one gets a splash like this," she offered to The Lima News of Ohio in 1956, "one has to be very careful that it doesn't go to her head, you know what I mean? Losing one's values would be a terrible thing. I don't want to stop loving the country side or being grateful for gifts or wanting to go home to see my parents."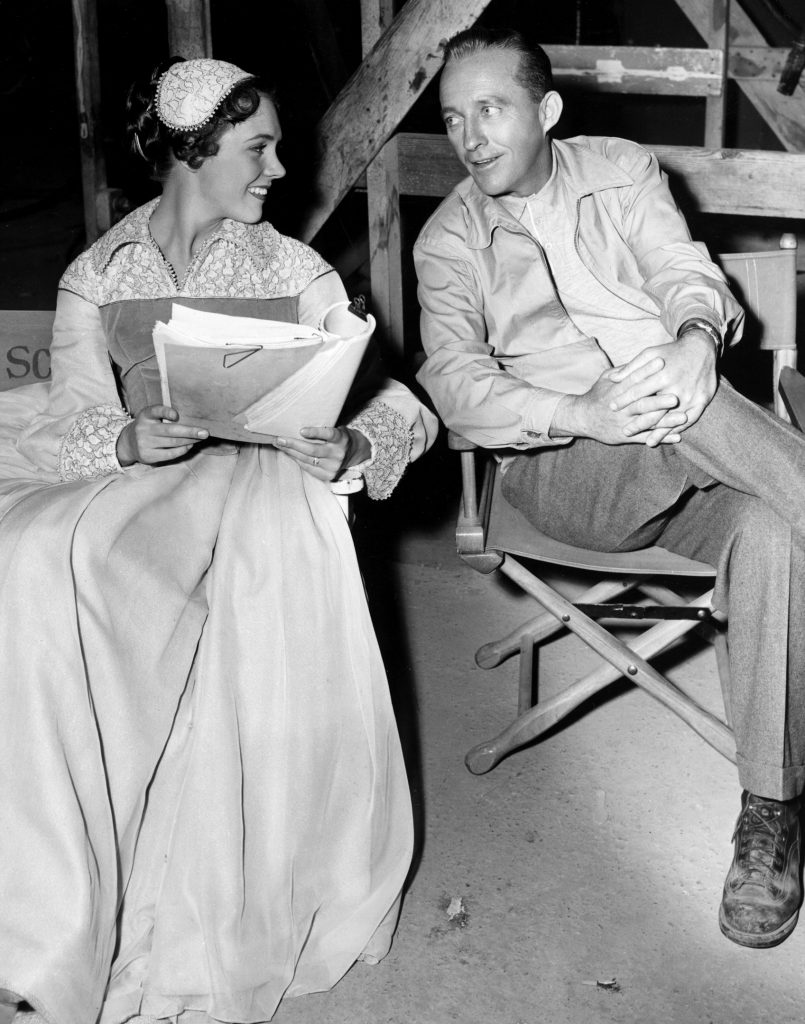 Sorry, no time for that. That same year she appeared on the made-for-TV movie musical High Tor, starring with Bing Crosby who had no idea how young his costar was. As she would point out to the Fort Worth Star-Telegram, "The producers who asked me to do High Tor wouldn't tell Bing my age. I was only 19 then and they thought he might think I was too young to play opposite him. When he asked them my age, they said, 'Oh, she's about 23 or 24.' We were almost through rehearsals before Bing learned the truth."
'Cinderella' and Richard Burton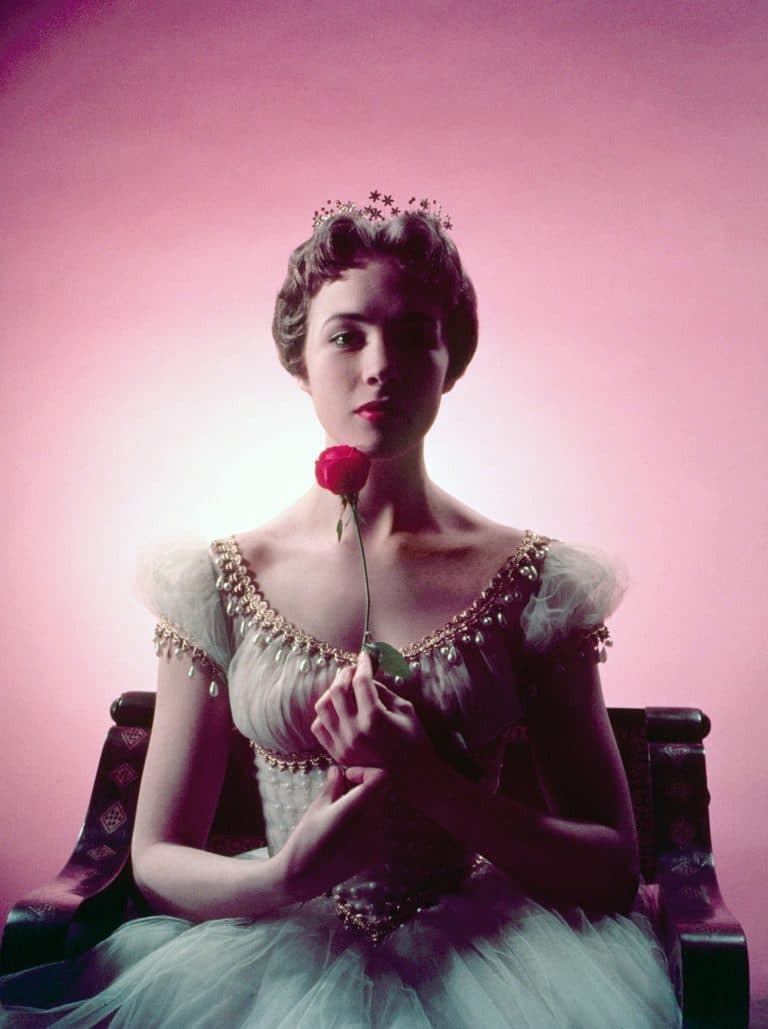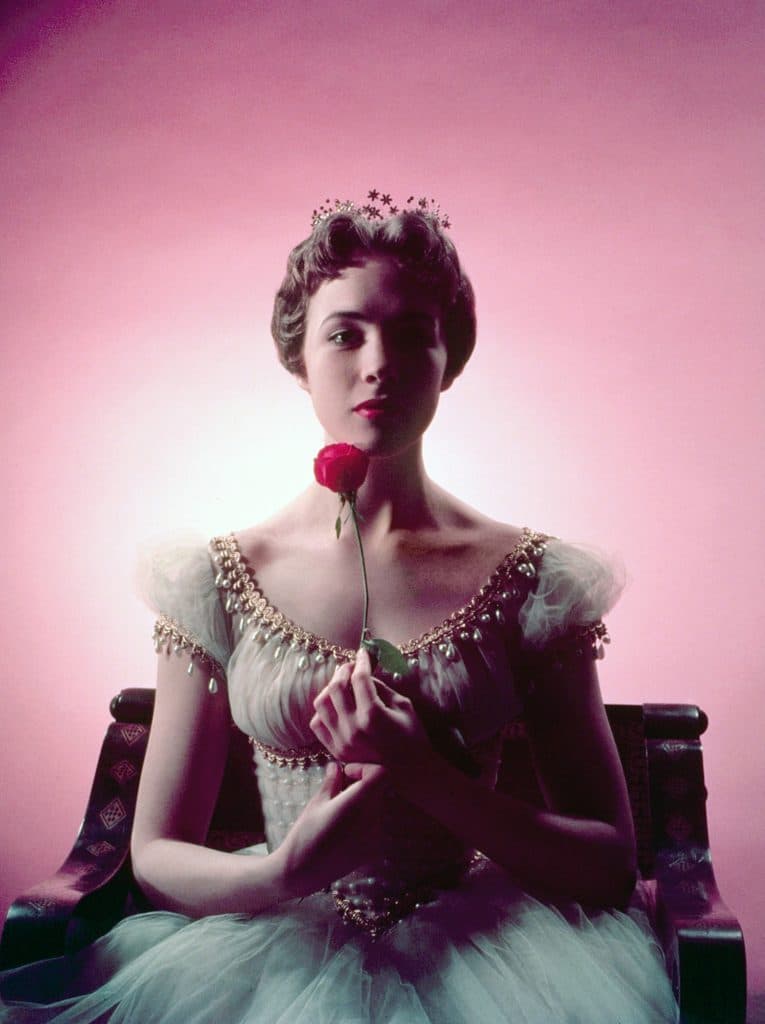 Julie's success in My Fair Lady led to her being cast in the live television production of Rodgers & Hammerstein's Cinderella. As she admitted to the Chattanooga Daily Times in 1958 as she was leaving My Fair Lady (and being replaced as Eliza by Anne Bancroft), "I feel an awfully important part of my life has occurred here. I don't think I'm any different inside, but I have learned an awful lot here. I suppose that I'm still a stupid and silly girl in many ways, but not like I was when I first came here. Now I have a feeling that I could go anywhere in the world and stand on my own two feet. In My Fair Lady, I guess I have grown up."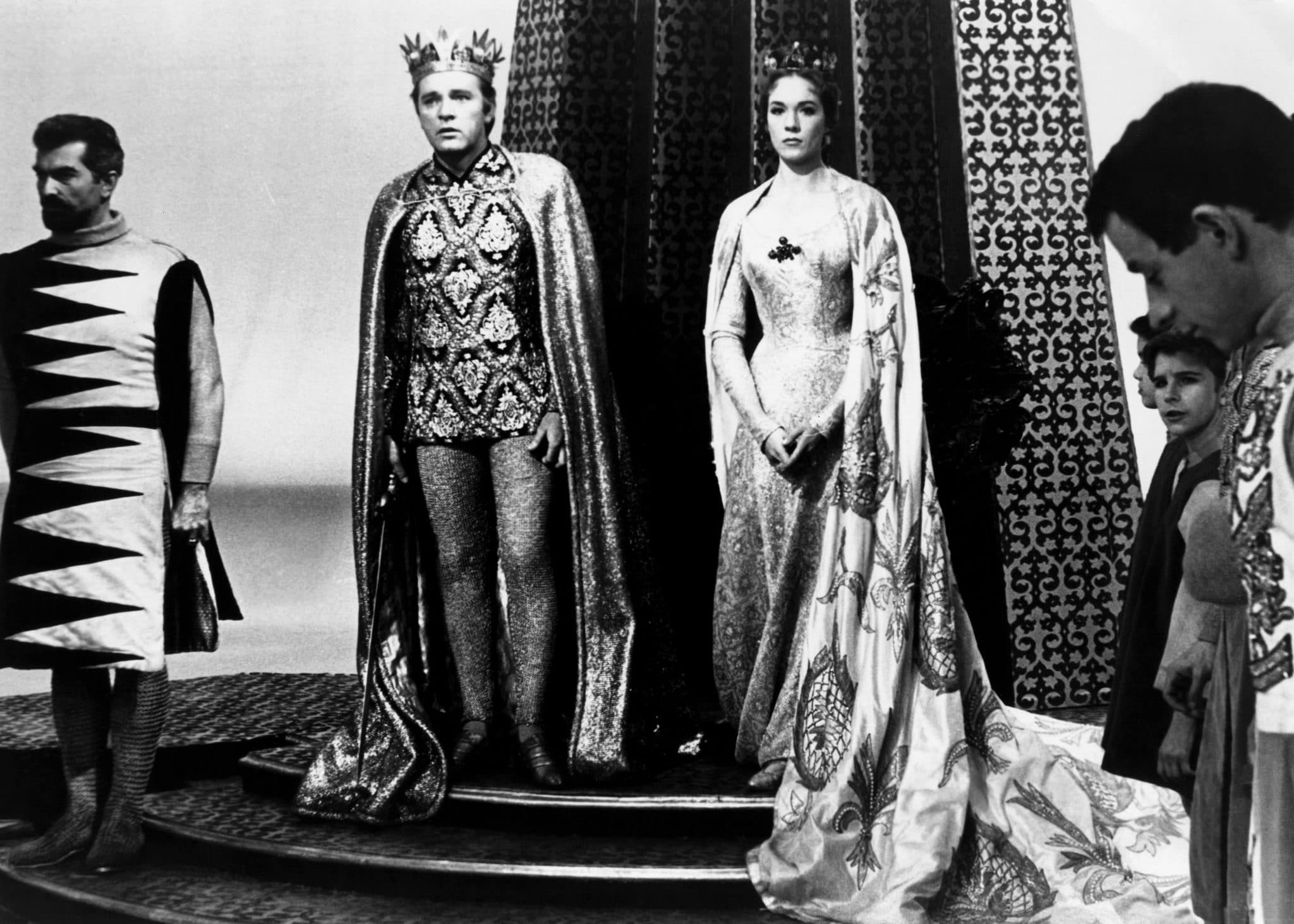 There was a return to Broadway in 1960 for Camelot, the musical that saw her playing Queen Guinevere alongside Richard Burton as King Arthur, which ran until 1962. Surprisingly, Julie was not asked to play Eliza Doolittle in the movie version (though Rex Harrison did reprise his role, performing opposite Audrey Hepburn), but this was okay with her as Walt Disney had signed Julie for her first movie, Mary Poppins.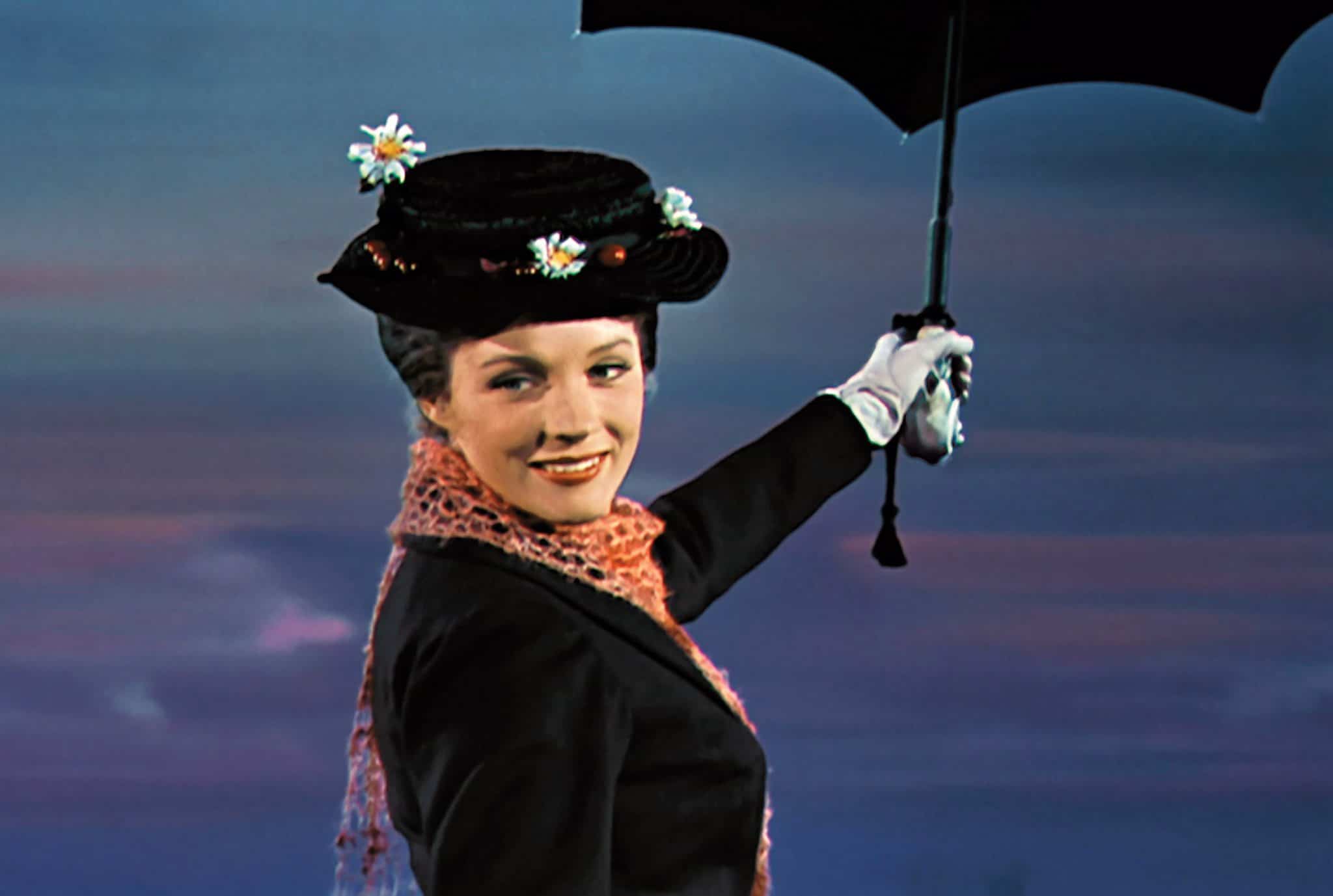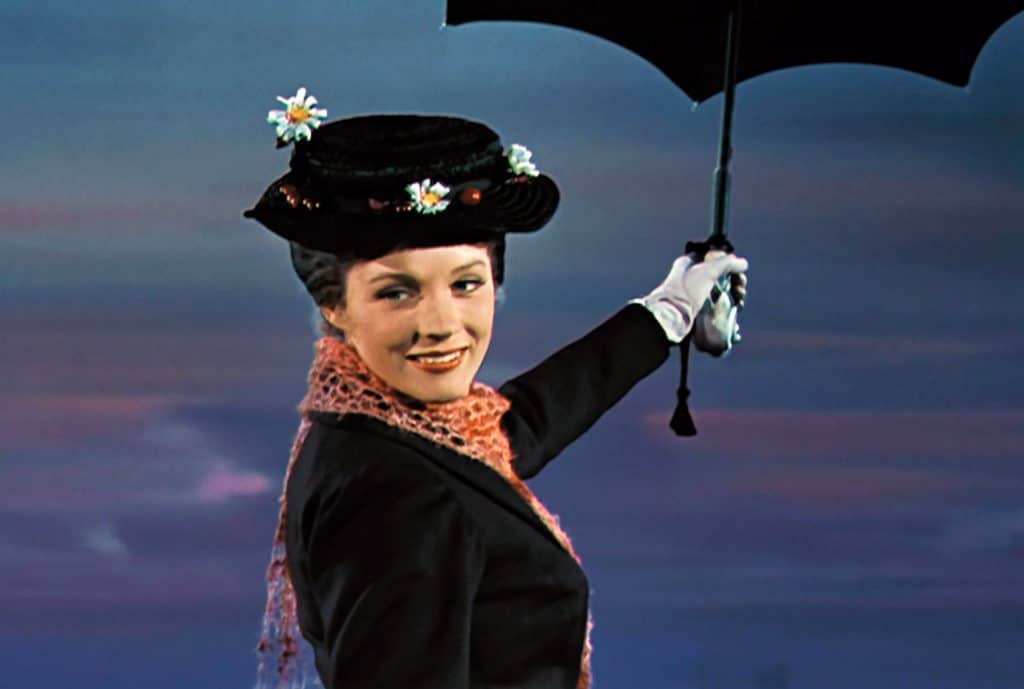 "When a studio has a hot property like My Fair Lady, they've got to protect their investment," she said philosophically to the Albuquerque Journal. "Audrey Hepburn is box office." When it was suggested that Disney was taking a $6 million risk on her with Mary Poppins, so shouldn't Warner Bros, she added, "I suspect that Jack Warner is not Walt Disney. But, honestly, I'm perfectly happy here. if anyone but Audrey Hepburn had got the part, I'd probably feel awful, but she's a marvelous girl and will do a splendid job. And I'm not just saying that, either. If you look on the bright side of life, no one will darken it for you. That's why I don't feel sad about Audrey Hepburn. I just feel ecstatically happy that I'm playing Mary Poppins."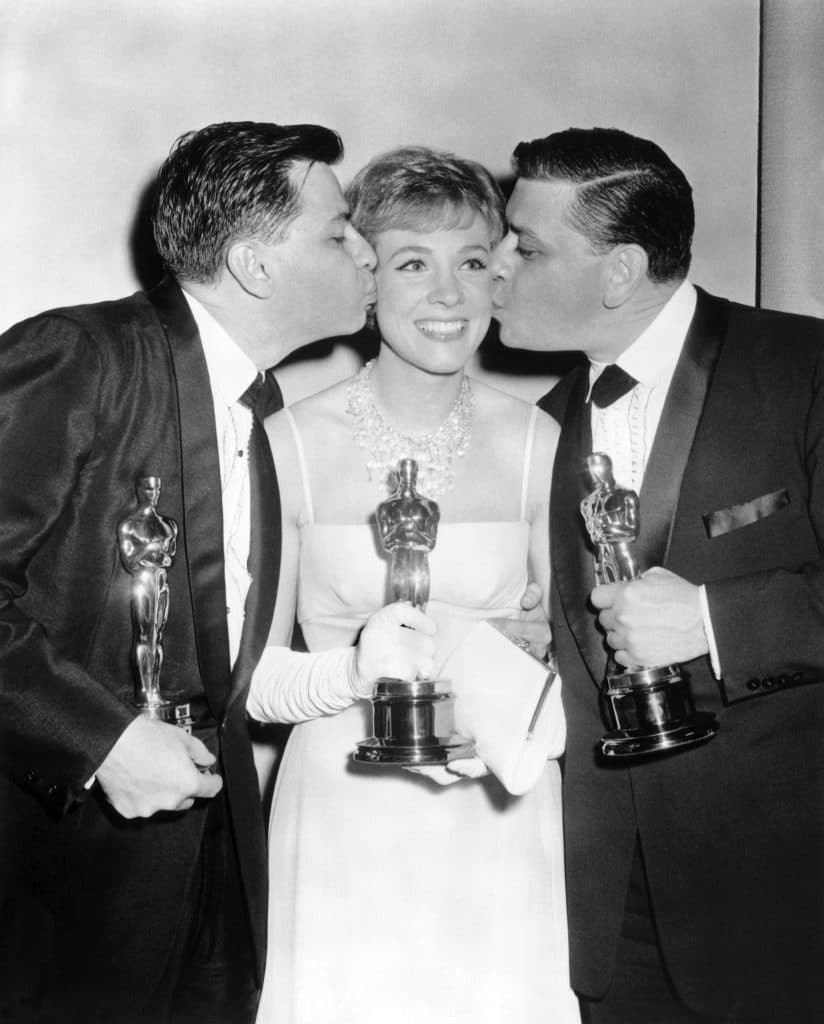 The part — for which she won the Academy Award in the category of Best Actress — came her way when Walt Disney was in the audience of The Ed Sullivan Show and saw she and Richard Burton, in costume, perform music from Camelot.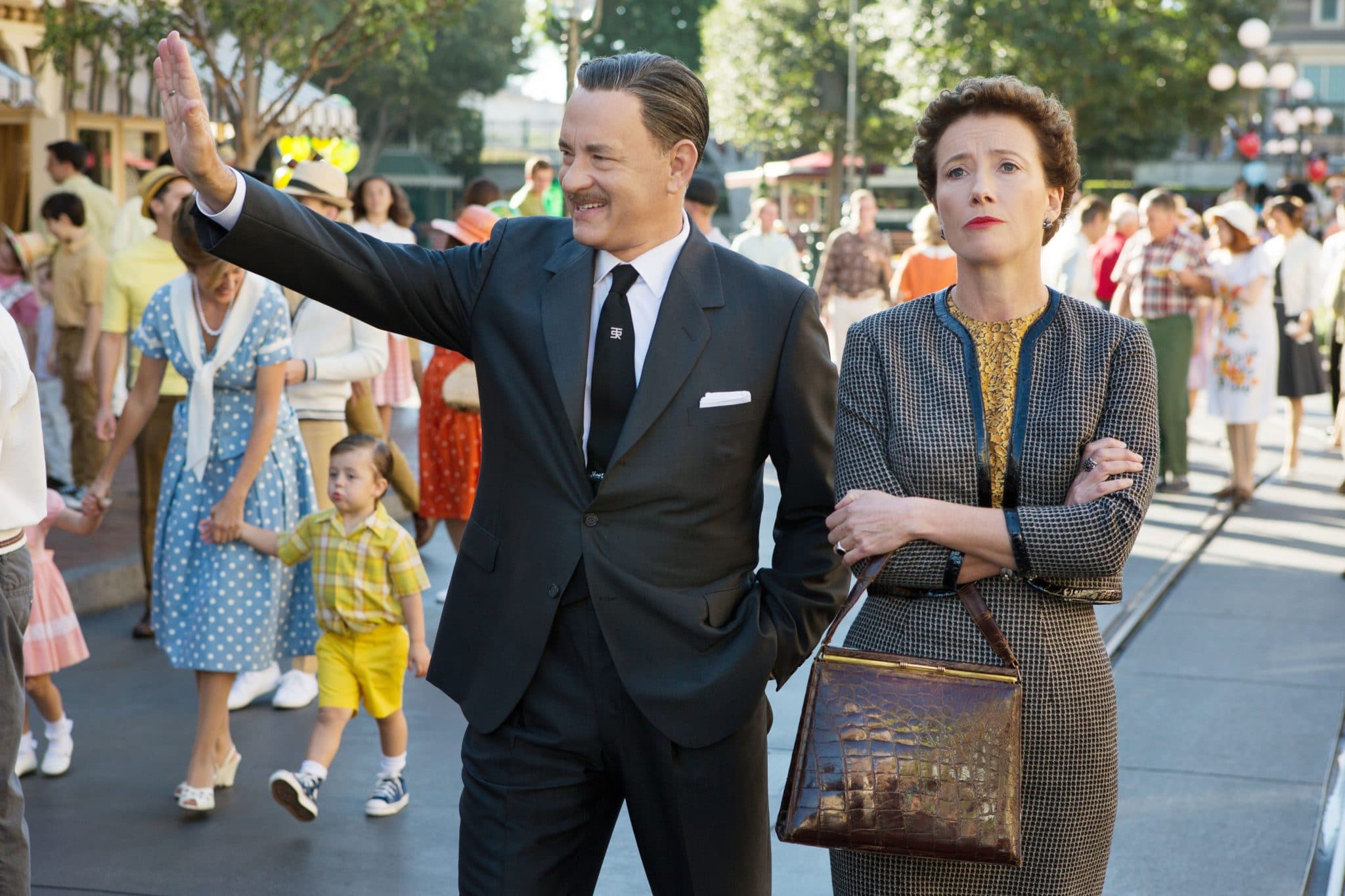 "I'd heard that Walt Disney was out front and had requested to come by and say hello," Julie told ABC News. "After the show, he came back stage and mentioned the live action animated film that he was hoping to make of P.L. Travers' Mary Poppins and I said, 'Oh, Mr. Disney, I would be thrilled. I've never made a movie.' And he was so sweet and charming and tinkly and lovely, but I added, 'I can't. I'm pregnant.' And he said, 'Oh, that's okay, we'll wait.'"
The day after her baby was born, Travers phoned and basically said, "You're far too pretty, of course, but you've got the right nose for it." Whatever that meant, Julie had her approval."
'The Sound of Music'
The actress's first opportunity to do something really different came with her next project, The Americanization of Emily, a comedy-drama-romance war film (how's that for a description?) that marked the first of three times she would co-star with James Garner. But then it was back to musical territory with 1965's The Sound of Music, based on the stage show. When asked about typecasting, she expressed to The Boston Globe in 1964 that, in retrospect, it was for that reason she was glad that she hadn't been cast in the film version of My Fair Lady.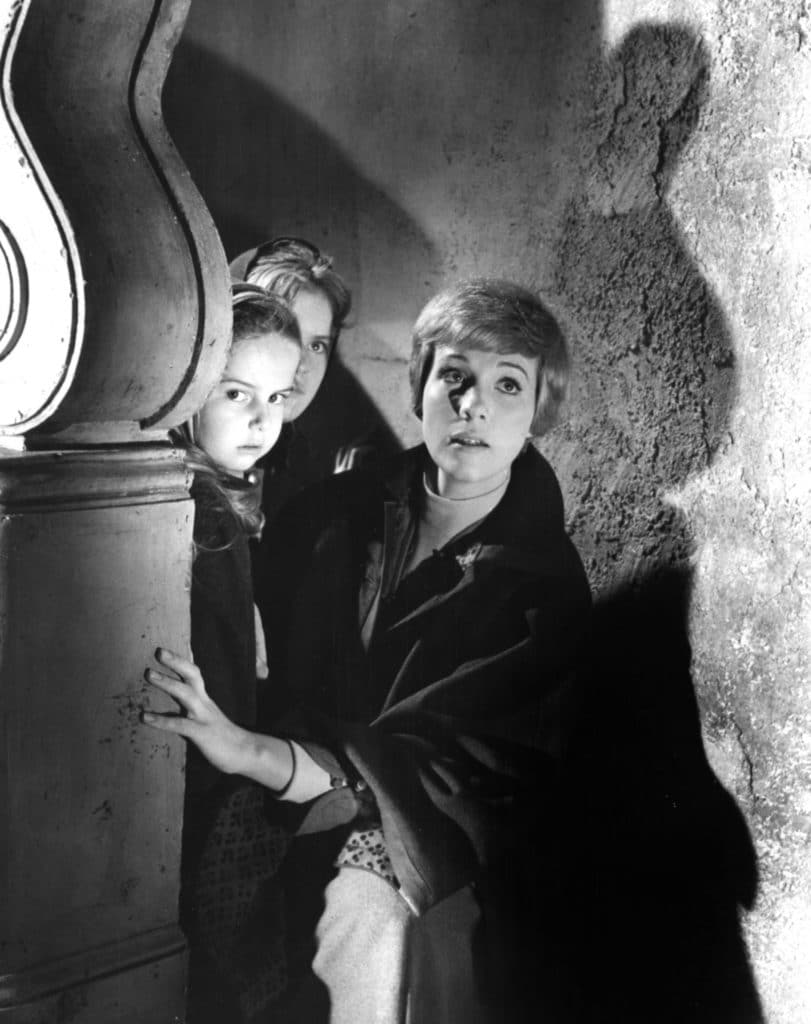 "If I had played Eliza on the screen, people would have said, 'Oh, that's her type,'" she said. "I might have had a difficult time getting any other role. I have played three kinds of parts already — fantastic Miss Poppins, who can perform magic for her charges; Baroness Von Trapp, who lived a Cinderella story in an Austrian castle and made beautiful music; and Emily, my first straight dramatic role, in which I am cast as a woman truck driver during the war. I won't have to fight being typed from now on."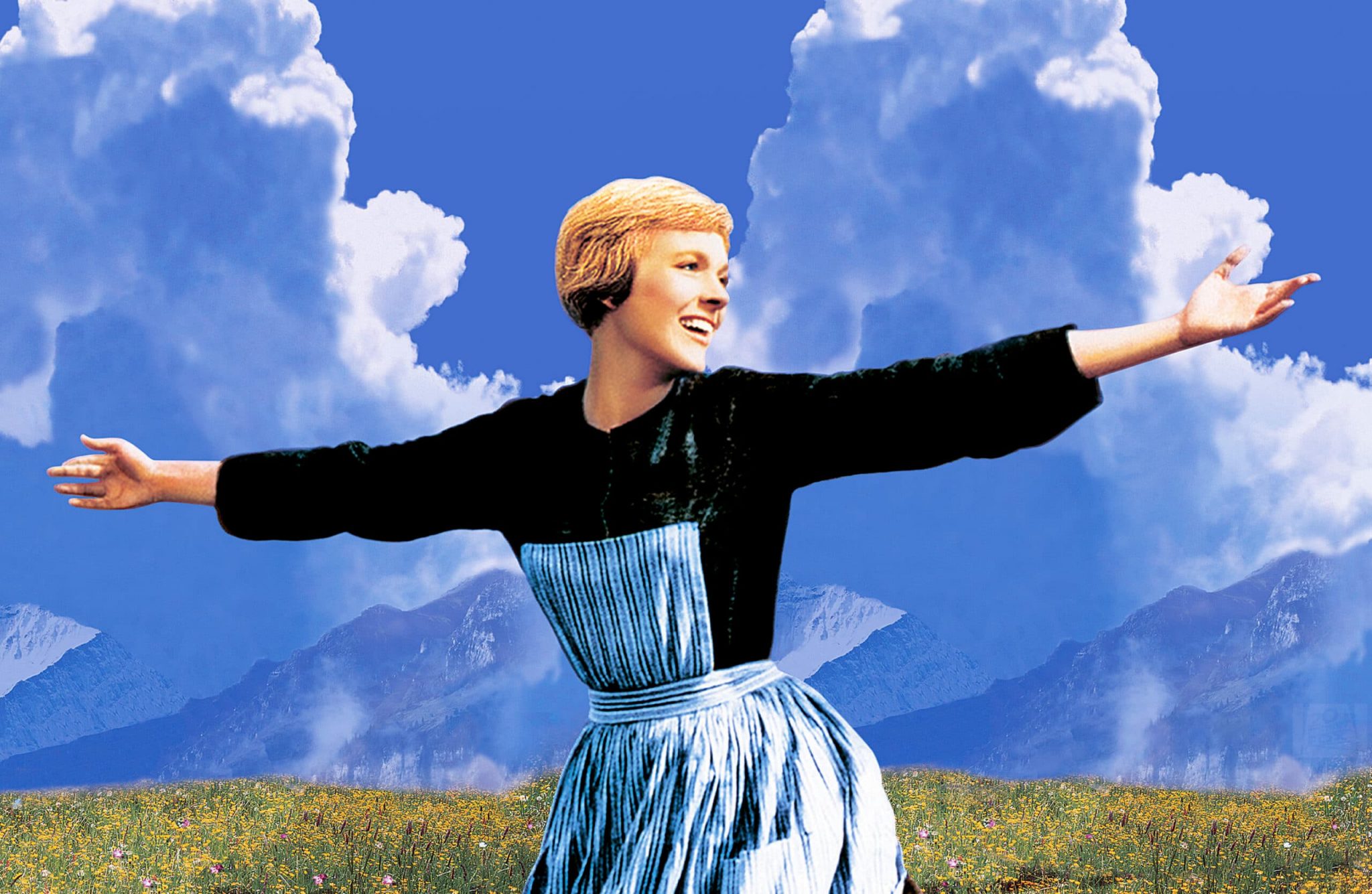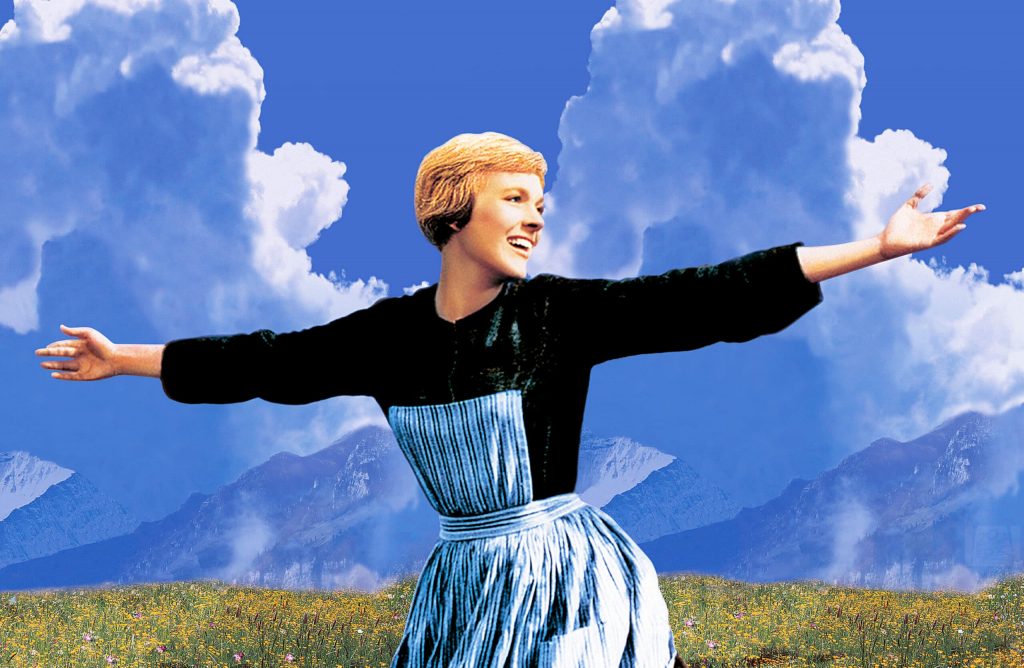 That was certainly the hope, but it didn't exactly work out that way. Coupled with Mary Poppins, the success of The Sound of Music essentially locked that sort of image of purity in the minds of the audience and Hollywood. Commented the Oakland Tribune in 1966, "Julie Andrews is the closest we have these days to a storybook princess. She is Wendy, Cinderella, Alice, Sleeping Beauty and Snow White all wrapped up in this pink person." Yeesh.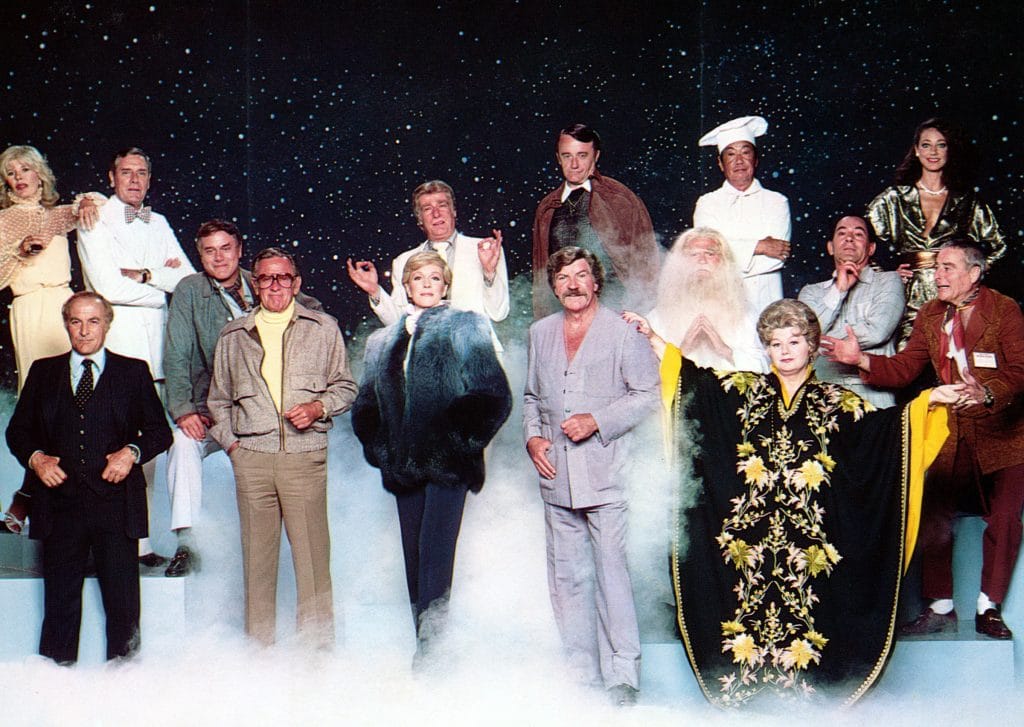 Julie very obviously attempted to diversify the film roles she took over the decades (which can be seen in the filmography below). In 1981, she explained, "The typing was caused by a number of things. The public played some part, but the studios sometimes insist on casting you for successful types that have made money. I rejected many films, because I put my family first. I still put it first. Others I rejected, because I didn't want to play the same role again and again." Although she denied it, it's generally believed that she went topless in 1981's S.O.B., just to tear away that image. It failed to do the job.
Her Life Is Changed Forever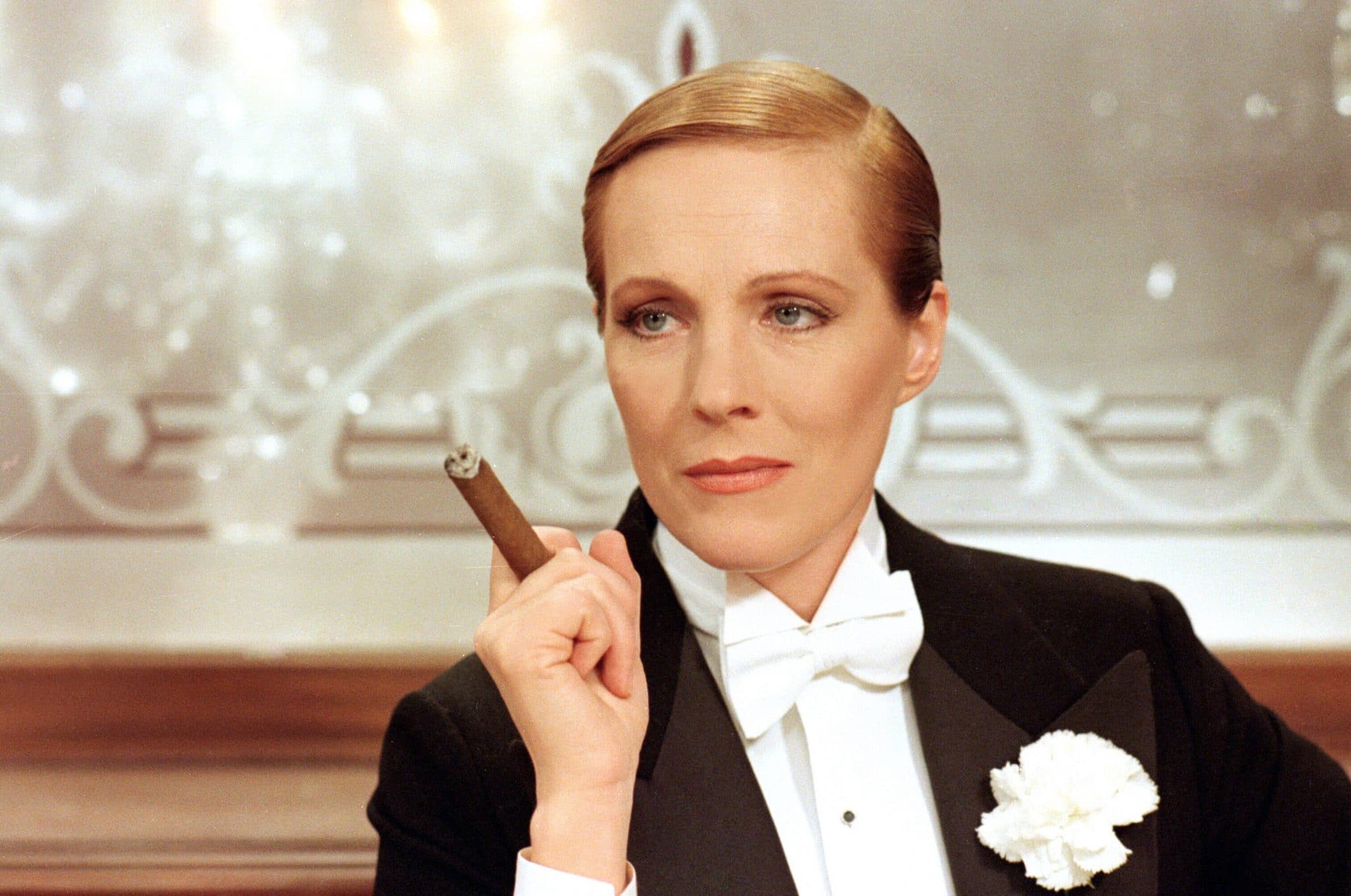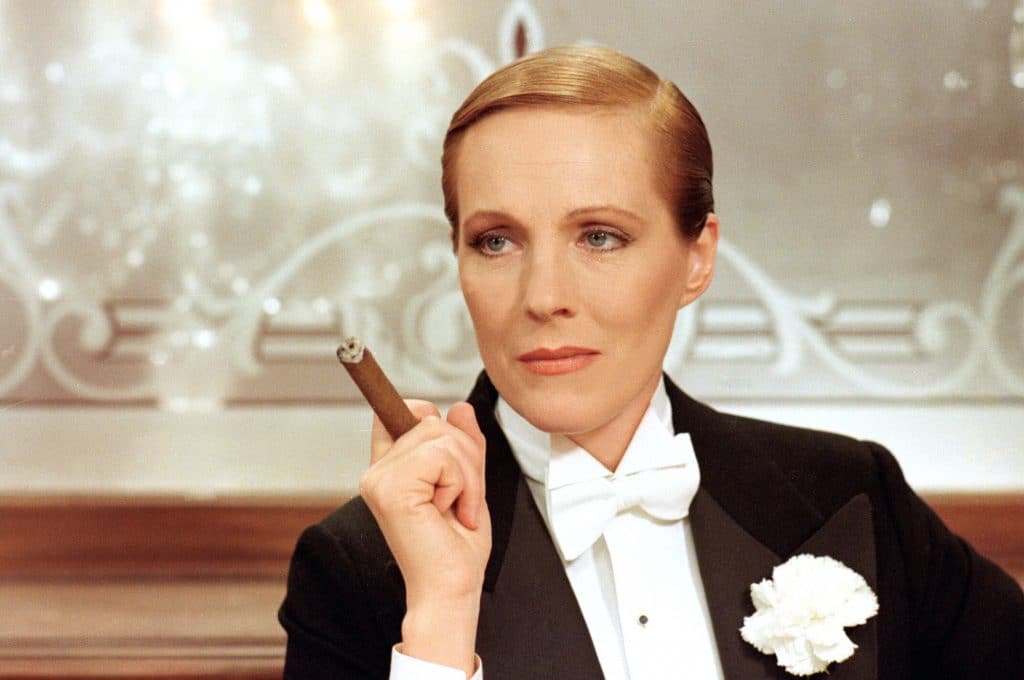 Julie continued to act, sing, appeared on TV specials and even returned to Broadway in 1995 for a stage version of her 1982 film Victor/Victoria — which she was forced to leave in 1997 due to hoarseness that developed in her voice. Undergoing surgery at Mount Sinai Hospital in New York for what she would eventually describe as a muscular striation on her vocal cords, tragically resulted in the loss of her singing voice and gave her speaking voice a rasp. Several additional operations were performed, and while they helped remove the rasp, her singing ability never returned to what it was.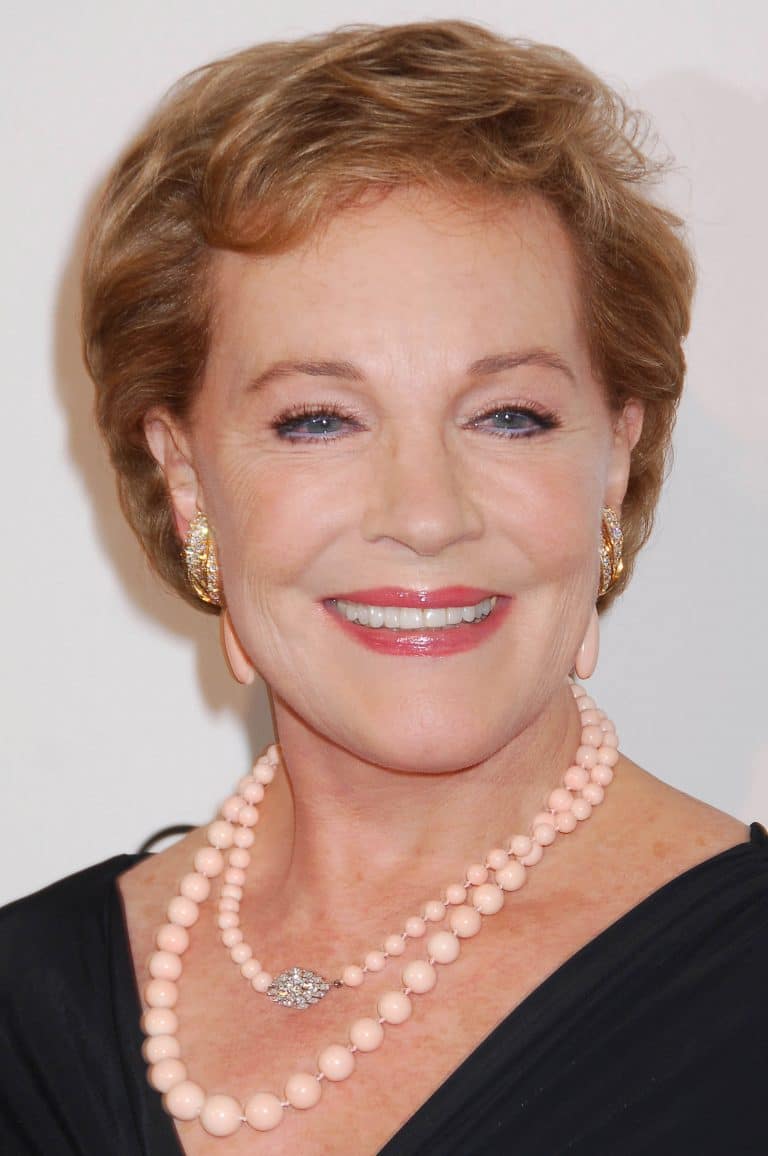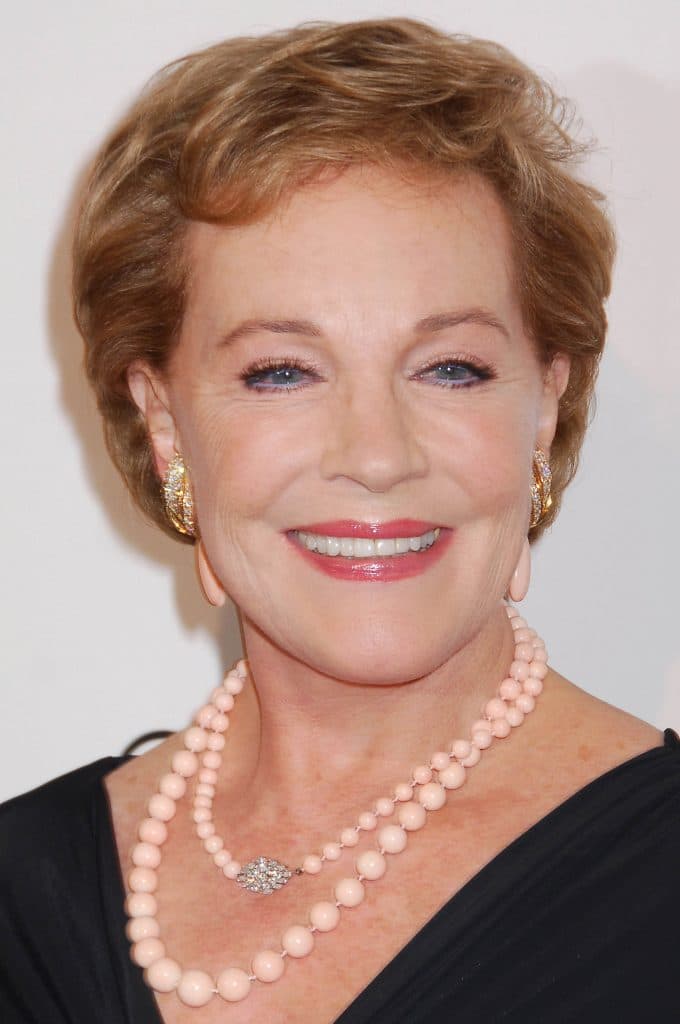 She lamented to NPR in 2019 of the loss of singing from her life, "That was very heartbreaking, but my lovely daughter, Emma, said to me once, 'Mom, you shouldn't feel bad about it. You've just found a new way of using your voice.' Which was writing those books and incorporating music into those books. So suddenly, the weight fell off my shoulders and I thought, 'Well, I haven't lost the music. I just have to find a different way of using it and enjoying it.'"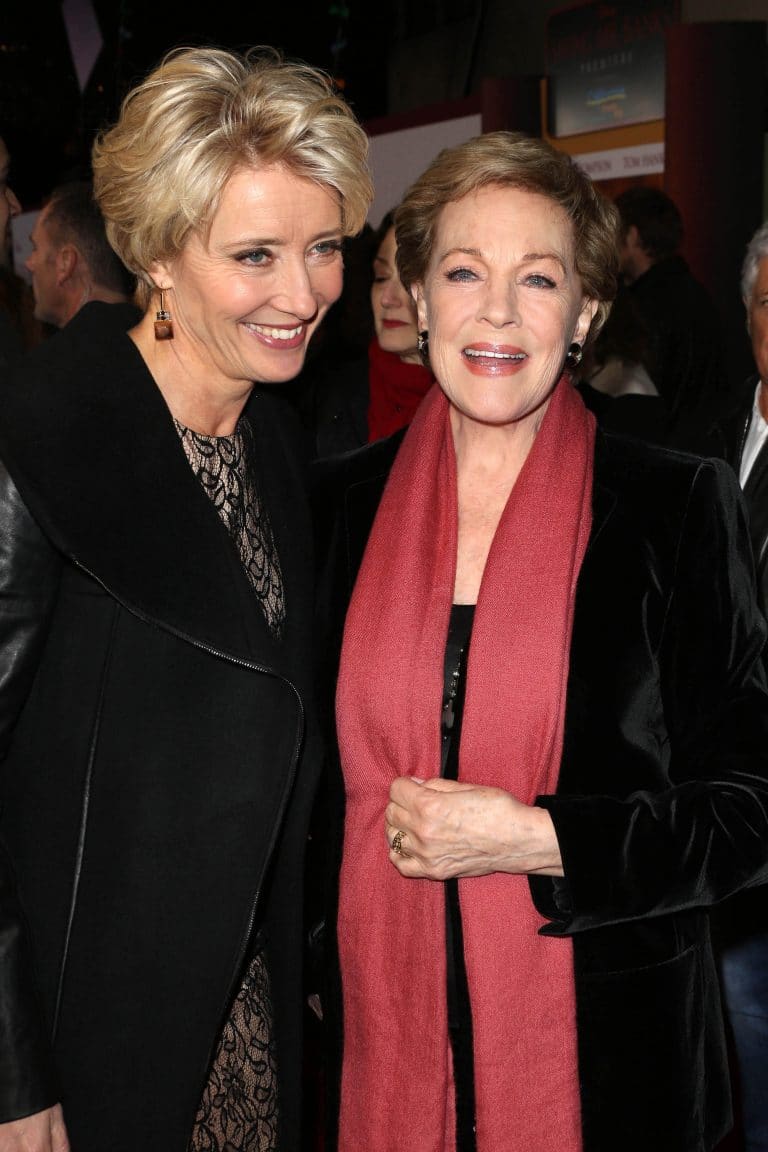 "Those books" she referred to are over 20 illustrated children's stories she's either authored or co-authored (and recorded audio versions of), with titles such as Dumpty the Dumpstruck, The Story of Bonnie Boadicea, and Very Fairy Princess. There have also been memoirs and books of poems. On top of that, she's actually continued to occasionally sing in concerts, just doing so differently than she had prior to her surgery; and used her voice to either narrate films like Enchanted or to bring animated characters to life, most notably Queen Lillian in several of the Shrek entries and Marlena in the Despicable Me series.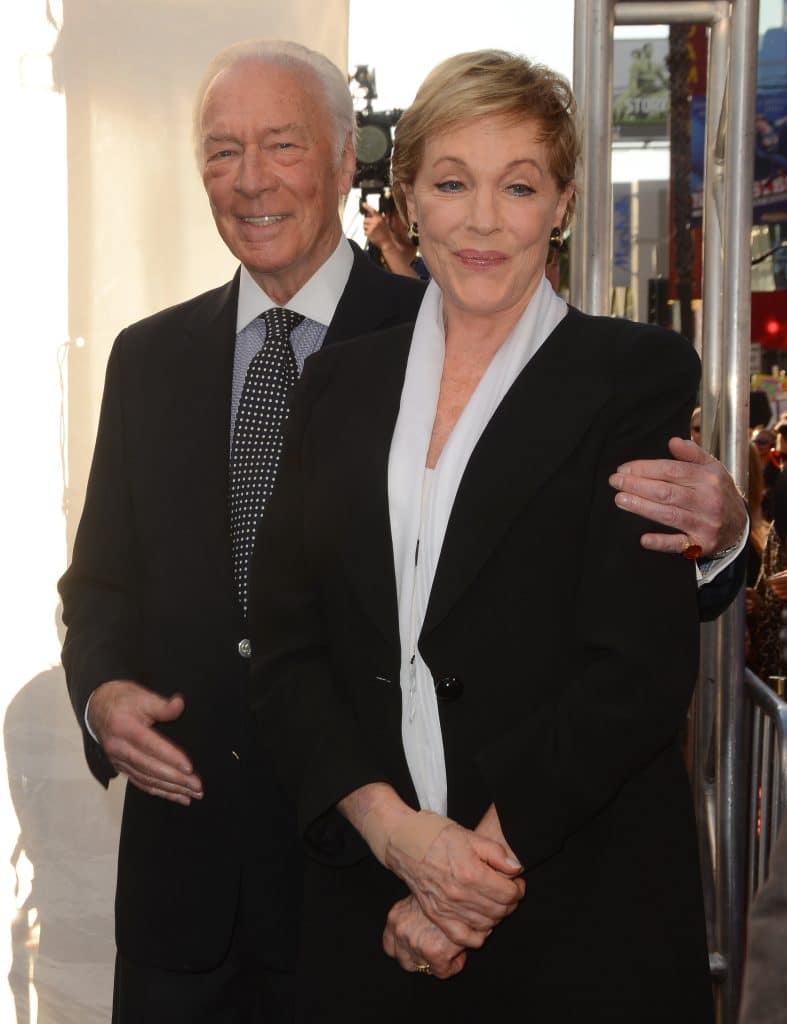 On the personal side of things, Julie, who is now 86, was married to set designer Tony Walton from 1959 until 1967, the two of them parents of Emma Katherine Walton; and then director Blake Edwards from 1969 until his death in 2010, with Julie becoming stepmother to his children from a previous marriage, Jennifer and Geoffrey, and the couple adopting Amy and Joanna from Vietnam. Julie is the grandmother to 10 and great-grandmother to three.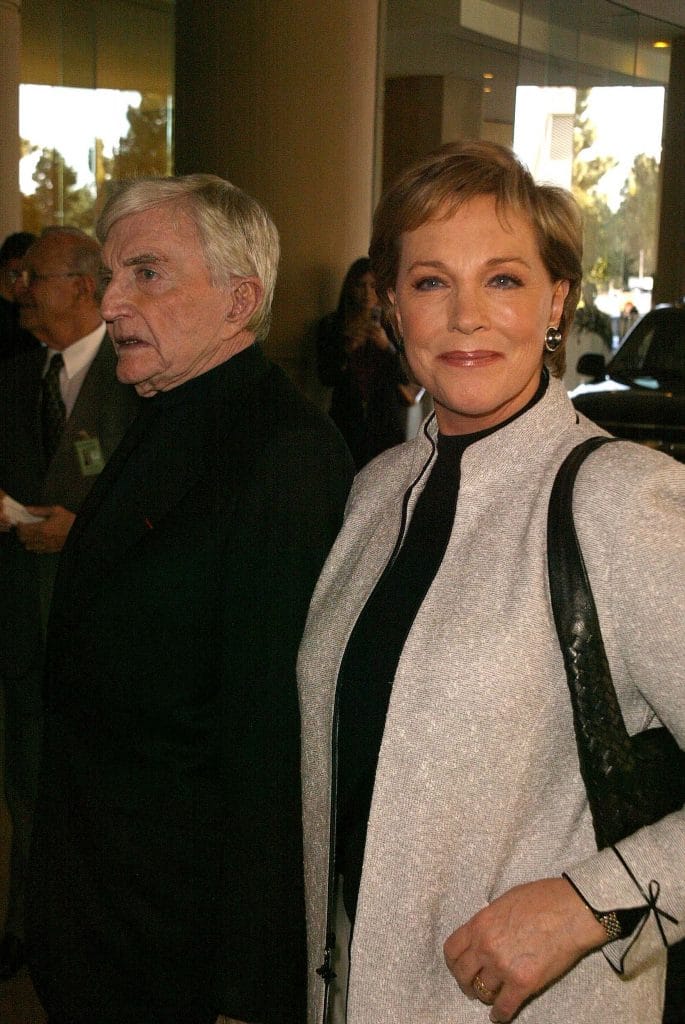 In a December 2020 interview with Parade, Julie reflected on her career, including reasons behind some of her acting choices. "We were a very poor family in my youth; very poor, indeed," she said. "Which is why everything about grand ladies and royalty and beautiful gowns and all of that meant a great deal to my rather fertile brain."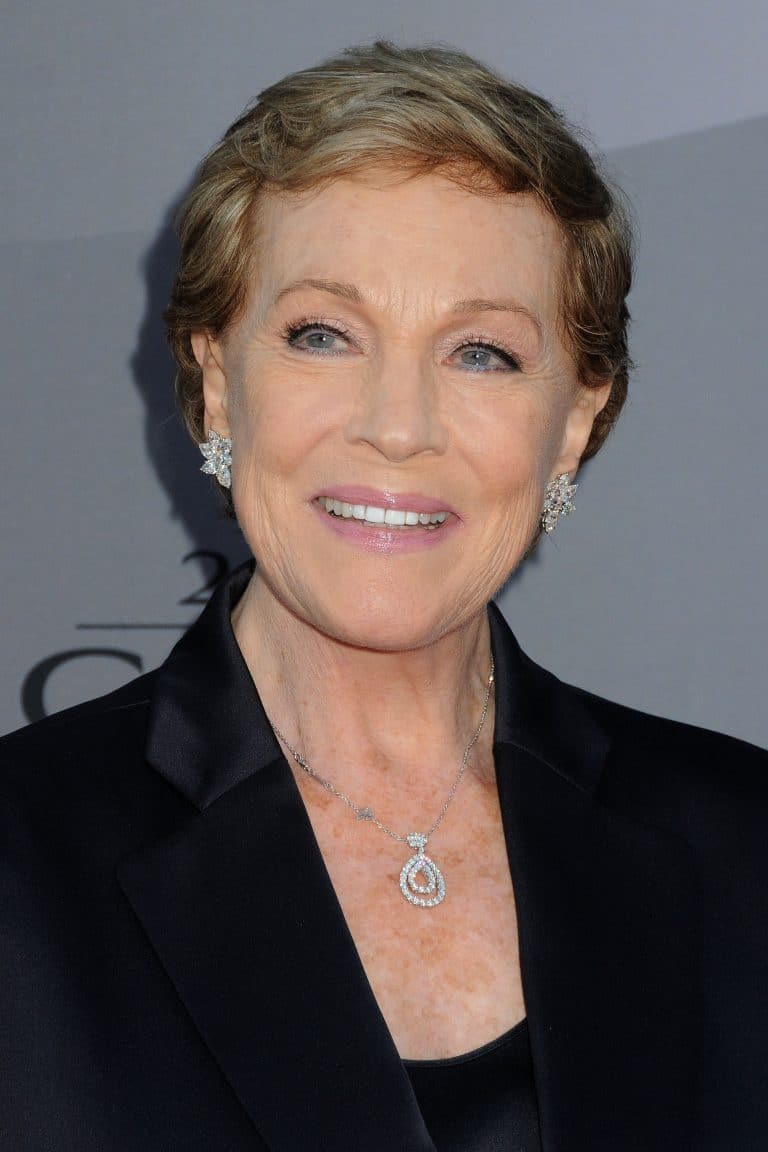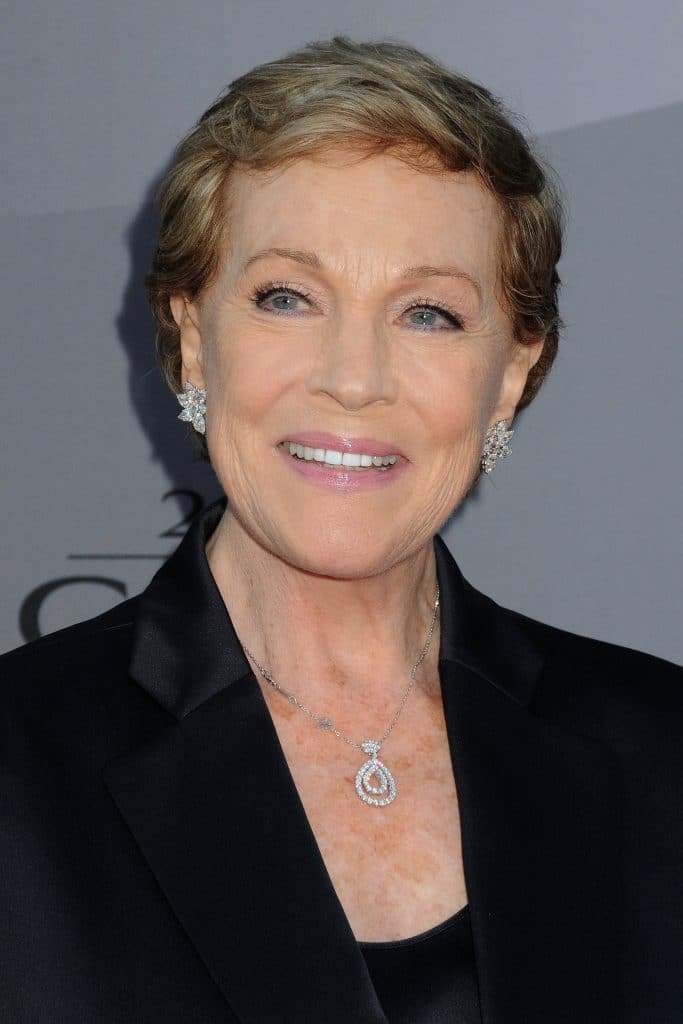 As time marches on, so does Julie Andrews, always looking for different things to try and embracing different possibilities. As she notes, "Sometimes I take a lot of pushing to jump into something, but I'm always open to a new adventure or something fresh."
And we're always open to celebrating the life and career of Julie Andrews, as is the American Film Institute, which will be hosting its 48th AFI Life Achieve Award Gala Tribute, in this case dedicated to her, on June 9, 2022 at the Dolby Theatre in Los Angeles.
Please scroll down for a look at the highlights of Julie's career.
1. 'La Rosa di Bagdad,' AKA 'The Singing Princess' (1949)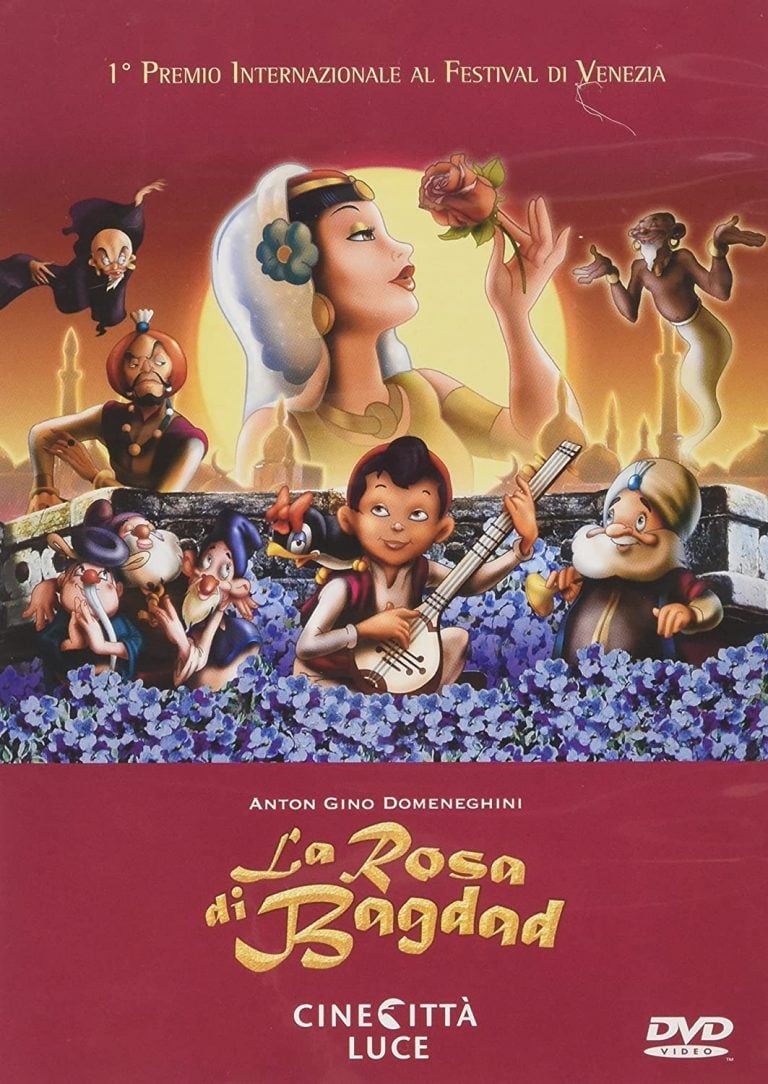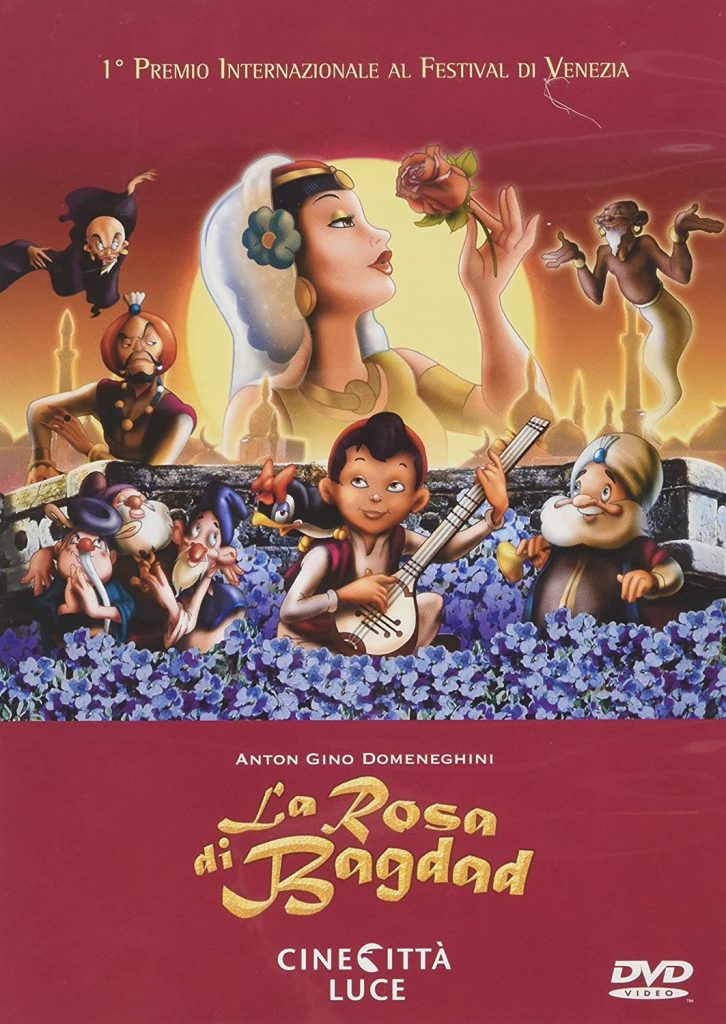 A woman who is considered insane nonetheless unites the people of her village through her amazing singing voice (provided by Julie in what is her first credited role).
2. 'The Boy Friend' (1954 to 1955 Stage Show)
This musical, which is described as a comic pastiche of 1920s shows, was first performed in 1953, with Julie starring in the American Broadway version two years later.
3. 'My Fair Lady' (1956 to 1959 Broadway Musical)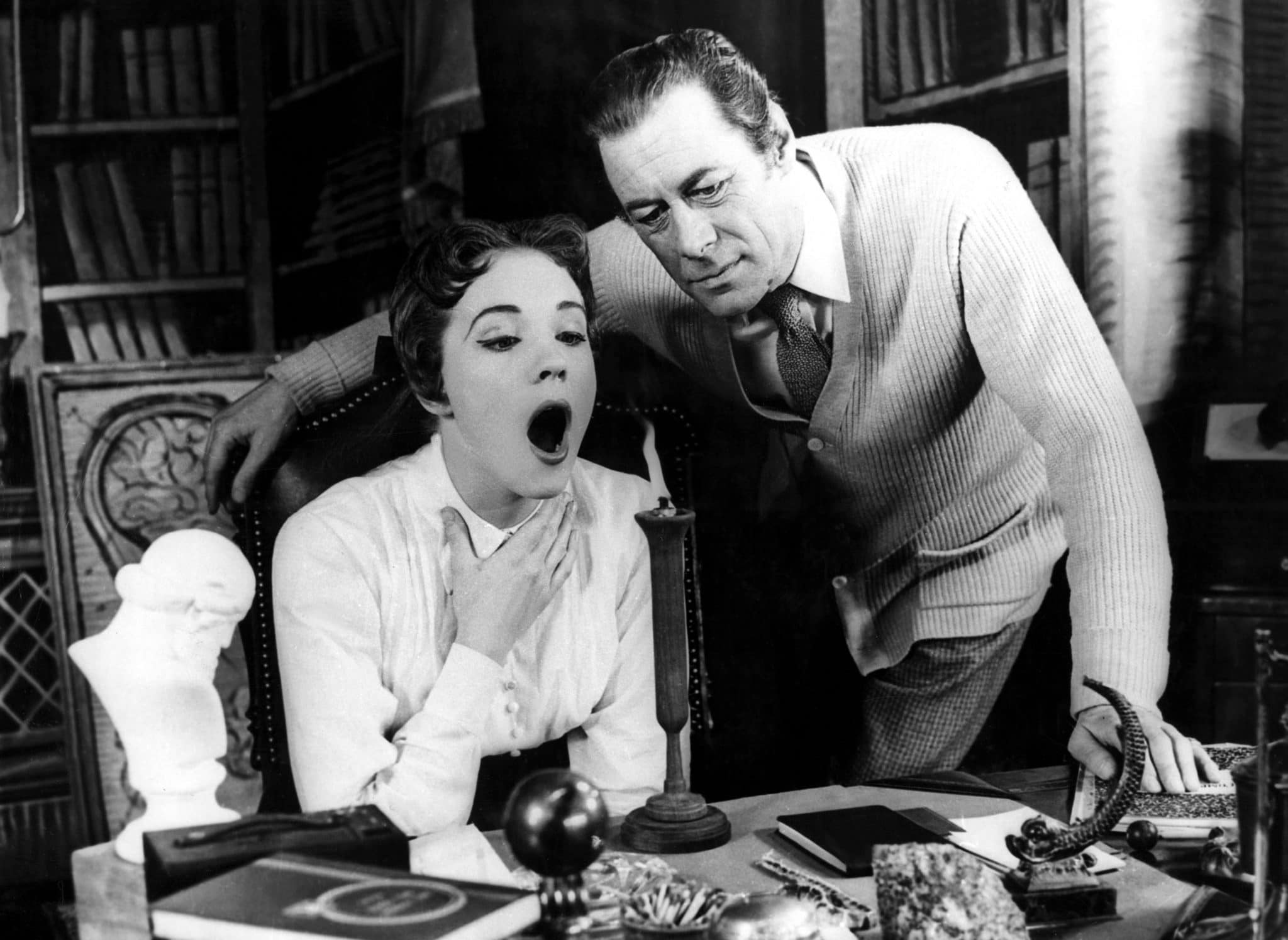 In this Broadway musical, Eliza Doolittle (Julie) is a Cockney flower girl who goes to phonetician Professor Henry Higgins (Rex Harrison) to help turn her into a proper lady. The 1964 movie version would star Audrey Hepburn as Eliza with Rex reprising the role of the professor.
4. 'Ford Star Jubilee' (1956 TV Movie)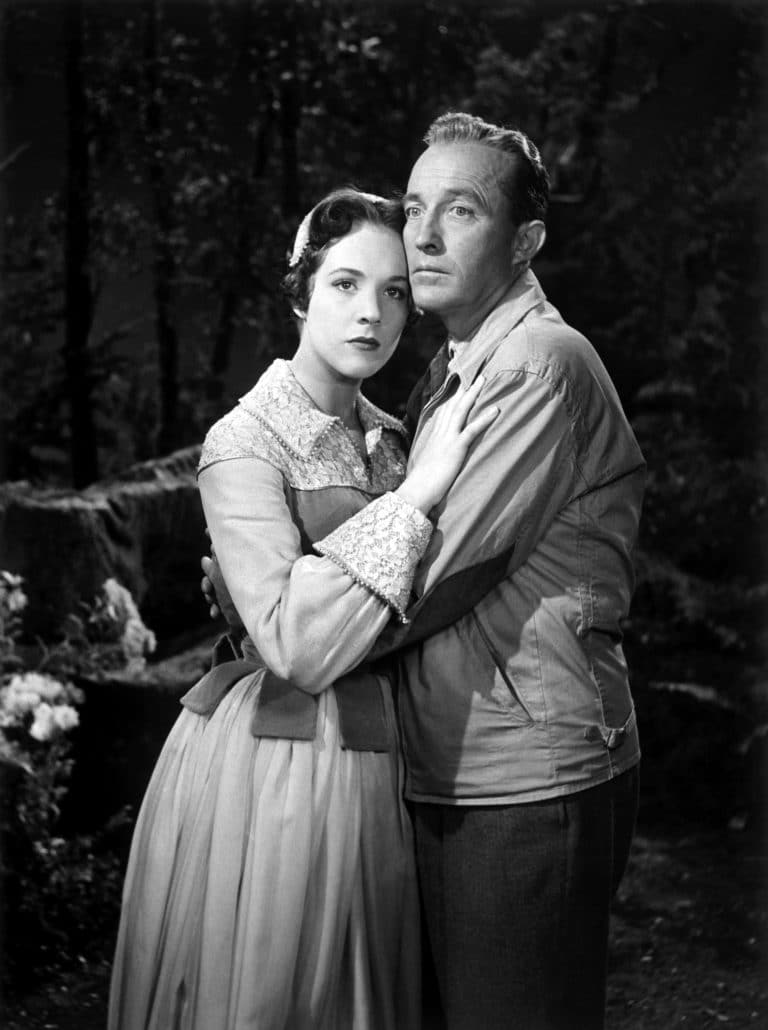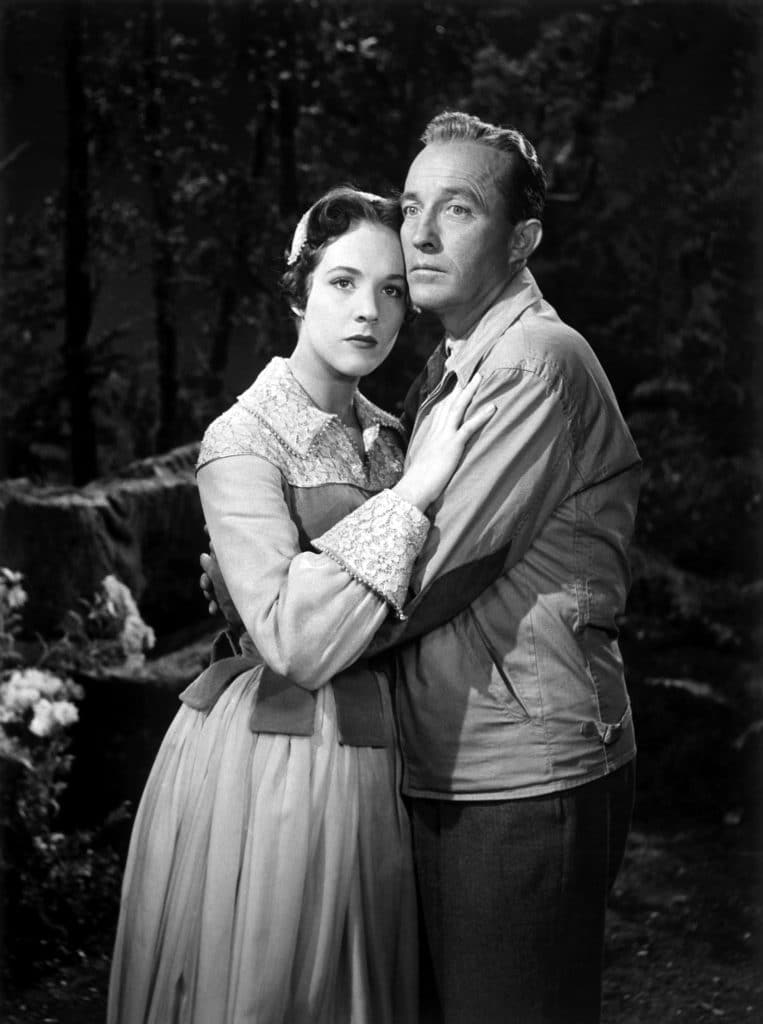 Ford Star Jubilee was a dramatic anthology series that ran on TV from 1955 to 1956, and in the seventh episode of Season 1, "High Tor" (which aired March 10, 1956), Julie was paired with Bing Crosby.
5. 'Rodgers and Hammerstein's Cinderella' (1957 TV Special)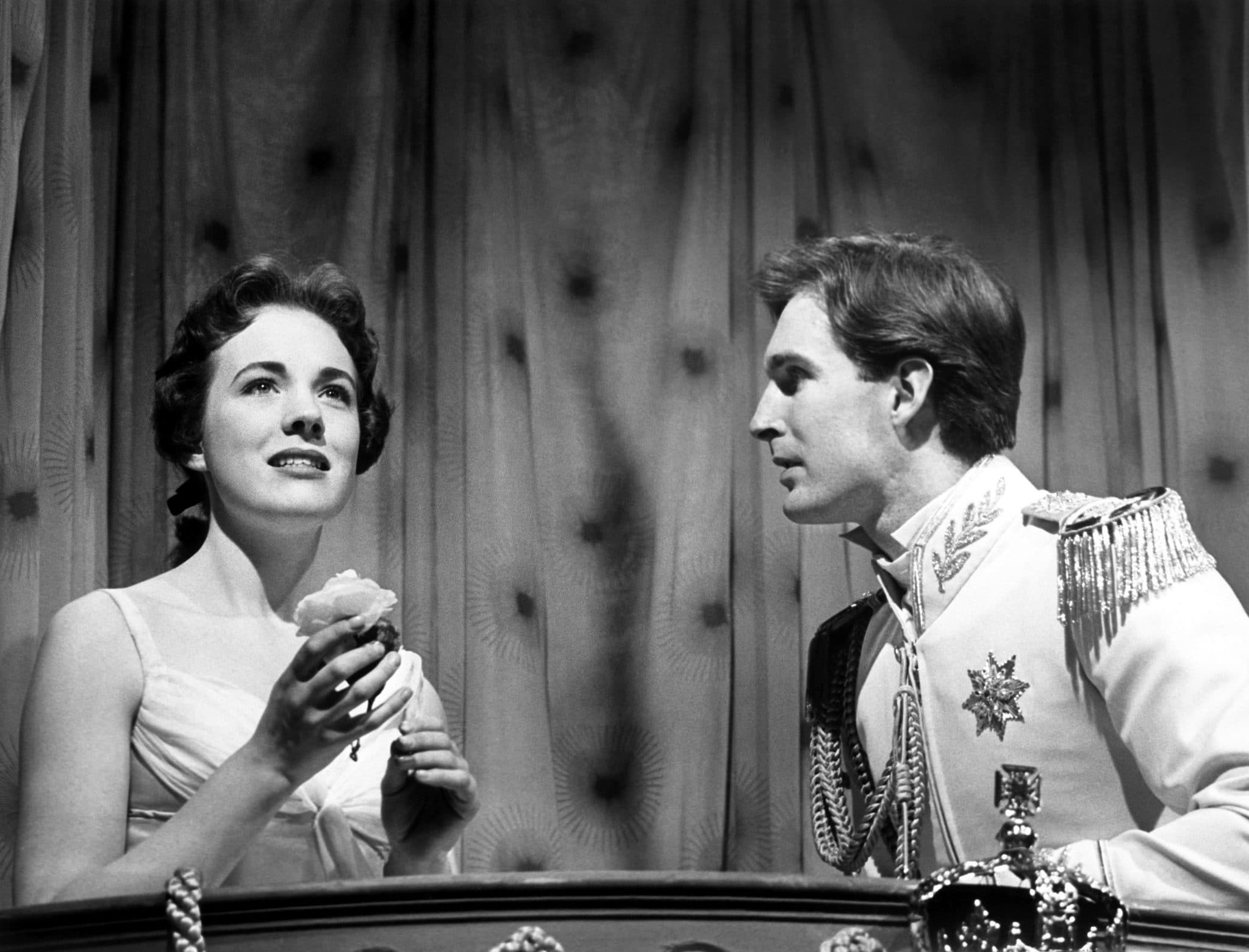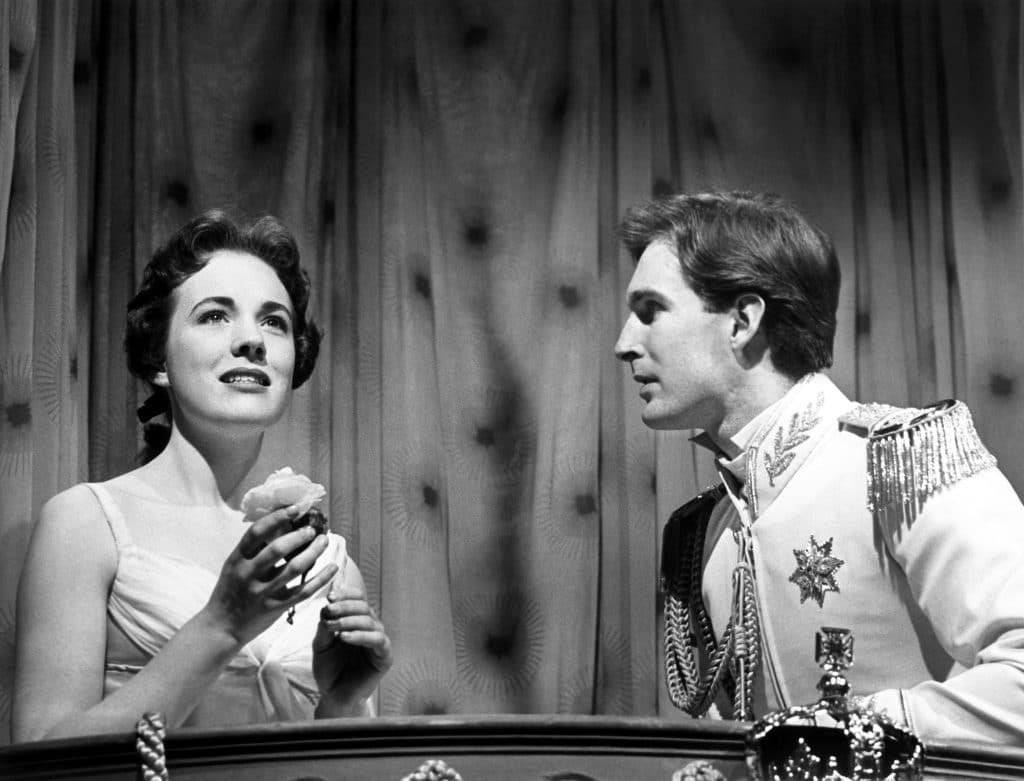 This TV adaptation of Rodgers & Hammerstein's Cinderella was an instant classic when it aired in 1957. Julie and John Cypher starred.
6. 'Camelot' (1960 to 1962 Broadway Show)
Unless you saw it live on Broadway, you missed Richard Burton and Julie in this musical based on the legend of King Arthur and the Knights of the Round Table.
7. 'The Ed Sullivan Show' (1961 TV Variety Show)
If you were selling an act, promoting music or a Broadway show, there was no better outlet to do so than The Ed Sullivan Show, which featured Julie and Richard Burton while they were starring on Broadway in Camelot.
8. 'Julie and Carol at Carnegie Hall' (1962 TV Special)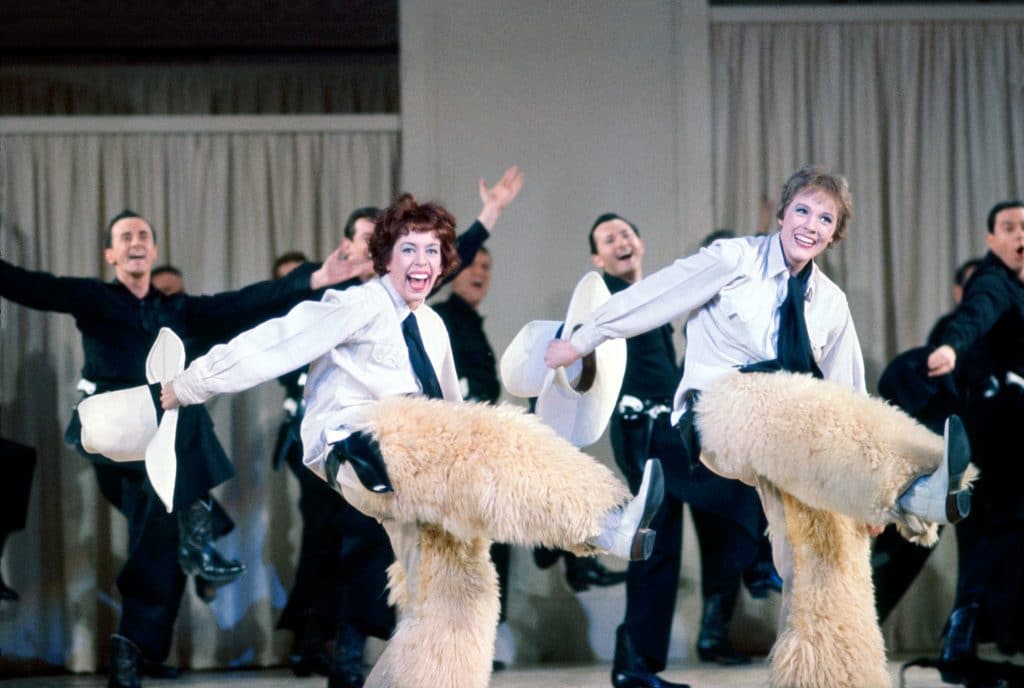 What a great team-up this must have been: Julie and Carol Burnett performing at New York's Carnegie Hall.
9. 'The Andy Williams Show' (1964 TV Variety Show)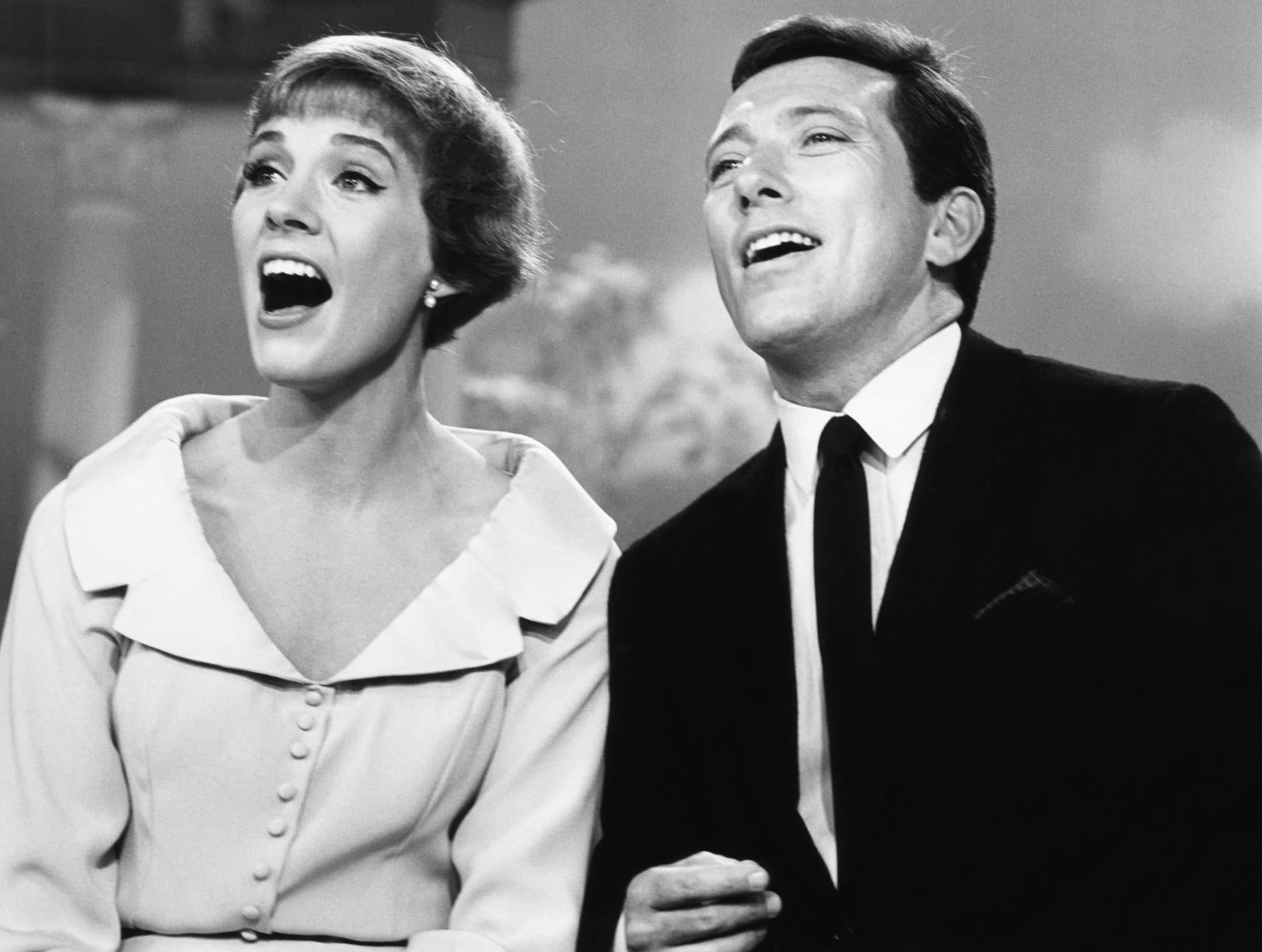 On November 30, 1964, Julie appeared as a guest star on The Andy Williams Show.
10. 'Mary Poppins' (1964 Film)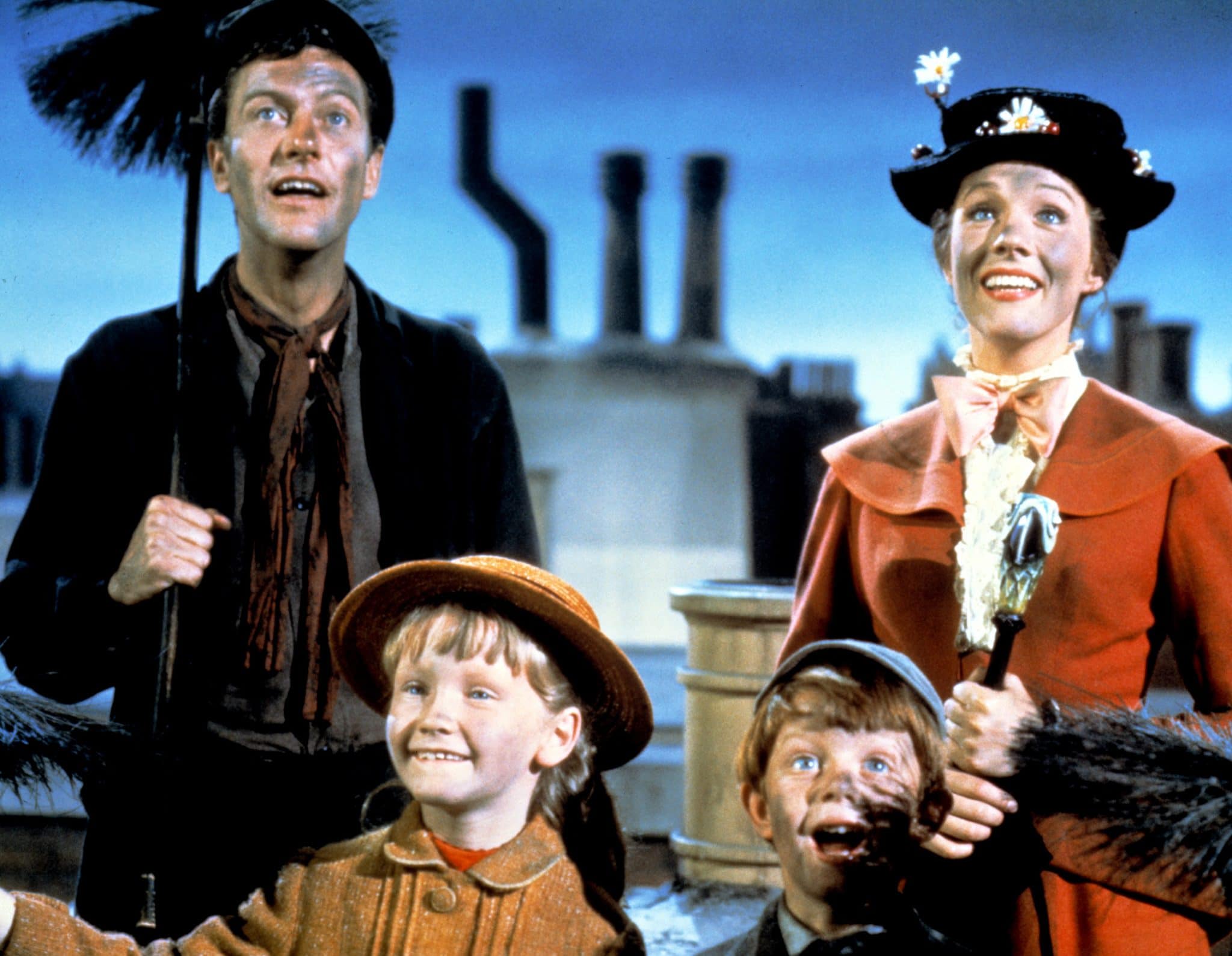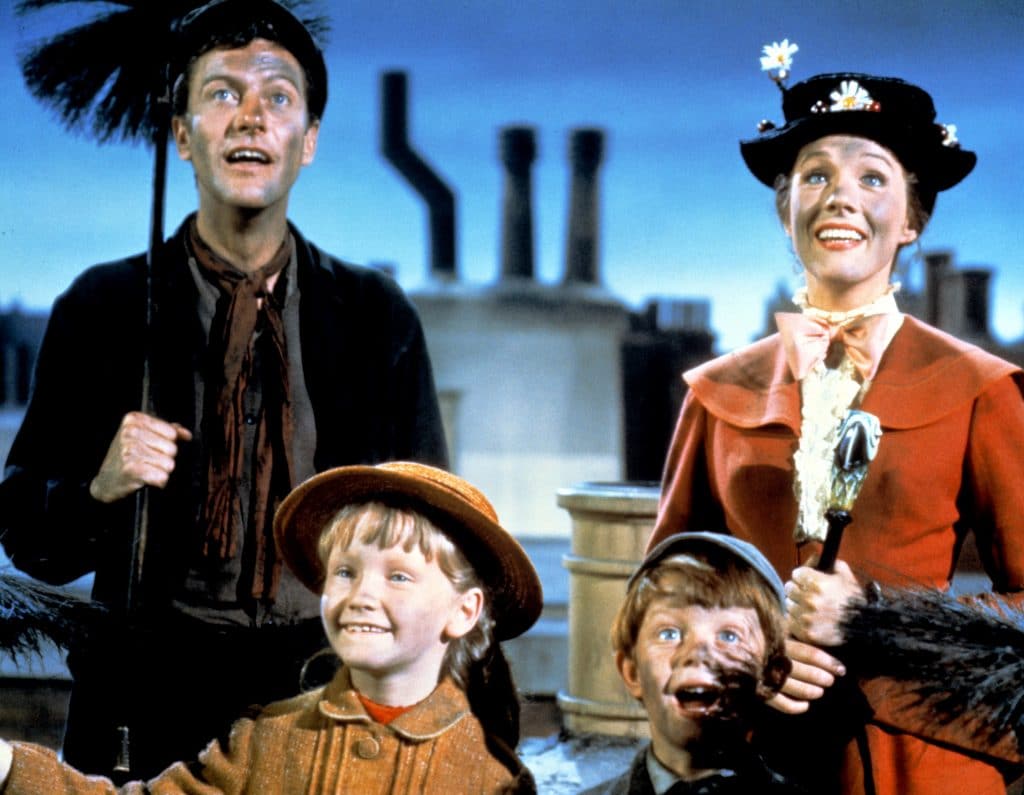 One of Julie's best, teaming her up with Dick Van Dyke in a magical tale of a nanny in the form of the title character who arrives to help a family desperately in need of it.
11. 'The Americanization of Emily' (1964 Film)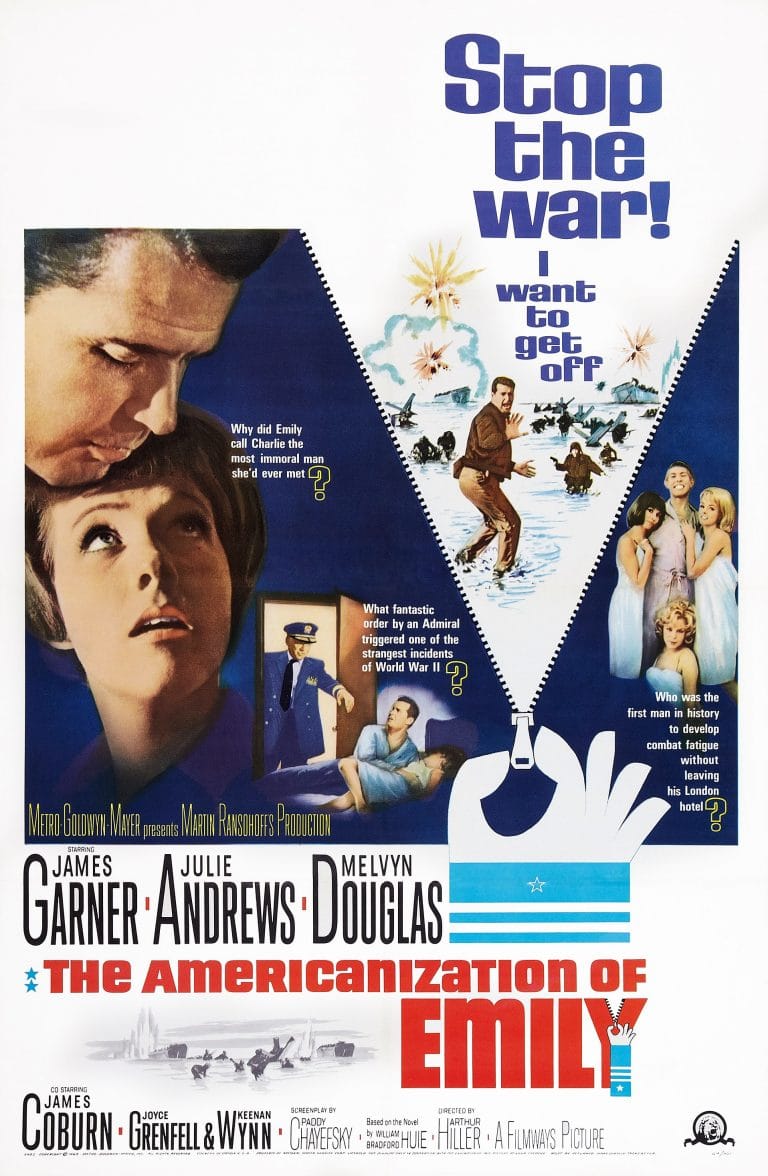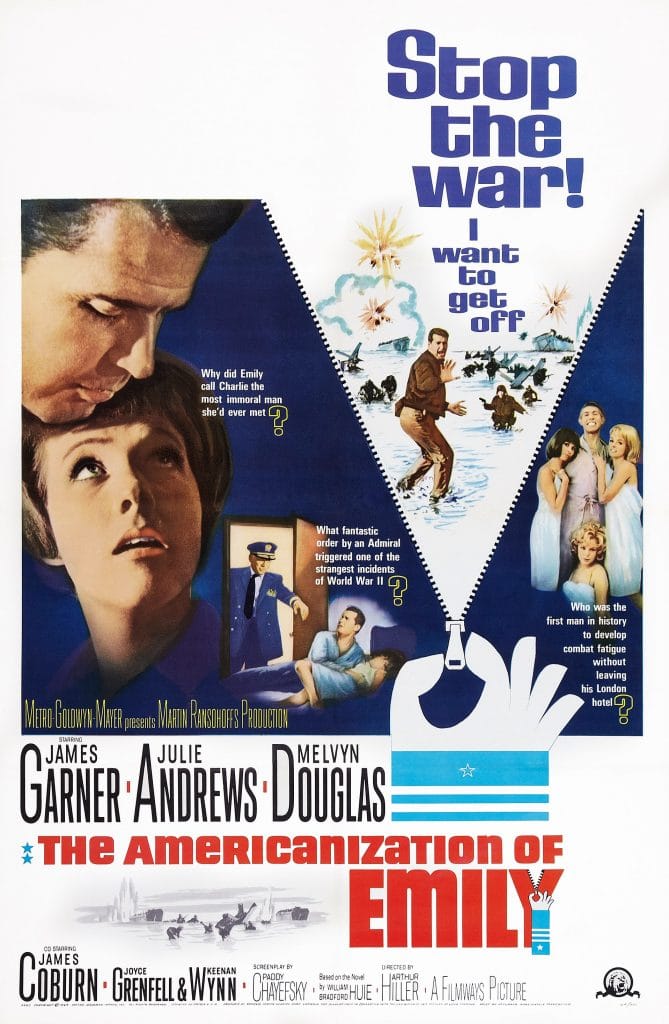 Alongside Julie, this comedy-drama-romance also starred James Garner, James Coburn, Kathy Kersh, and Janine Gray.
12. 'The Sound of Music' (1965 Film)
As far as Julie is concerned, The Sound of Music was the other shoe dropping in the 1960s (the other being Mary Poppins), securing her place in pop culture history.
13. 'The Julie Andrews Show' (1965 TV Special)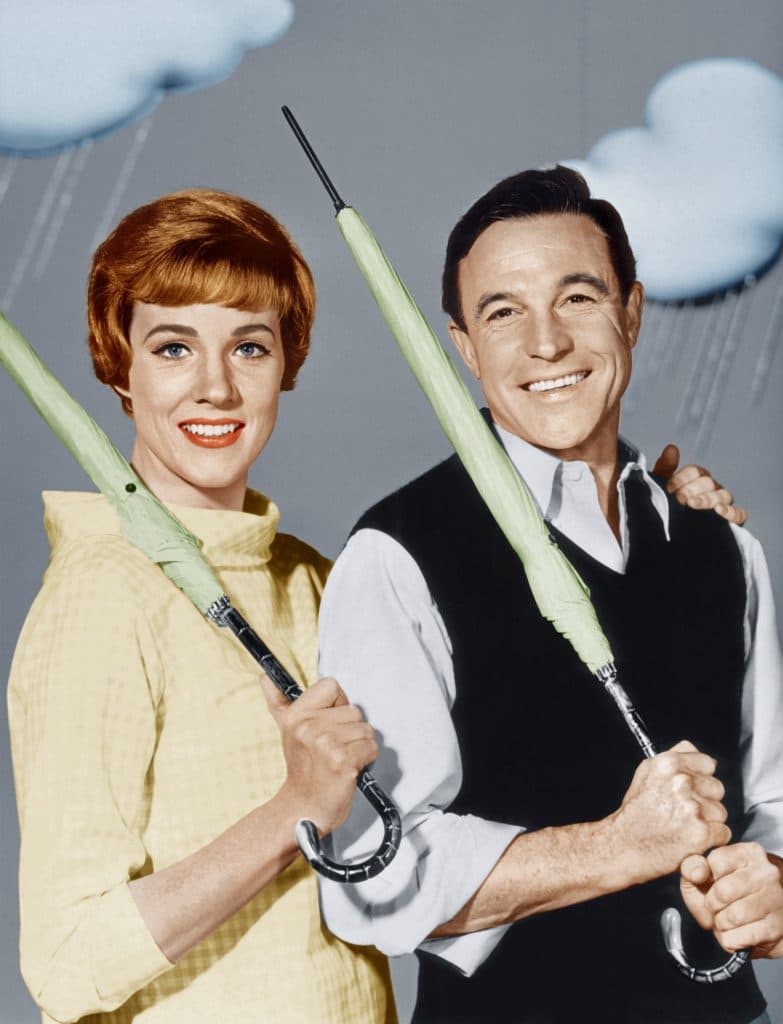 This one-hour TV special was a sketch comedy show that featured Gene Kelly and The New Christy Minstrels.
14. 'Torn Curtain' (1966 Film)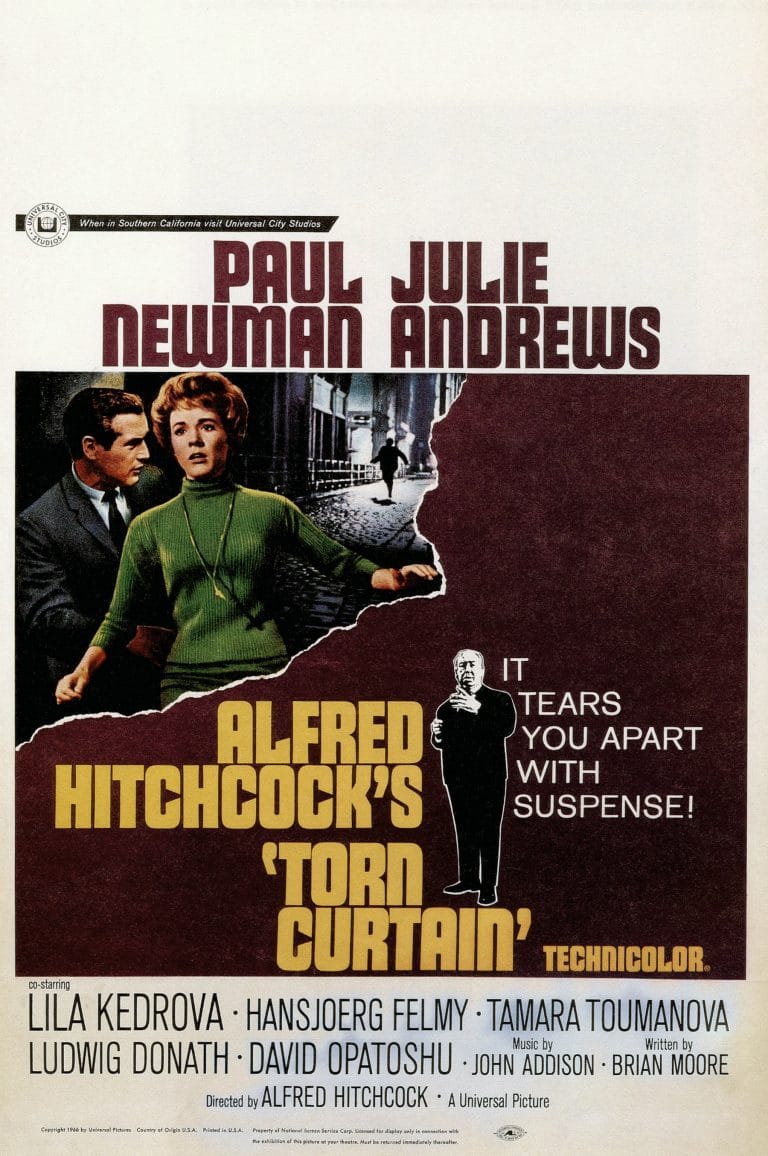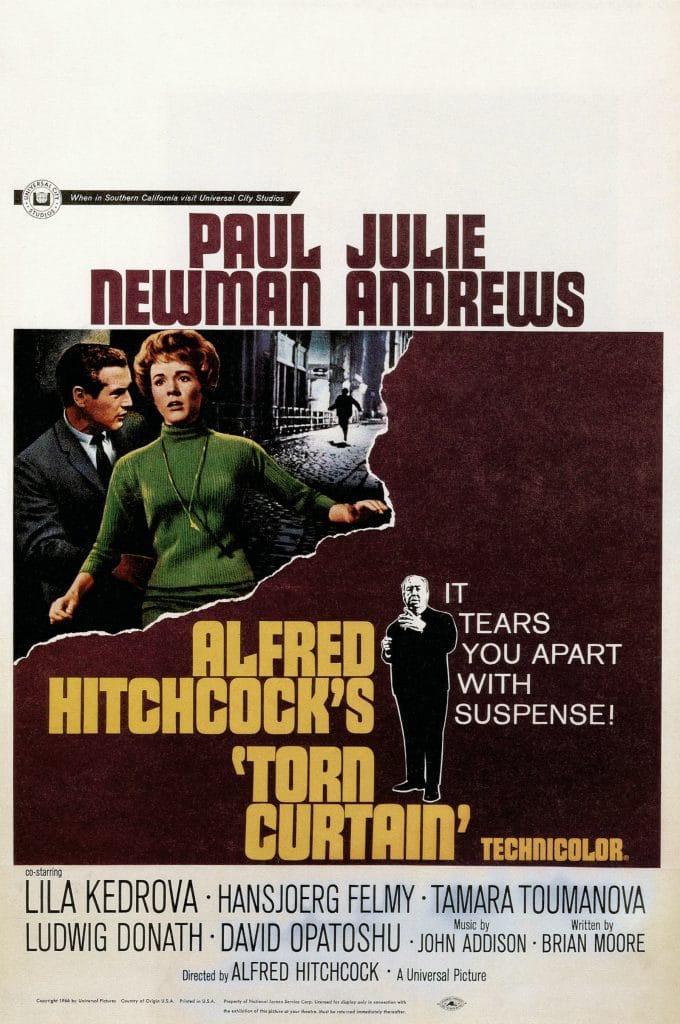 Looking for a change of pace, Julie co-starred with Paul Newman in this thriller directed by Alfred Hitchcock.
15. 'Hawaii' (1966 Film)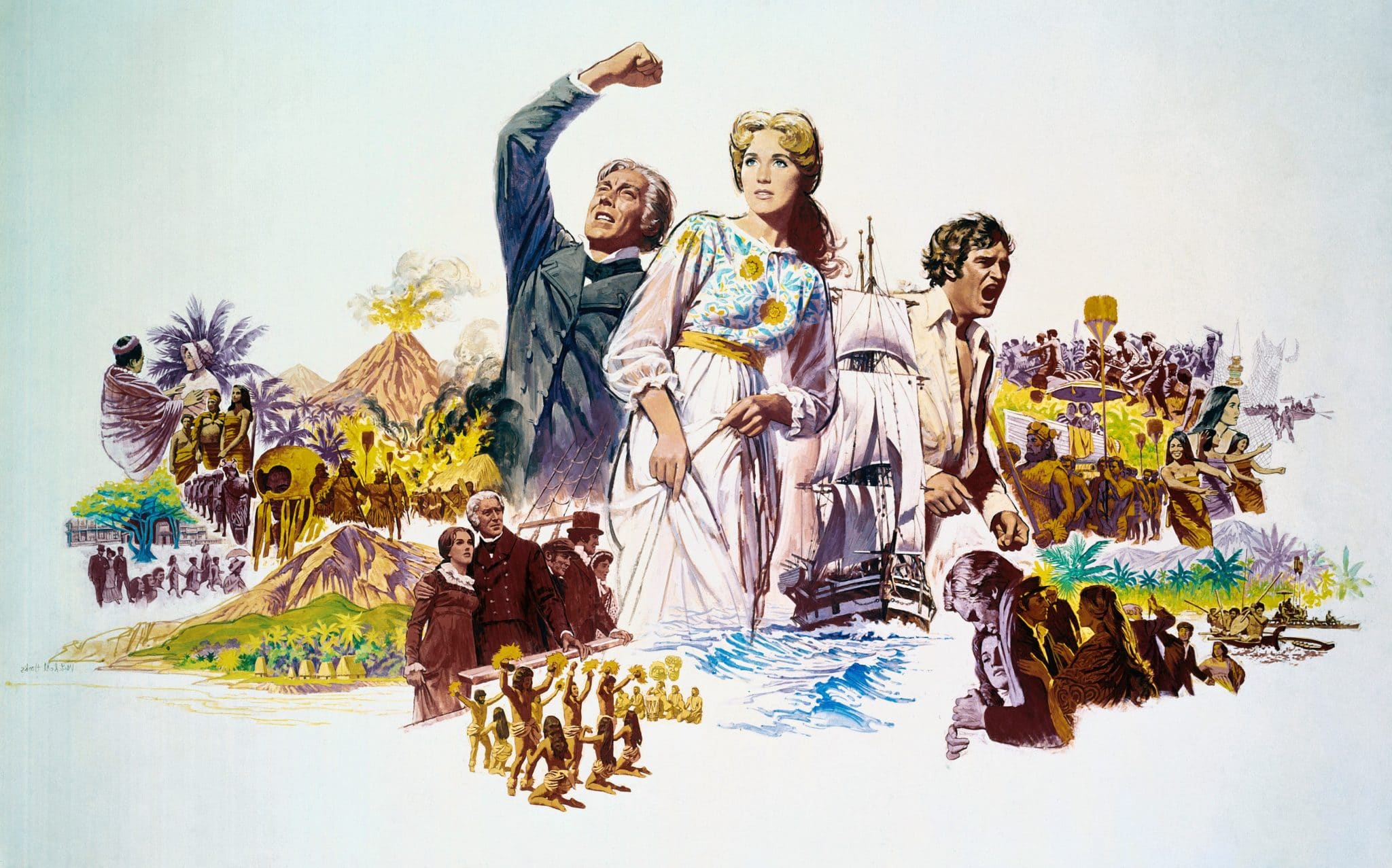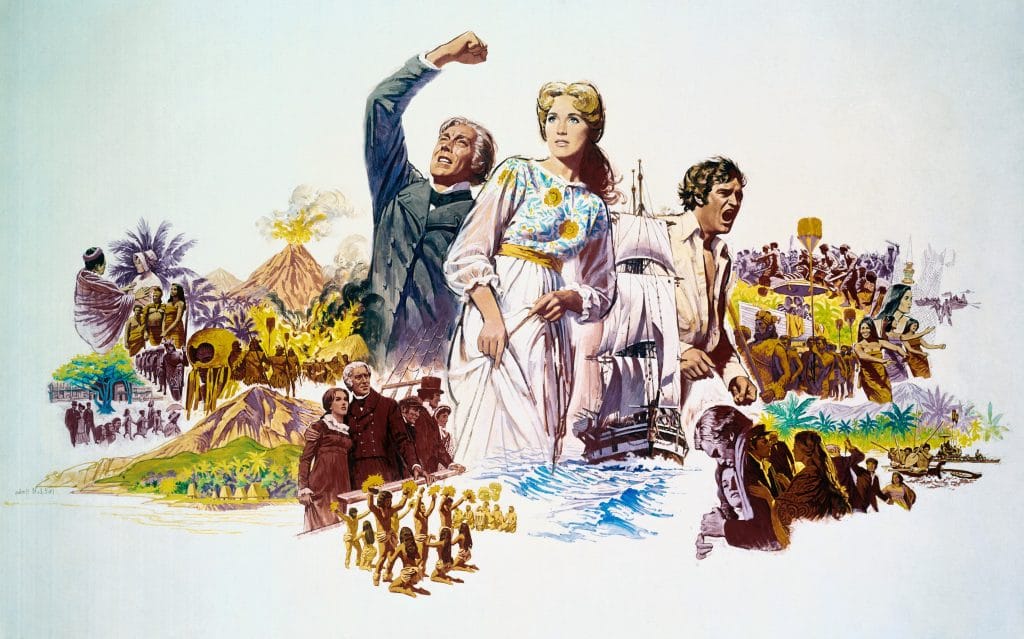 This drama is about an American missionary and his wife (Richard Harris and Julie) travel a more primitive Hawaii for cultural exchange, but things go terribly wrong. Based on the novel by James Michener.
16. 'Thoroughly Modern Millie' (1967 Film)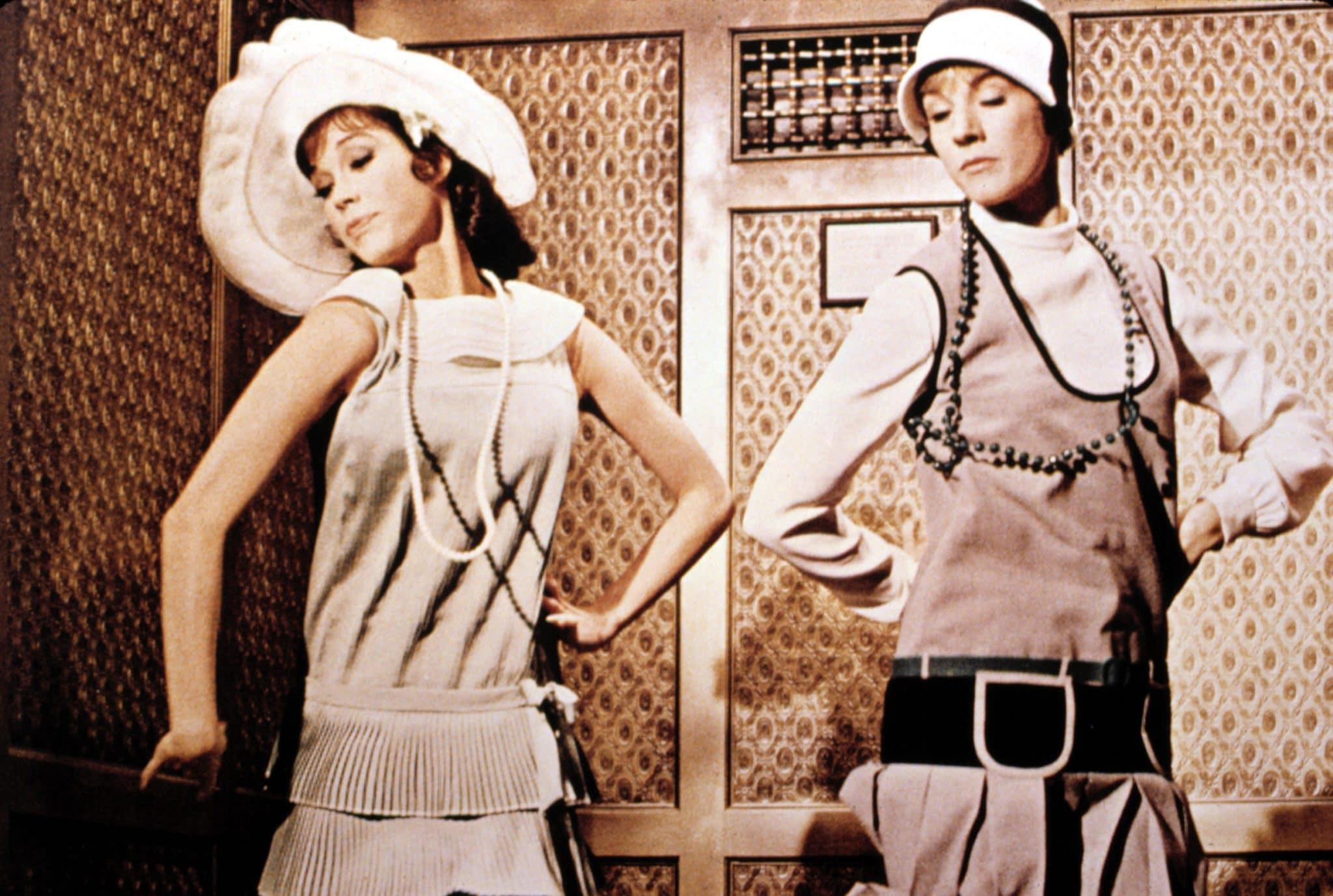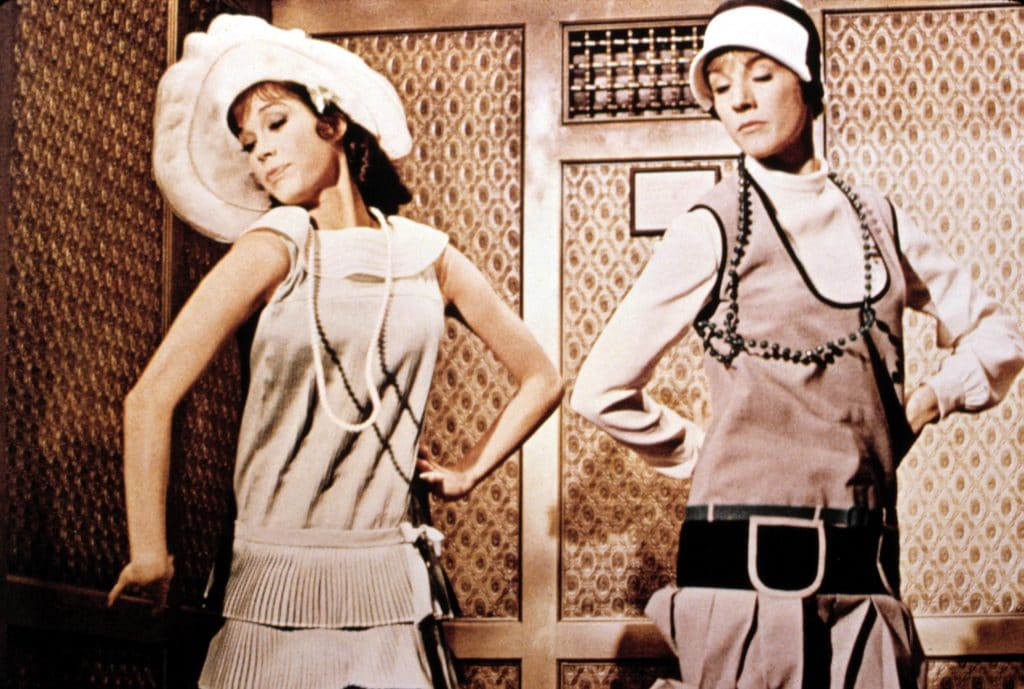 Julie stars alongside Mary Tyler Moore in the comedy musical, the latter in between The Dick Van Dyke Show and The Mary Tyler Moore Show.
17. 'Star!' (1968 Film)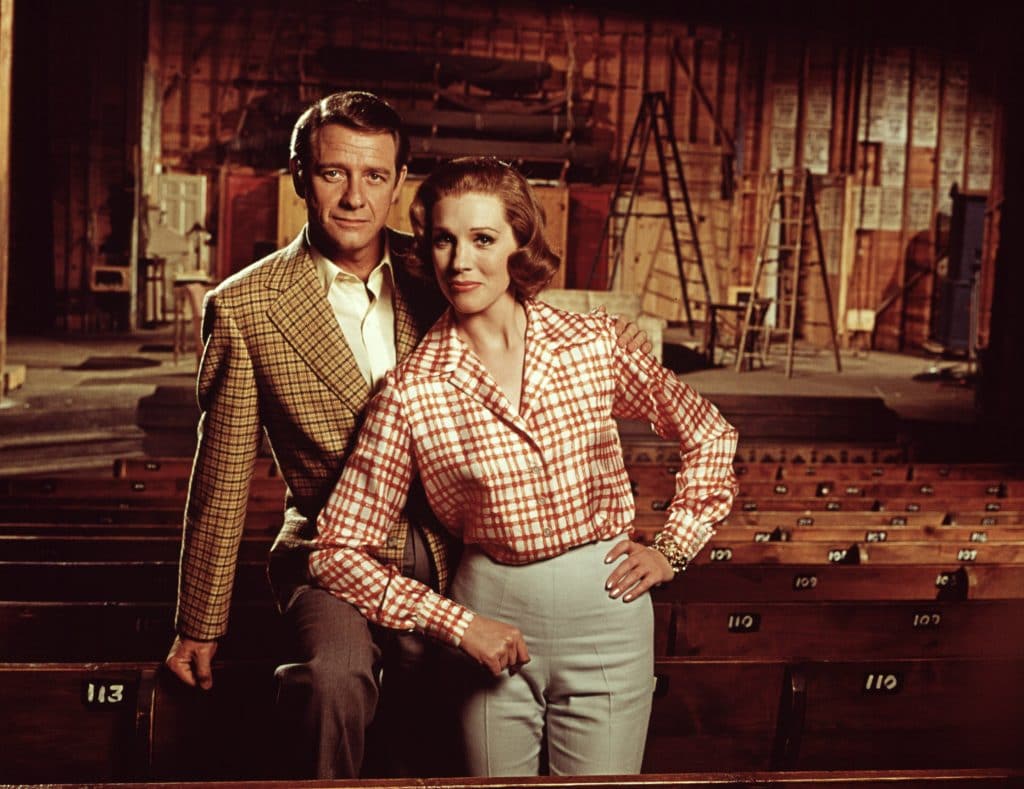 Biofilm of stage actress Gertrude Lawrence with Julie in the title role. Also starring Richard Crenna, above with her.
18. 'Darling Lili' (1970 Film)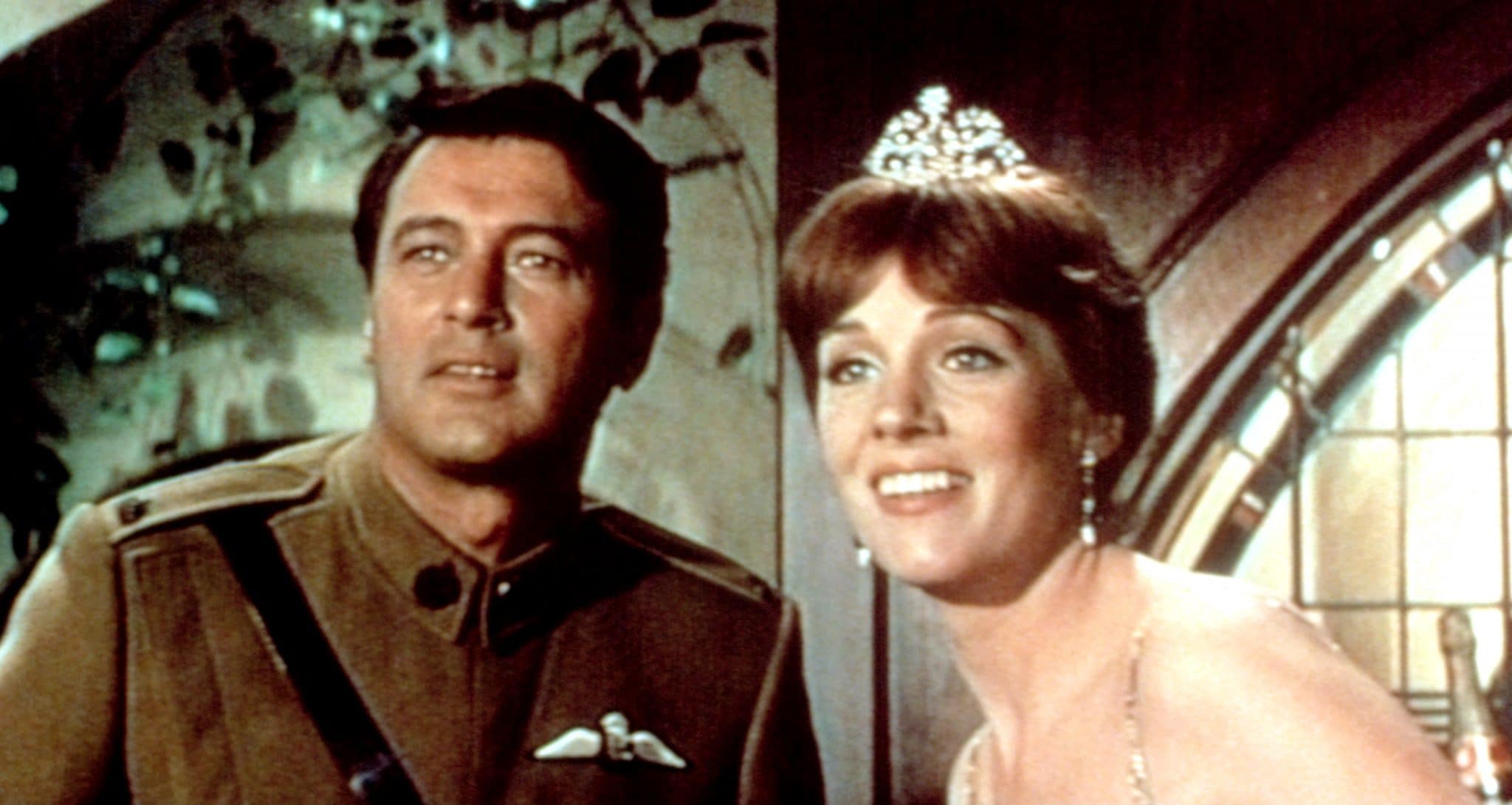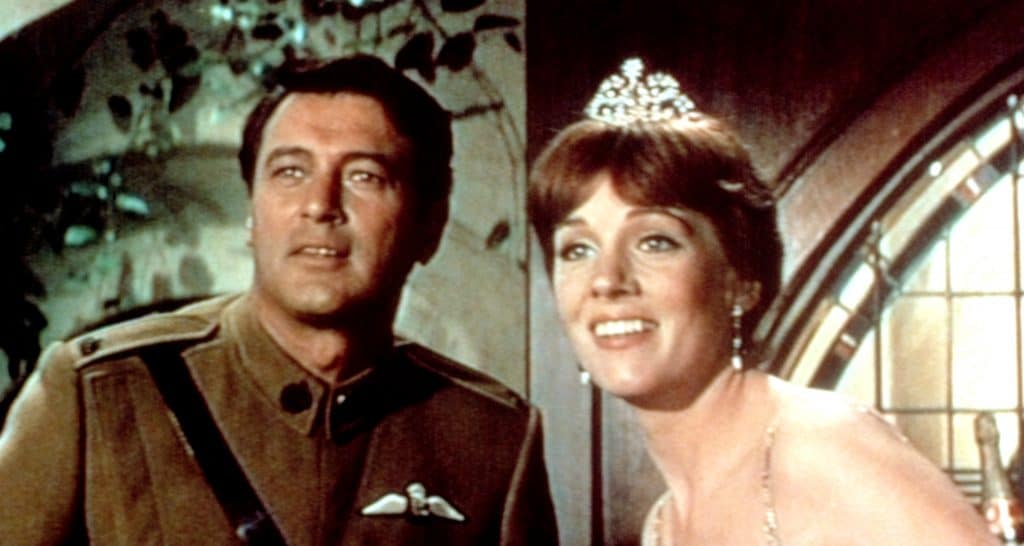 This comedy musical was set during World War I and offers up a unique take on the story of Mata Hari, with Julie starring alongside Rock Hudson.
19. 'Julie and Carol at Lincoln Center' (1971 TV Special)
The title really says it all as the two ladies reunite on stage.
20. 'The Julie Andrews Hour' (1972 to 1973 TV Variety Show)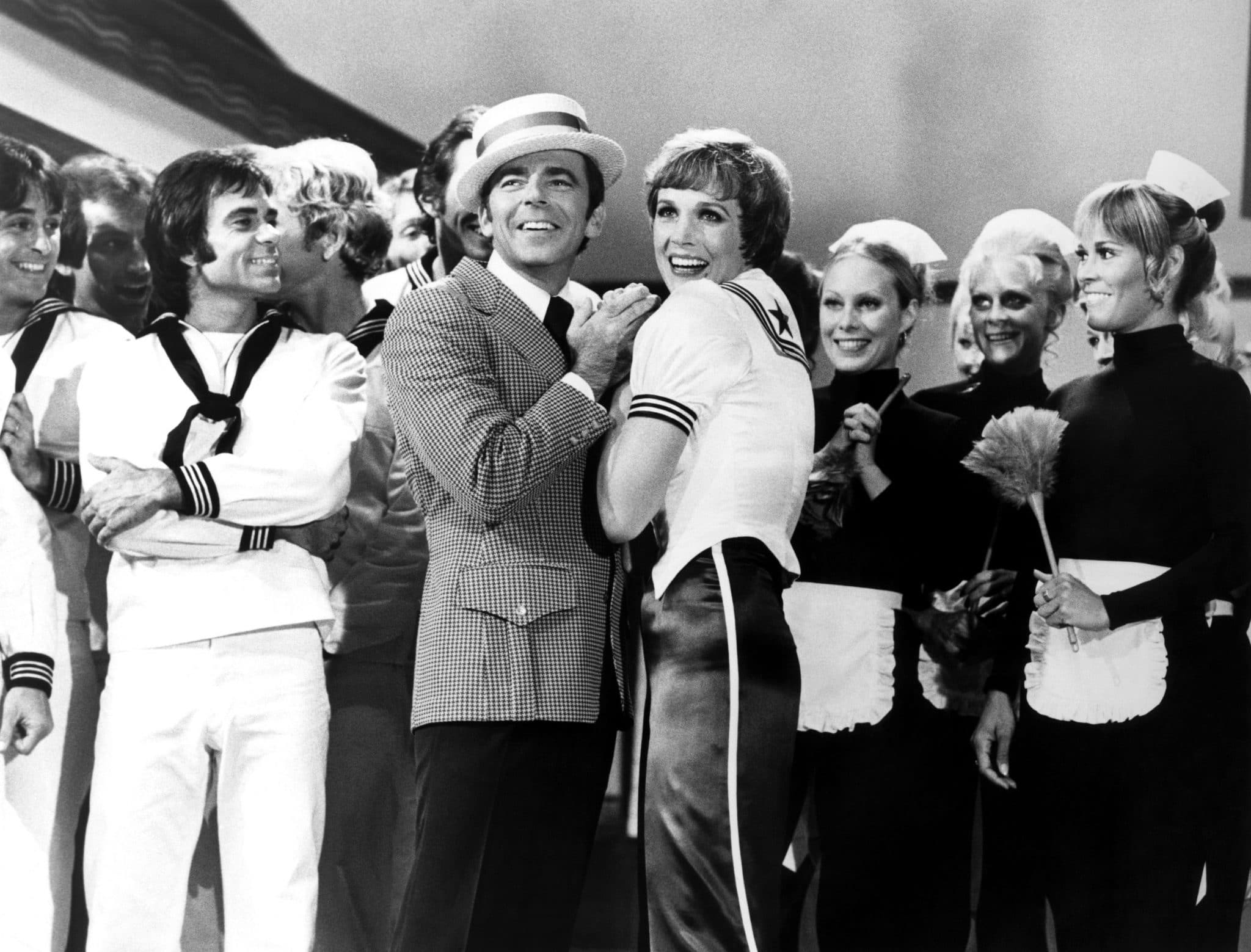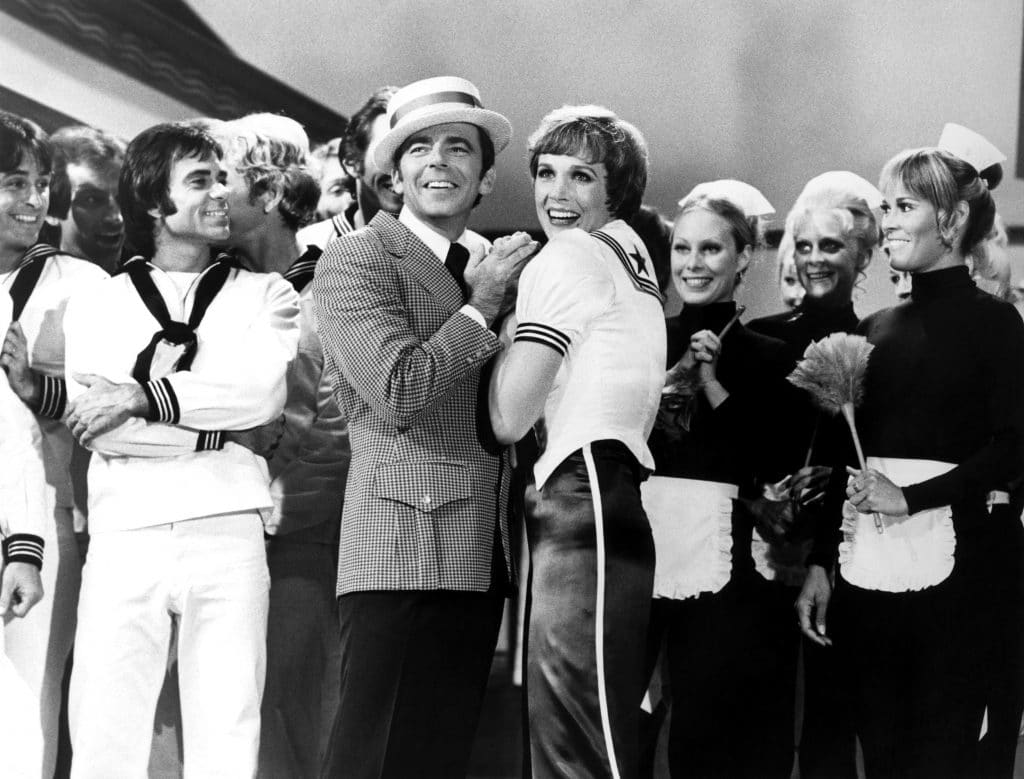 Julie's own weekly comedy variety show. Here she's seen with Ken Berry, who had recently starred in The Andy Griffith Show spin-off series, Mayberry R.F.D.
21. 'Julie on Sesame Street' (1973 TV Special)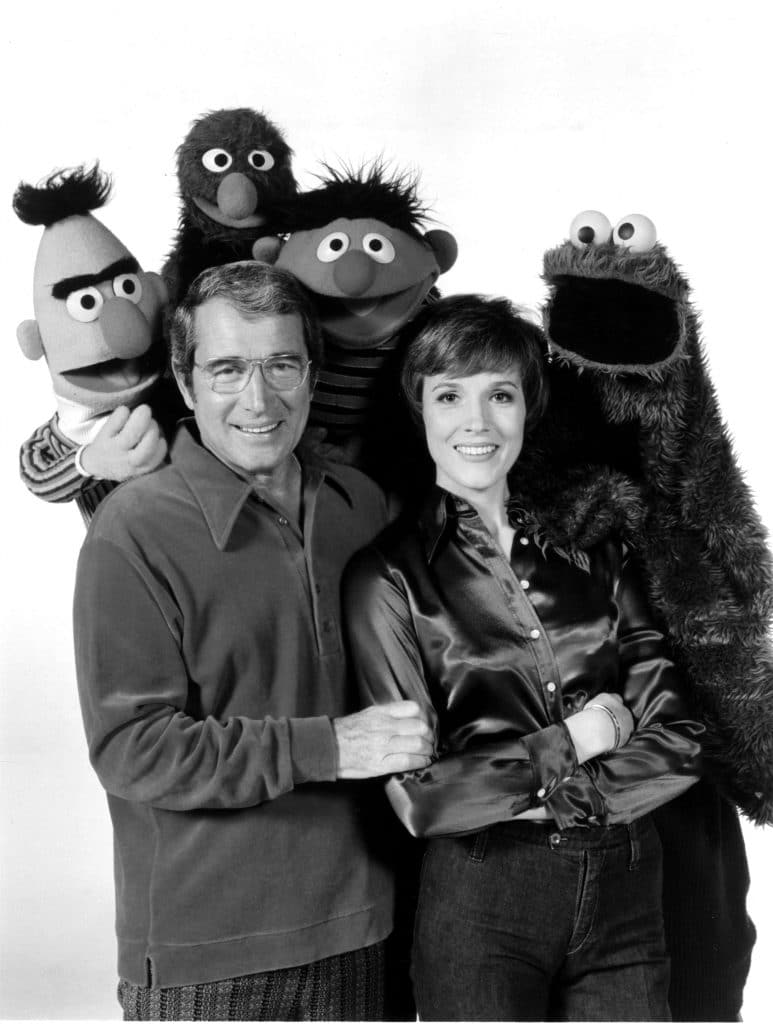 TV special that brought Julie, singer Perry Como and, of course, the Muppets together.
22. 'The Tamarind Seed' (1974 Film)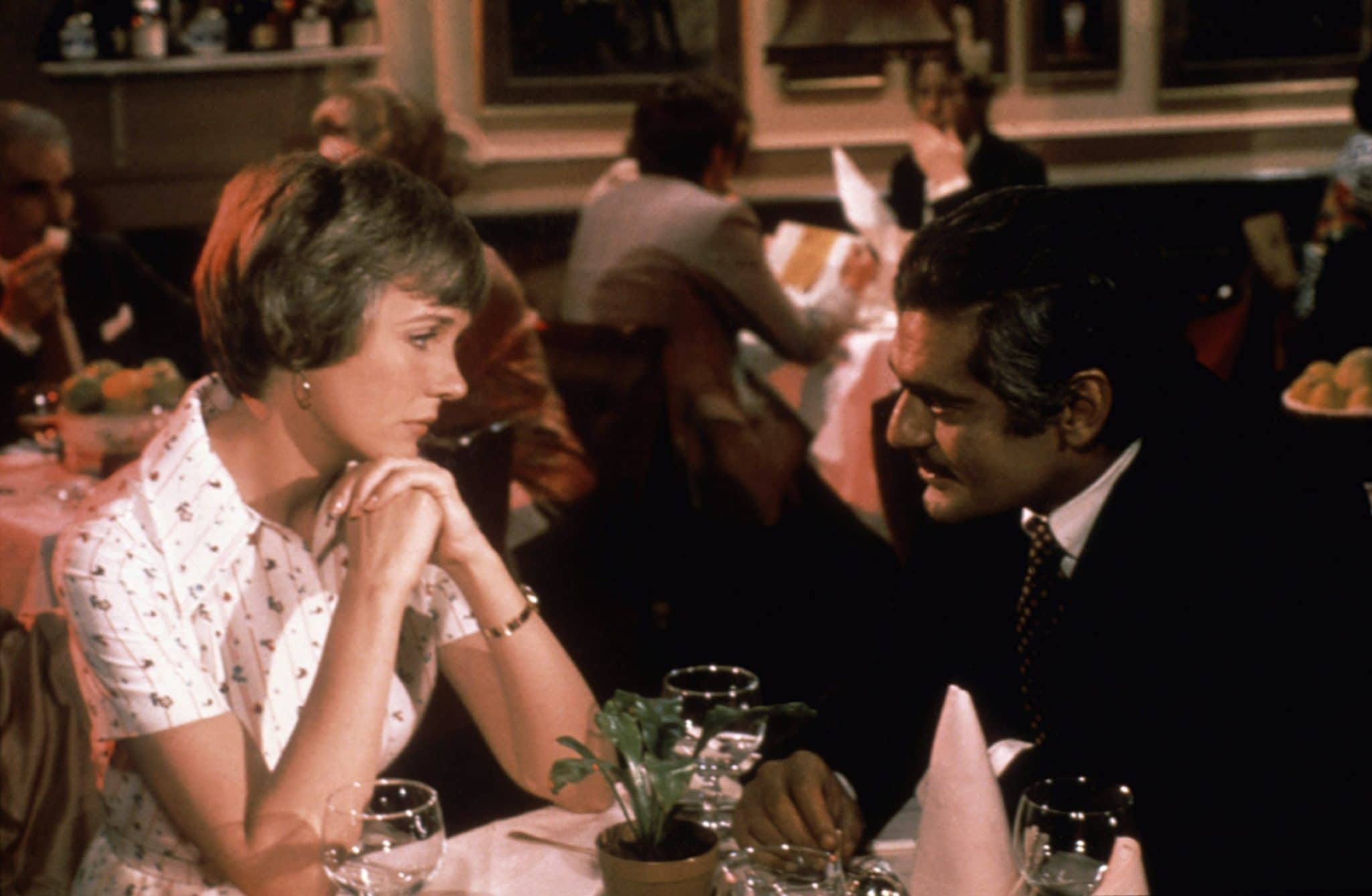 During a Caribbean vacation, a British civil servant (Julie) finds herself falling in love with a Russian Agent (Omar Sharif).
23. 'Julie and Dick at Covent Garden' (1974 TV Special)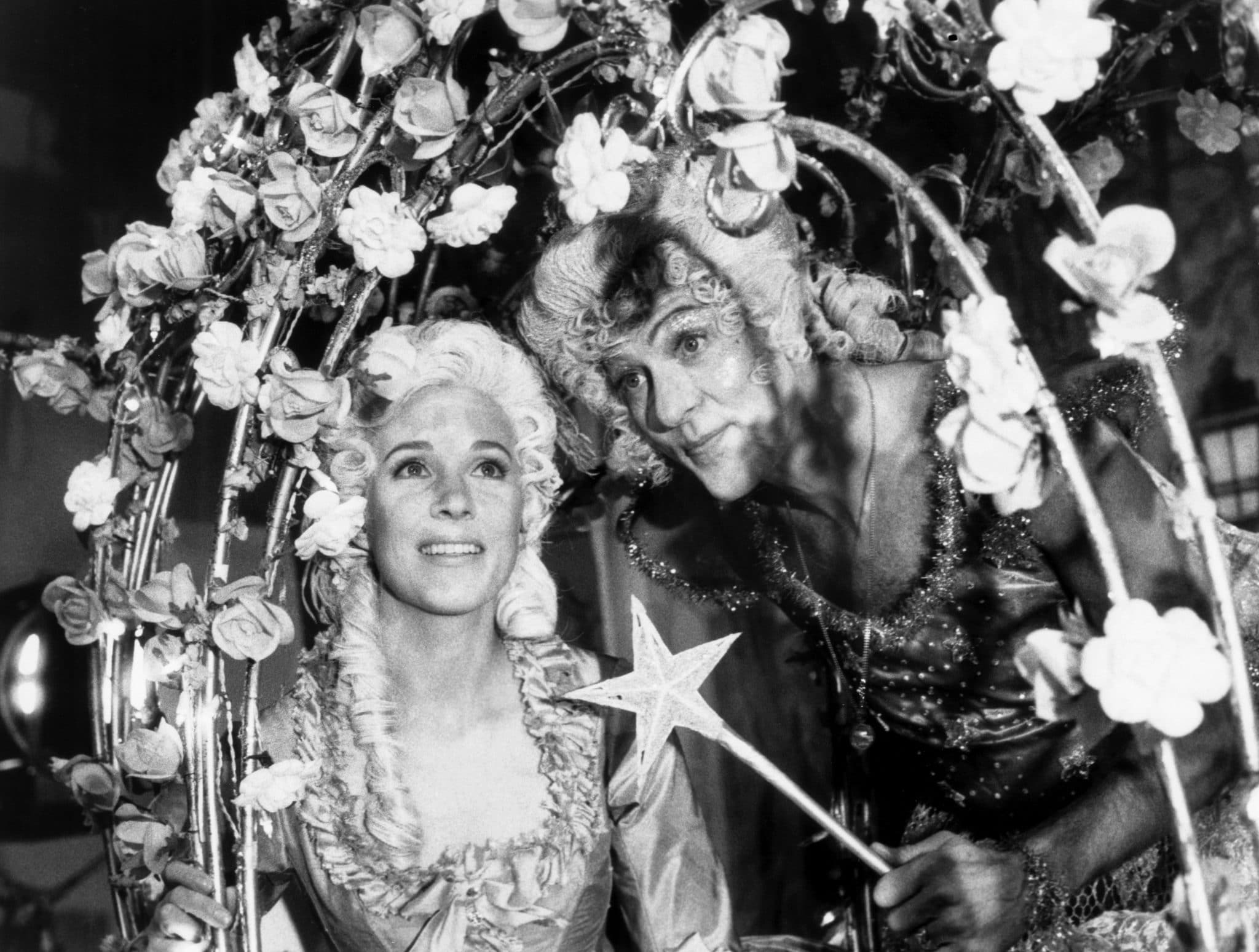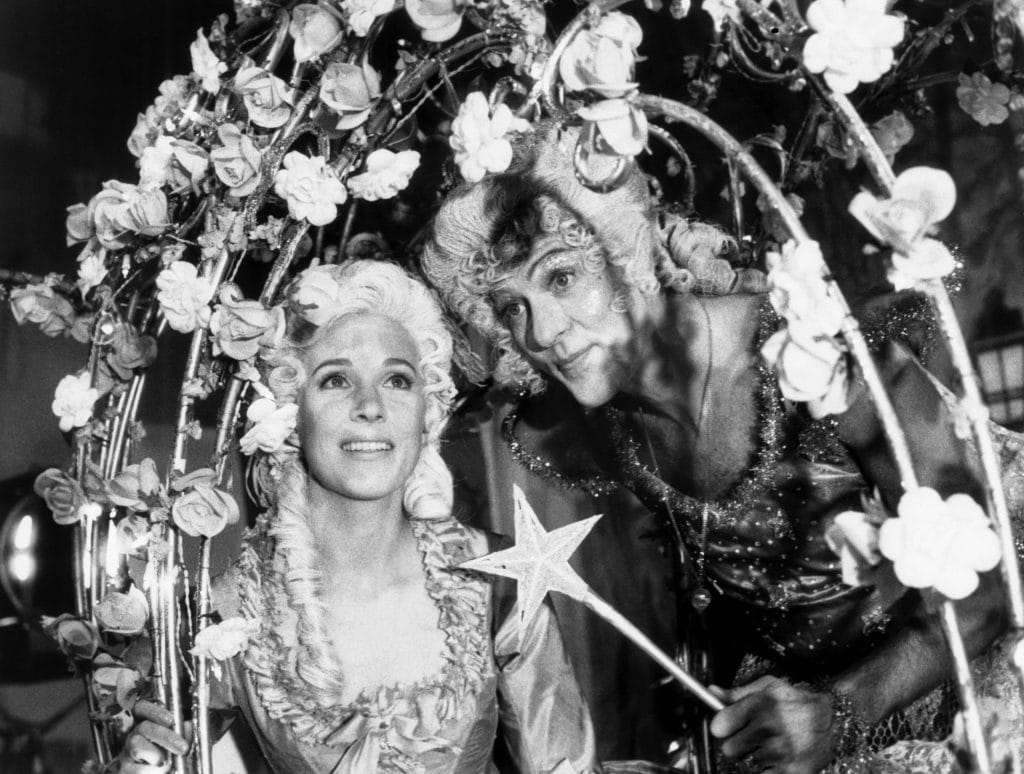 A comedy music special that teams Julie up with her Mary Poppins co-star, Dick Van Dyke, and his series co-star (and creator) Carl Reiner.
24. 'Julie and Jackie: How Sweet It Is' (1974 TV Special)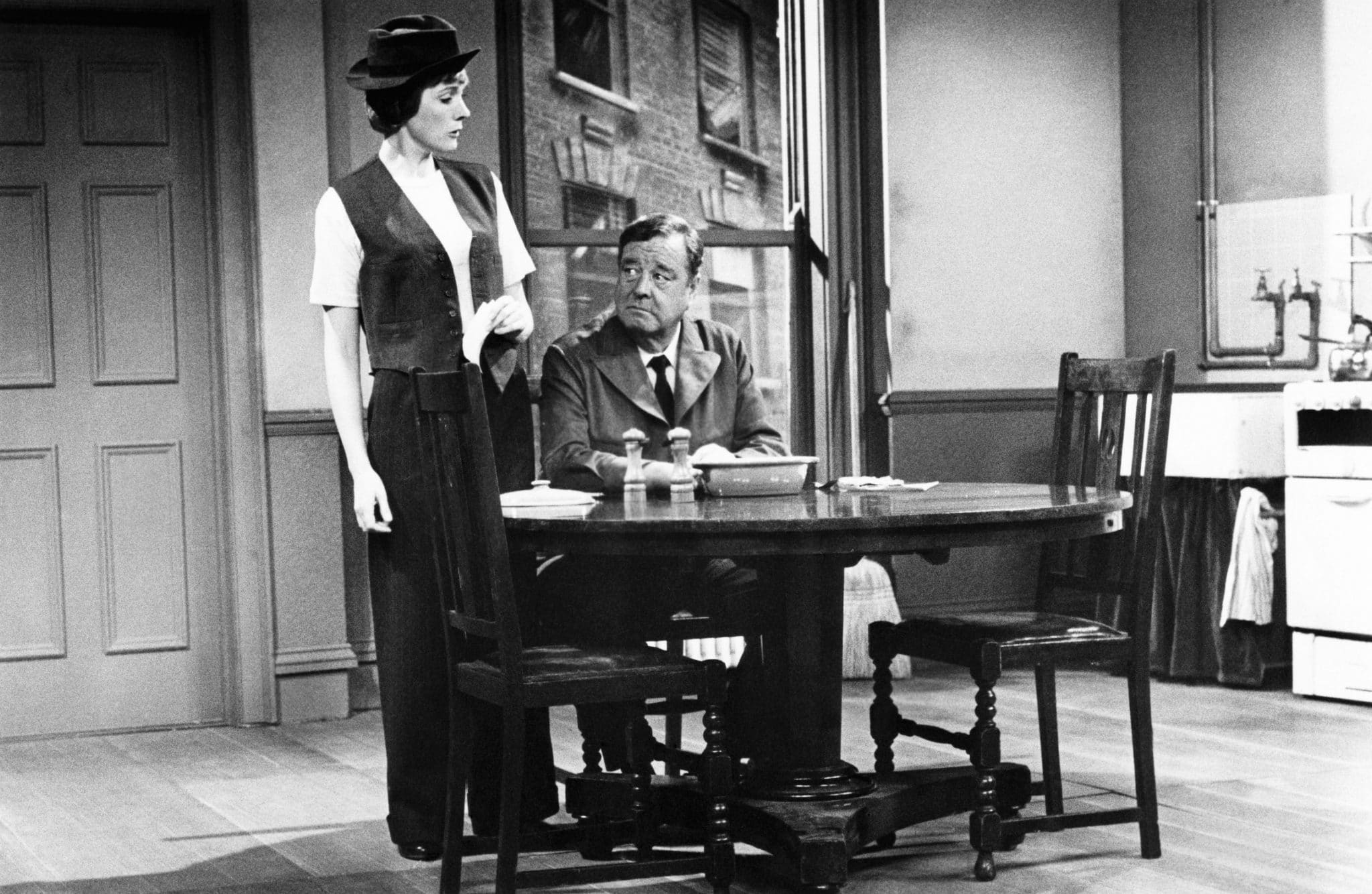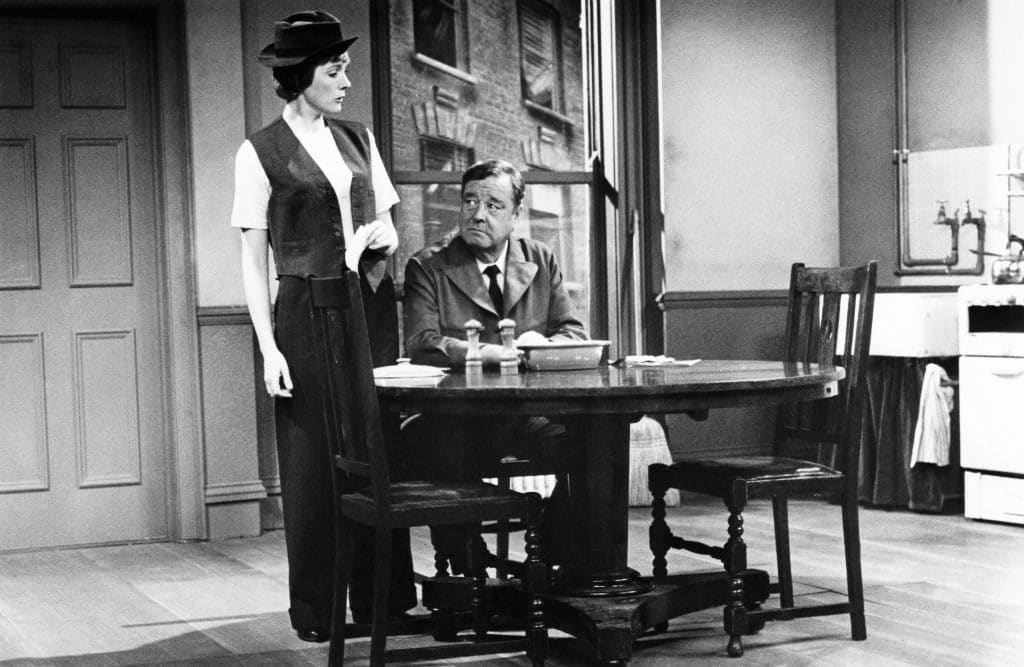 This particular special teams Julie up with Jackie Gleason, and in one particularly funny sequence, they do a Honeymooners sketch with Jackie as Ralph Kramden and Julie as Ed Norton.
25. 'Julie: My Favorite Things' (1975 TV Special)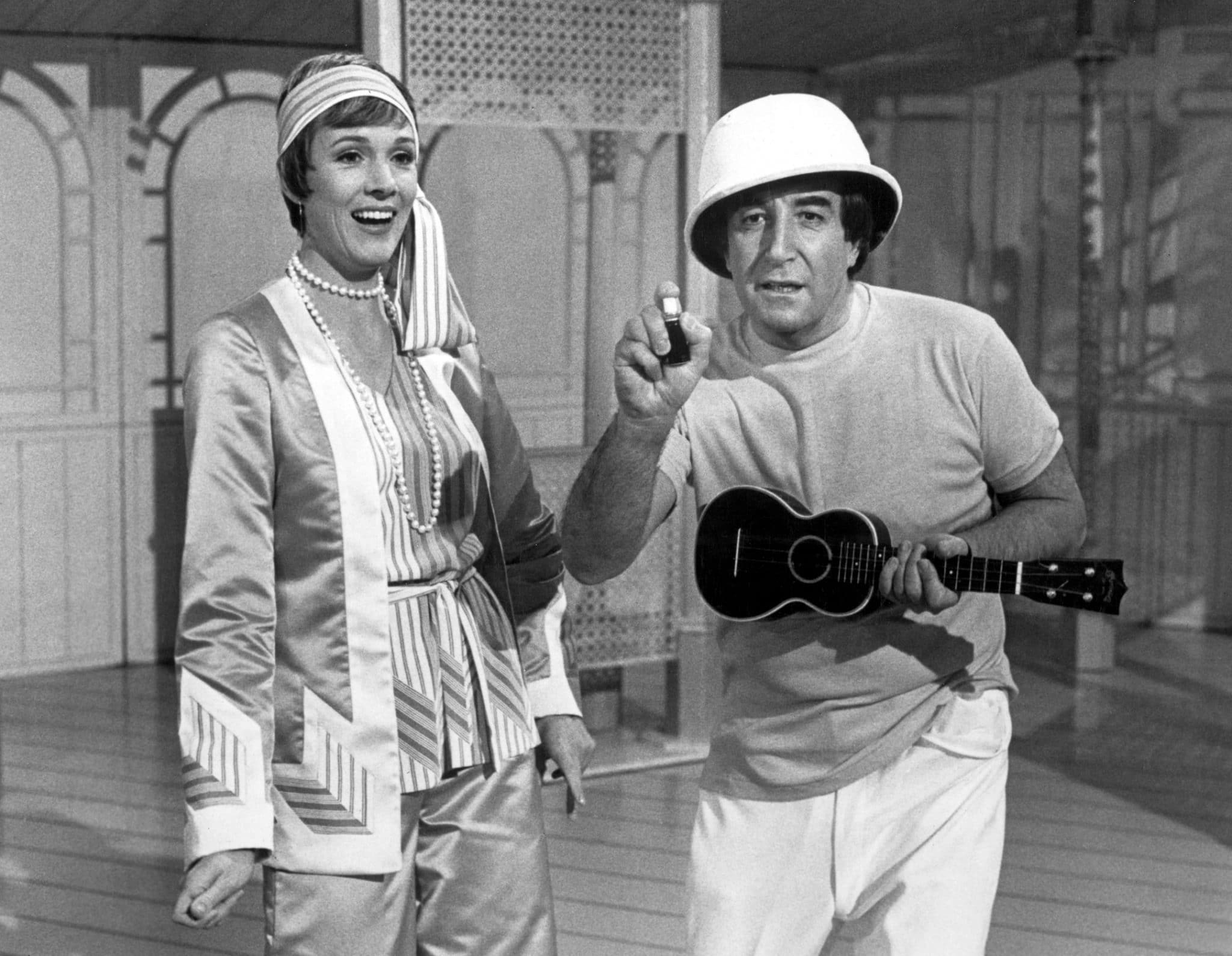 Julie meets Inspector Clouseau (well, at least his real-life alter ego, Peter Sellers) and is reunited with the muppets in this special.
26. 'The Muppet Show' (1977 TV Series)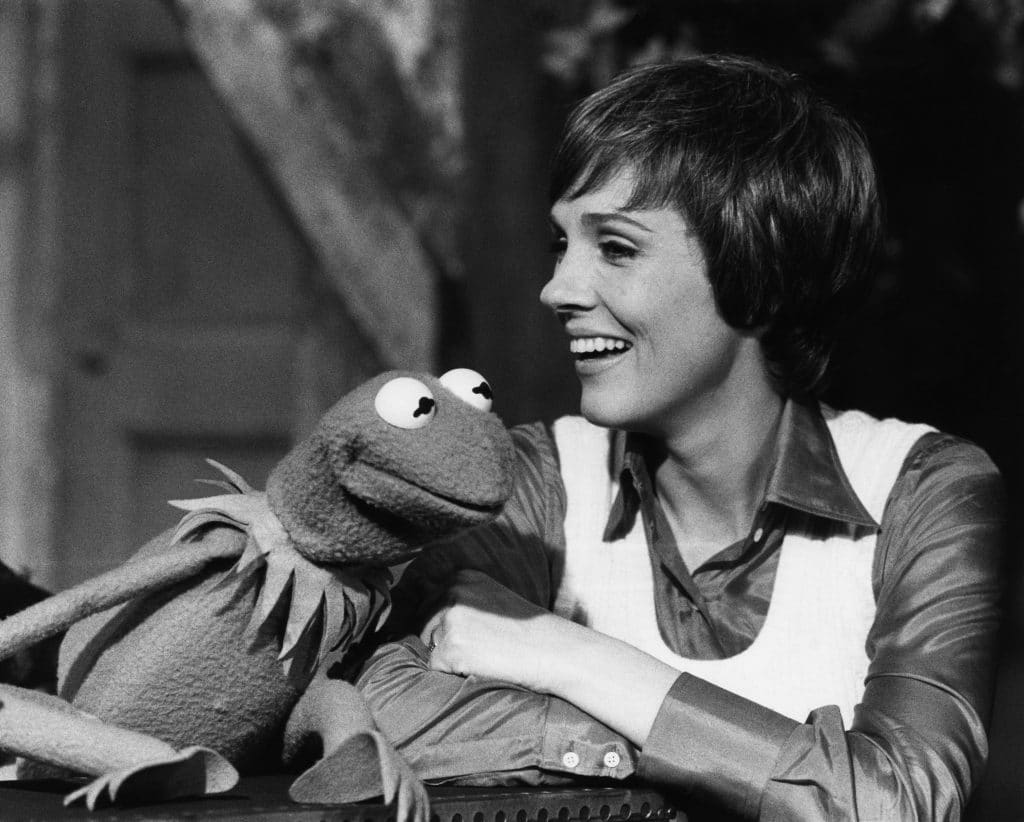 This time it was Julie's turn to do the guest-starring, appearing on an episode of this syndicated show and co-starring, above, with Kermit the Frog.
27. 'Julie Andrews: One Step into Spring' (1978 TV Special)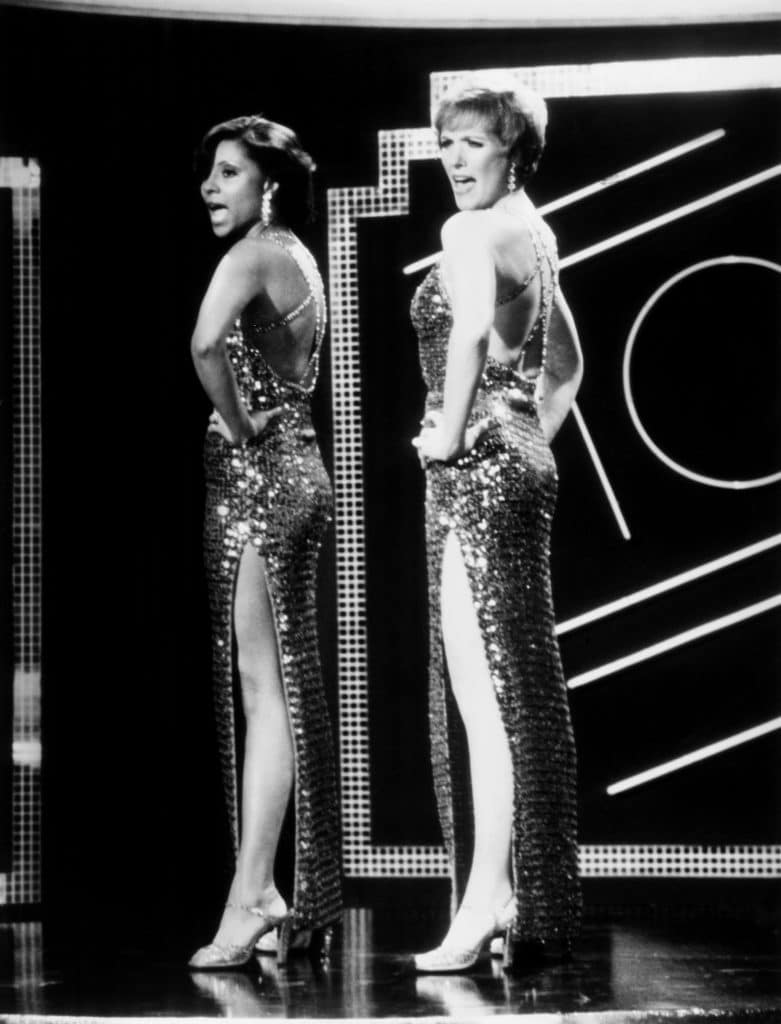 One forgets just how popular the Muppets were in the 1970s, and this Julie Andrews special featured them again. Also joining her in this musical comedy special are Alan King, Leo Sayer, and Leslie Uggams (seen above with Julie).
28. '10' (1979 Film)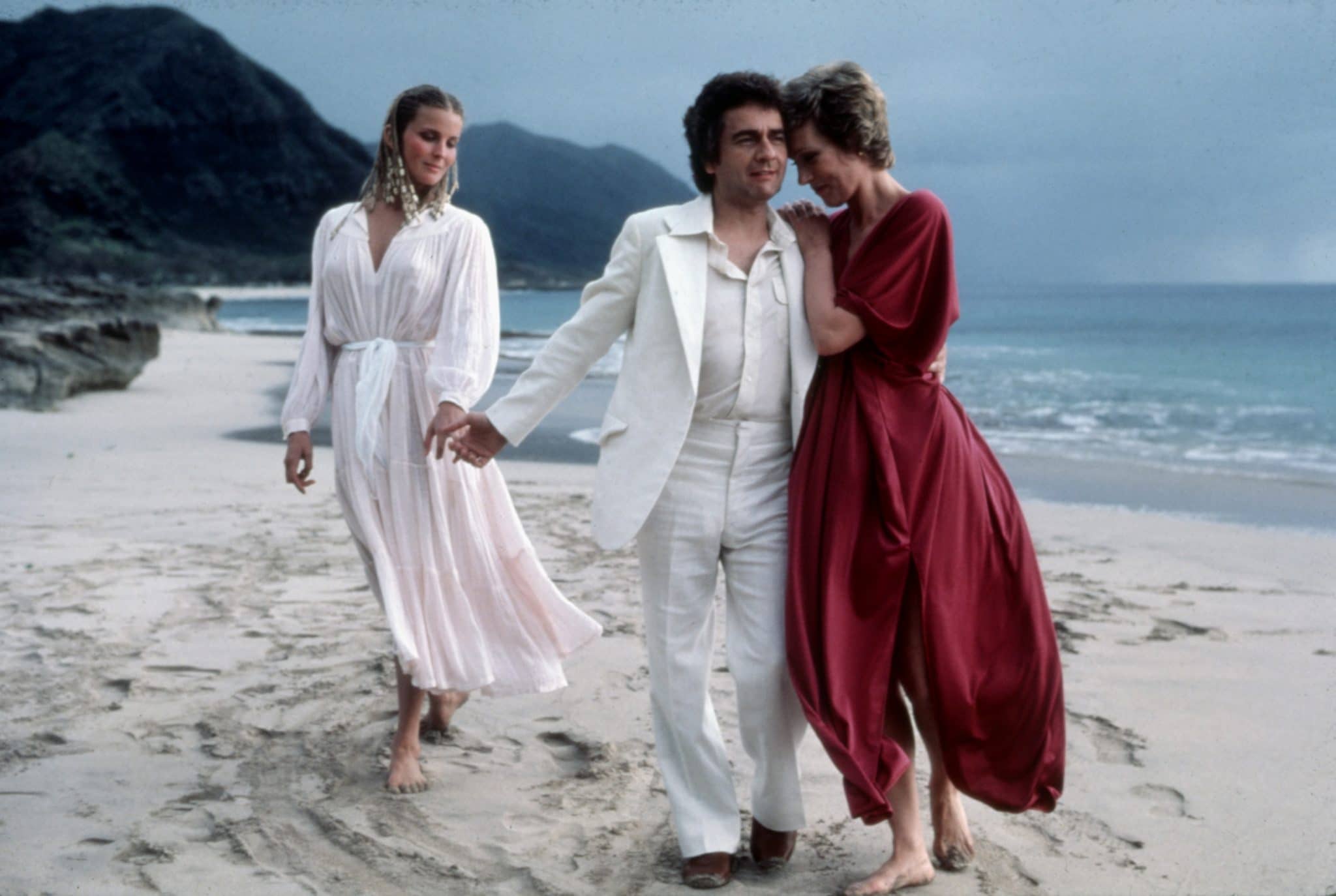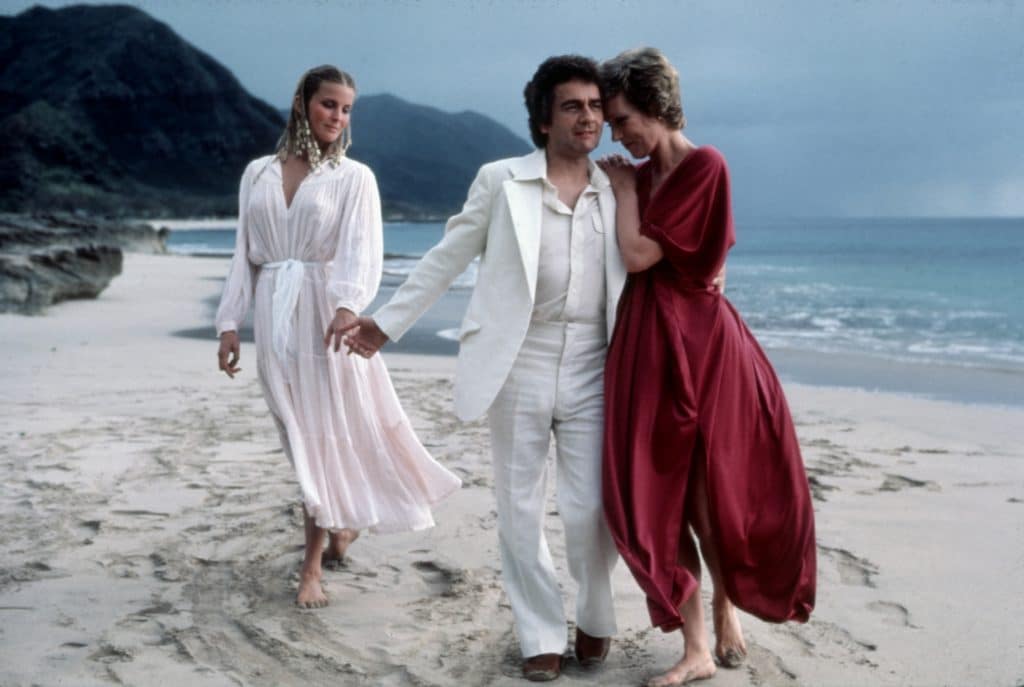 Dudley Moore is a Hollywood composer whose mid-life crisis becomes focused on a beautiful, newly-married woman named Jenny Hanley (Bo Derek). Julie is his girlfriend, Samantha Taylor.
29. 'Little Miss Marker' (1980 Film)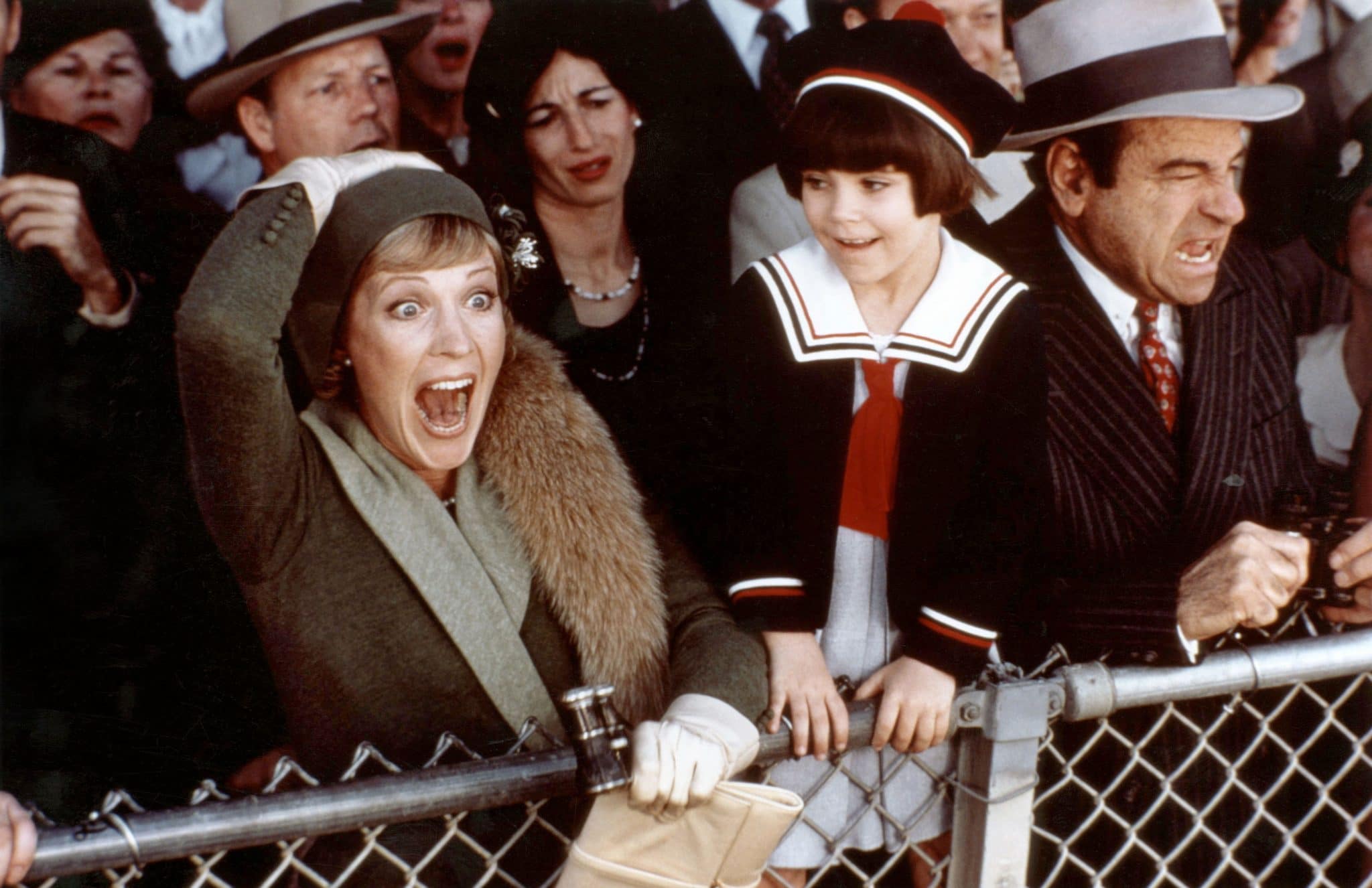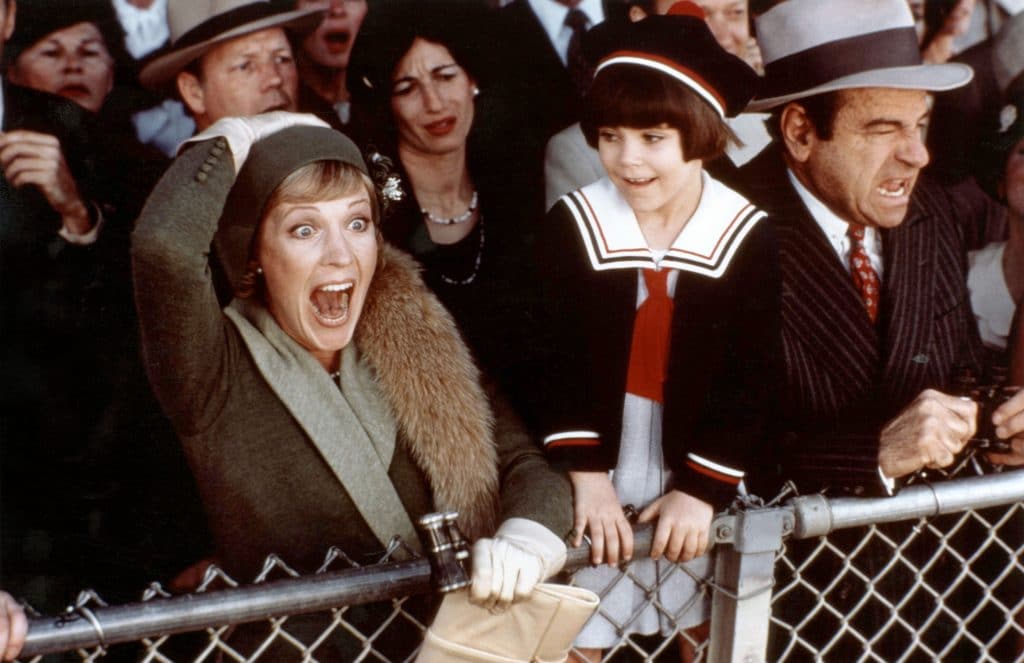 A bookie (Walter Matthau) finds his life interrupted when someone gives him a kid (Sara Stimson) as collateral for a bet. Julie is his widowed girlfriend, Amanda Worthington.
30. 'S.O.B.' (1981 Film)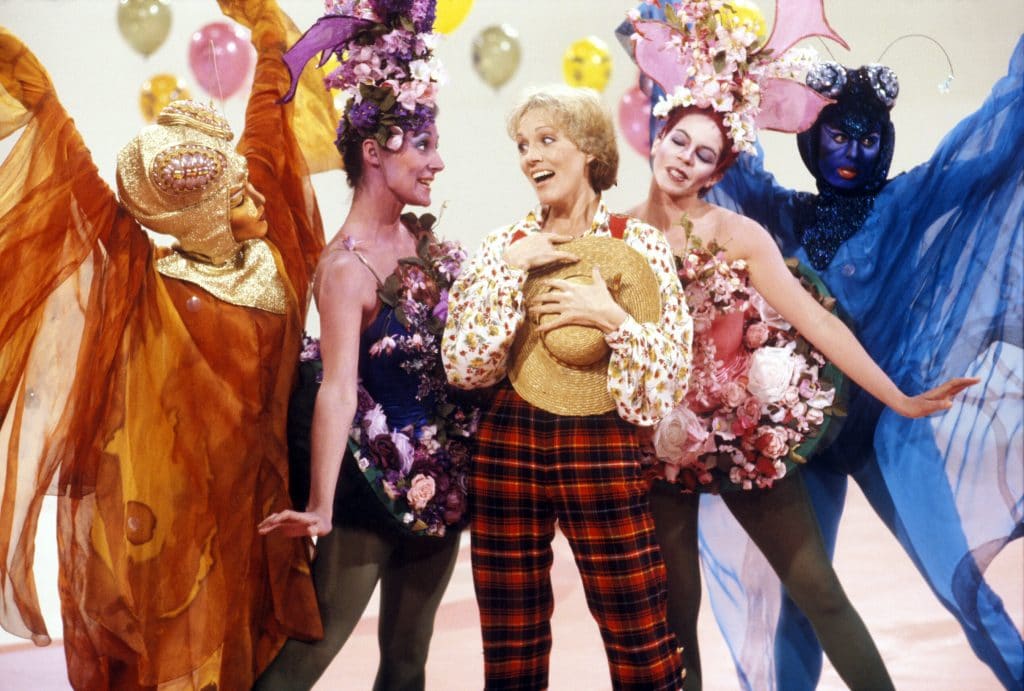 Director Blake Edwards' indictment of Hollywood, with Julie playing Sally Miles, an actress desperate to change her image — and does so by ripping off her top.
31. 'The CBS Festival of Lively Arts for Young People' (1981 TV Special)
In this episode of this entertainment series, which aired October 25, 1981, Julie appeared with dancer Rudolf Nureyev.
32. 'Victor/Victoria' (1982 Film)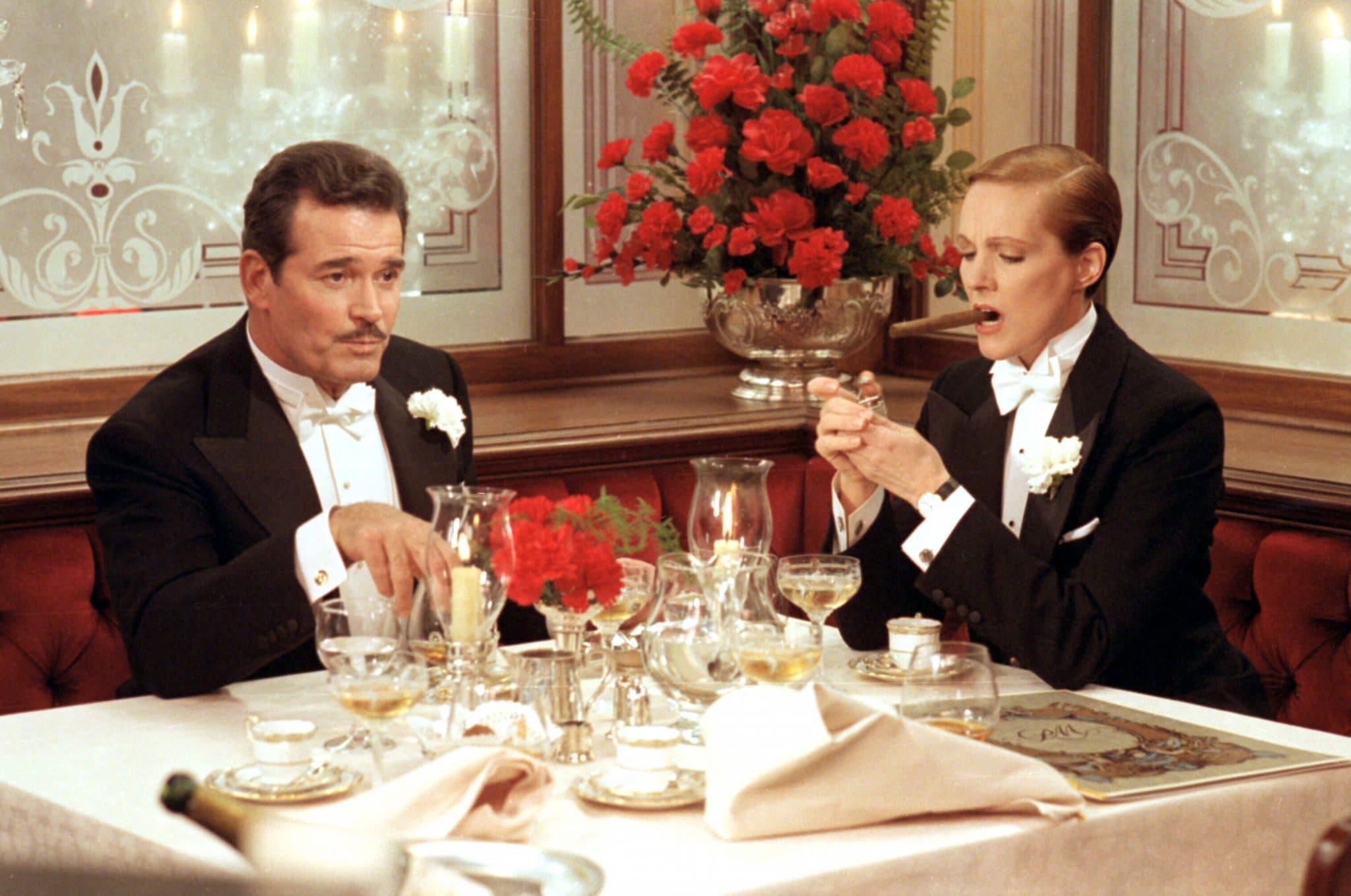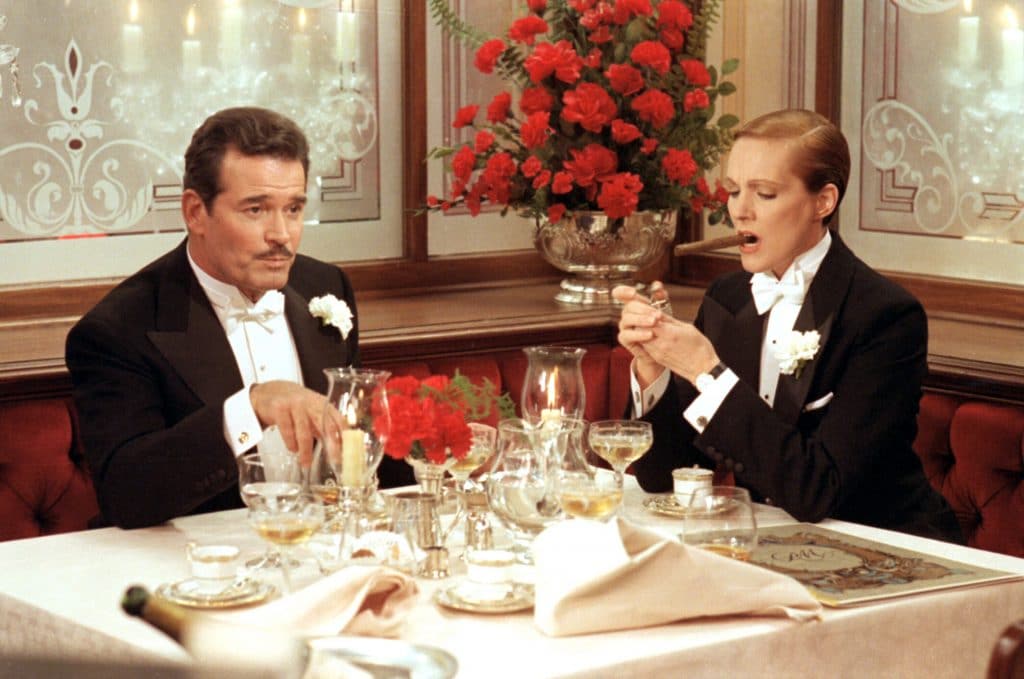 A struggling female soprano finds work playing a male female impersonator, but it complicates her personal life.
33. 'The Man Who Loved Women' (1983 Film)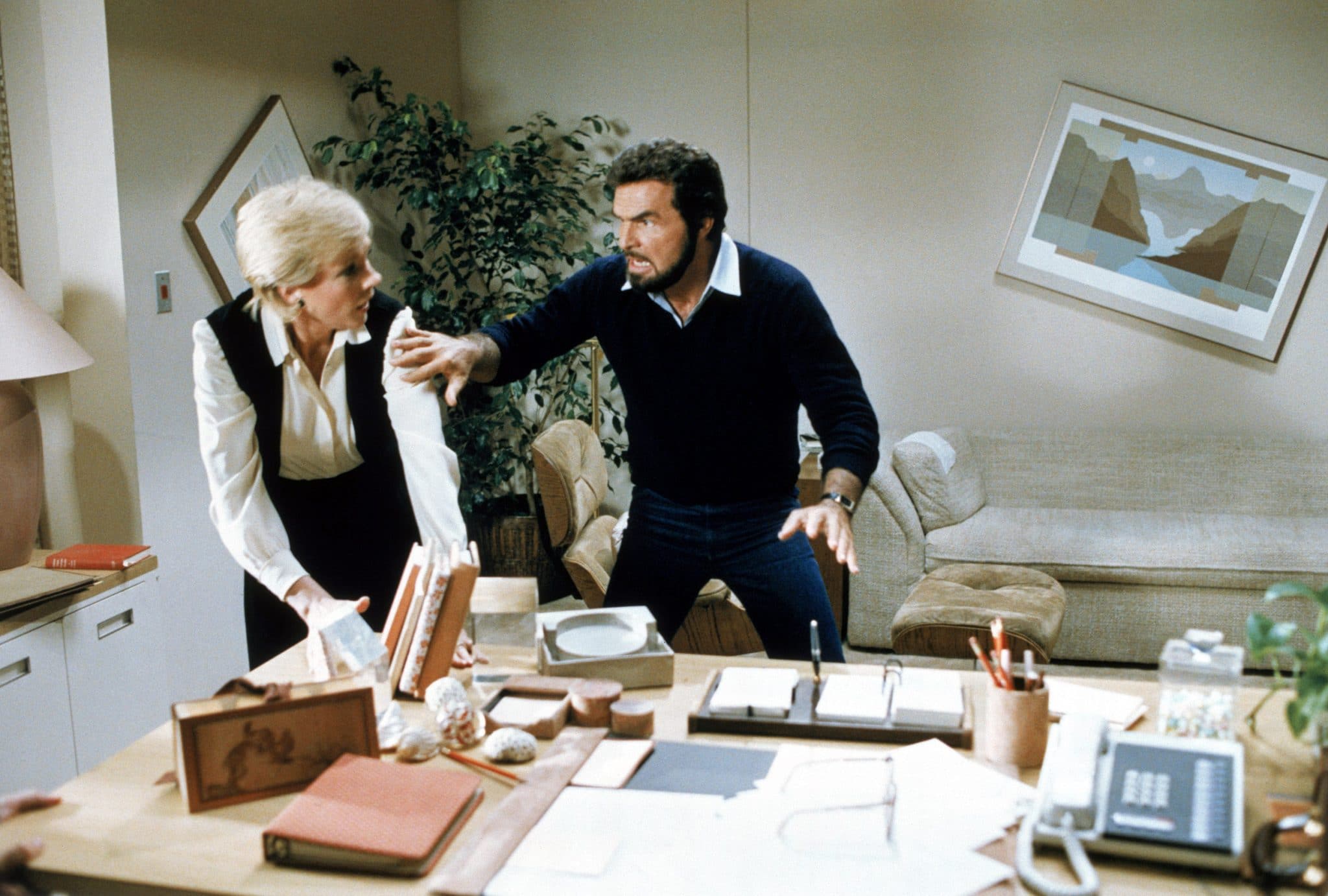 A man obsessed with women (Burt Reynolds) turns to a psychiatrist (Julie) to cure him of his "affliction."
34. 'That's Life!' (1986 Film)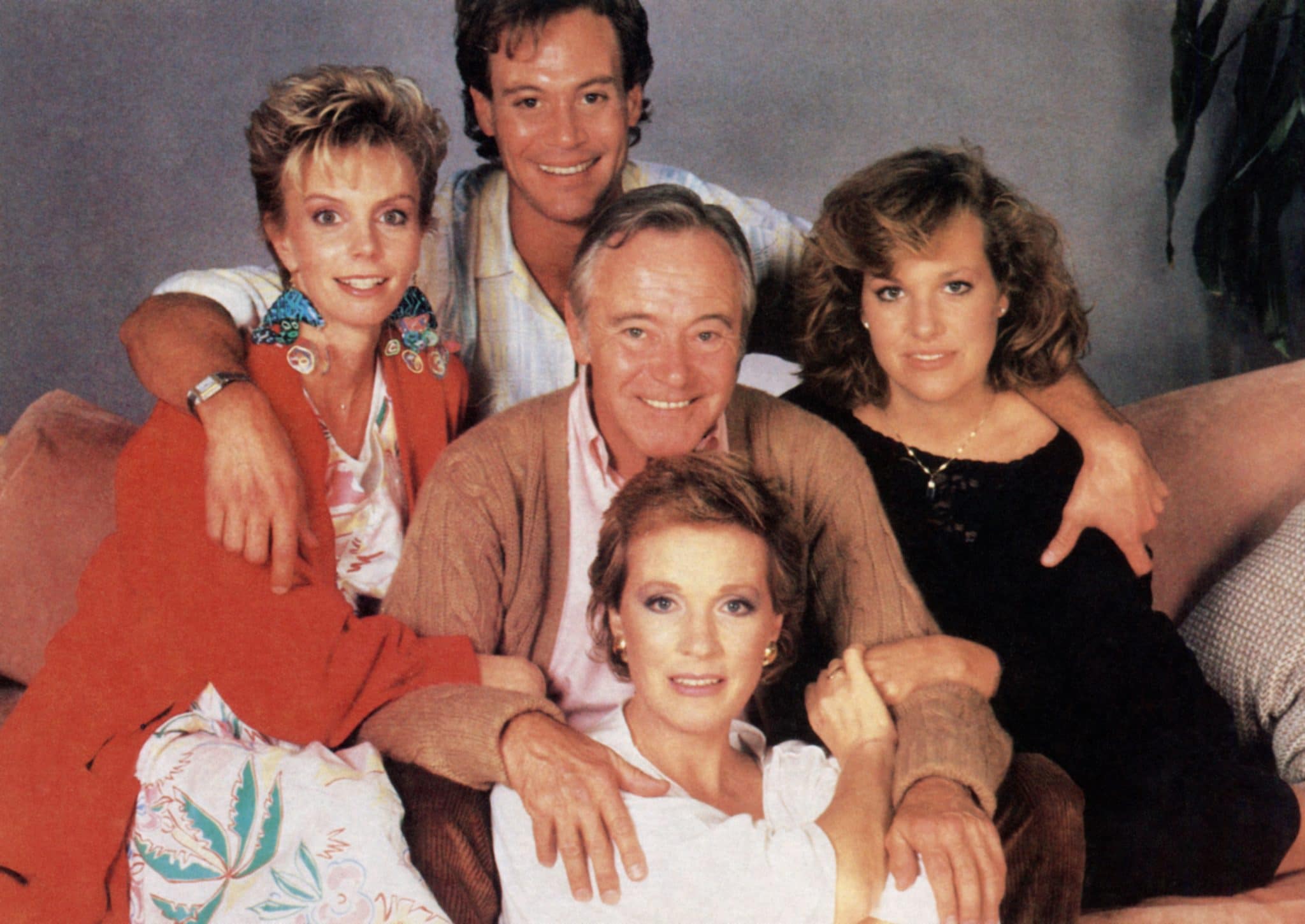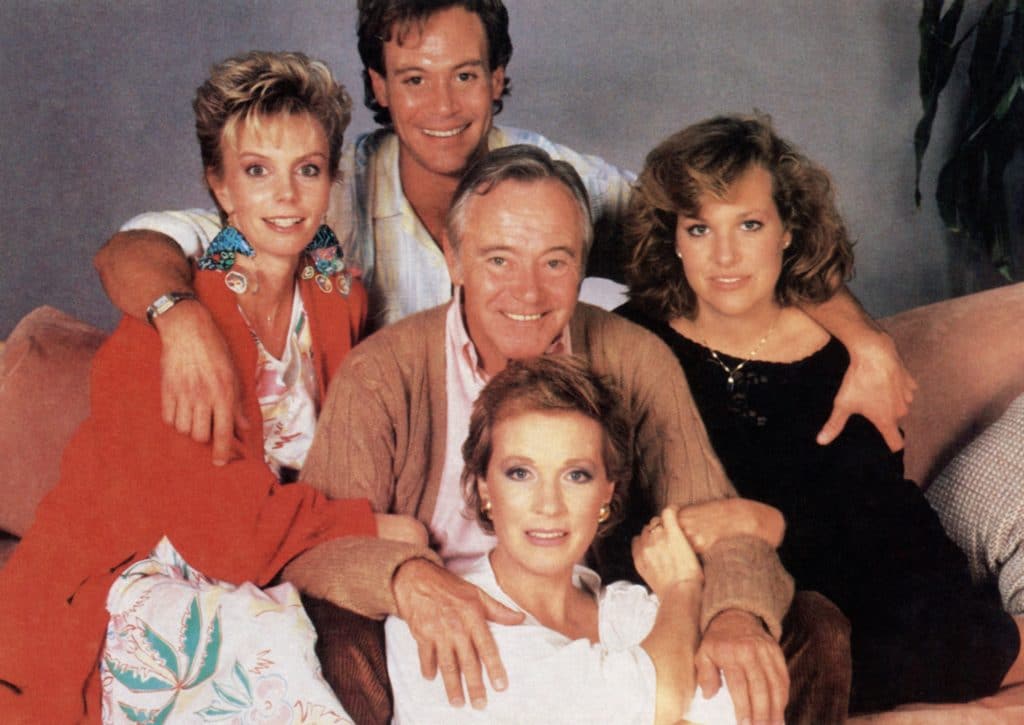 A family comedy-drama about reconciliation on the even of the patriarch's 60th birth. Clockwise from top center: Chris Lemmon, Emma Walton, Jack Lemmon, Julie Andrews, and Jennifer Edwards.
35. 'Duet for One' (1986 Film)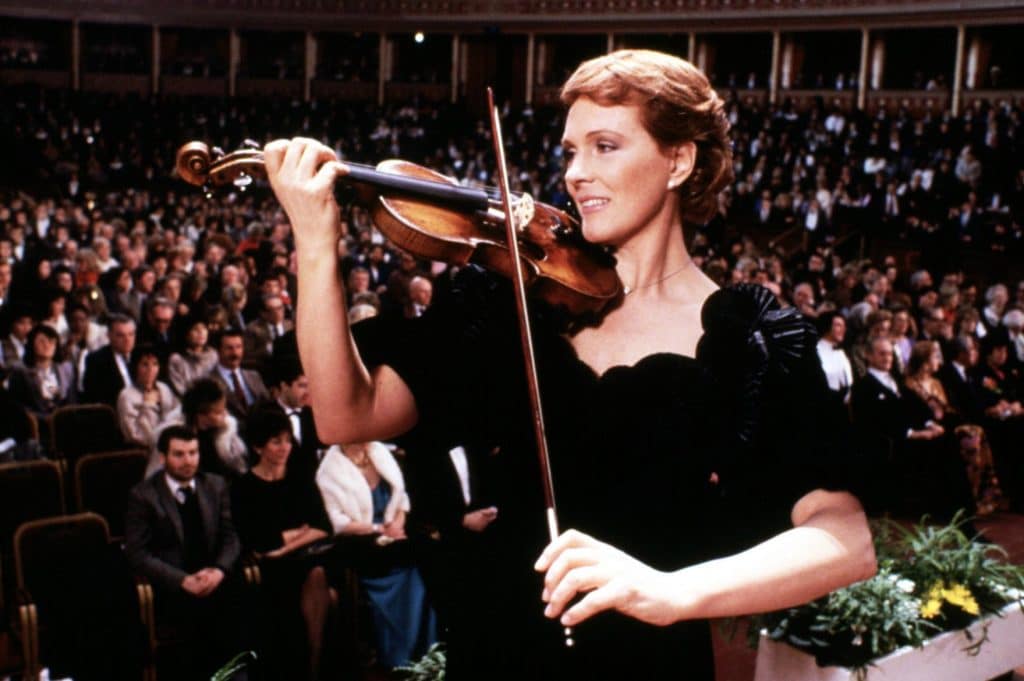 Violin player Stephanie Anderson (Julie) feels her life falling apart with a career sidelined by Multiple Sclerosis and her husband betraying her for another woman. Other cast members include Alan Bates, Max von Sydow, and Rupert Everett.
36. 'Julie Andrews: The Sound of Christmas' (1987 TV Special)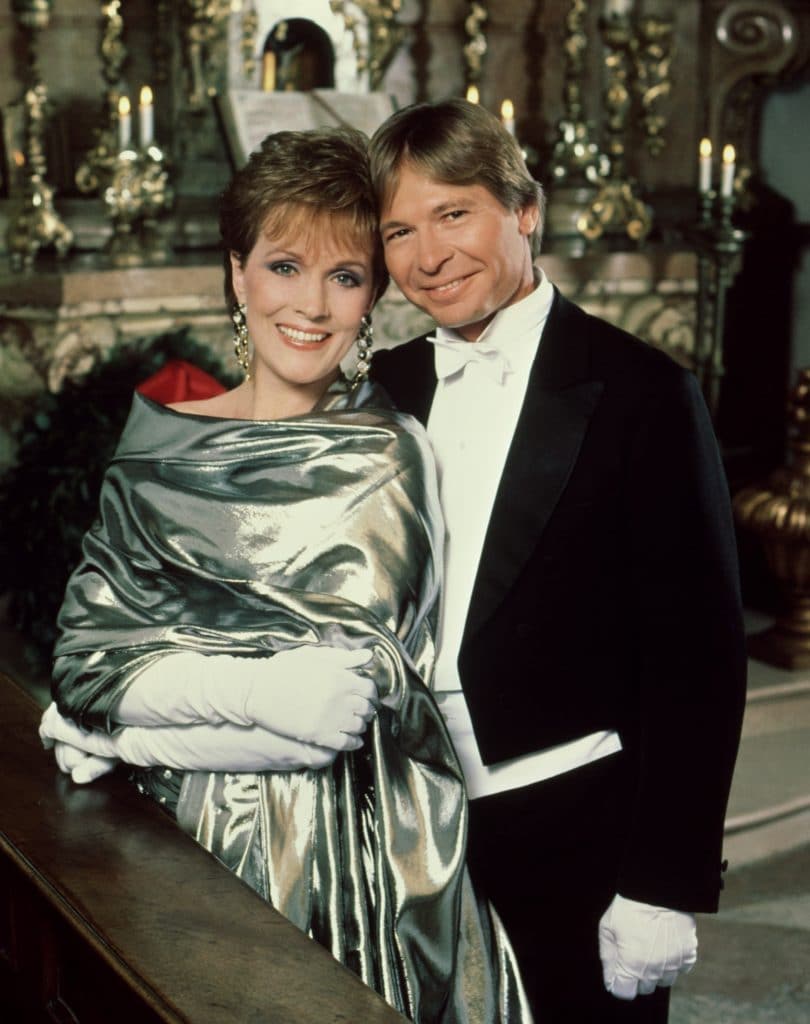 A Christmas special starring Julie and her guests John Denver, Placido Domingo, and The King's Singers.
37. 'Julie & Carol: Together Again' (1989 TV Special)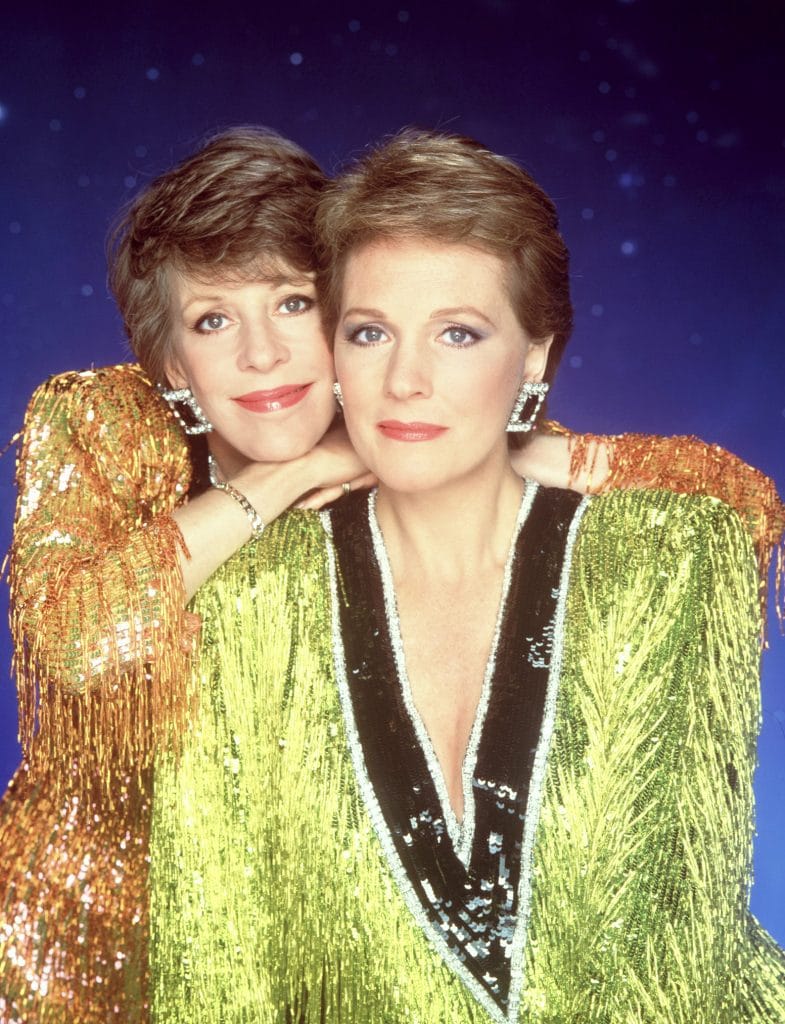 Presented as a TV movie, interviews and clips look back at the friendship of Julie and Carol Burnett during the previous 44 years.
38. 'A Fine Romance' (1991 Film)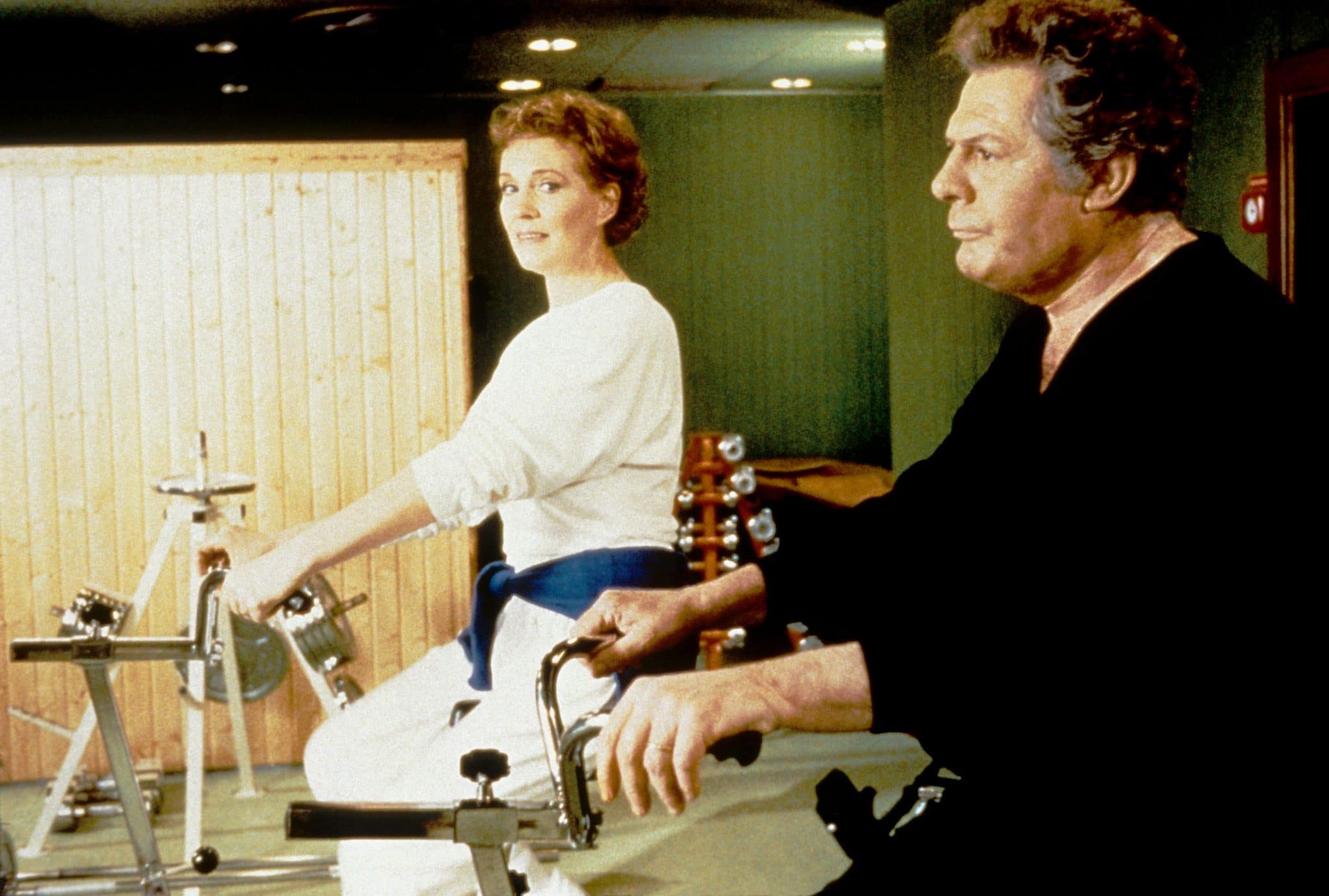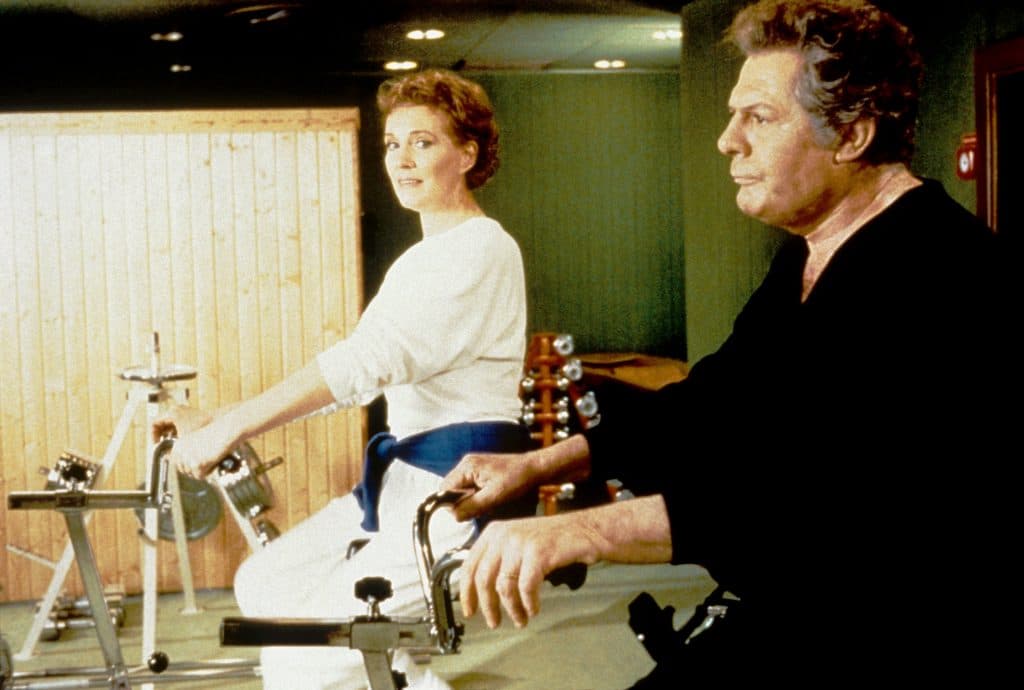 An Italian gentleman (Marcello Mastroianni) and a doctor's wife (Julie) plot to break up their spouses' affair in Paris.
39. 'Our Sons' (1991 TV Movie)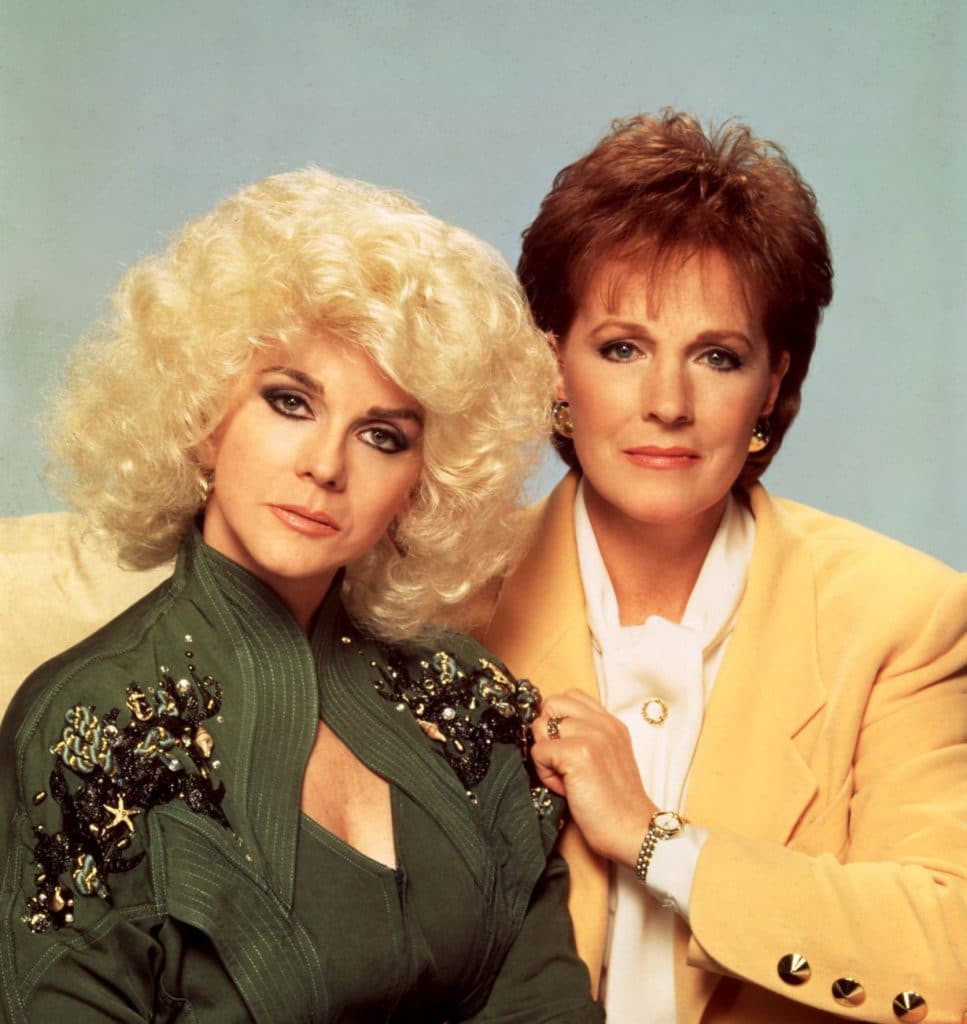 Donald (Zeljko Ivanek) is a young man dying of AIDS. His lover, James (Hugh Grant), asks his mother (Julie) to go to Fayetteville, Arkansas and tell Donald's mother (Ann-Margret), who has been estranged from her son for years.
40. 'Julie' (1992 TV Series)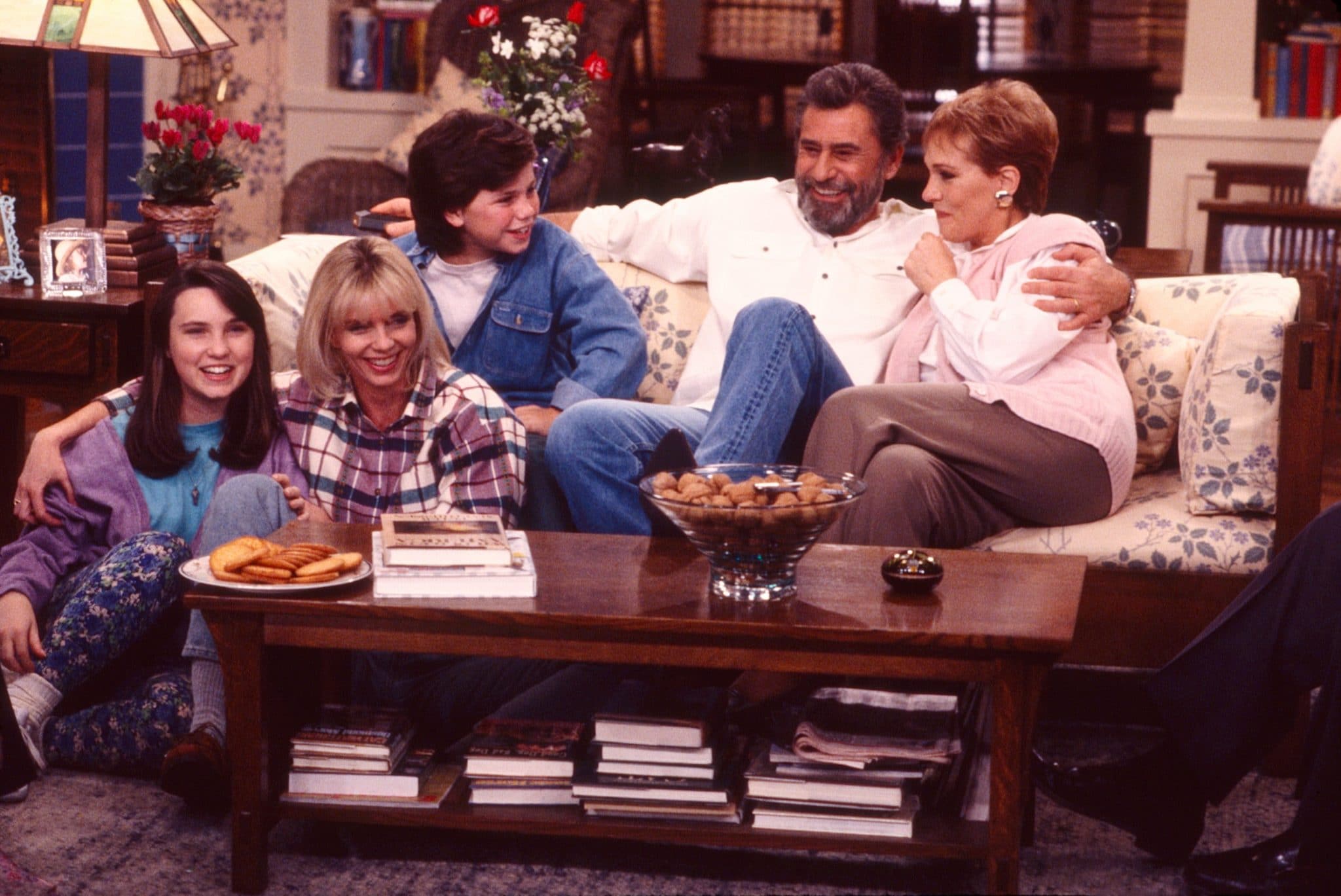 To balance career and family life, the star of a TV variety show decides to relocate production of the series to Sioux City, Iowa in this short-lived sitcom. Above, from left: Hayley Tyrie, Jennifer Edwards, Rider Strong, James Farentino, Julie Andrews.
41. 'The King & I' (1992 TV Movie)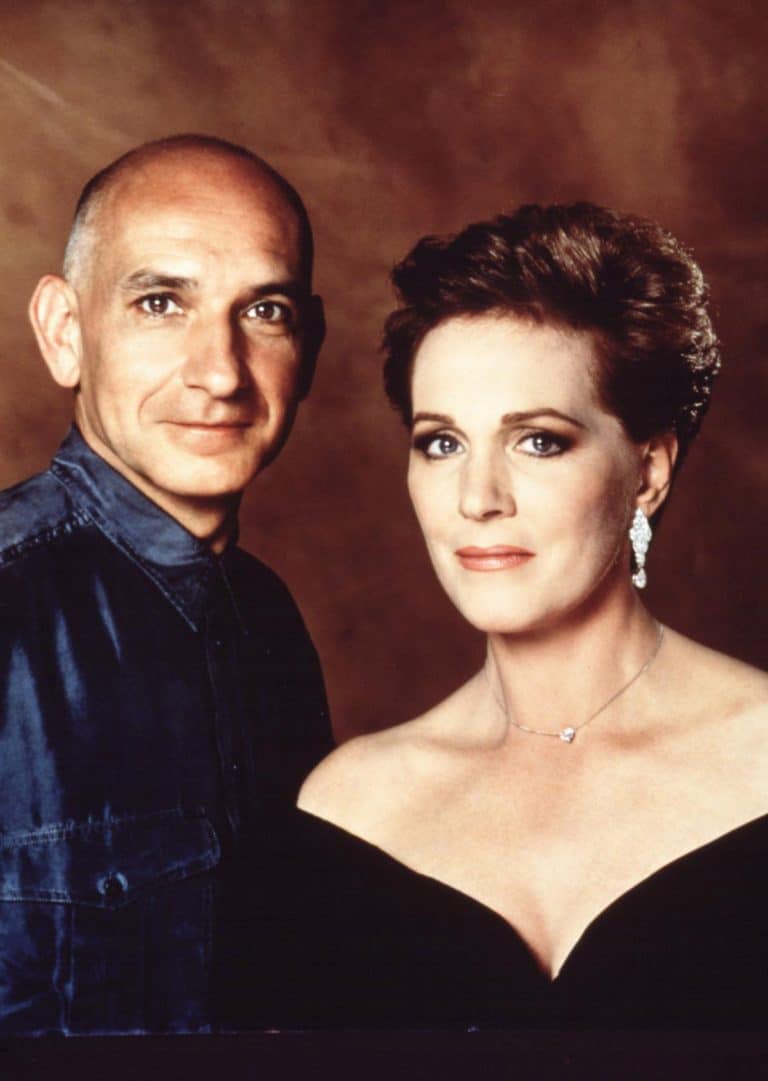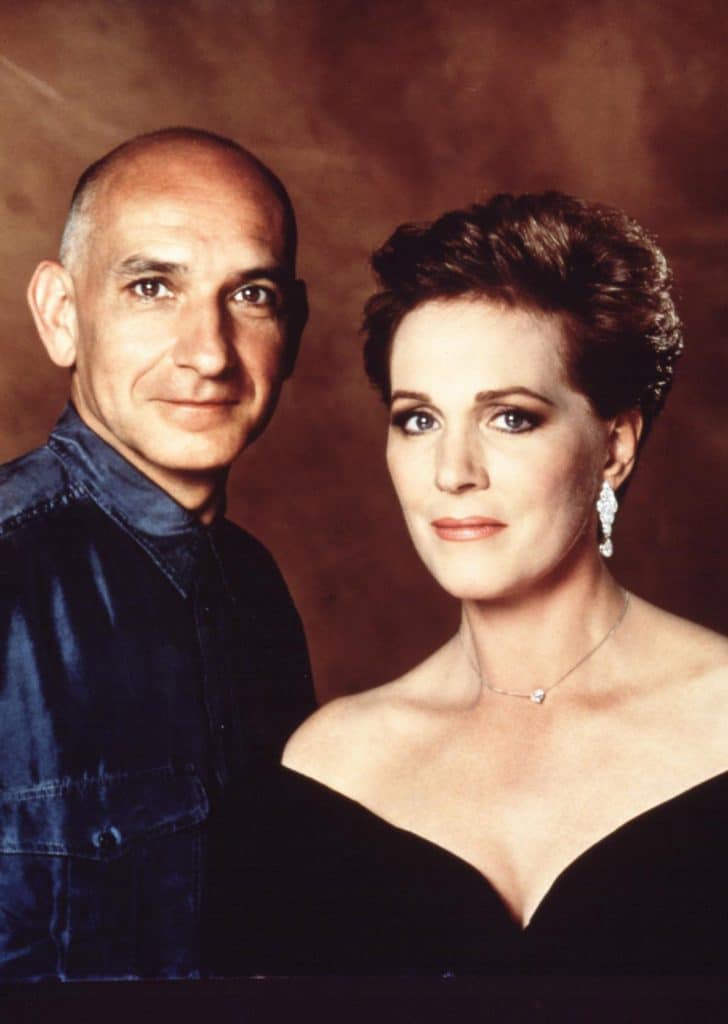 TV movie version of the classic musical starring Ben Kingsley as the King of Siam and Julie.
42. 'Putting It Together' (1993 Stage Show)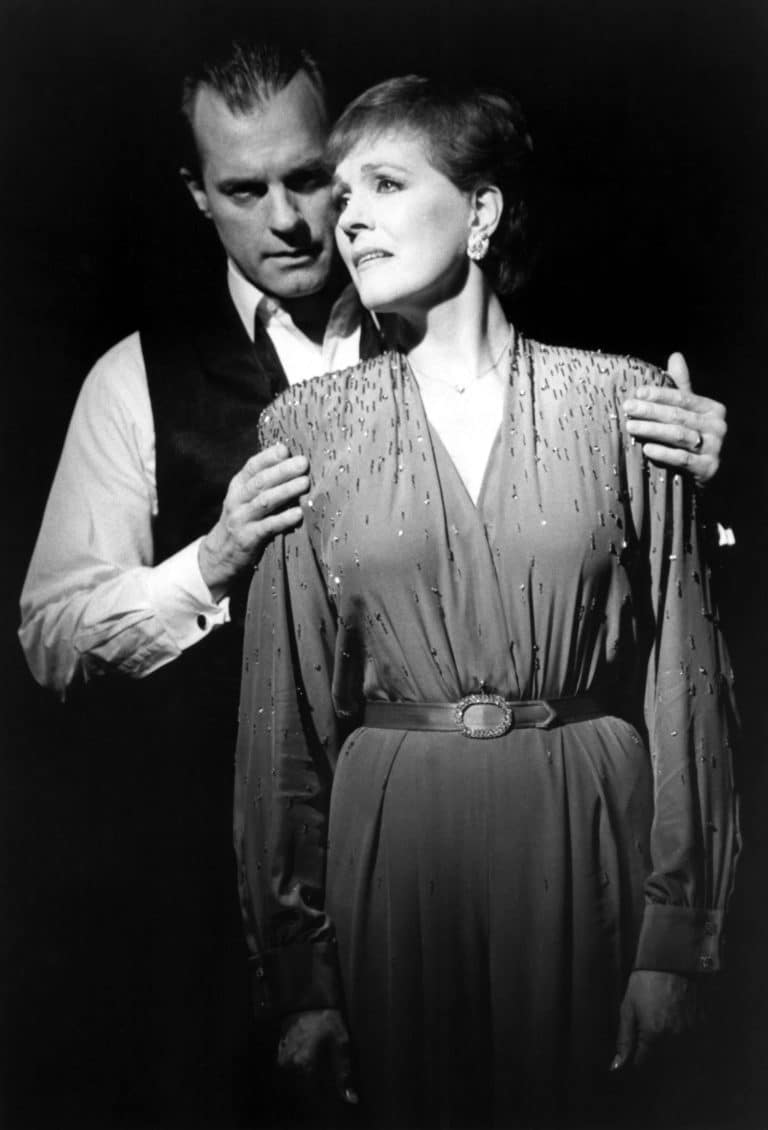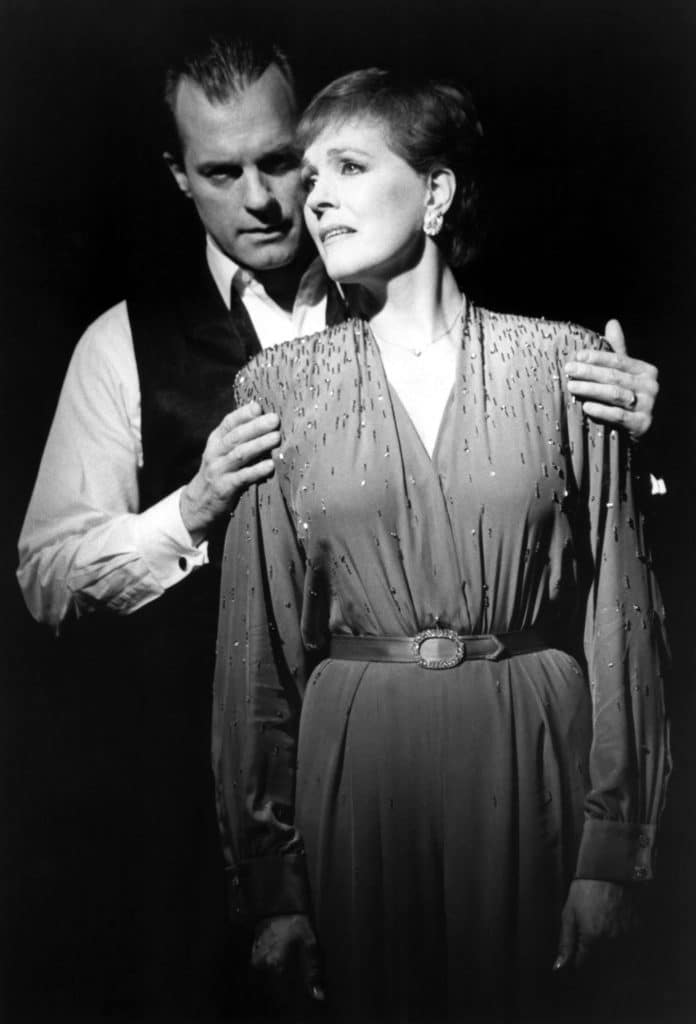 Stephen Collins and Julie Andrews starred in the Manhattan Theater Club production of Putting It Together, a musical review.
43. 'Victor/Victoria' (1995 to 1997 Stage Show)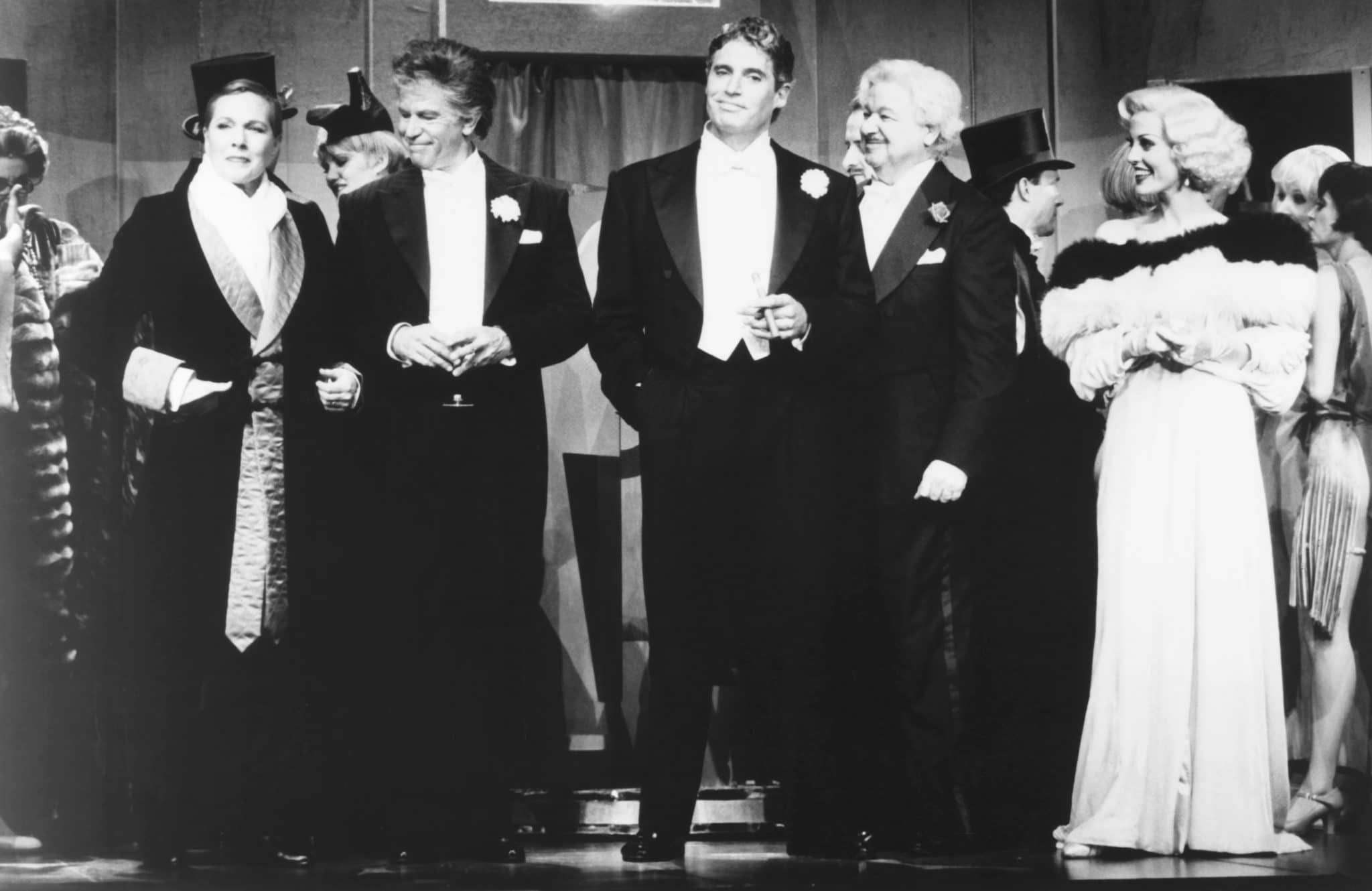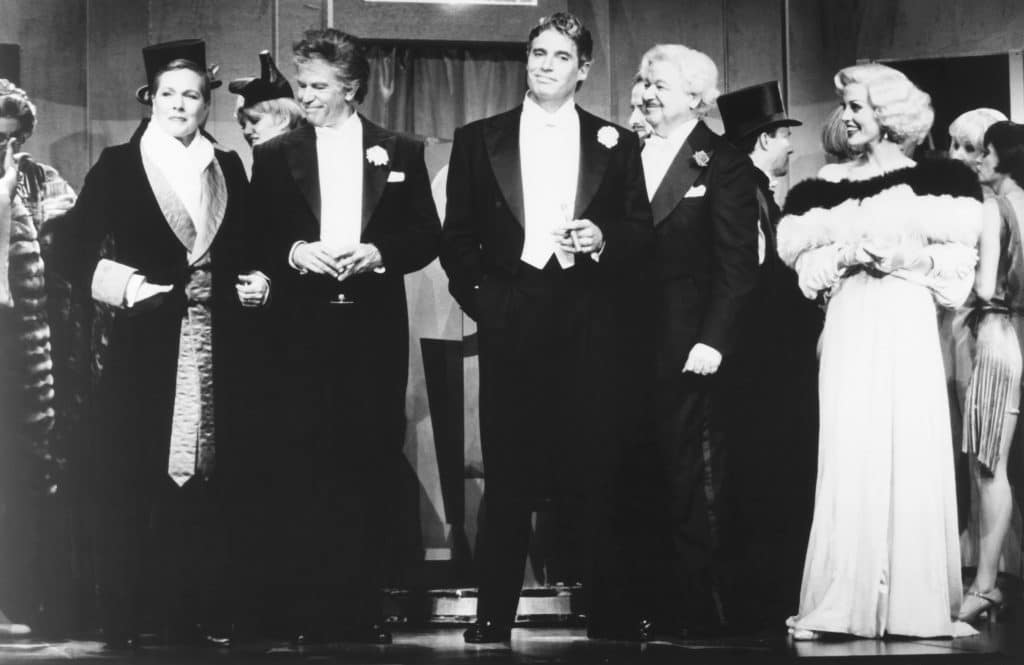 Stage version of the 1982 feature film. In the photo, from left: Julie, Tony Roberts, Michael Nouri, Richard B. Shull, Rachel York.
44. 'One Special Night' (1999 TV Movie)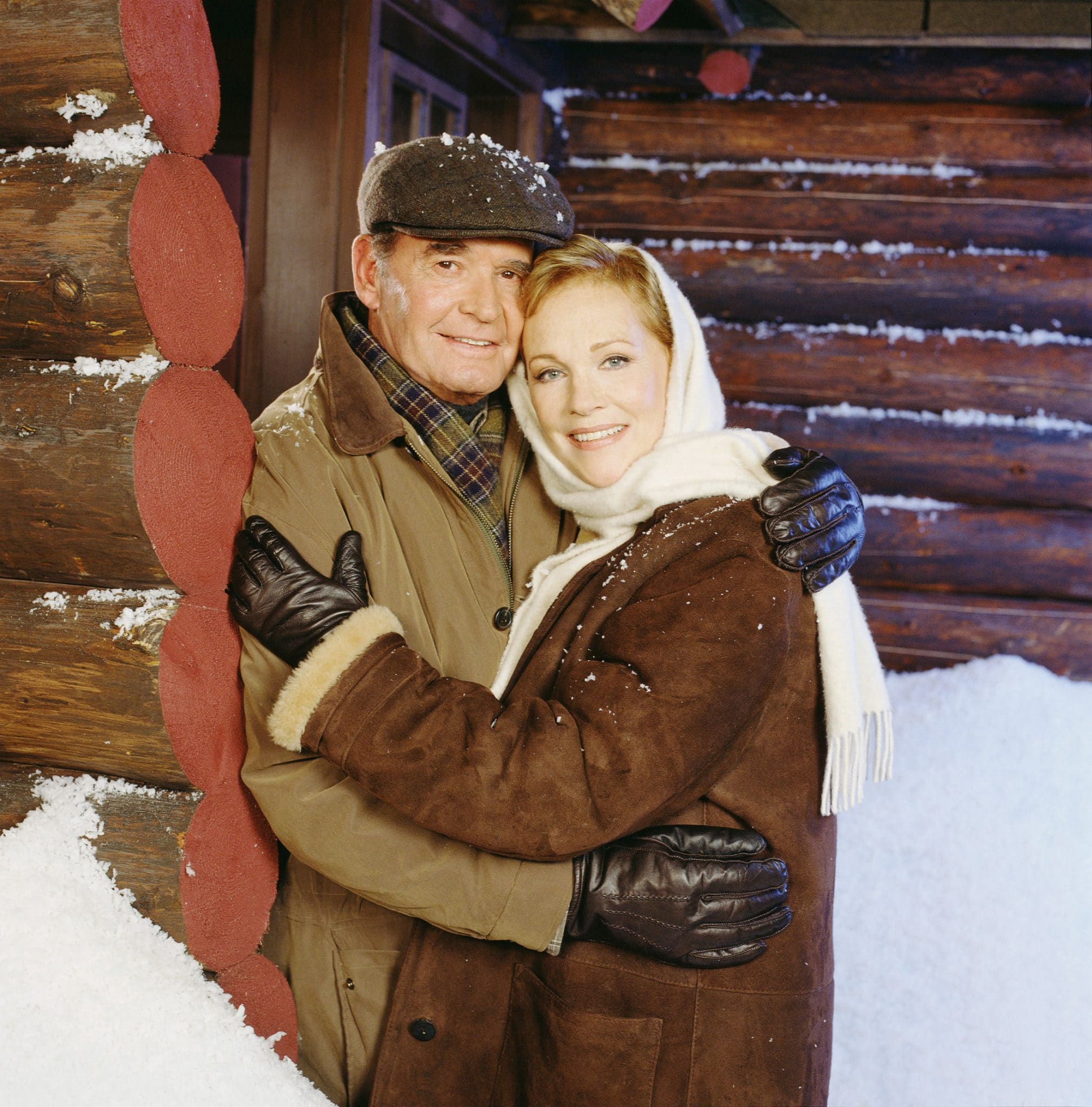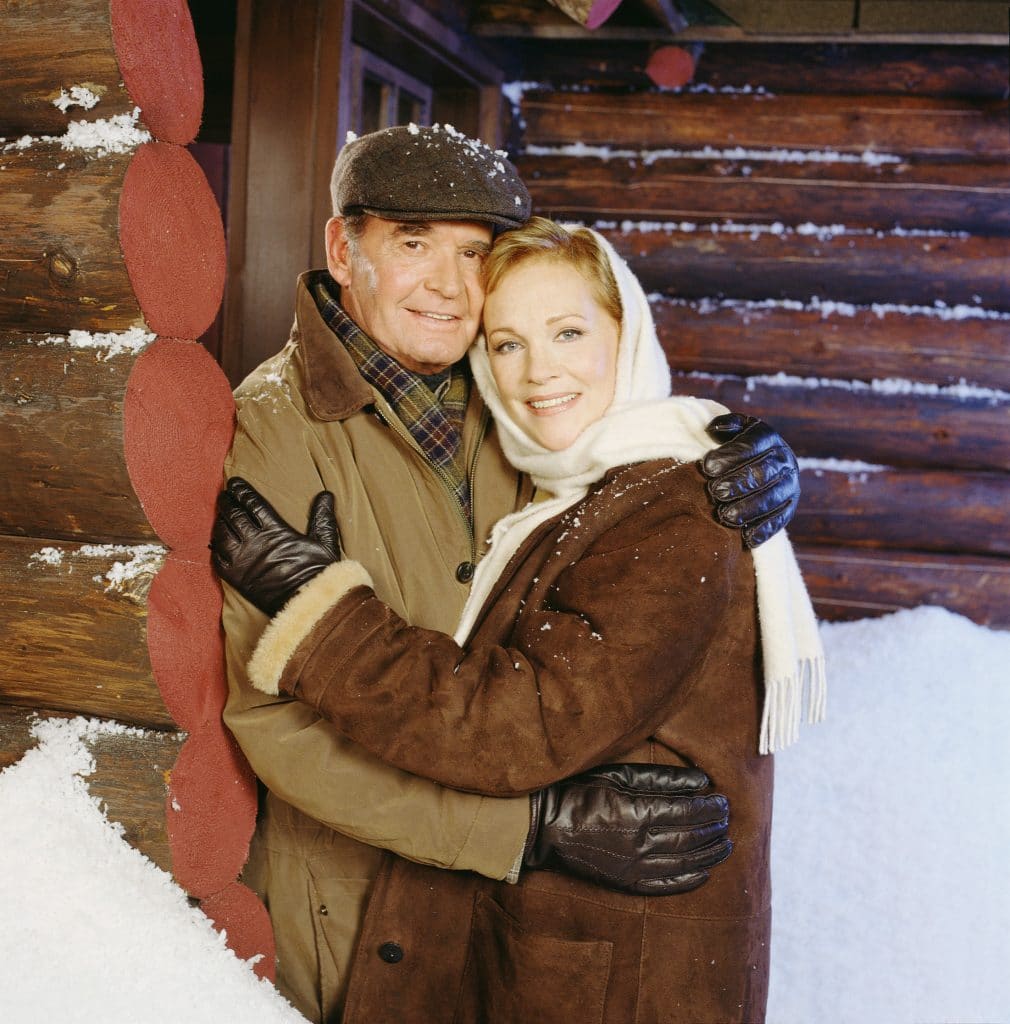 James Garner and Julie co-star for the third time, this one about a pair of strangers who, during a stormy winter night, both happen to take refuge in an abandoned cabin. They're about as different as they could be but are nonetheless drawn to each other romantically.
45. 'Relative Values' (2000 Film)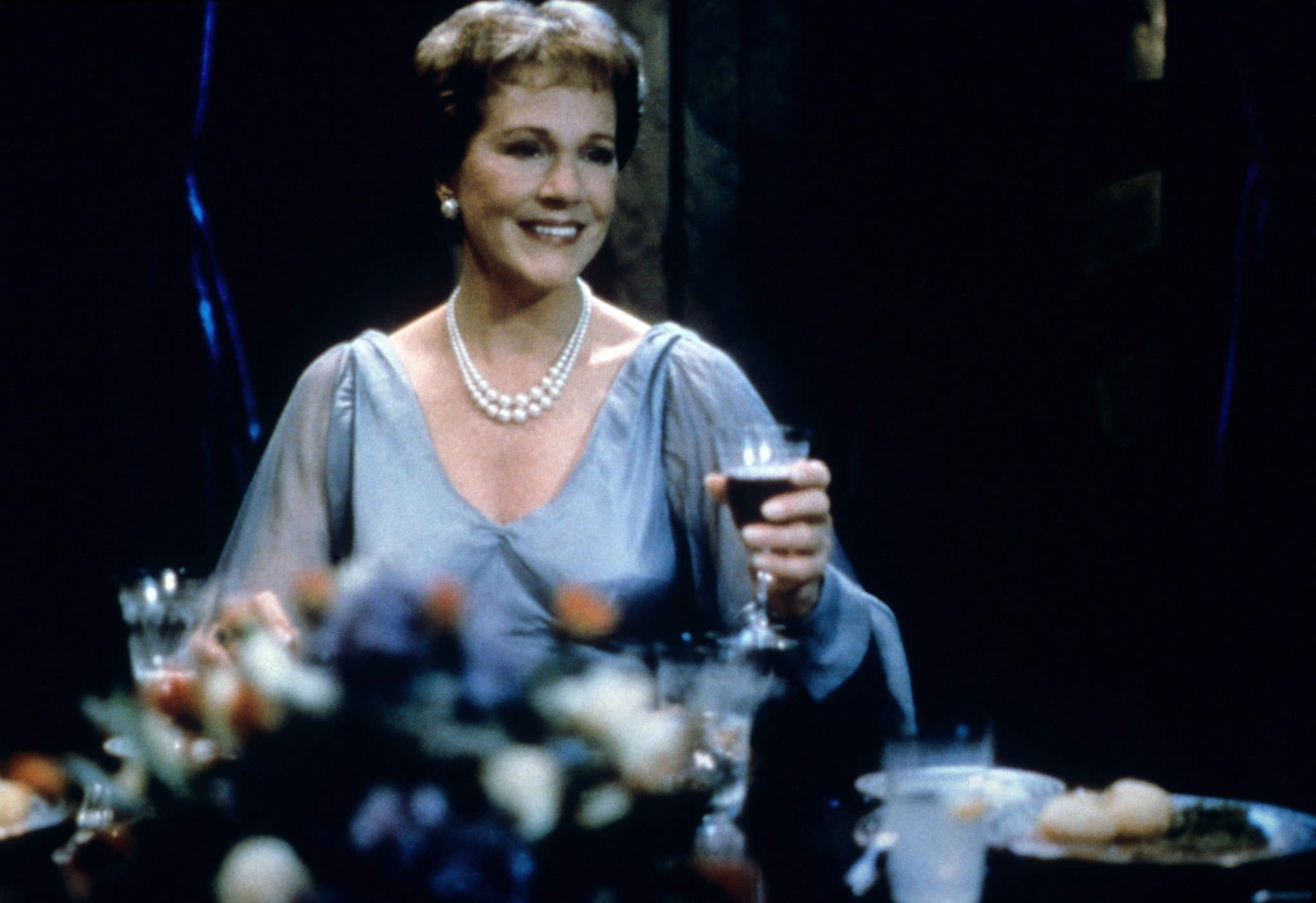 A man returns home with his bride-to-be, an actress, who turns out to be the sister of his family's maid. Other stars beyond Julie are Edward Atterton, William Baldwin, Colin Firth, Stephen Fry, Sophie Thompson, Jeanne Tripplehorn, and Stephanie Beacham.
46. 'The Princess Diaries' (2001 Film)
Anne Hathaway is Mia Thermopolis, a teenager who has just learned that she's actually the heir to the throne of Genovia. Along with her friends, she comes to grips with her destiny and Julie as Queen Clarisse Renaldi.
47. 'The Princess Diaries 2: Royal Engagement' (2004 Film)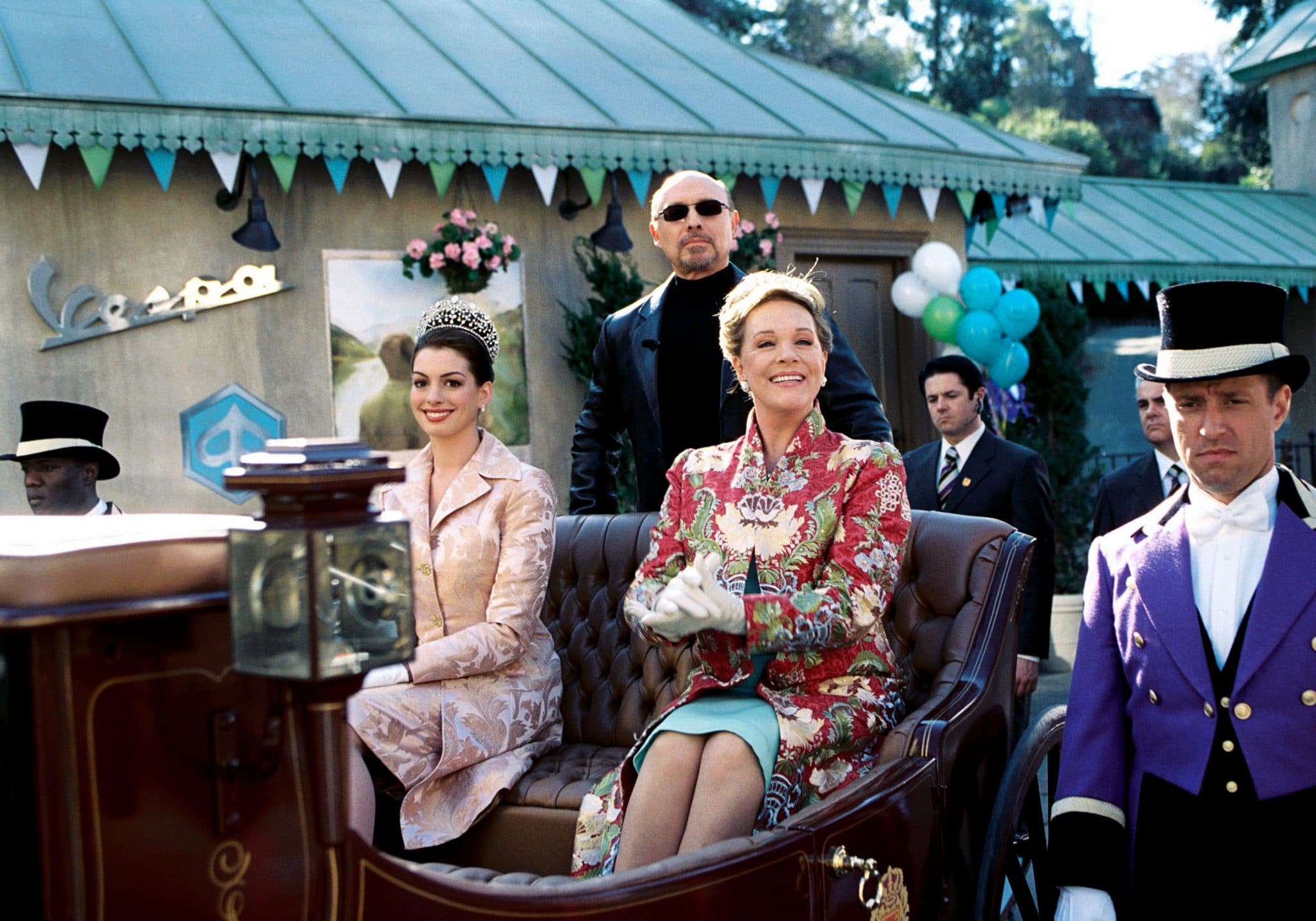 They really should tell Princess Mia (Anne Hathaway) more upfront, because not only is she a princess, but, as it turns out, her marriage has been arranged for her.
48. 'Tooth Fairy' (2010 Film)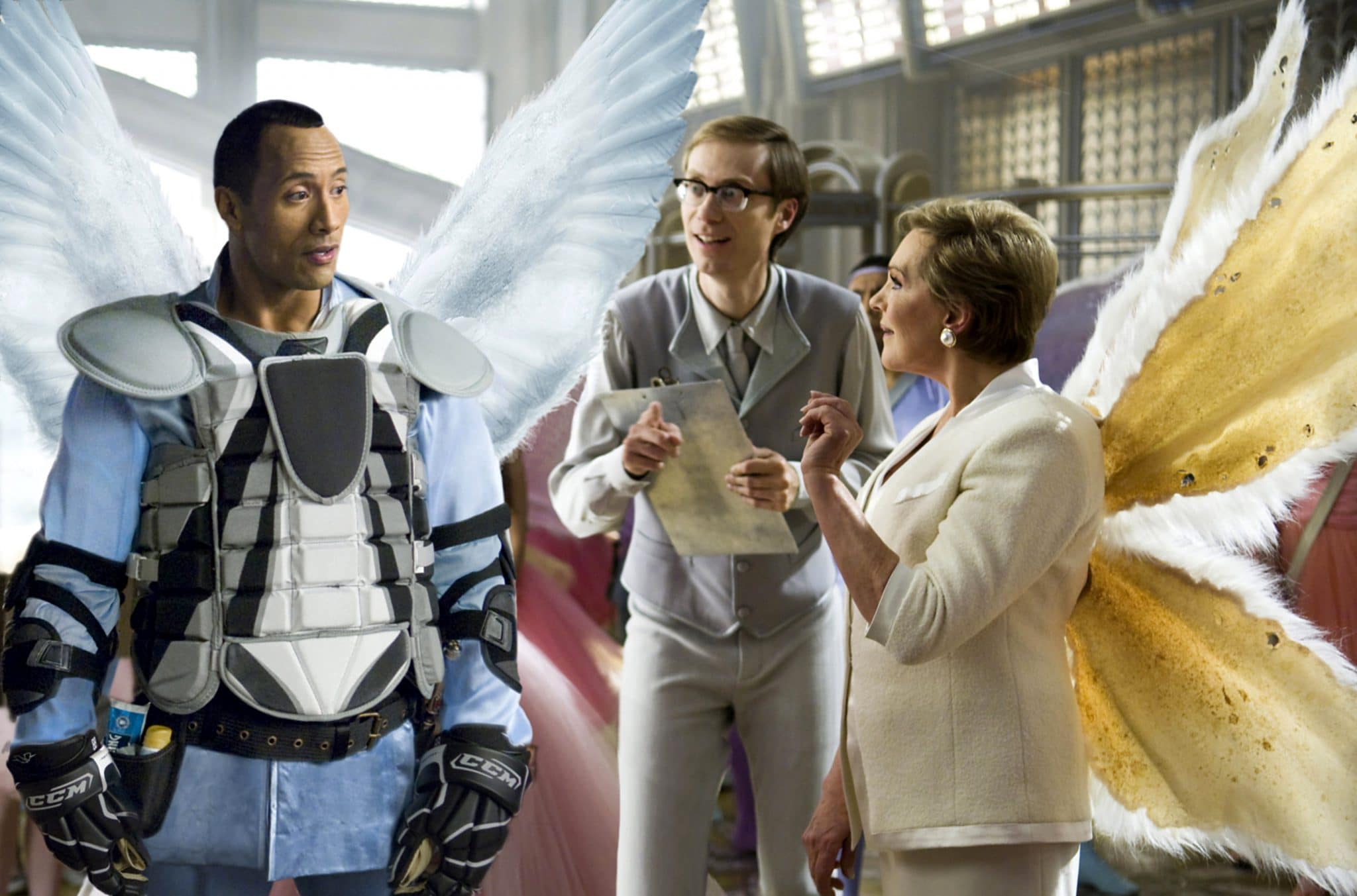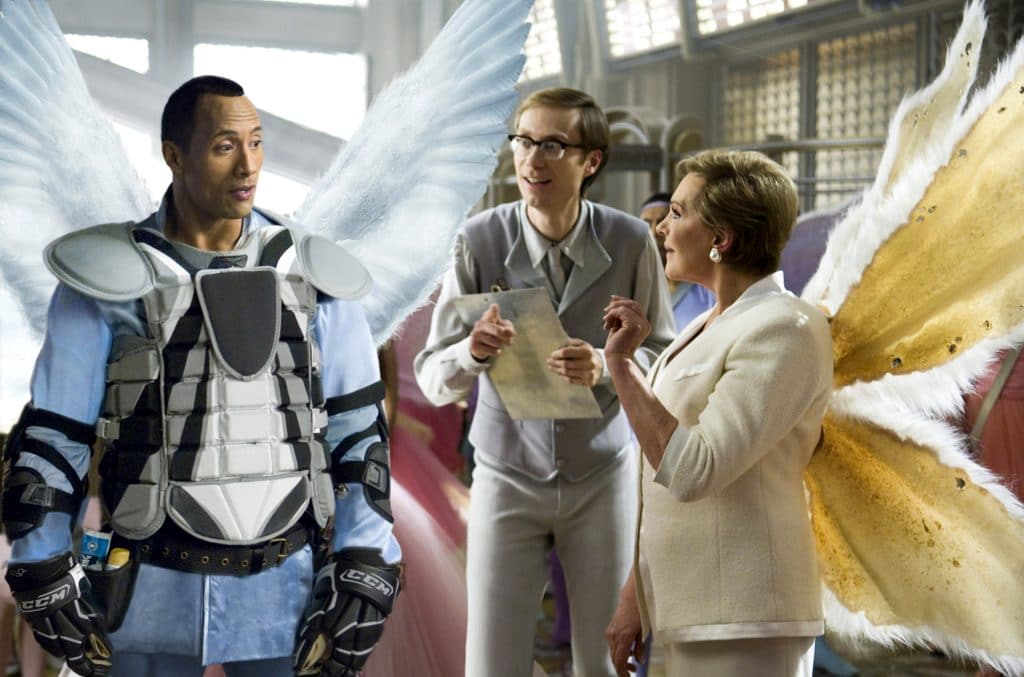 A hockey player (Dwayne Johnson) is forced to become a tooth fairy for a week. Julie is Lily, who gives him his wings.
49. Voice Over Work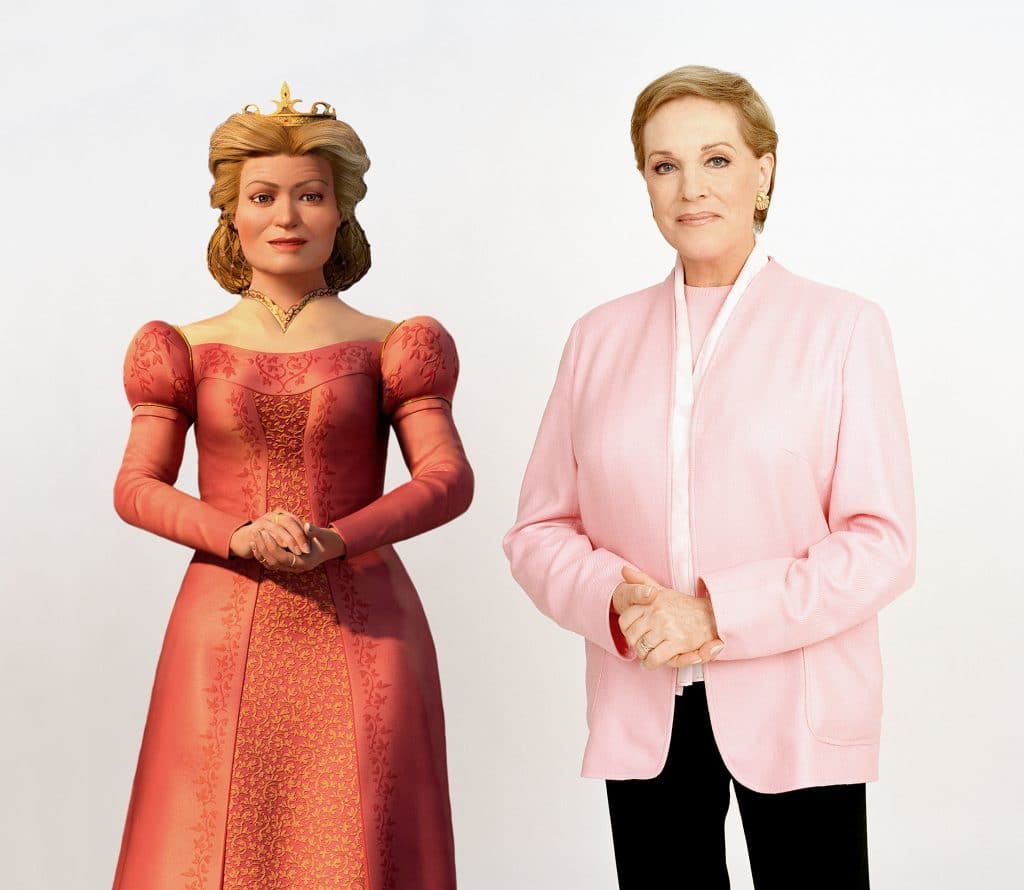 Julie has provided her voice for quite a number of animated films, notably Queen Lillian in Shrek 2, Shred the Third, and Shrek Forever After; served as the narrator of Amy Adams' Enchanted, Marlena in Despicable Me, Despicable Me 3, and the forthcoming Minions: The Rise of Gru; was the voice of Karathen in Jason Momoa's Aquaman and plays Lady Whistledown in the Netflix series Bridgerton.
50. 'Julie's Greenroom' (2017 Netflix Series)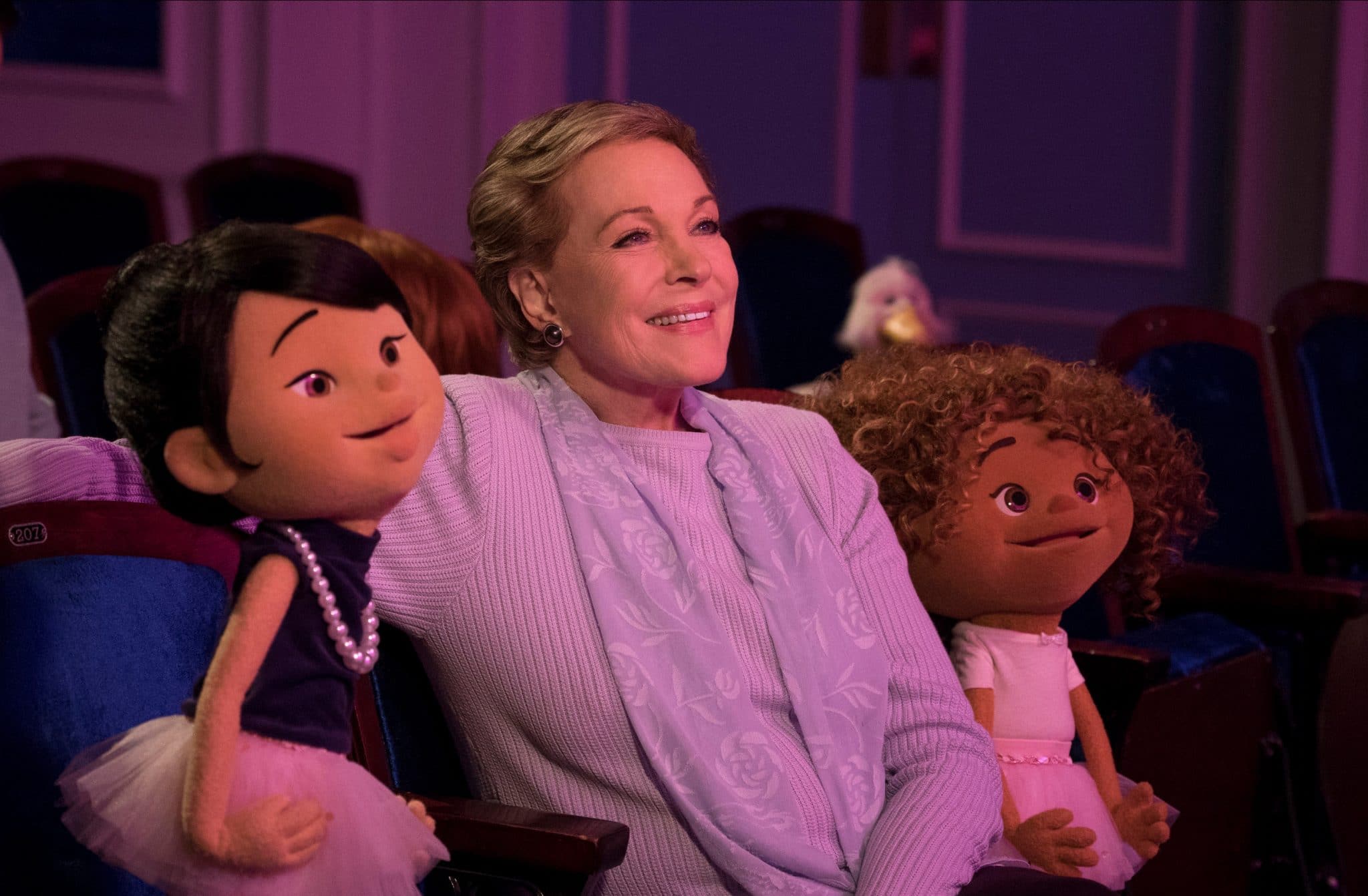 In this pre-school Netflix series, Julie is Miss Julie, the director of the Wellspring Center for the Performing Arts, teaching students in the performing arts and something called "greenroom."
51. 'Bridgerton' (2020 TV Series)
This dramatic romance series is described by Netflix as follows: "Wealth, lust and betrayal set against the backdrop of Regency-era England, seen through the eyes of the powerful Bridgerton family." Julie serves as the narrator of eight episodes, playing the role of Lady Whistledown.