Sharon Osbourne's hair became as famous as The Talk co-host herself. For ages, people associated her with vibrant red, but then her locks cooled to a silvery shade. Next, she experimented with pale pink. But now, it's back to red, all to avoid too-closely resembling Grandma Clampett.
This is a nod to The Beverly Hillbillies, which featured a character commonly known as Daisy "Granny" Moses or sometimes Granny Clampett. Played by Irene Ryan, she was the mother-in-law to patriarch J.D. "Jed" Clampett. Ryan won the role by auditioning "with her hair tied back in a bun and feisty as all get-out. And, of course, she boasted a shock of pinkish-white hair. But The Talk first showcased Osbourne's return to red.

Grandma Clampett no more
https://www.instagram.com/p/CGIczeAgU_k/?utm_source=ig_web_copy_link
Sharon Osbourne's iconic short bob went through a lot of changes over time. She became commonly associated with deep, vibrant red hair. On the February 18 episode of The Talk, she even showed off pale platinum locks. Those, in turn, changed to pale pink.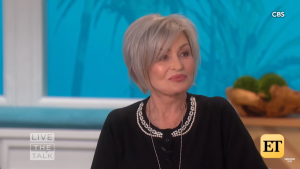 RELATED: Ozzy And Sharon Osbourne Share Sweet Throwback Photos To Celebrate 38 Years Of Marriage
Credit for that style went to celebrity colorist Jack Martin. On that occasion, Martin explained that Osbourne wanted a change because deep red required a lot of maintenance. For eighteen years, she had to get color added once a week every week. So, pale tones gave her a new look and change of pace. However, that soon backfired and Osbourne couldn't stand her resemblance to a certain character.
Red is the new platinum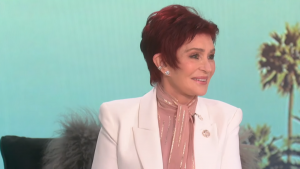 "I caught a glimpse of myself in the mirror," Sharon Osbourne explained, "and I'm like, 'Nah, you look like Grandma Clampett,'" She went on, "I said to myself, 'Nah, I'm changing it back,' and that's what I did. Just one quick look, you know when you're like, 'Oh dear, no, gotta go.'"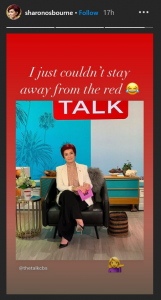 Reportedly, husband Ozzy Osbourne approved of the change as well. With short pale hair, he likened her to yet another character, this time Miranda Priestly, the stern, stoic boss played by Meryl Streep in The Devil Wears Prada (2006). In February, when she first tried abandoning the red, Osbourne thought she should stop being someone else. Apparently, the white hair really made her look like someone else, and red is now a natural extension of her.
.@MrsSOsbourne is a red head again! What prompted the change? Watch to find out 👀 pic.twitter.com/AirIicEvhU

— The Talk (@TheTalkCBS) October 12, 2020