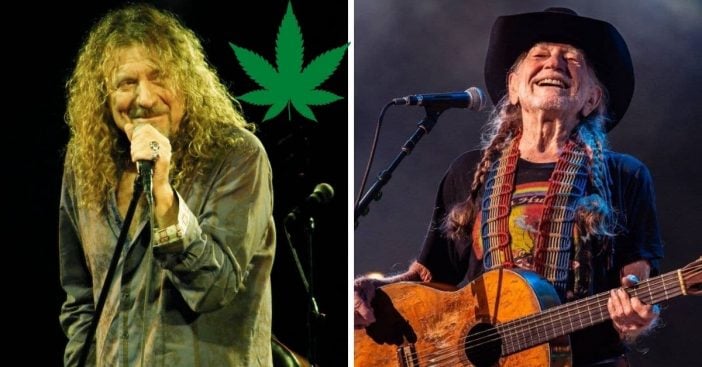 Led Zeppelin's Robert Plant recently got the opportunity to tour with the legendary Willie Nelson. Robert gave a glimpse into touring life with Willie, which of course includes a whole lot of marijuana. In fact, Robert admits that Willie gives away his weed to everyone.
He said, "We were invited to play with Willie Nelson a couple of months ago and he was traveling through his tour with his big bus giving away weed to everybody. He just gives it away. It's a truckload from here to the … mirrorball and beyond. Free. With doors to go in, get your little hit, and go out the other side."
Robert Plant talks about Willie's marijuana use on tour
https://www.instagram.com/p/B9aMoSDBIU2/
While Willie recently said he quit smoking due to breathing issues, he admitted that he obviously still partakes in eating marijuana edibles. He is very passionate about the use of marijuana. This year, he hosted an online event called "Come And Toke It." The event featured star performances on 4/20 and lasted for 4 hours and 20 minutes. 4:20 is a common phrase among weed enthusiasts.
RELATED: Jimmy Carter Talks About When Willie Nelson Smoked Weed At The White House
https://www.instagram.com/p/Bw2T_PRlOjK/
In addition, Willie has opened his own chain of cannabis shops called Willie's Reserve. The Willie's Reserve website sums it all up perfectly, "Willie Nelson has never made any bones about it. The cannabis culture is a way of life for him. And he has always operated under a simple philosophy: my stash is your stash."