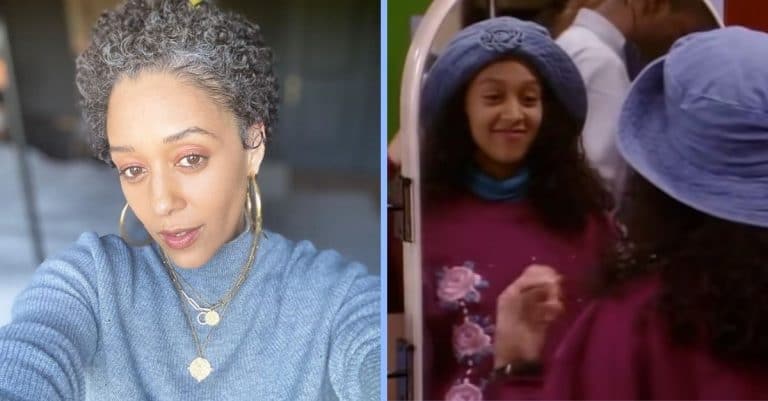 For half a decade, Tia Mowry and her twin Tamera Mowry had audiences rolling in the sitcom Sister, Sister. Decades have passed, but Tia Mowry, at 42, still impresses her fans in new ways. Instagram followers can keep up with any updates and learn an important lesson along the way. Mowry, in a new picture, showed everyone can embrace aging and still feel beautiful.
Her newest post, which went live on August 4, sees Mowry with curly gray locks. The single picture so far is nearing half a million likes. This can be traced to the inspiring photo – but also, likely, the equally empowering quote.
This is Tia Mowry, 42
https://www.instagram.com/p/CDeBod8lsyl/?utm_source=ig_web_copy_link
"This is Me. 42," Tia Mowry captioned her post, ending with a symbol showing prayer. Mowry unabashedly shared a selfie providing proof positive that beauty doesn't decrease as age does. It just evolves. Fans met Mowry when she was a teenager, getting up to all sorts of mischief with her twin Tamera.

RELATED: Five Celebrities Who Have Flawlessly Transitioned To Gray Hair
Mowry's gray hair came about because of the pandemic-induced lockdowns around the country. Because they could not guarantee social distancing while medical officials learned about the coronavirus, hair salons had to close for some time. This left many people with longer hair, often exposing different-colored roots. TODAY notes that this was the case for Mowry, too, and she embraced it fully.
Still keeping it relevant
https://www.instagram.com/p/CDWZQIZluj1/?utm_source=ig_web_copy_link
Replies admitted what a profound impact the picture had on the writers. They called the look stunning, saying it actually flattered Mowry's appearance and she still looked pretty. One consistent thread among many comments: graying doesn't actually look bad at all, so maybe dyes aren't necessary.
Fans of Sister, Sister can see Tia and Tamera Mowry on the show again. Netflix recently announced that the '90s sitcom, along with several others featuring black leads, would come to the streaming service. Most shall be added starting in August, with additions spotted from then to October. Sister, Sister lands on the platform on September 1.