A Michigan police officer is being hailed a hero after saving the life of a 3-week-old baby boy who was choking and could not breathe. The Sterling Police Department confirms that the baby was actively not breathing when Officer Cameron Maciejewski arrived at the home. The dashcam video on the police vehicle shows the officer holding the baby in his arms. He then performs back thrusts to give space to the baby's airways.
Just moments later, the newborn baby boy coughed up what was lodged in his throat and began crying. Paramedics then took care of the baby by taking him to the hospital for an evaluation.
Officer Cameron Maciejewski saves a choking baby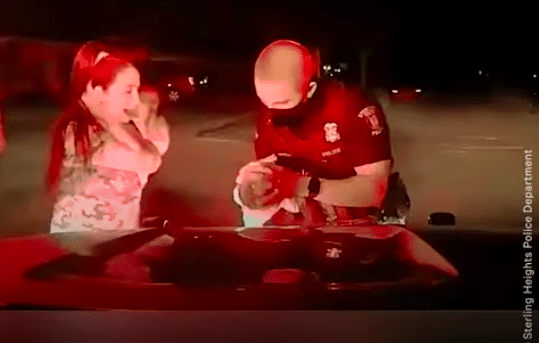 "If it wasn't for Ofc. Maciejewski's quick, calm, lifesaving actions, the outcome of this incident could have been tragically different," the department says in a released statement. "Not only did the officer save the baby, but the officer did an outstanding job consoling the family."
RELATED: Benefit Motorcycle Ride Raises Money For Police Officer Ran Over By Car
The whole family was obviously very distraught as they watched what was happening, unsure if the officer's efforts would be successful. A lot of people have shared positive comments on the officer's efforts. "That was protecting and serving the community. Amazing job," someone says. Another comments, "Now that's a police officer that we all want to see in every community." What an incredible service Officer Maciejewski has done for this family. Check out the entire video below.