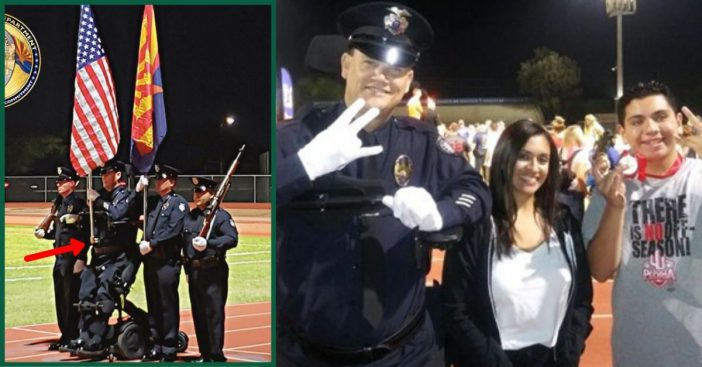 William "Bill" Weigt was recently photographed at the opening ceremony for the Special Olympics Arizona. The photo is now viral on the Internet because he has been paralyzed for 14 years and managed to stand for the National Anthem despite his injuries. He is seen presenting the American flag with the help of a special, high-tech wheelchair.
This moment understandably moved people to tears. "I'd been wanting to stand for the national anthem for 14 years," Weigt says. He was an investigator at Arizona's Peoria Police Department and former United States infantry soldier. "I was a little overwhelmed at first, but it was so exciting."
Police officer paralyzed for 14 years stands for the National Anthem
https://www.facebook.com/PeoriaPoliceAZ/photos/a.349522118523551/1513112062164545/?type=3&theater
Afterwards, the Olympians and Weigt's nephew, Andrew, would surround him for hugs and photos together. "That was probably the most special thing," Weigt says. Weigt became paralyzed after being shot while chasing a suspect back in 2005. After this entire ordeal of being able to stand during the National Anthem, the wave of emotions would soon hit him like a train.
RELATED: Heroic Police Officer Reunites With The Man He Rescued As A Baby 25 Years Ago
Comments continue to come in on Peoria's Police Facebook page. "No words to say how happy i am for Bill and the rest of the Honor Guard. Thank you for your hard work and dedication," someone says. Another person says, "This was so moving to watch. Special Olympics Arizona is so honored to have him share this moment at the Opening Ceremonies!"
Weigt is enjoying life despite his paralysis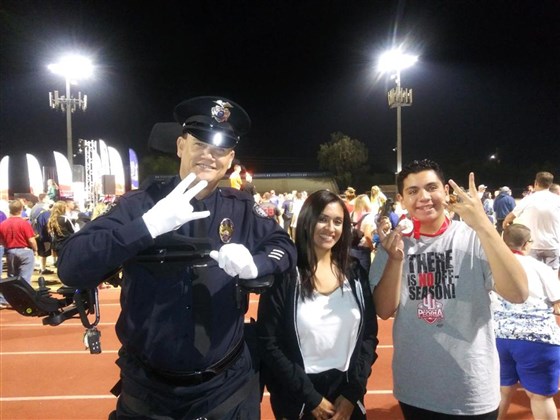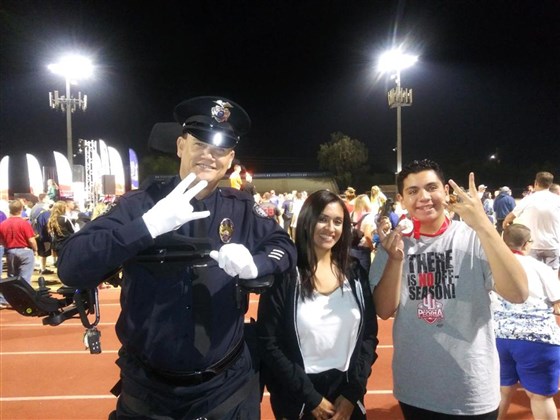 Weigt says that he is grateful to be a symbol of hope for others with disabilities. He is also extremely grateful to have his Permobil F5 power chair to help him accomplish basic things such as standing during the National Anthem. He calls it a "blessing."
"I had lot of spasms and pain," Weigt says about his paralysis.  "Being able to change positions helps with that. I feel good," he says, noting that his power chair helps him change positions easily. "Of course, I would like to go and get my body back, but I can't, so I make the best of what I've got. And I have a really great life."