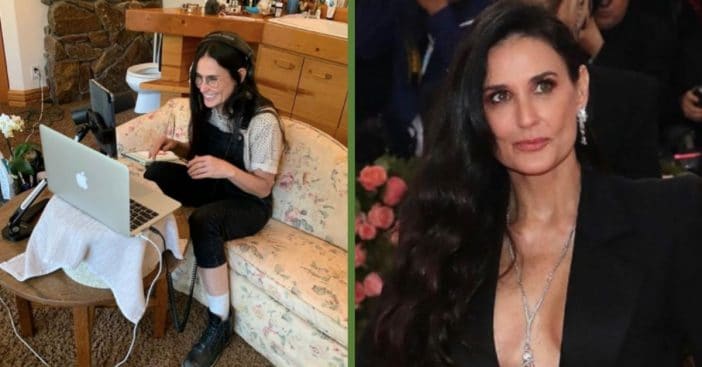 Demi Moore recently revealed to the world that she uses her bathroom as an office. Not only that, but fans noticed she had wall-to-wall shag carpeting and a couch in the bathroom. People were confused by this. She has finally spilled the details on why this is. Moore called into Late Night with Seth Meyers, from her bathroom, of course, to address this.
"That originally was a Bruce Willis choice, not to put it off on him," she says to Meyers, revealing that her ex chose the carpeting for that bathroom. Fans may also notice the stone backdrop of the fireplace in the background.
Demi Moore reveals why there is a carpet in her bathroom
https://www.instagram.com/p/CCYsWVnHaCX/
While Moore didn't pick it out herself, she says that she's a fan of the carpeting. She also says it helps out a lot when it gets cold in the Idaho mountains where the house is located. "It's never bothered me. She continues, "It's actually quite good. We put rugs in our bathroom."
RELATED: Demi Moore's Bathroom Has Social Media In A Frenzy "Trying To Understand"
She also explains why she's been working in her bathroom. It started with the fact that her bathroom had the best acoustics for her podcast "Dirty Diana." "We were doing this podcast … and we had to find the place for the best sound. So I did a test in my closet, I did in various places. What came back is that the bathroom had the best sound." Needless to say, Moore has been pretty amused by the fascination with her bathroom from fans!
https://www.instagram.com/p/B_xrUCUn4hg/
"I appreciate the interest that has gone into all of my little oddities because this place definitely houses a lot of my treasures," she says. "I have had some big laughs over the comments with my family."