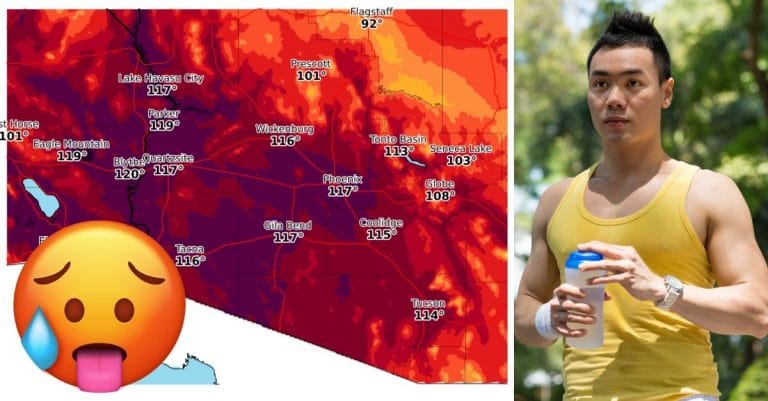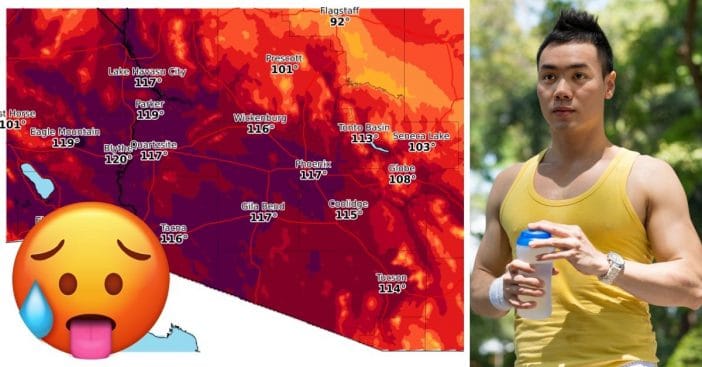 People living in the southwestern U.S. can expect a rare and deadly heatwave this weekend.

Temps could reach as high as 120 degrees in some areas and break daily records.

Weather experts urge people to stay inside when possible and stay hydrated.
Portions of the southwestern U.S. will be experiencing a rare and potentially deadly heatwave this weekend. Temperatures may reach as high as 120 degrees Fahrenheit in some areas. As a result, officials are urging people to take precautions and stay cool as often as they can. For example, the National Weather Service forecasts a high of 126 in Death Valley, California.
Phoenix, Arizona can expect a high of 127 degrees and Las Vegas, Nevada can prepare for a high of 113 this weekend. There have been excessive heat warnings placed throughout portions of the southwestern U.S. as people prepare for these high temps that could pose serious health risks.
A rare heatwave in the forecast for this weekend, here's what to expect
Heat is the story over the next 7 days. We'll go from very hot to extremely hot over the weekend. The Excessive Heat Watch for Friday-Monday has been converted to a Warning. The peak numbers we're looking at happen less than one day per year on average. #azwx #cawx pic.twitter.com/mVNom6zkrF

— NWS Phoenix (@NWSPhoenix) July 8, 2020
Marvin Percha, National Weather Service meteorologist, talks more about the impact of this dangerous heatwave. "We look at how rare the event is and compare what's normal," he says. "Considering the temperatures we have forecast now, we're looking at a pretty rare event."
RELATED: Where Do Hurricanes Get Their Names From?
We all are aware that Phoenix can get pretty hot. The heat index for Phoenix specifically is expected to
break daily records
this time around. The expected high of 117 on Sunday would beat the daily record for July 12th of 115 in 2008. California and Nevada are expected to come close to beating their daily records, but not quite.
How to keep yourself cool
Excessive Heat Warning out for portions of S. Nevada, SE California & NW Arizona.
⚠️🥵♨️
These will be the hottest days of the year (so far), so take heat-precautions, such as hydrating frequently & limiting outdoor activity to cooler hours.#VegasWeather #NvWx #CaWx #AzWx pic.twitter.com/TJBgSaRfmS

— NWS Las Vegas (@NWSVegas) July 9, 2020
It's interesting timing for this heatwave, considering Friday, the start to the weekend, marks the 107-year anniversary of the hottest day ever recorded on earth. This is when Death Valley reached a high of 134 degrees Fahrenheit.
"Anyone with heart or diabetic issues should be particularly careful about this and really do their best to really stay out of it," Percha says of this historic and rare heatwave to come. Additionally, the Centers for Disease Control have confirmed that heat-related illnesses kill over 600 people per year. So, stay indoors when possible, drink tons of water, and wear lightweight clothing knowing what's to come this weekend!