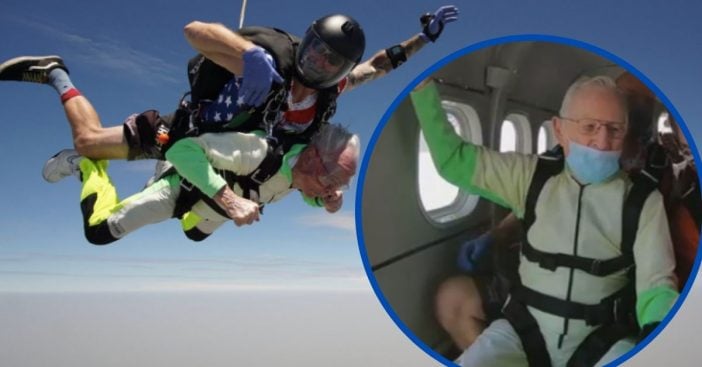 103-year-old Al Blaschke just shattered the world record for the oldest man to go skydiving! Al has been through a lot in his many years of life. He survived the Spanish flu, made it through the Great Depression, and even battled coronavirus. Al truly refuses to let anything stand in his way and comes out on top every time.
It was on July 3rd where Guinness World Records recognized Al's incredible achievement. He took a 14,000-foot jump with his two grandsons who recently graduated college. The record for this was previously held by 101-year-old Bryson William Verdun Hayes. The oldest female tandem skydive was achieved by 103-year-old Kathryn "Kitty" Hodges last August.
See the photos of Al winning the Guinness World Record for the oldest man skydiving!
https://www.facebook.com/WBNT.Rich/photos/a.762427917126598/3050766021626098/?type=3&theater
Al had a lot of support when contemplating taking the huge leap. Many members from his senior community cheered him on in the process.
RELATED: Betty White Is The Holder Of A Pretty Incredible Guinness World Record
"Al Blaschke, a resident of The Wesleyan Independent Living, received an enthusiastic send-off from residents and teammates yesterday as he departed to complete an impressive feat – skydiving. At 103, Al set a world's record as the oldest person to tandem jump out of a plane. He was particularly glad that he got to make the jump with his two grandsons, who were first-timers," the facility shares on Facebook.
Support from his community, his friends, and his grandsons
https://www.facebook.com/TheWesleyan/photos/a.542103105819010/3671865636176059/?type=3&theater
Along with his two grandsons, he also took the dive with his friend Betty Schleder, who has competed on the shows Survivor and The Amazing Race. "It was awesome to be able to jump out of an airplane with my grandpa," says Kevin, one of his grandsons. "Him breaking the world record is icing on the cake."
https://www.facebook.com/WBNT.Rich/photos/a.762427917126598/3050765971626103/?type=3
This wasn't Al's first time skydiving. The first time he went up in the clouds was in celebration of his 100th birthday in 2017. He first got the idea when someone originally joked that he should celebrate his 97th birthday by jumping out of a plane. As a retired craftsman and World War II veteran, this idea obviously intrigued him. What an incredible achievement!
https://www.facebook.com/Thomashxl/posts/10158794416624165
Wishing many more awesome birthday adventures for Al! Check out the video below to see footage of Al taking the leap!