Stephen Cooper died on March 28, 2020 from the coronavirus

On September 11, 2001, he was in a famous photograph showing civilians at ground-level fleeing debris from the collapsing south tower

Cooper was 60 on the day of the attacks and died at the age of 78
For many across the nation, 9/11 stands as a somber day of fear, loss, and remembrance. As the events of that day unfolded, officials, news outlets, and civilians did not immediately understand what was happening. But famous footage captured key moments as they played out. One picture of civilians – including a man named Stephen Cooper, shows them fleeing as the south tower collapsed. This year, that same man passed away from the coronavirus.
Stephen Cooper was 78 when he died on March 28. When he entered the hospital days earlier, his initial diagnosis pointed to COPD. He received a test for the coronavirus, but the results came back positive only after his passing. Even so, his image is immortalized in a photo he always readily discussed, even if the memories visibly affected him.
Stephen Cooper lived a life of dedication and kindness
When Stephen Cooper put his mind to something, he stuck to it. That is the impression his partner Janet Rashes gave as she reminisced, "We were very devoted to one another. He was always a very kind man." He was not one for small talk, but he did readily talk about his part in the famous 9/11 photo when asked. In the photo, shown below, he is visible on the far left.
RELATED: Six Powerful Quotes To Remember On The Anniversary Of 9/11
Stephen Cooper called Far Rockaway, Queens his childhood home. There, he continued to hold a great attachment, even if he spent his remaining years in Manhattan with Rashes. Cooper continually kept himself informed; his wife explained, "There was never a day he didn't read the news." Throughout his life, Cooper kept himself busy by staying an active part of local politics and his labor union. Indeed, he used personal matters to help others. Because Cooper worked around a stutter when he was a child, he found particular interest as an adult in Far Rockaway's Toastmasters club. The nonprofit teaches public speaking to give people the confidence to speak their minds.'
Cooper's part in remembering that infamous day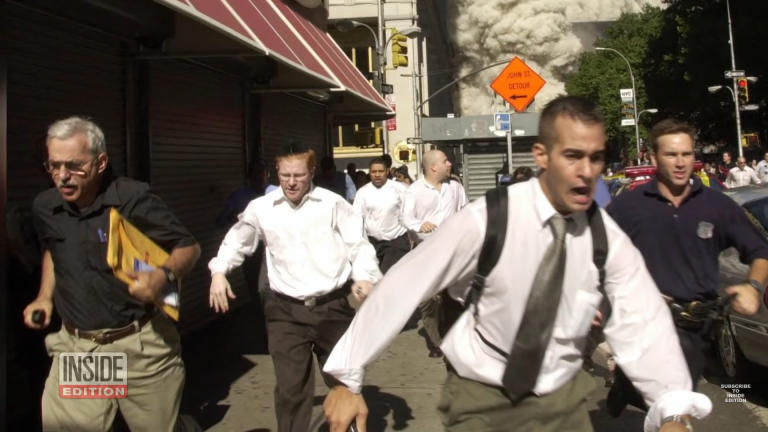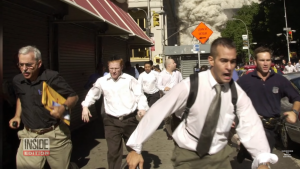 On September 11, 2001, Stephen Cooper headed from Queens to Manhattan. Even on that otherwise unassuming day, Cooper was getting involved in politics; he intended on dropping off signatures for a friend running for local office. 60 at the time, he heard the conductor muse via intercom that Steven Spielberg himself must be filming at the World Trade Center, there was so much commotion there. Bemused, Cooper disembarked to investigate. He was met with a wall of smoke and debris as it made its path through the city's every avenue, nook, and alley. Police instructed everyone to go into the subway, and there they found themselves in a whirl of more dust.
Cooper used other voices to navigate his way out, eventually calling the school where Rashes worked. At some point during the day, a photographer captured the sight of him and others fleeing the collapsing south tower. Despite being part of day's harrowing photos, Cooper did not know until a coworker showed him on the cover of TIME magazine. His daughter Jessica told TODAY that Cooper "enjoyed" talking about the photo, carrying the magazine around with him for a time. He readily told others about his experiences. However, it did leave him a changed man. Rashes admitted, "I think the whole thing with 9/11 put a lot of fear into him." Cooper channeled this newfound trepidation into care, so that Jessica recalls, "He always looked out for me and my mom to make sure we were OK." He needed to know his family was okay.