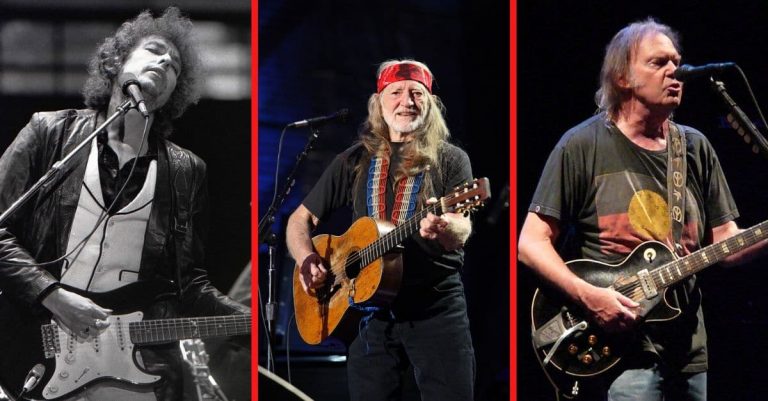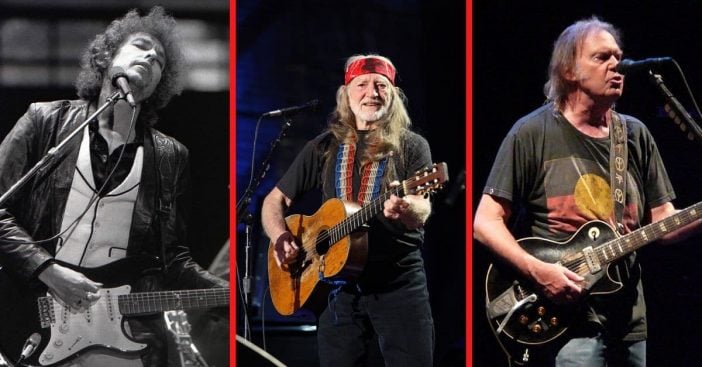 The musical sensations of our past don't stop being relevant powerhouses as the years go by. In fact, many showed a determination to continue working regardless of age. That's good for everyone, too, because music holds a special power that allows for a quick and potent escape. People can tap into this melodious escape thanks to Bob Dylan, Willie Nelson, and Neil Young, all of whom released new albums for everyone's listening pleasure.
Bob Dylan released an album and made history in recent weeks with Rough and Rowdy Ways. Willie Nelson is staying relevant with First Rose of Spring. Finally, Neil Young presents Homegrown, which offers a powerful blast from the past and tribute to his timelessness.
Bob Dylan stays relevant on the soundwaves and in music history with his new album
For proof that time should never be a limiting factor, look no further than Bob Dylan. At the age of 79, he's become a part of music culture for five decades and counting. He began with traditional folk songs and today shares content old and new on his YouTube channel.
RELATED: 40 Albums Baby Boomers Loved That Millennials Don't Know
One example of such content includes Rough and Rowdy Ways, his newest album. This album is the newest out of a grand total of 39 he's accumulated. But it represents even more than a wildly impressive number. NPR reports that the album reached No. 2 on the Billboard albums chart. This achievement makes Bob Dylan the first artist to have a Top 40 album every decade since the '60s.
Willie Nelson's new album further cements his unique brand and place in pop culture
In his 87 years of life, Willie Nelson established a very unique place for himself in the world of music and pop culture. We can say the same for others, but Nelson's approach does stand out. He became a household name after Stardust (1978) and now continues to keep his music accessible.
He achieves this even in the midst of a global pandemic. Or perhaps the two complement one another to create The Last Rose of Spring. Ann Powers, an NPR music critic and correspondent, calls the original songs on the album, "beautiful meditations on life in the twilight years." That certainly is a relevant style for a new album, as everyone finds themselves at home more with their thoughts and the strange passage of time. Those songs came about as a collaborative effort between Nelson and Buddy Cannon, who he worked back and forth with over the internet through quarantine.
Neil Young offers a friendly and informative blast from the past
Canada native Neil Young built an image and ongoing legacy that is extremely broad. Boasting mastery over playing multiple instruments, singing, and songwriting, Young is actually as much an activist as he is a musician. He shares that in common with Willie Nelson, and they all have in common with Bob Dylan is the release of a new, fantastic album.
Though, in Young's case, this album, Homegrown, is actually from 1975. But this time, Neil Young offers the album in its entirety so audiences can listen as it was meant to be heard. As a result, it really exemplifies how so many music trends today can be traced back to one man and a crazy horse.