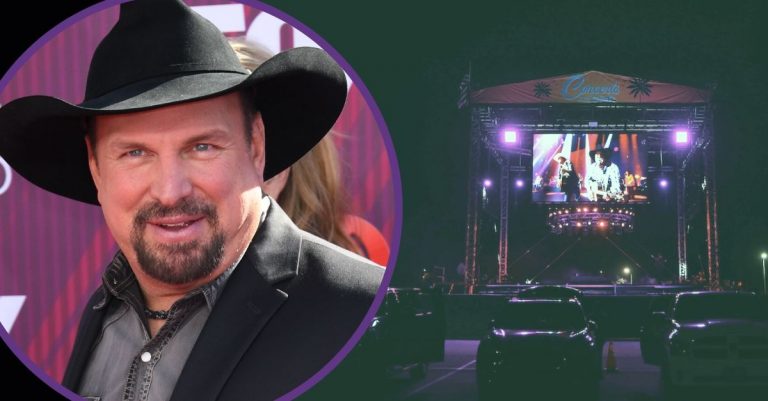 Recently, country singer Garth Brooks held a drive-in concert for those who wanted to get out of the house and experience some live music. The concert was $100 per car. A review has since been written on the experience by Théoden Janes of the Charlotte Observer. Janes says that on one hand, the drive-in event could be a step in the right direction for providing a sense of normalcy for people. Then Janes says, "On the other: If this is what the future of "concert-going" looks like, go ahead and count me out."
Janes says that he didn't know what to expect walking into this drive-in concert. It was headlined "Encore Live Presents Garth Brooks: A Drive-In Concert Experience." However, it was actually a pre-recorded performance screened Saturday night at more than 300 outdoor theaters in the U.S. and Canada. So, not really live music then, eh? This was a bit misleading as concert-goers thought they were going to get chance at seeing a live Garth Brooks concert.
Was his drive-in concert worth the price?
Maybe I misunderstood- I thought this was a live @garthbrooks show happening in real time. The cuts and lack of banter doesn't offer that feeling of being at a live show. I am watching a pre-recorded concert movie. #GarthDriveIn pic.twitter.com/JIr86D22ye

— Sherry (@atu2comSherry) June 28, 2020
Overall, the "concert" seemed decent enough, but did not provide the same thrill of actually going to a live concert. The advertisement for the drive-in concert was incredibly misleading, giving people the idea that it was going to be Brooks performing live. Instead, it was a pre-recorded production and people felt a bit gypped because of this.
RELATED: Garth Brooks Has A Big Update For Us About His Future Music
Due to the lack of it being an actual live show, people likely didn't feel any connection to it. Janes also says that there was no connection, and also nothing raw or spontaneous about it. Encore Live founder and CEO Walter Kinzie speaks to Janes before the event. "He has spent weeks on this performance. Garth worked around the clock on it at his ranch near Nashville and then in his studio in Nashville to bring this thing to life. It's been an ongoing process."
A low-quality show could have been better provided at home
@garthbrooks the Springer ok delivery of this event couldn't get worse. No audio and a projector borrowed from a school pic.twitter.com/voklmPGWVM

— Britt Gotcher (@GoochOKC) June 28, 2020
Aside from the show not actually being live and there being no personal connection to the audience, the audio experience was apparently awful. If you've ever been to a drive-in, you know that you tune into a radio station to listen from your car. "The most apt comparison I can come up with is this: You know when you leave a concert at an outdoor amphitheater before it's over, and you can still hear the music playing when you get to your car? There; that's what it sounded like for me," Janes says. Yikes.
Overall, people felt as if they overpaid for such a low-quality experience. Janes even entertained the idea of maybe this would've been better off being put on a streaming service for us all to enjoy from home. "Sure, perhaps that defeats the point. He wanted to bring us all together, right?" says Janes. "But to do so, for that price, he's got to give us a better excuse than this one."