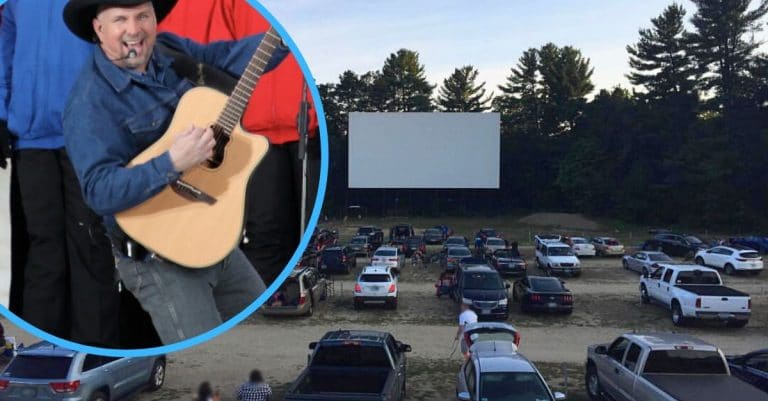 Basically all concerts have been canceled or postponed until 2021 due to the coronavirus pandemic. Garth Brooks has decided to offer a concert in a safe way… by airing the show at drive-in theaters. Garth and his wife Trisha Yearwood have been performing virtual concerts recently too. This show is set for June 27, 2020, and so far about 300 drive-in theaters are participating. The list of drive-ins will be announced on June 15th.
Garth released a press release that said, "I am so excited to get to play again. I have missed it so much and want to get back to it. This drive-in concert allows us all to get back to playing live music without the uncertainty of what would be the result to us as a community. This is old school, new school, and perfect for the time we are in."
Garth Brooks holding a drive-in theater concert
https://www.instagram.com/p/CBS68J-gmpi/
Encore Live is partnering with Garth to put on the show. Founder and CEO Walter Kinzie said, "Families need safe entertainment options that they can enjoy together this summer. We're excited to partner with Garth, who's already done so much to help the entertainment industry during these tough times, to provide a truly unique and incredible concert that will do a whole lot of good for local businesses and communities."
RELATED: Garth Brooks Will Livestream Free Concert And Accept Song Requests
https://www.instagram.com/p/CBMYgQtjt9F/
Tickets will be sold on Ticketmaster for $100 per car. The cost covers the number of legal seat belts in the vehicle, so if your car holds six people, six can split the cost of $100! The tickets will go on sale on Friday, June 19 at 12 p.m. ET. Tickets are expected to go fast!
Drive-in theaters will need to adhere to CDC guidelines, including social distancing between cars, contactless payment, and more. For all of the rules, check out the website for the drive-in theater hosting Garth's concert near you.
What a great idea! Will you try to get tickets? In conclusion, hear Garth talk about the concert below: