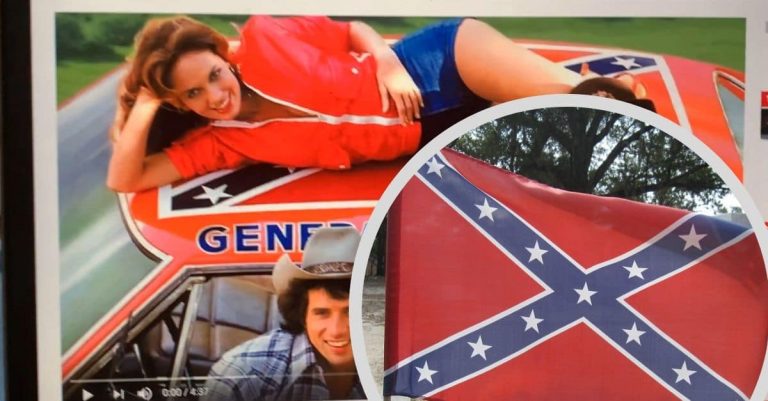 On Monday, June 8, Bubba Wallace called on NASCAR to ban Confederate flags from its races. As the only NASCAR driver, Wallace felt the flag's symbolism was against NASCAR's purported policy of inclusion. On Wednesday, the racing association answered the call and banned flags. But for one African American fan, this decision offered a chance for introspection and even nostalgia. YouTuber Zennie Abraham only associates the Confederate flag with The Dukes of Hazard and the beautiful Daisy Duke.
Abraham's analysis goes further. He explains his motivations behind watching The Dukes of Hazard despite it featuring such a weighted symbol as the Confederate flag. But how can he only think of a movie, while the flag today is very divisive? Well, Abraham in part attributes that to social media. Today's world is so connected, those with ill intentions could use any symbol they want and transplant their malicious values onto that symbol. His analysis is thoughtful and very enlightening. Read more of it below and watch the video Abraham composed to explain his point.
At first, he associated the Confederate flag solely with The Dukes of Hazard and Daisy Dukes
Many pictures and symbols develop different meanings over time. And, depending on who you ask, that definition can change from person to person. For Zennie Abraham, when he looked at a Confederate flag, his mind would go to The Dukes of Hazard. He's not the only one, Abraham asserts. "It meant only one thing for me. It meant The Dukes of Hazard. That's right, and I'm not the only black guy to say so, because a black guy in LA who has a replica of General Lee spiked in his lawn…is also a big fan of The Dukes of Hazard." Their motivations were simple and understandable. "He and I and others only watched it for one reason…It was Daisy Duke. Look, we're boys."
RELATED: Rita Wilson Sings National Anthem At NASCAR Event After Recovering From Coronavirus
They could securely go and watch that movie and see a Confederate flag and think only of a ridiculous movie and a beautiful woman. Abraham goes on to explain, "At the time, we didn't have social media and we didn't have the rise in hate groups that we have today, which have used the Confederate flag deliberately as a way to say to someone black, oh, hey, I am for white supremacy and all these other jazz. Although, there are some who would say, it's just a celebration of the old south, but then of course, that's just a veiled way of saying about pretty much the same thing."
What NASCAR and others did right and wrong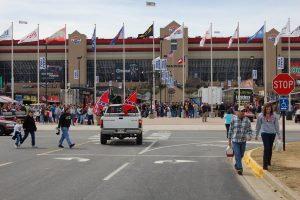 "The point I'm trying to make," Abraham pressed on. "Is if those folks who appropriately used the Confederate flag as a symbol, and then tried to make it a positive story about the south had maintained a larger voice, this wouldn't have happened. But the simple fact that…NASCAR was moved to do this, particularly by the only African American race driver at NASCAR is because of the racism he experienced and those people – evil people – who would take the flag and use it to remind people of how racist they wanted to be. So, under the context of how the Confederate flag was violated in its use and presented in a way that divided people, what NASCAR did was just, right, and perfect for the day."
In short, a lot of people and elements became the victims of circumstance. Unfortunately, people would use the Confederate flag as a succinct way of making black men like Bubba Wallace (26) feel uncomfortable and unwelcome. As the only African American, Wallace initially did not mind the flag either. But more hateful people used the flag not for lighthearted, meaningless gestures like appearing beside Daisy Dukes. So, he felt the weight of its history and meaning. Both he and Zennie Abraham wholeheartedly approve of the choice. In fact, Wallace pushed hard for this decision. He also bedecked his car in black with #blacklivesmatter on it. He feels NASCAR made the right choice. Abraham agrees but adds that if those capable of giving the flag positive association had been louder than the racist people using it for their message, this might not have happened. Abraham invites viewers to subscribe to his channel for more insightful videos.