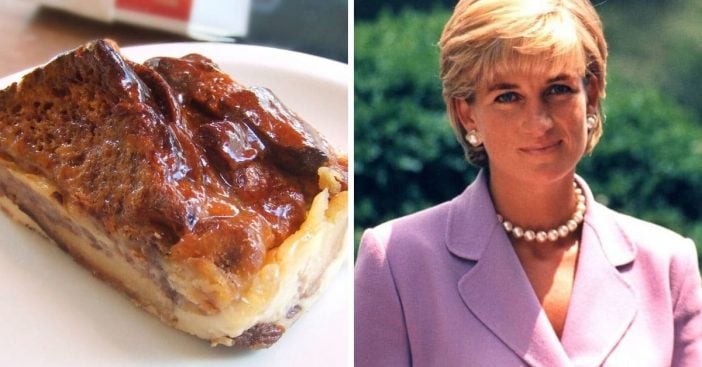 Chef Darren McGrady is sharing another one of Princess Diana's favorite recipes! Chef McGrady was a private cook for Princess Diana and the Queen. He has said that Diana's favorite dessert was bread and butter pudding. If you want to make a new recipe, here's one to try!
Chef McGrady regularly shares recipes on his cooking blog and YouTube channel. He worked in the palace kitchen for 15 years! He said that Diana loved this pudding so much, she would often come into the kitchen while he was preparing it to sneak some ingredients before it was done.
If you want to make Princess Diana's favorite dessert, here is the recipe courtesy of Chef McGrady:
"2 slices of white bread ( 8 into triangles, 4 into cubes)
4 oz softened unsalted butter
9 egg yolks
5 oz caster sugar
1 vanilla pod
5 fl oz milk
15 fl oz double cream
3 oz raisins
3 oz flaked almonds (toasted)
4 tablespoons of Amaretto or Cointreau
1 oz extra caster sugar (for the top of the pudding)
1 teaspoon of Icing sugar"
RELATED: Learn To Make Princess Diana's Favorite Comfort Food: Tomato Mousse
https://www.instagram.com/p/B-f41FwnLrh/
You'll need to start the night before you want to make the pudding. Soak the raisins in Amaretto and leave covered overnight at room temperature. The next day, preheat the oven to 350 degrees. Grease a dish with butter. Gather your bread and remove the crusts and butter the bread.
Next, you'll whisk the egg yolks and caster sugar together. Put the milk and cream in a pan and split the vanilla pod and put that in the pan too. Add in the egg yolks and stir. Scrape and remove the vanilla pod.
https://www.instagram.com/p/B65qZXLHPrN/
Then you'll cut the bread into 1/2 inch cubes and place in the dish. Top the bread with the raisins and put the remaining bread on top of the raisins. Pour the warm mixture all over the bread. Soak for about 20 minutes and then pop into the oven for about 30 minutes. Be sure to put the dish in a roasting tray 3/4 full of hot water.
When it is ready, take it out and sprinkle with sugar. Put it back for a few minutes until the sugar caramelizes and sprinkle with almonds and icing sugar. There you have it… sounds delicious!