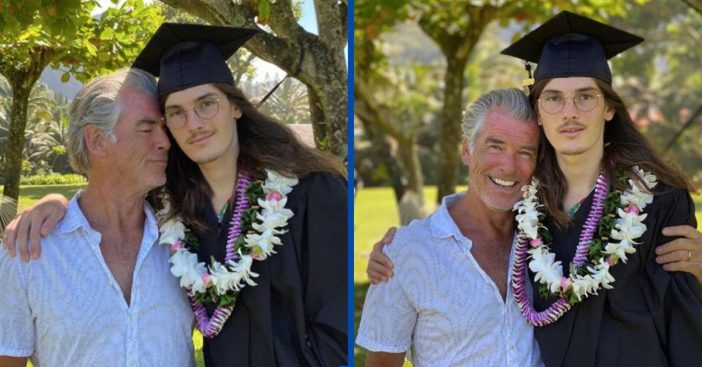 It's official, Pierce Brosnan's son, Dylan, has graduated from college! Brosnan celebrated the special occasion with some photos posted to Instagram. "Congratulations Dylan on your graduation and academic achievements at USC School of Cinematic Arts. Go forth into this new world and make it your own. Be fearless, courageous and generous. Love, Dad," Brosnan writes on social media.
Brosnan's photos include two photos with father and son and a photo with mom as well. Dylan is one of the many graduates this year graduating 'from home' virtually due to the coronavirus. Many colleges have been utilizing a virtual ceremony for their 2020 graduates.
Pierce Brosnan's son graduates from USC during coronavirus pandemic
View this post on Instagram
Fans have been extending their 'congratulations' to Dylan for such an exciting accomplishment. One fan writes, "With his musical talents, the sky is the limit with film production! I like the mustache and goatee because it makes him look like a philosopher novelist. Good job, Dylan! Knock 'em dead with your avant-garde work! Congratulations!"
RELATED: Arnold Schwarzenegger Celebrates Son's College Graduation At Home 
"Congratulations to Dylan (and to Mom and Dad as well). 👏🏻👏🏻👏🏻🎉🎉" another fan writes. A last fan says, "Bravo Dylan congratulation all the best for the future. Your family is proud of you. For your next step in life from our heart all the best, luck, healthy … make your way ✨"
Family time has been very important to them during the pandemic
View this post on Instagram
Family has been super important for the Brosnans during this tough time. As you can see in the photo above, the whole family was quarantined together during Easter Sunday. Brosnan also just celebrated a birthday, 67 years old! He looks fantastic. We're happy to see the whole Brosnan family still managing to celebrate the good times during the ongoing pandemic.
Congratulations to Dylan and to his supportive parents as well!