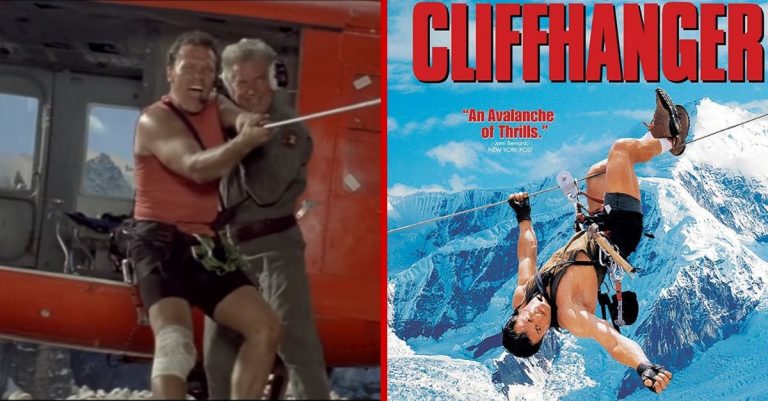 1993 kept audiences on the edge of their seats with Cliffhanger. It provided tension more taut than the ropes keeping Stallone from plunging down a snowy mountain right from the start. The movie gained so much popularity, it netted $255 million globally. As word spreads of a Clliffhanger remake, Sylvester Stallone shares his reaction to the news.
A lot of popular movies seem to get the remake treatment. Or they get a sequel that can be a total re-imagining or incorporate established events and characters. Information – and even confirmation – regarding a Cliffhanger remake involved a lot of back and forth. But from what he has heard, Stallone had an encouraging reaction.
Sylvester Stallone tells everyone to hang in there!
https://www.instagram.com/p/Bxfidu1pe-6/?utm_source=ig_web_copy_link
"I hear they're remaking 'cliffhanger,'" Stallone wrote on his Instagram on May 15, 2019. He went on, "this time it will be a different interpretation which I think will be great. Good luck!… Hang in there." Hanging on was certainly crucial for Stallone and just about everyone involved in that movie. Practical effects and stunts made the movie feel as real as it did years ago.
RELATED: Sylvester Stallone Finally Says Which 'Rocky' Movie Is His Favorite
Word of this impending remake got Stallone feeling nostalgic. In another post later that day, he explained some dizzying fun facts about Cliffhanger that make those scenes even scarier. "While we're on the subject of a CLIFFHANGER," he began, "which I haven't thought about for a long time, it was a pretty exciting SHOOT . Sometimes you have to be tied in between takes so you wouldn't slide off the mountain if the wind came up suddenly!"
Others are less sure about a Cliffhanger remake
https://www.instagram.com/p/Bxf1NtSJLS1/?utm_source=ig_web_copy_link
A lot of people already knew how much dedication went into the original Cliffhanger, and so they worry that element won't be present in any remake. One comment on his first Instagram picture about the remake outright said, "If it's not as Realistic as the first one it's going to be garbage. There better not be any CGI in this movie." Others took the time to mourn everyone's default to remakes or reboots instead of coming up with original concepts. One such comment read, "Bruhh.. No creativity at, all nowadays! All these remakes are pretty much trash! Horrible storylines but great graphics." Some, though, simply pointed out there love for this "super film," some saying "this will be a fun one!"
Some details are left murky about this remake, while others seem clear. Deadline reports that the remake will have a female lead. Additionally, the outlet writes that Ana Lily Amirpour shall direct. Jason Momoa may make an appearance in the upcoming film. At the helm of script-writing sits the co-writer of Creed II, Sascha Penn. Back in May of last year, it was scheduled to shoot in spring of this year; however, COVID-19 has derailed a lot of movie plans. Would you go see this remake or stick with the original?