Olivia Newton-John recently took to Instagram to propose a new challenge for a good cause. She posted a photo of herself in the path of a rainbow shining through. Newton-John has partnered up with a company called Yumi. "For each tagged rainbow @yumi will donate a month's worth of meals to @feedingamerica to help support families in need," she writes.
"I used my window crystals to create this rainbow on my face as rainbows symbolize unity and hope, and to say thank you to the #NHS and all of the healthcare workers around the world for their courage and endurance." One of the few people she tagged to do this challenge was Marie Osmond, who shared her own.
ONJ challenges Marie Osmond and others to Rainbow Challenge to help others in need
View this post on Instagram
"My dear friend @therealonj challenged me to post a picture with a rainbow! Love you Liv 🥰" Marie writes in the caption of her own photo. They both promote a book as well that shines light on families and their struggles during hard times. ""Rainbows in Windows" is a children's book written by @ariannawrotethis and is illustrated by @karo_oh – it follows the story of a young boy named Amos sheltering at home with his mother."
RELATED: Julie Andrews Appears Alongside Marie Osmond On 'The Talk' With A Special Message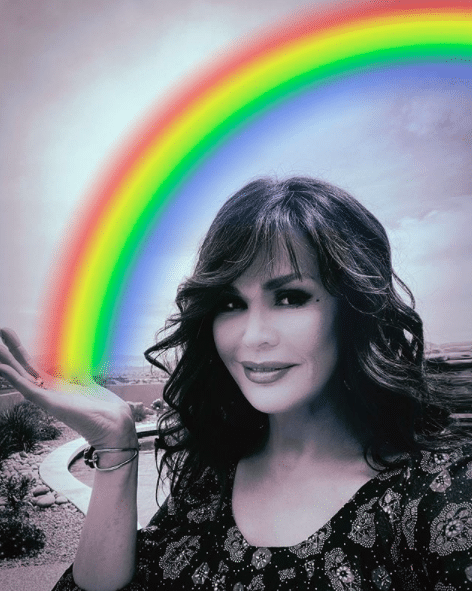 If you head to Yumi's Instagram page and look at the tagged photos, you can see a lot of people are participating in the Rainbow Challenge as well. From families to solo photos, people are taking the time to show their pride for such a great cause.
View this post on Instagram
You can make a rainbow on your own using the magic of angled lighting or even draw or paint one! Just take a photo of yourself with the rainbow and tag Yumi on Instagram. Help them in raising money to donate to Feeding America during the ongoing coronavirus crisis.