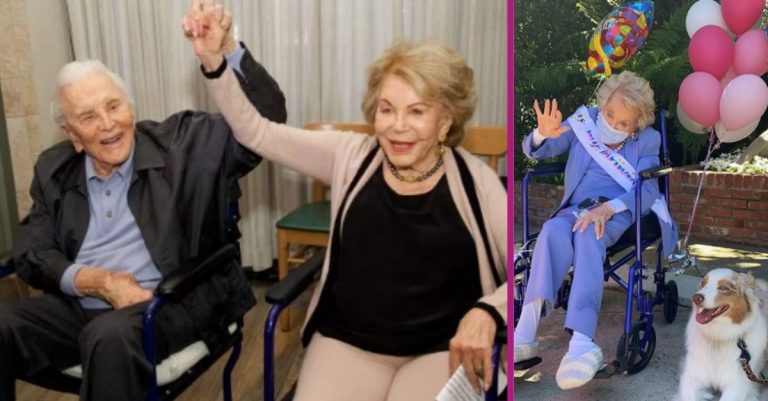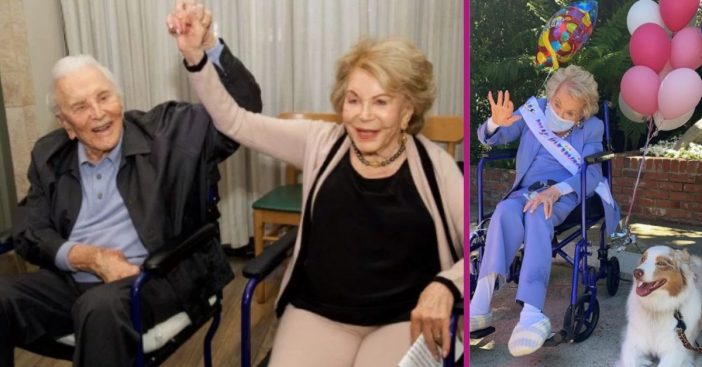 Anne Buydens just celebrated a birthday, her 101st birthday to be exact! Her stepson, Michael Douglas, was quick to wish his stepmom a very happy birthday. He posted a photo of her with a face mask on, a birthday sash, birthday balloons surrounding her, and a dog next to her.
"My stepmother Anne Douglas on her 101st birthday, celebrating and saying hello to all of her friends who drove by to wish her a happy birthday!" Michael says in the caption.
It's Anne Buydens' birthday! The big 1-0-1
View this post on Instagram
Fans have been commenting birthday wishes for Buydens on the birthday post. "Hope she is coping without her husband and your father as its times like this we remember our lost ones x Happy birthday Anne x" someone writes. Another says, "Happiest Birthday to her and many blessings!🌸💗"
RELATED: Kirk Douglas And Anne Buydens' Relationship Stood The Test Of Time For 60+ Years
This is the first birthday that Buydens will have had to celebrate without her long-time husband, Kirk Douglas. He died on February 5th this year. However, that seemed to not stop the family from getting together while still maintaining social-distancing rules.
Lots of love from fans
View this post on Instagram
Catherine Zeta-Jones, the wife of Michael Douglas, has also posted a birthday photo in light of the celebration. "Happy Birthday to my extraordinary step mother in Law. Our Queen, our Oma. You personify everything that is good in a woman. I admire you and love you so very much. 101 years young today. 🥰🥰Anne Douglas thank you for everything that you have done for people in our world. ❤️" she writes in the caption.
"What a life! And what we have to do to stay 101 years young? Fundamental question!!!!" a fan writes in the comments. Another writes, "Wow Happy birthday!! She's beautiful and can't believe she's 101. She doesn't look that age at all!!"
All of us at DYR are wishing Anne Buydens a very happy and healthy 101st birthday!