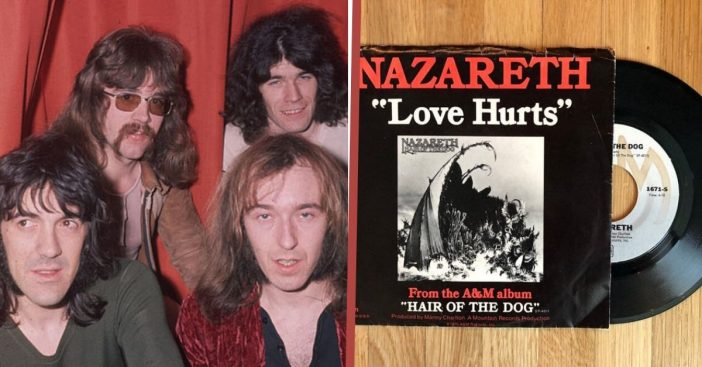 One of the top-charting one-hit wonders from the '70s includes the song "Love Hurts." This song has actually been recorded and released by a number of famous and successful artists including the Everly Brothers, Roy Orbison, Emmylou Harris, and even the iconic Cher.
There are actually so many versions of this song you wouldn't believe. In 2006, Rod Stewart covered this song on an album that went to number one. There's even a bluegrass version prominently featured in the hit Marvel movie Deadpool 2. Although Nazareth didn't write this song, they did record the most successful version of it in the U.S. Their version reached the top 10 in the U.S., quite impressive considering the competition.
Nazareth takes "Love Hurts" to commercial success
While Nazareth made this iconic song famous, it was first recorded by the Everly Brothers on their 1960 album 
A Date With The Everly Brothers. 
SongFacts
describes the story behind the song best: "Young love is hot with passion, but it burns you when it's hot. The guy in this song has just made this discovery, which is a revelation of sorts – all those singing the praises of love are fools who will soon be burned, as love is just a lie made to make you blue."
RELATED: Jeff Lynne Of ELO Talks About The Impact Of Hit Song "Mr. Blue Sky"
The original version by the Everly Brothers features two minutes and twenty-three seconds of distinct, pleasant harmonies. It almost makes you forget about the sadder lyrics of the song. On the flipside, Nazareth's version features three minutes and three seconds of raspy, sandpaper vocals that embody despair and hopelessness. Cher's version may perhaps just be a mix of the two. With her powerful, ballad-like vocals, it can invoke emotion in just about any listener.
By the time that Nazareth had brought this song to true commercial success, the Everly Brothers had already broken up for three years. However, in 1983, they would re-form again and add the song to their setlists for the first time. The only other artist to chart with the song is Jim Capaldi, who took it to #97 in the U.S. in December 1975.