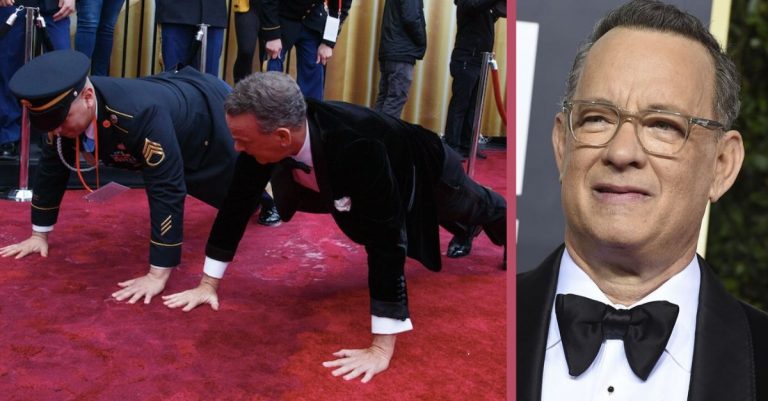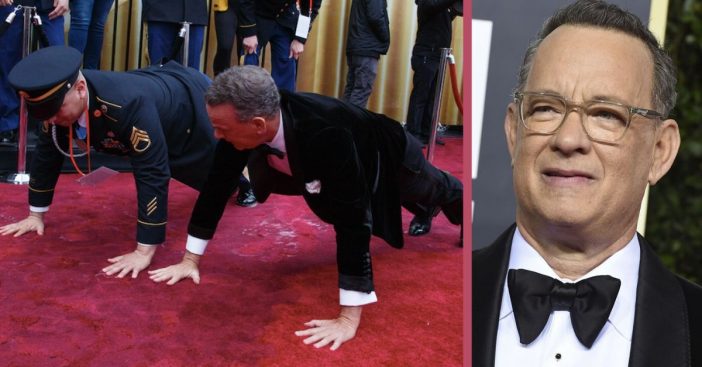 The red carpet arrivals for the Oscars is something everyone loves to get in on. Tom Hanks was among the many celebrities arriving on the red carpet last night and the media caught an awesome moment. Cameras caught Hanks walking down the red carpet to some soldiers and even got one to come down to the red carpet with him.
The Staff Sergeant was a bit confused at first but then caught onto what Hanks was doing. He wanted to challenge the Staff Sergeant to several pushups. This took place with excited cheering from the other fellow soldiers. It looks like the Staff Sergeant's form was the best, but both of them appeared to go head to head on these pushups! The camera soon cut away to commercial afterward. To see Tom Hanks do pushups next to a military serviceman, check out the video below!
Tom Hanks does pushups alongside a U.S. Army Staff Sergeant
Tom Hanks Drops and Does Push Ups with a U.S. Army Sergeant on the #Oscars Red Carpet https://t.co/jAOtmze4qR pic.twitter.com/aqyfzMnlRq

— People (@people) February 10, 2020
Many have been commenting on this moment since it first happened. Fans watching from home were delighted to see what took place. "You da man, just saw you doing some push ups with a soldier. Thank you for being awesome!!" comments one Twitter user, mentioning Hanks in the tweet. "Honestly, Tom Hanks is my hero. If there was ever an actor I would want to meet it is hands down him," another Twitter user writes.
RELATED: Singer Janelle Monáe Serenades Tom Hanks With 'Won't You Be My Neighbor?' At 2020 Oscars
Considering Hanks is in a tux and dress shoes for that, he did pretty well! Hanks has a generally known reputation for supporting our military. For one of his best-known films Forrest Gump, he portrayed the character in boot camp, Vietnam war, and post-war scenes. He also portrayed a WWII Army captain in the film Saving Private Ryan. Hanks has also been involved behind-the-scenes in several other war films, proving his utmost respect for our military.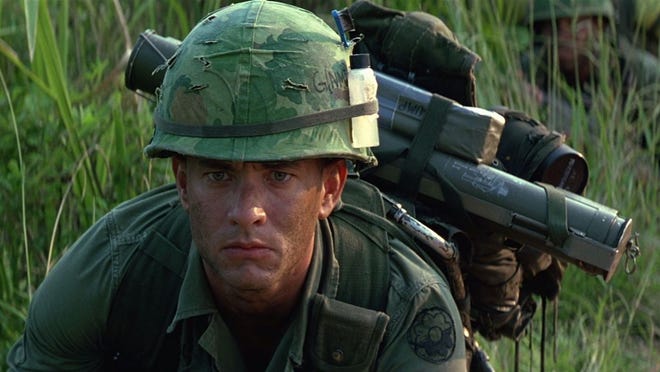 The Army Rangers even gave Hanks an honorary membership into the Ranger Hall of Fame after his Saving Private Ryan role. While at the Oscars this year, Hanks was up for a Best Supporting Actor award for his portrayal of Mr. Fred Rogers in A Beautiful Day in the Neighborhood. Although he did not win the award this year, he continues to warm the hearts of many with his selfless acts of kindness.