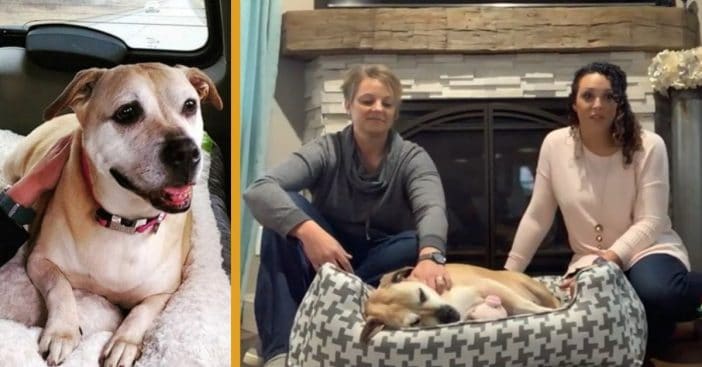 Sandi, a Pittbull Boxer mix, only wanted a loving home. That is every shelter dog's desire as they watch families stream in and out. Over time, their canine companions leave with human families of their very own. While the staff works hard to keep a shelter comfortable and loving, the atmosphere is inherently different from a forever home.
That was Sandi's reality for roughly seven years. She ultimately spent a lot of her life in the Marion-Grant County Humane Society not even fully knowing what she was missing. That changed when Erin and Carrie Rhodes met this lovable dog.
Sandi the shelter dog is getting some overdue love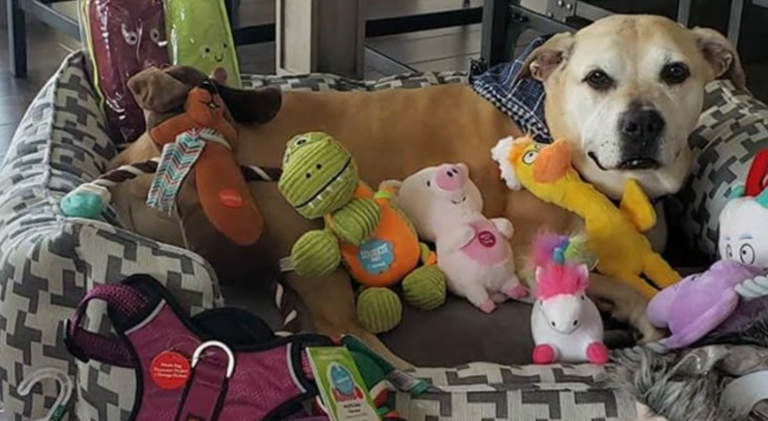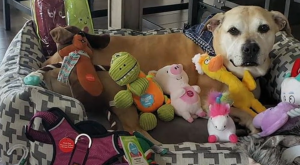 Employees come and go, even at dog shelters. But the residents have to wait for a loving family to set eyes on them and know this is the one. At 12 years old, Sandi has been at the Indiana-based shelter longer than any other staff member. But, fortunately, this gave her time to not only meet the right family but also to get a lot of visits from them too.
RELATED: See The Heartwarming Friendship Between These Dogs & Adopted Kids
Erin and Carrie Rhodes visited Sandi almost a dozen times. Even after a visit ended, their thoughts stayed on the lovable, lonely dog while at home. They knew they wanted that shelter dog to be a part of their family too. "She seemed so loving and just needed a home," Sandi's new mom said about the dog.
Sandi is already enjoying her new home and a lot of national attention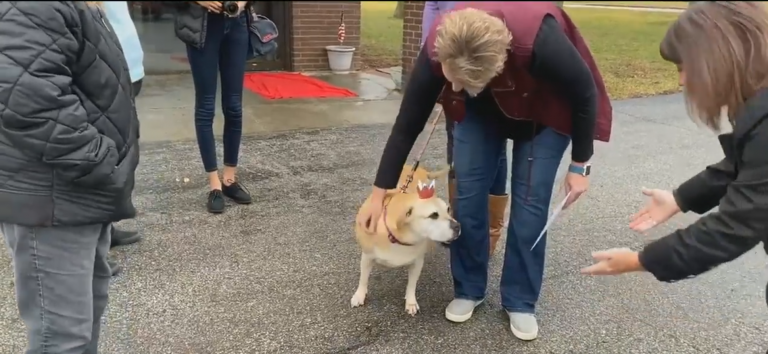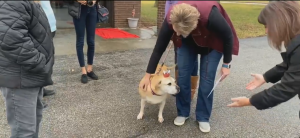 ABC News reports that Sandi's fame is helping other dogs as well. According to the news agency, people have seen the story and are sending in donated toys to her old shelter. Items such as these make a difference for shelter dogs while they wait for their forever home. It gives them a way to enjoy their days and play the way they will when adopted. ABC News also reports that her adoption gave staff members an occasion to celebrate, albeit with some bittersweet tears when having to say goodbye.
For her part, Sandi is already thriving in this new living situation. She has a new doggy door she's learned to use. To exert some energy, she plays tug-of-war. But when she's tired from all that roughhousing, she grabs her blanket and nestled into her big doggy bed for some rest. As she left the shelter with a crown on her head, that really was a promise of the royal treatment she would finally get. Even with her new status, Sandi remembers her roots and encourages people to help her old shelter on Instagram. Her page, @adventures_of_sandi, directs people to donate to Marion-Grant County Humane Society via their website.