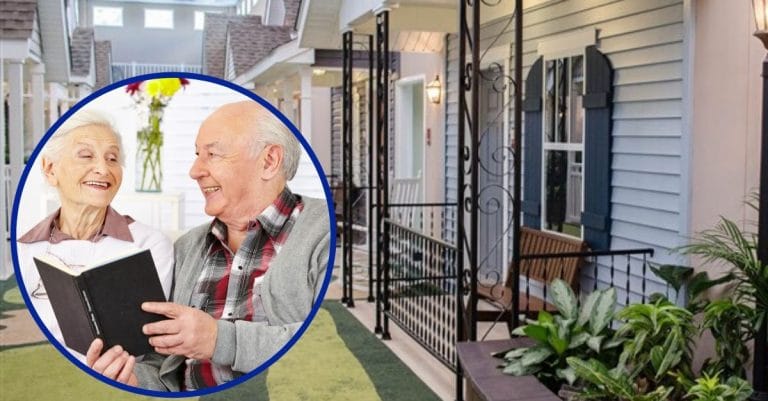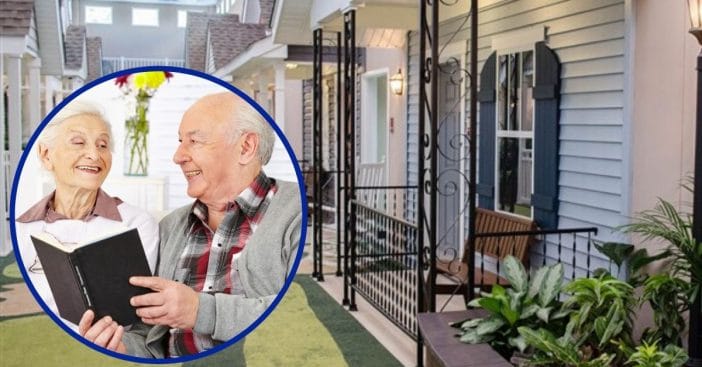 Each day, people seek new ways to make the lives of senior citizens more comfortable. Individuals in their field know how stressful and confusing life can become when Alzheimer's strikes. Family members do what they can and urge those around them to have patience and do the same. Lantern Assisted Living revolutionizes this process. The facility features a very unique layout that helps residents feel at home.
Immediately, Lantern Assisted Living's layout surprises viewers. For a moment, they feel as though they stepped outside. That's because of the nicely kept lawns, quaint porches, and cozy yards lining the way. Even the bright light appears to be from a clear afternoon sky. Except they never left the building. Lantern Assisted Living is simply designed to mimic a charming neighborhood escape.
Lantern Assisted Living gives dementia and Alzheimer's patients a comfortable space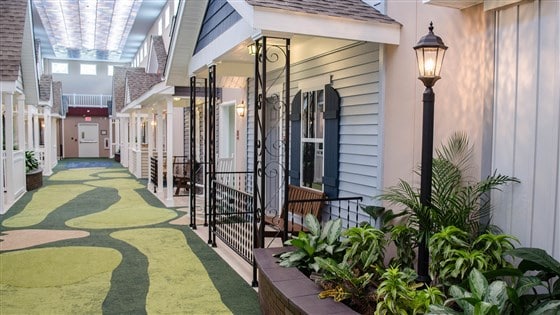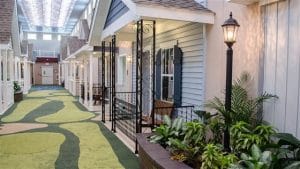 Despite the distress both neurodegenerative diseases can cause, residents at Lantern Assisted Living in Ohio can feel comfortable. Not only does the unique layout outside their rooms give a homey feel, but it is even meant to feel like a resort. Jean Makesh, Lantern CEO, told TODAY that he wants everyone there to have fun.
RELATED: Nursing Home Night Staff Wear Pajamas To Encourage Sleep
"As we get older, we work so hard and try to save money to have a very comfortable retirement, so I thought, 'Let's make it fun and exciting for these people, like a resort or hotel," he explained. In particular, he also wants to instill a sense of nostalgia to better enforce a feeling of security for the seniors living there. "I want to take them back to their earlier childhood days. I really wanted to show people that environment does matter — it plays a huge role [in the patient's care]."
All other aspects are designed to calm the seniors living there
Makesh found inspiration for this creative approach after working as an occupational therapist. At that time, he worked for a major nursing home chain and later wanted to put together a place that stands out. Lantern Assisted Living addresses all aspects of a resident's wellbeing. Because change can be scary for someone with Alzheimer's or dementia, the space helps them feel at home. The fiber optic ceiling changes to match the time of day, including at night. The speakers play the sounds of birds chirping to recreate the ambiance of a tranquil neighborhood.
Additionally, Makesh has studied the effects of various aromas. Scents are tied to memories and thus emotions. "During breakfast or lunch, we want them to eat. So we'll pump in certain appetizing aromas like peppermint or citrus." The facility also uses frankincense to help combat negative moods. Lantern Assisted Living ultimately hopes for patients to be able to go home. To achieve this goal, the staff researched methods to help people suffering from memory loss. The facility you see in the pictures and just read about is the result of all that research. Hopefully, all who cross Makesh's path can have a safe and comfortable time there.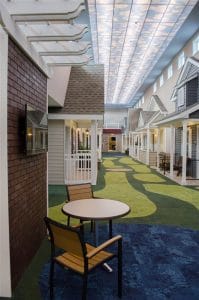 RELATED: One Man Plans To Stay At The Holiday Inn Instead Of A Nursing Home