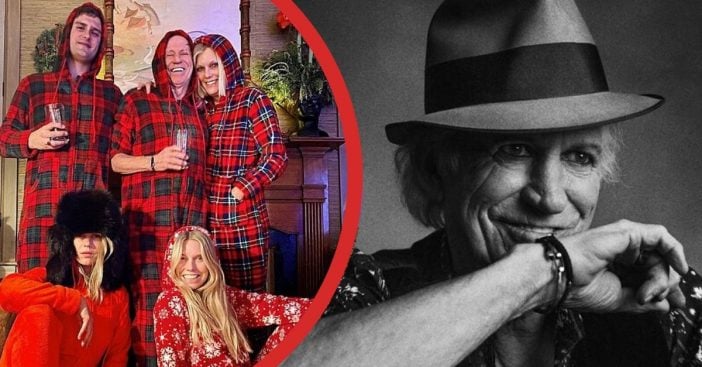 Winter means breaking out all the snuggly clothes and blankets. Often, those fabrics sport cozy, festive patterns. Recently, Keith Richards of Rolling Stones fame displayed some of this fun during a photo shoot with his family. He is joined by his wife, daughter, her sister, and new son-in-law. Completing the charming image is the set of matching onesies everyone is sporting.
When the snow falls, the tartan comes out. The whole family matched the winter decor aesthetic with those shades of vibrant crimson. Bursts of snowflake patterns and swatches of solid red mixed things up to make this ensemble very well-rounded.
Keith Richards and his family have a lot to celebrate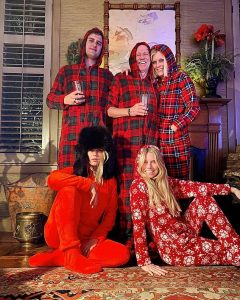 Richards has been married to his wife Patti Hansen for 36 years. The two cuddled up close for this photo that really does show the importance of family. Sat with them are two more sources of pride. His daughter, Alexandra, is showing off her natural skill with modeling. Her serious expression and refined pose add a regality to this photo. Her sister, Theodora, brightens up the atmosphere with a stunning smile that's positively contagious.
RELATED: Kate Hudson's Whole Family Takes Christmas 'Merry Seriously'
Additionally, that family has grown in other ways. This is the first winter with  South African film-maker Jacques Naude. Naude and Alexandra got married roughly three months ago during a beautiful ceremony in Connecticut. It's easy to see him as part of the group as he stands beside his new father-in-law with a matching tartan onesie.
Strong bonds are evident and important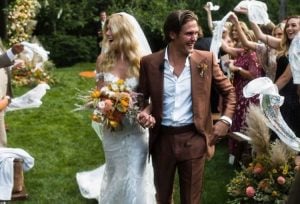 At the end of the day, everyone wants to get along with their family. This includes the family you're born into, the one you choose, and the one that comes along with a significant other. Sometimes, that is unfortunately difficult. And even when all goes pretty smoothly, hitches occur among even the closest of relatives. Making it work takes dedication and communication,
In this instance, tension is something distant. Naude's outfit completely matches that of Keith Richards and the two have no problem being close. Those glasses they're both holding may have even seen use in a toast. There certainly is a lot to toast to. Though, their beverages of choice might be different. Known for being something of a wildcard, Richards is reportedly a life totally without alcohol. This is known as being teetotal.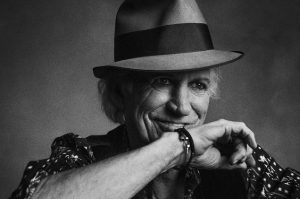 RELATED: Jamie Lee Curtis Talks About Being 20 Years Sober And Going Public With Her Addiction
So what's the secret? Let's talk to Keith:
He really is the man! Check him out here from 1993: