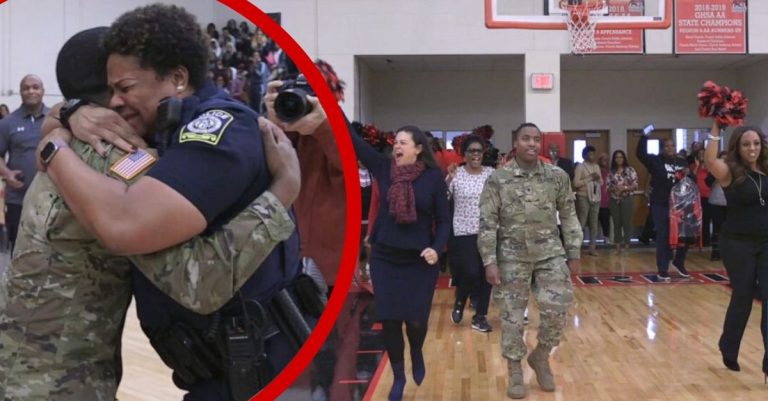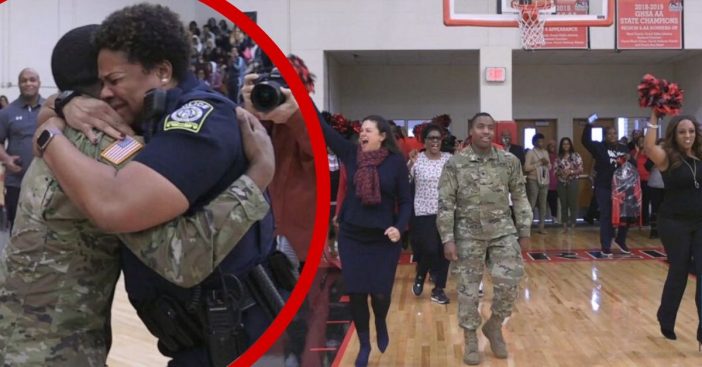 Two years ago, U.S. Army Spc. Shakir Aquil was in South Korea. Though not one for showing such vulnerability to the public, his mother, L.J. Williamson, privately felt devastated. She anticipated a break from her grief when she went to a pep rally at Therrell High School. There, she was supposed to be honored for her work in the community. Instead, she saw her son once again in a beautifully orchestrated homecoming surprise.
Aquil is Williamson's oldest son, and seeing him run into the pep rally made this school resource officer feel overcome with emotions. Spectators captured their heartfelt reunion on video and photos immortalize the moment Williamson got one of the best surprises she never saw coming.
U.S. Army Spc. Shakir Aquil wanted his return to be very special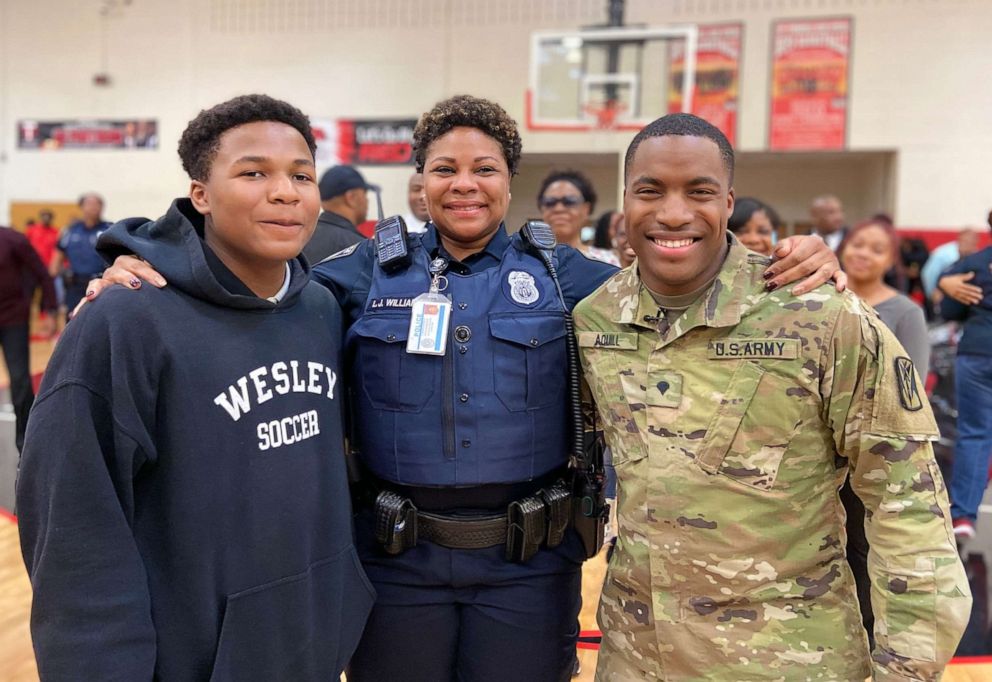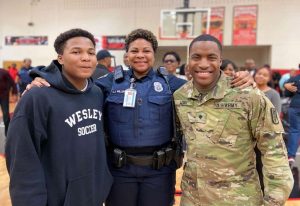 At first, L.J. Williamson knew her son would be returning. But Aquil initially told her he would be back on January 22. Aquil, however, wanted to give his mother a surprise to express his gratitude for all she has done for him and others. To do this, Aquil coordinated with Therrell High School officials to make their reunion a few days earlier than Williamson believed. Aquil traveled 19 hours from South Korea, to first surprise his little brother. He, too, did not expect his brother's homecoming to be so soon.
RELATED: Military Dad Surprises Daughter As School Mascot After Being In Afghanistan For Ten Months
His younger sibling got the shock of a lifetime right in his classroom. Later, the two brothers moved on to their grandmother's house to share the great news with her. Finally, they headed for the high school.
All seemed normal, as far as L.J. Williamson could tell
Good news wants to be spread. Fortunately, everyone who found out about Aquil's early arrival knew seeing the joyful shock on Williamson's face would make it a secret worth keeping. As a retired Atlanta Police Department officer, Williamson became familiar with her community and its needs. After her retirement, she focused on helping those around her. Around the holidays, she worked with a program to help kids in need. This pep rally was supposed to honor her.
Indeed, it seemed like that was the plan and all was normal. Those in attendance played a video congratulating Williamson for all her hard work and the lives she's changed. They even played a video. It was at this time, though, that the secret began to reveal itself, as the video featured Aquil congratulating his mother for the recognition she'd received that day. The boys' basketball team then ran out, and who should be right behind them? U.S. Army Spc. Shakir Aquil.
Emotions immediately ran high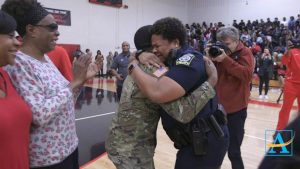 Williamson's tears fell immediately. The hug exchanged between mother and son was their first since Aquil returned briefly for his grandfather's death in December of 2017. "I'm so happy," she said. "I'm still floating." Those were not her first words, however. Overcome by the joy of seeing her son again, Williamson showed an uncharacteristic amount of emotions. As a result, when Aquil came out, her first thoughts were, "Why did he do this to me?" She further explained, "I don't like showing emotion in front of people, and I try my best not to."
The answer is simple, and right from Aquil himself. "She made everything amazing in my life," he said simply. "She tries her best." Her relentless compassion and love drove Aquil to consider his mom his "best friend." He further admitted to feeling intensely sad as well, when he was deployed abroad. Soon, he will move to a new station in Seattle. But he always wanted to give his family a homecoming surprise, such a popular concept among military members. "I've been planning this for years." Ultimately, that was what this whole long odyssey from Korea back to America was about. "I didn't even want to wait for the pep rally. I just wanted to see my mom."
Surprise! @APSTherrell Safety and Security Officer LaShandria Williamson has just received the suprise of her life!

Her son, U.S. Army Sgt. Shakir Aquil is home from Suwon, South Korea after a two-year deployment! pic.twitter.com/sNuwvmV9fR

— ATL Public Schools (@apsupdate) January 17, 2020