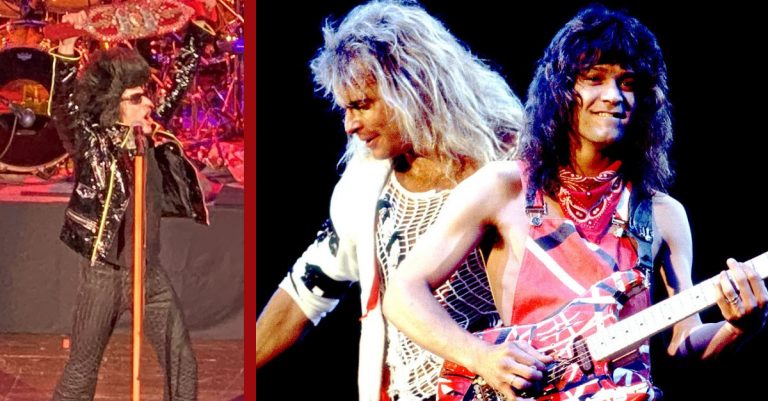 A photo has been leaked onto the Internet of David Lee Roth performing at his Las Vegas residency wearing a terrible 'Elvis' wig. There seems to be no known source of who took the photo, but reports allege that it was a bandmate of Eddie Van Halen. Roth is carrying on the Van Halen legacy by continuing on with a residency, which Sammy Hagar calls a "comedy act."
User Darrin Stephens posts on VHLinks, discussing Roth and his abilities. "Dave's voice has aged but his issues since 2010 are due to control of diaphragm not his voice. How it sounds is irrelevant if you can not control it. He is 12 years older and whatever stuff any of US have due to being in a human body gets worse with time. In 07 he was largely shirtless and not in 8 layers under 110 degree lights like now. Bodies age, his instrument is his body. So no dance floor because you can isolate and control your diaphragm better when still, its why drumming and singing are difficult. Notice back half of 15 tour Unchained sounded better, he began singing it while still seated."
David Lee Roth sporting a bad 'Elvis' wig
@DavidLeeRoth kicks off his @MandalayBay residency at @HOBLasVegas pic.twitter.com/TRpW3yY8i4

— T-Mak World (@TMakWorld) January 9, 2020
He continues, "Listen, he is a football player and will never air his shit but this man puts in an incredible amount of work just to get his body up onstage to do what he loves. Want a record sound from 40 years ago do not buy a ticket to his show or Kiss, or Whitesnake, or Motley Crue, etc…… Want to have a good time and see a guy sing better than he has past couple tours but still far off peak who will still have some moments that give a glimpse oh there it is still come on down have a good time. I'll pour you a drink while I smoke. Enjoy what you got or don't whatever works but he has no responsibility for your expectations."
RELATED: Eddie Van Halen Says "Cancer Can't Slow Me Down" As He Continues To Live His Rockstar Life
Can he still put on a good show?
User Traveling Man responds: "I can agree with much of what you said except the last part. People are paying good money to see DLR perform. They could have spent that money on any number of other things to keep themselves entertained. So if DLR is going to ask people to plop money down to watch him sing and dance, then the paying public do have a right to expect him to put on a good show, which would include making a reasonable effort to sing well. I believe DLR defenders keep mentioning how DLR says to judge them harshly. Well then you can't be upset when folks take him up on his offer."
Despite this awful-looking wig that is getting a lot of talk on the Internet right now, Roth seems to still put on a great show! Check out the video below for a clip from one of his Las Vegas shows.