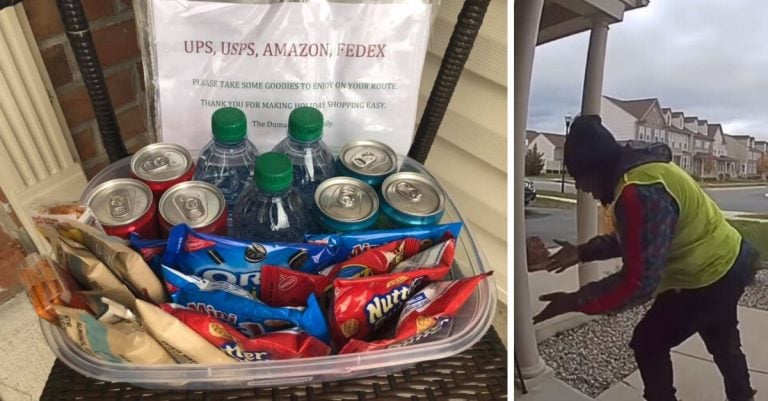 A woman named Kathy Ouma had a great idea that ended up going viral! For the past four or five years, she puts out snacks and drinks for delivery drivers during the holiday season. During the busiest time of year for delivery drivers, this must be a real treat. It truly was for Amazon driver, Karim Reed III, who did a happy dance when he received the treats. Kathy caught the touching moment on her doorbell camera.
Karim pulled up to Kathy's home in Middletown, Delaware. He had a package under his arm and then looked surprised when he saw the basket of treats, specifically for delivery drivers. He said, "Oh, this is nice! They got some goodies. Wow."
Amazon delivery driver does a happy dance when he sees the basket of treats
He continued, "Get out of here! This is sweet. This is so nice." Then he did a happy dance, which Karim said to news outlets is his "signature dance" since he was about 7 years old. It was extra sweet since reportedly Karim forgot his lunch that day and was feeling his energy going down.
RELATED: Student Orders KFC Just So Delivery Driver Can Kill A Spider For Her
Kathy always sets out a basket with bottled water, soft drinks, and snacks. She puts a sign by the basket that reads, "Please take some goodies to enjoy on your route. Thanks for making holiday shopping easy."
It turns out that it wasn't just Karim's day that was made. Kathy was inside, recovering after a car accident and feeling pretty bad. She said, "I heard his infectious energy outside. He really did make my day. I thought, 'I am all better.'" Kathy admitted that she would have left him lunch too if she knew he forgot his that day!
The dance and Kathy's idea has now gone viral, and many other people are trying out this idea. Kathy's reasoning for leaving the treats? "I was just raised this way," she said. "You can shift the energy not just of the people around you, but the entire world." Watch the video of his happy dance below: