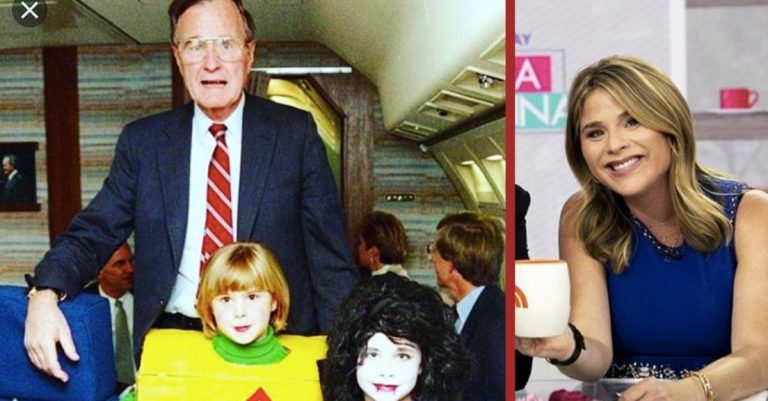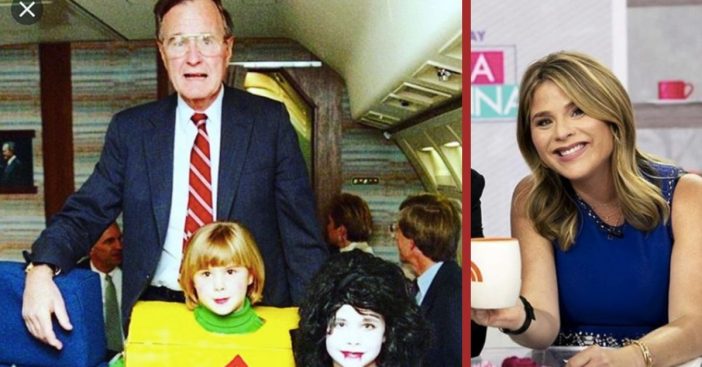 Happy Halloween! Everyone is celebrating as necessary, including the Bush-Hager family. Jenna Bush Hager actually took to social media to share a Halloween throwback photo to the '80s. In the photo is Jenna herself with twin sister Barbara Pierce Bush, along with their grandfather, former President George H.W. Bush.
The family in the photo is aboard what appears to be a plane. The little girls have very creative Halloween costumes on, while the late Bush sports a dart suit and red-and-white tie. "Happy Halloween from a President, Juicy Fruit and a Vampire!! 🍭😱🍭#TBT" Jenna writes as the caption. See the adorable photo below!
Jenna Bush Hager's Halloween throwback photo… memories!
Jenna has been on maternity leave since she gave birth to a son earlier this year. However, just for Halloween, she made an appearance on TODAY! She puts more context behind the above photo, explaining that her mom, Laura Bush, made her a Juicy Fruit costume out of a cardboard box. "And my grandpa dressed up as a president!" she says.
RELATED: See All The Adorable Photos Of Jenna Bush Hager's Newborn Son
She showed up to the TODAY show as Baby from Dirty Dancing alongside Willie Geist as Johnny. And you can bet she put on quite the performance as a dynamic way to come back to the show! Catch Jenna in the video below around the 2:50 mark! The whole TODAY gang channeled famous dance icons for their group costumes this year and put on quite the show.
Remembering George H.W. and Barbara Bush
https://youtu.be/tDxDz6hcafk
Both George H.W. Bush and his wife, Barbara Bush, sadly passed away last year within just mere months of each other. They celebrated 73 years of marriage together. The passing of these two great political icons caused collective mourning throughout the United States. Jenna opens up to PEOPLE about her grandparents' legacy. She says,  "It's very interesting when you lose these people that you love so much and also you're filled with awe that they're beloved by everybody."
She continues, "It's also like, 'Wow, to build a family the way that they did where everybody really loves each other.' " She notes that for these two,  "family was a priority."
"I left my baby just to be here with y'all because I love Halloween!" Jenna tells her TODAY co-anchors. Hopefully, we can expect to see Jenna back for good sometime soon.