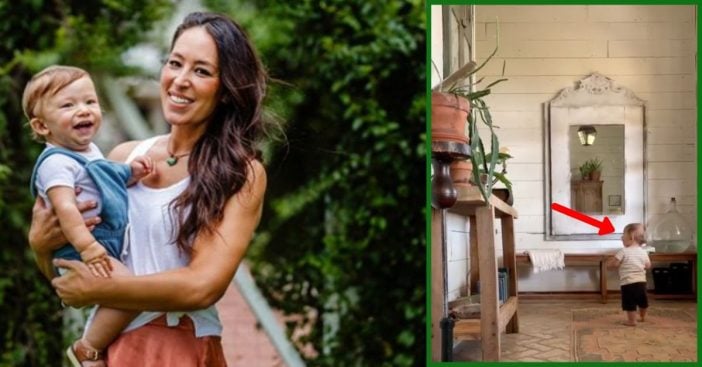 Crew Gaines of the Gaines family takes his first steps!

Mama Joanna Gaines documents the first steps on Instagram and fans go wild.

The Gaines family has also been celebrating Crew's first birthday on top of the exciting milestone.
Baby Crew Gaines is finally on the go! Mama Joanna Gaines shares an adorable first video of the 1-year-old cruising through one of the rooms of their Waco, TX home and exploring. He has no help from mom or dad as he strolls along, taking in his surroundings as all curious babies do.
"… annnnd we have a walker!" Joanna captions the video on Instagram. It certainly looks like the little walker was on a mission! Take a look at the full video below. His happy sounds and giggles make us all so happy to hear, he must be loving his new little go-go feet!
Watch 1-year-old baby Crew take his first steps
https://www.instagram.com/p/B0g8KqrlK7q/?utm_source=ig_embed
Back on July 15th, dad Chip Gaines shares a photo to his own Instagram account detailing that was the day that Crew reached the big milestone. "Little Crew took his 1st steps today.. It was a good day!" he writes in the caption. Just a few days prior to his first steps, the family celebrates the 1st birthday of baby Crew!
He is advancing to so many milestones. They grow up so fast!
https://www.instagram.com/p/Bz3PXLTF3XJ/
Joanna speaks about one full year with baby Crew in the family on her Magnolia blog. "I don't even know where time went — that seemed like the fastest and best year of our lives… We had so much fun celebrating his first birthday at the farm and my favorite part was when he dove face first into his cake!"
https://www.instagram.com/p/Bz1RcmqgqJa/
Fans are also loving the pictures and videos of the newly-walking Crew. "First steps to explorations are SO exciting. Enjoy your adventures now that you are on the move cutie," someone writes on Joanna's Instagram to Crew. Another person says, "Oh my gosh! He is walking! Nothing better than those first steps."
Joanna continues to write on her blog, "This little boy is so joyful and so curious and is keeping us on our toes, and it has been so amazing to see him with his brothers and sisters. The addition of Crew to our family has been the greatest gift."
https://www.instagram.com/p/Bz04WKAF3Ow/
Can you believe baby Crew is already one!? Where did the time go? Take a look at the video below on Joanna talking about life with Crew, just 8 months ago!