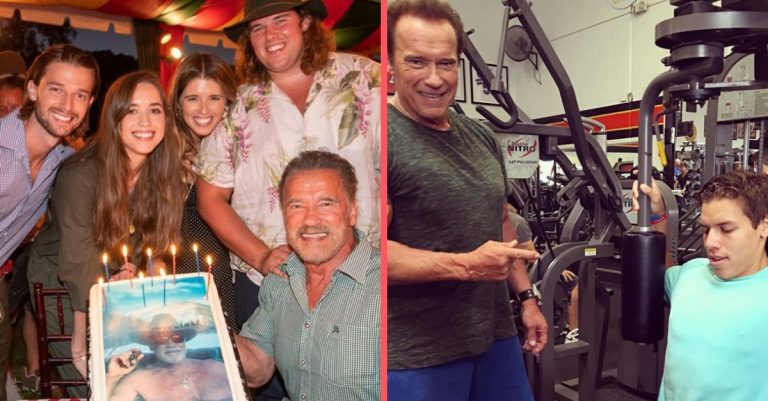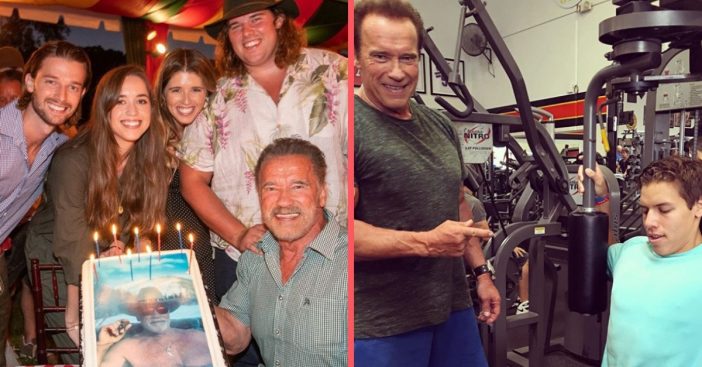 Arnold Schwarzenegger turned 72 on July 30, 2019. His family was there for him as he celebrated this special milestone! Both of his sons shared photos and birthday wishes for their dad on Instagram. Arnold has five kids, three boys, and two girls. The youngest boys are 21 years old.
His son Joseph Baena shared a post of himself and his dad working out at the gym. That has to be a common occurrence with your dad as The Terminator! He wrote, "BIG happy birthday to the best training partner in the world! Love you dad."
Check out the photos from Arnold's birthday where he turned 72
https://www.instagram.com/p/B0i9MTyJxXQ/?utm_source=ig_embed
The photo was taken a Gold's Gym, which has a special place in Arnold's heart. This was the gym where he used to train in his professional bodybuilding days. Arnold's son Patrick also shared a birthday photo on Instagram.
The photo shows Arnold holding a birthday cake with his face on it. Some of his children, Patrick, Katherine, Christina, and Christopher are in the photo surrounding their dad. In addition, the caption pokes fun at the cake.
https://www.instagram.com/p/B0jHtrynX4H/?utm_source=ig_embed
Arnold has been attending big events in his kid's lives recently. Just this summer, Katherine married actor Chris Pratt. His son Joseph also graduated from Pepperdine University a few months prior. For Joseph's graduation, Arnold shared his own tribute post.
https://www.instagram.com/p/BwxKnD3nJgJ/
He wrote, "Congratulations Joseph! Four years of hard work studying business at Pepperdine and today is your big day! You have earned all of the celebration and I'm so proud of you. I love you!"
https://www.instagram.com/p/BzbvOTFgPLm/
Arnold has been very busy lately in the acting world! He has two films coming out soon including Terminator: Dark Fate. He is also working on five additional projects. We can't wait to see Arnold on movie screens again soon. In addition, he is doing voice work for the television series Superhero Kindergarten.
Happy birthday to Arnold! May you have many more fun birthdays with your children. He really doesn't look like he is 72 at all.
This year, Arnold was also kicked in the back by a disgruntled fan.