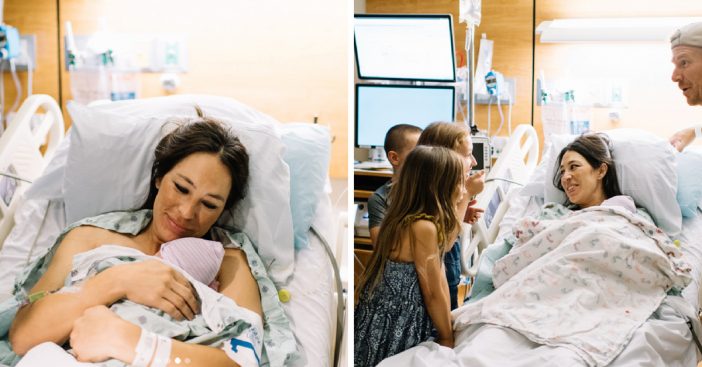 Joanna and Chip Gaines' newest member of the family arrived over the weekend and we couldn't be more excited. They announced their pregnancy a few months ago, and everyone was excited for the new little one.
Chip first shared the news on Twitter and even included a hint at the new baby's name.
And then there were 5.. The Gaines crew is now 1 stronger! 10 beautiful toes and 10 beautiful fingers all accounted for, and big momma is doing great! #blessedBeyondBelief

— Chip Gaines (@chipgaines) June 23, 2018
The announcement secretly revealed the baby's name and it is a break from their tradition of names. Both of their girls' names start with an "E" and both boys' names start with a "D."
Although a lot of people speculated that their youngest son would have a "D" name, their new baby boy is named Crew. They shared photos and announced the name on Joanna's Instagram page.
Joanna shared photos of the new arrival and her excited family on Instagram. In the photos, you see the kids waiting outside the hospital door and then excitedly meeting their new brother. You also see Joanna looking content with the new baby and a photo of Chip comforting Joanna, perhaps right before birth.
View this post on Instagram
Joanna also shared a photo of her cuddling the adorable new baby boy and captioned it "cuddle bug." We can already tell how in love the family is with Crew already!
View this post on Instagram
"Our baby boy, Crew Gaines, is here and we couldn't be more in love," she captioned the first post. "He made an unexpected (and speedy) entrance into the world two and a half weeks early — which is fitting given he was a sweet surprise from day one. Thank you for your thoughts and prayers. We are so grateful."
View this post on Instagram
Joanna joked in the past that she and Chip may not be done having kids yet. Crew was a surprise baby and they seem open to other surprises that will expand their beautiful family.
What do you think about the name Crew? Are you excited to see that the newest Gaines family member was born?
If you enjoyed this article, please share with a friend who is obsessed with the Gaines family!