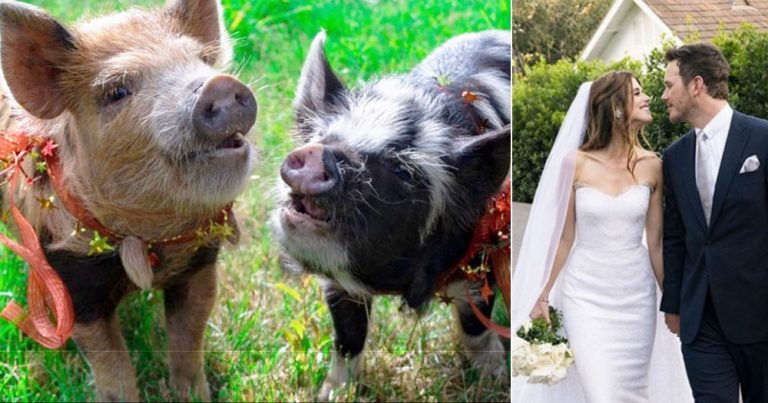 Arnold Schwarzenegger's daughter, Katherine recently got married to actor Chris Pratt. 

For Chris's birthday, Katherine got him two adorable pet pigs! 

They named the pigs Tim McGraw and Faith Hill because they find their marriage so inspiring.
Country artists Tim McGraw and Faith Hill were honored in a very cute, but strange way. Katherine Schwarzenegger, the daughter of Arnold Schwarzenegger and Maria Shriver, recently got married to actor Chris Pratt. When Chris's birthday came up, she gifted him some adorable pet pigs!
The best part? They named them Tim McGraw and Faith Hill! Their reasoning for naming the pigs, Tim and Faith? Their marriage is very inspiring to the couple. Chris wrote on Instagram, "Thank you, Katherine, for my new pet Kune-Kune pigs!!! Best birthday present ever!! We named them Tim and Faith because they're beautiful and their love is palpable and inspiring. I love them and can't wait to watch them grow."
See a photo of the adorable pigs
https://www.instagram.com/p/BzTxLJGpcg7/?utm_source=ig_embed
He continued, "And no they will not be bacon! They are the newest members of the Friendly Kingdom, select animals including sheep, goats, and pigs who we've pardoned."
"They will spend their entire lives thriving at the farm, until they pass naturally many, many years from now. Historically our relationship with animals has taught us so many valuable life lessons- ranging from the harsh realities of the cycle of life to the rewards of compassion, stewardship, love, and care. #godbless#friendlykingdom #farmlife."
https://www.instagram.com/p/By-trLPgYOs/?utm_source=ig_embed
On Chris's birthday, Katherine shared a photo collage of their time together. She wrote, "Happy birthday to my darling angel face! So beyond blessed to laugh with you, love you, go on adventures with you, kiss you and live this magical life with you. You make life joy-filled! I love you so much! Happy happy!" Chris is most known for his roles on the show Parks & Recreation and the Guardians of the Galaxy films.
https://www.instagram.com/p/Byf8I_WJzAq/
The couple lives part-time on Chris's farm on one of Washington state's San Juan islands. Both of them said they feel very comfortable there, being surrounded by nature and animals. They got married last month after getting engaged in January. They look so sweet together and of course, those baby pigs are so cute!
Do you think the baby pigs are adorable, too? What do you think Tim and Faith thought about being named after pet pigs? We wonder how they feel about it.
Love Tim McGraw & Faith Hill's marriage too? They definitely inspire us here at DYR!