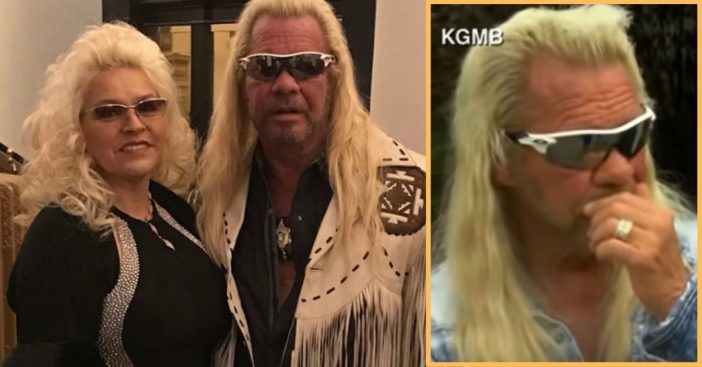 Duane 'Dog' Chapman reveals that people are setting up fake GoFundMe accounts not authorized by any of the family. He says to send flowers instead.

He talks about his wife's death for the first time and how they didn't prepare for it to come so soon.

Chapman says they wish to celebrate her life, but right now they are in mourning, and rightfully so.
Duane 'Dog' Chapman has recently done a press conference in Hawaii following the tragic news of his wife's death. In the conference, he talks about Beth Chapman and how people are setting up fake GoFundMe accounts. He tells people to not send money, just to send flowers during this difficult time.
Chapman calls this "the most terrible time in someone's life" during the conference. We can't imagine how heartbroken he and the whole family must be.
Talking about his wife's death, fake GoFundMe accounts, and more
Chapman acknowledges the millions of people around the world sending their love and best wishes to the family. However, when it comes to the issue of people sending money and setting up fake GoFundMe accounts for them, he says that it's a "problem."
"We've got people, and it's mostly from the mainland, that are setting up funds 'donate here to Beth' and all that. Right now, so far, we don't need any money at all. Please save your money and send flowers. There's nothing being authorized from any of us," he explains.
https://www.instagram.com/p/BRRI6uFDb_S/
"It came very unexpected, really fast," Chapman says of his wife's death. He says that all of her clothes and makeup are exactly where they left them; they simply didn't prepare for her death to come so soon. He also talks about how a cure needs to be found for cancer. Chapman says that it's at the point where "some get lucky, but most pass away."
He compares cancer to polio, saying that polio was the same way until one person found a cure. He couldn't help but try to lighten the situation by saying that Beth was a bit of a control-person and that "up from the grave and through heaven she's probably still controlling me." That got a few laughs out of everyone, which I'm sure they needed!
https://www.instagram.com/p/BwP6Z94nRnz/
"I loved her so much," he says towards the end of the conference. Take a look at the full press conference below.
We love and miss Beth so much already.