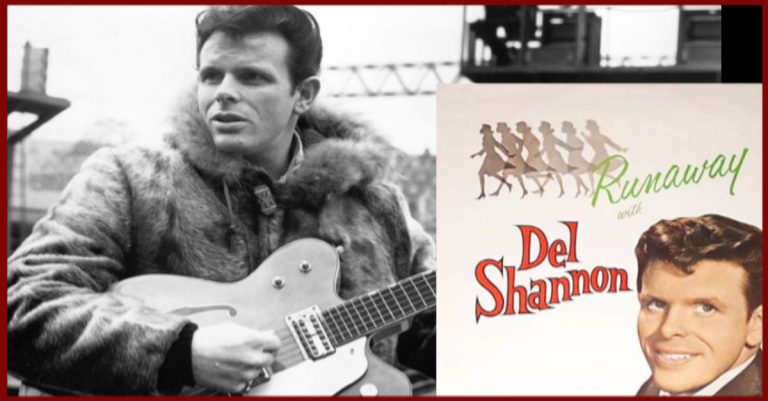 Del Shannon's Runaway is No. 472 on Rolling Stone's list of the 500 Greatest Songs of All Time!
As a kid, Shannon got his first guitar for $5. His truck-driver dad wasn't too happy about it. "'You get that goddamn guitar outta here' — that's the exact words my father used," Shannon recalled. For example, "However, my ma said, 'It's OK, son. You can sing for me." This helped Del sing this hit with raw emotion; co-writer Crook played the solo on an early electronic keyboard called the Musitron.
(source)
Writers: Del Shannon, Max Crook
Producers: Harry Balk, Irving Micahnik   Released: March '61, Big Top
Spent 17 weeks at No. 1! 
Lyrics for "Runaway"
As I walk along, I wonder
A-what went wrong with our love
A love that was so strong
And as I still walk on, I think of
The things we've done together
While our hearts were young
I'm a-walkin' in the rain
Tears are fallin' and I feel the pain
Wishin' you were here by me
To end this misery
I wonder
I wah-wah-wah-wah-wonder
Why
Why, why, why, why, why
She ran away
And I wonder
Where she will stay
My little runaway
A-run, run, run, run, runaway
I'm a-walkin' in the rain
Tears are fallin' and I feel the pain
Wishin' you were here by me
To end this misery
And I wonder
I wah-wah-wah-wah-wonder
Why
Why, why, why, why, why
She ran away
And I wonder
Where she will stay
My little runaway
A-run, run, run, run, runaway
Arun, run, run, run, runaway
A-run, run, run, run, runaway
Traveling Wilburys-Runaway (Del Shannon`s song)
RELATED: Why Robert Plant Has Refused To Take Part In Led Zeppelin Reunion Tour