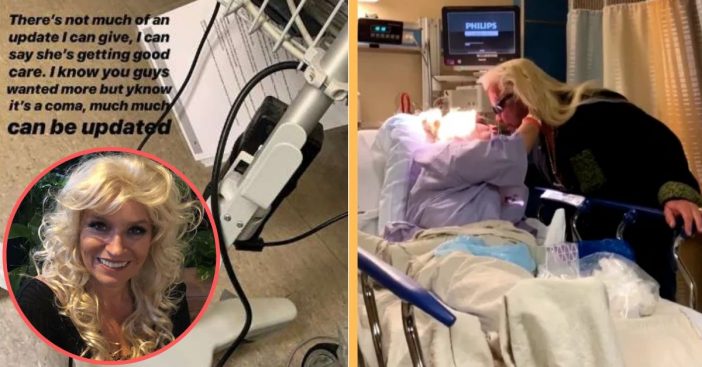 Beth Chapman's daughter, Bonnie, has been posting publicly on social media giving updates on her mother. The 51-year-old bounty hunter was placed in a medically-induced coma over the weekend. Her husband, Duane 'Dog' Chapman, took to social media as well to simply say "Please say your prayers for Beth right now thank you, love you."
Now, Bonnie has posted a photo that appears to be by her mother's bedside in the hospital. According to her Instagram, she flew all the way to Hawaii to be with her mom.
Beth Chapman's daughter's photo from the hospital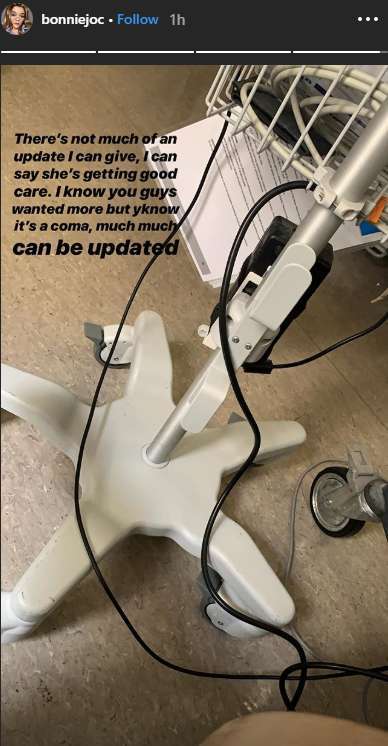 The photo from inside the hospital also comes with a text overlay. It says, "There's not much of an update I can give, I can say she's getting good care. I know you guys wanted more but yknow it's a coma. Much much can be updated."
TMZ reports that the cause of being rushed to the hospital was due to a choking incident. This may or may not be associated with Beth's throat cancer, as she's had troubles with that in the past.
https://www.facebook.com/OfficialDogTheBountyHunter/photos/a.863516850408007/2285070474919297/?type=3&theater
This news comes a few months after Duane Chapman gave an emotional update on his wife, saying that he will "not let her die" after she is rushed to the hospital for fluid in her lungs. Despite this, Beth allegedly continues to tell her husband that she wishes to "live our her last days" doing what she loves, which is being on the hunt for suspects with their new upcoming show Dog's Most Wanted.
"Beth was hospitalized Saturday due to an accumulation of fluid in her lungs. Doctors performed an emergency procedure to alleviate pressure that had built up," the family Facebook statement said, "She is now at home resting with her husband. She and [husband Duane "Dog" Chapman] are so grateful for the thoughts and prayers from their fans. Keep them coming."
https://www.instagram.com/p/Bnz9dxnD8xm/
Beth's previous experience with cancer
As we've reported previously, Dog The Bounty Hunter star Beth Chapman was first diagnosed with throat cancer in 2017 and beat it in the same year. Unfortunately, she was diagnosed again just a year later with what we now know is stage four lung cancer.
"She has told me repeatedly that if these are her last days on earth she wants to spend every moment with me on the hunt, living life to the fullest and enjoying the time we have left together," He revealed. He then added, "Mark my words, I will not let her die."
https://www.instagram.com/p/Br0Ii1whPKg/?utm_source=ig_embed
Will this put a halt on the premiere of their new show Dog's Most Wanted?