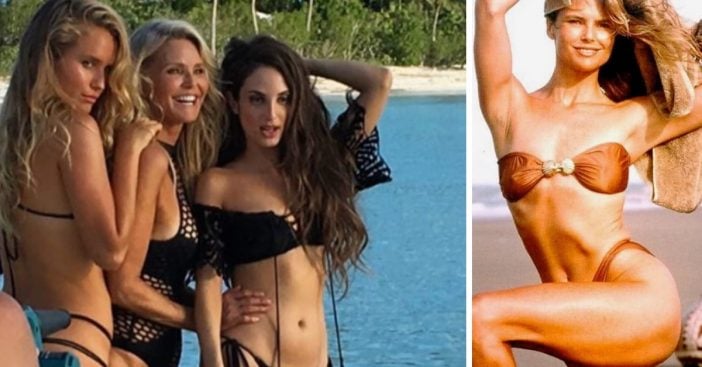 Christie Brinkley may be 65 years old, but she looks incredible! She recently a throwback photo of herself on the beach with her two daughters. Christie posed in a black mesh swimsuit and proved to us that age is just a number! She clearly takes amazing care of herself and it shows.
Her daughters look beautiful as well. Sailor Brinkley-Cook is 20, while Alexa Joel is 33 years old. After some of her fans commented on how beautiful they all look and started asking questions about her daughters, Christie decided to add a little poem to the photo caption!
See the stunning photo of Christie and her daughters
https://www.instagram.com/p/BylS2pDnBq1/
She said, "Some of the comments compel me to repost my little poem about comparing my daughters!! Here's what I think, one more time … "Ones a 'Betty' and ones a 'Veronica', One plays Piano, and one the harmonica, One is salt, the other pepper, One travels light, and ones a schlepper, One dances in moonlight and one in the Sun, But don't try to pick your favorite one Comparisons drive them both totally mad, They worry the other one will be sad, With all of their hearts they love each other and I'm so proud to be their mother!" #family #love #sisters #werenotcompeting"
https://www.instagram.com/p/ByqzUnxnPjA/
How adorable is that? It sounds like her daughters are quite opposites, but still love to spend time together! The photo is actually a behind-the-scenes photo from 2017, where she shot photos for Sports Illustrated. Christie got famous in the '70s after being a Sports Illustrated Swimsuit model, so it is only natural that she is still modeling in her 60s! She has been on over 500 of their magazine covers.
https://www.instagram.com/p/Bxr_f1mn6WC/
How the heck does she stay so youthful and glowing? Perhaps it is because of her skincare line! She owns a company called Christie Brinkley authentic skincare that has many anti-aging products.
https://www.instagram.com/p/Bya9GZrnexc/
She has also said her secret to looking younger is staying active. According to Fox News, she said, "[Keeping young] is to be able to be out there active, doing things, learning new things. Being curious about the world, taking on challenges, and constantly growing and learning, that's the fountain of youth… Those things are the things that keep invigorated."
https://www.instagram.com/p/Bw2Jr5JHcA0/
What do you think about Christie and how young she looks? Her newest photos look stunning and we cannot believe she is 65.