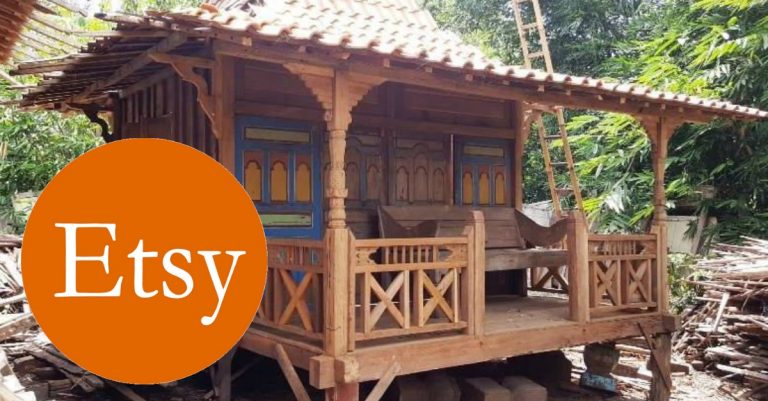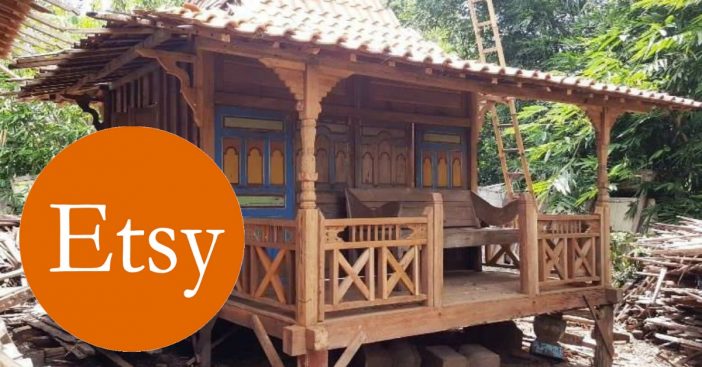 The tiny home movement shows no plans of slowing down. While there are many tiny home communities popping up around the country, especially for veterans, there are also tiny homes available that you can build yourself. Of course, it seems much easier to pay someone to build a tiny home for you, but you can save money if you're handy!
If you have the skills, DIY prefab tiny homes are starting to become available on Amazon and even Etsy, the place to buy homemade gifts and crafts online. Many of these prefab homes are available for under $10,000 (although, no word on how much shipping would cost… guessing it would be pretty expensive depending on how far they have to ship the materials).
See photos of this adorable tiny home available on Etsy
This tiny home is 16 feet by 20 feet. It sounds like it comes in pieces, so you can set up the home wherever you'd like to stay put. It was made in Indonesia with reclaimed and recycled timber. It also features terracotta tiles, carved railings, and original paintings. It sure looks like a piece of art!
The seller of this home is called TrulyJogloWoodenHome and they appear to sell other prefab homes and furniture from Indonesia. At the time of posting, the homes seem to be sold out, but we bet they will put more up soon if they are becoming that popular!
According to their Etsy page, "Arif Joglo is founder, owner, and CEO of Truly Joglo Kudus. Specialized in recycling timbers, manufacturing carved house designs and Architecture of Javanese prefab wooden houses. Antique collector and passionate about custom design wooden houses."
All of the pieces they are selling look very vintage, antique and gorgeous. People truly don't make items like that anymore. They even offer an option for custom orders. Can you imagine creating a custom tiny home with these kinds of features? It would be so much fun!
https://www.instagram.com/p/BxqN5kFhPYD/
These tiny homes would make a great tiny home of course, but it would also make a nice shed or getaway in your backyard. What do you think about this new DIY tiny home movement? Do you think you could build your own tiny home (with instructions of course)? Or would you leave it up to the experts?