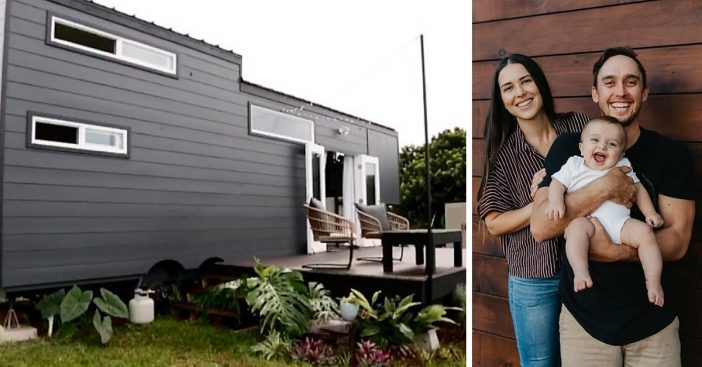 Tiny homes are a great way to lower your expenses, declutter, and be able to travel to beautiful places. One family decided to live in the beautiful Maui and build their own tiny home to enjoy. They also added lots of features that allow them to live off the grid, so they don't rely on things like an electricity or water company.
Zeena and Shane Fontanilla decided to build their own tiny home after being inspired by the show Tiny House Nation on HGTV. Their tiny home is 360 square feet and now includes a spacious deck to enjoy the outdoors. They also added solar power and a water catchment system that uses rainwater to become drinking water.
See the stunning photos
https://www.instagram.com/p/Burs3KKgdAr/
When the couple got engaged, they knew they didn't want to buy a large home and have lots of debt. They started their tiny home in 2014 and learned how to build it as they went. Of course, they did have some help from family and friends.
Building their own tiny home allowed them to design their dream layout and customize it to their needs.
https://www.instagram.com/p/Buhcu9MAJW2/
They also decided to build a customized trailer because they couldn't find one that was perfect for them. They live in farmland in Maui, one of the most beautiful places in the world.
https://www.instagram.com/p/BuehwA4AW07/
Their tiny home has a living room, double sleeping lofts, high ceilings, lots of windows, exposed ceiling beams, and more. They aimed to have their home feel modern, but still cozy and inviting.
Of course, they also have a kitchen and bathroom. In addition to the solar panels and water catchment system, they have a waterless composting toilet.
https://www.instagram.com/p/BvSBsNYgQXt/
Now, they have a baby named Maverick. They had to alter a few things in the tiny home to make room for this little baby. They will likely have to adjust other things as he gets older. The family chronicles their tiny home journey on Instagram and on their blog.
Now they help others who wish to build their own tiny home by sharing the lessons they learned in the two-year process.
https://www.instagram.com/p/BsYoDEonHb3/
What do you think about this family's off-grid tiny home in Maui? Could you see yourself living there? If you enjoyed this article and the photos, please SHARE with your friends and family who are obsessed with tiny homes!
Check out a video tour of the Fontanilla's tiny home in Maui: