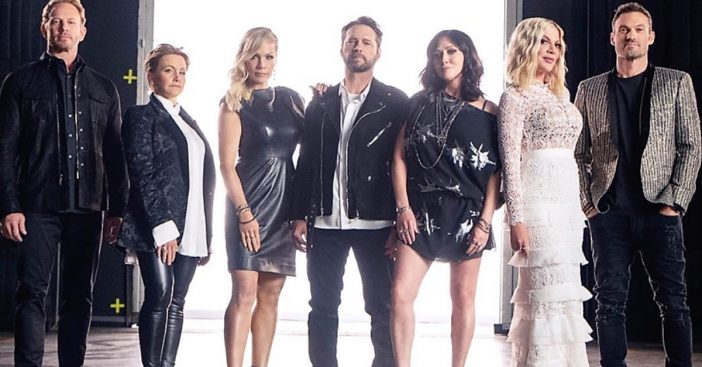 As we previously reported, there is a new Beverly Hills, 90210 reboot in the works. This time, the series will be called BH90210. It will feature most of the original cast back together and they will play "heightened versions" of themselves. We can't wait to see the cast back on screen, but it just won't be the same without Luke Perry!
Beverly Hills, 90210 was on television for 10 seasons from 1990 to 2000. The series starred Jason Priestley (Brandon Walsh), Shannen Doherty (Brenda Walsh), Jennie Garth (Kelly Taylor), Ian Ziering (Steve Sanders), Brian Austin Green (David Silver), Luke Perry (Dylan McKay), Gabrielle Carteris (Andrea Zuckerman) and Tori Spelling (Donna Martin).
View this post on Instagram
Tori Spelling and Jennie Garth actually became best friends in real life and are co-creators of the new show. They are working with Chris Alberghini and Mike Chessler. Tori and Jennie wanted to work together again, so they decided to work on the 90210 reboot!
There is a premiere date for the new show
View this post on Instagram
It will premiere on Fox on Wednesday, August 7, 2019, at 9 p.m. ET. Fox has ordered six episodes, but if the series does well, we will likely see more!
Almost all of the cast members have signed on including Gabrielle Carteris, Shannen Doherty, Jennie Garth, Brian Austin Green, Jason Priestley, Tori Spelling, and Ian Ziering. Unfortunately, Luke Perry passed away earlier this year but was apparently into the idea before his death. We wish he could be on the show too!
https://www.instagram.com/p/Bw5vCGZghNg/
According to US Magazine, the press release for BH90210 said, "What will happen when first loves, old romances, friends and frenemies come back together, as this iconic cast – whom the whole world watched grow up together – attempts to continue from where they left off?"
They are also working on a new location for the iconic Peach Pit, where many of the characters used to hang out on the show.
View this post on Instagram
Tori and Jennie also revealed that they will be using the original theme song for the new show. Fans of Beverly Hills, 90210 will likely love to see what the characters are up to these days. What do you think about a reboot of Beverly Hills, 90210 coming back to television soon? Will you be watching it?
If you enjoyed this update, please SHARE with your friends who were big fans of Beverly Hills, 90210 back in the day!