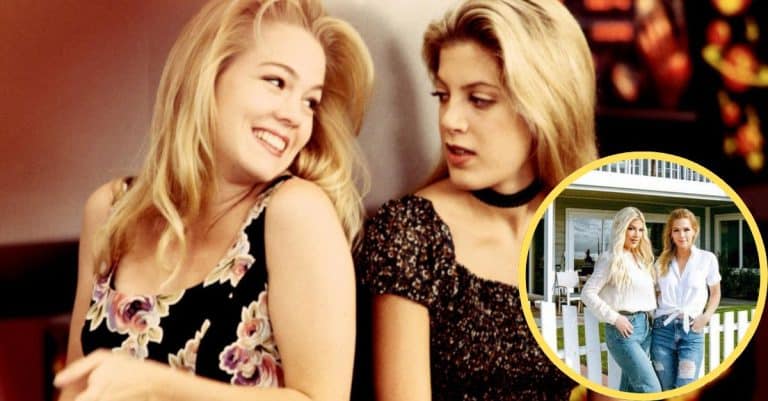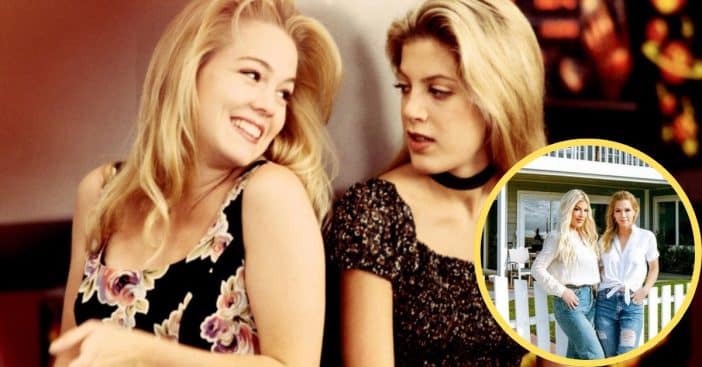 From 1990 to 2000, Fox played host to the teen drama Beverly Hills, 90210. For ten seasons, viewers followed characters played by Jason Priestley, Shannen Doherty, Jennie Garth, Tori Spelling, and more, living in an apartment that became a second home for fans.
Recently, Spelling and Garth actually took a trip down memory lane, whose ZIP code, incidentally, is 90210. The apartment where they filmed for a decade is still in tact and the two got to visit it along Hermosa Beach. Thankfully, they also shared photos of the nostalgic occasion!
Jennie Garth and Tori Spelling revisit the '90210' property
View this post on Instagram
Earlier this week, Spelling took to Instagram to share a series of photos with her 1.6 million followers. All three show Spelling and Garth standing arm-in-arm, both clad in loose white blouses and cozy jeans, their blonde hair worn loose and untied. "OMG we went back to the beach apartment," Spelling announced.
She continued, "My bff @jenniegarth and I went back to our beloved (well Kelly & Donna's beloved) beach apartment for the first time in over 20 years! And, we have the podcast to prove it! Click link in my bio to hear this fun roomie bff episode "9021OH, we're back" of @9021omgpodcast See, you CAN go home again!"
9021OMG do you remember that?
The podcast is 9021OMG, hosted by both Garth and Spelling. Each episode is of varying length, some twenty minutes, some over forty. True to their words, the actresses didn't just visit the old apartment where they spent a chunk of their lives; they reminisced about the experience like no time had passed at all. "I literally feel at home," Garth mused. "I feel very comfortable."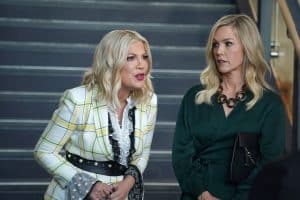 "It makes me feel very young," added Spelling. "The way we're both sitting on the couch is how we used to sit on the couch, on the set, in the beach apartment. It just reminds me of so many times [we were] just laughing." That laughter will probably be the same as it was in the '90s since, in contrast to the surrounding houses, the 90210 property has not been renovated. That's just how Garth wants it, as she wishes, "I wouldn't mind if they updated some things inside, but I want it to stay the same." This visit, after all, was the first time she stepped inside; all her shots were filmed outside.
Like no time at all passed!