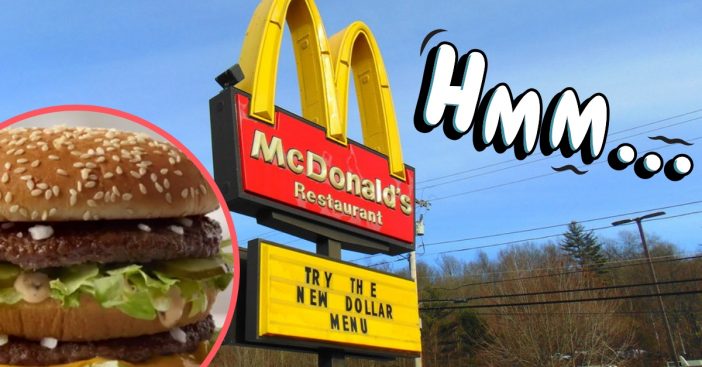 Do you remember when you could order anything off a fast food menu for $1 or less? These days, this is becoming rare as people notice that McDonald's Dollar Menu is getting slimmer and slimmer. The Dollar Menu came out in 2002 and has changed a lot over the years. It is now being called the $1 $2 $3 Menu, but most items are over $1 these days.
If you check on McDonald's website, you can see that the only thing available for just $1 is their soft drinks. Luckily, you can get any size for a dollar, which is a value, but what about the food options? Even just a few years ago, you could get a cheeseburger, chicken sandwich or breakfast burrito for just a dollar. What happened?
There was a menu update this year that wiped out the Dollar Menu
According to TODAY, a representative for McDonald's said, "We created the $1 $2 $3 Dollar Menu with the intention of occasionally rotating popular menu items to provide customers the variety and value they expect from McDonald's. The number of items will vary by market given a variety of menu items on the $1 $2 $3 Dollar Menu will be determined by local and tailored to meet the tastes and preferences of local customers."
This gives us hope that different McDonald's locations may offer $1 food items in the future, depending on the market. Of course, McDonald's is a business and wants to make money, but they have to think about the customers too because they have started complaining on social media.
Many have taken to social media to complain about the lack of $1 items at McDonald's and even compare the menu to other fast food chains like Burger King and Wendy's. McDonald's has been testing out mix and match deals instead, for example, a "2 for $5 Mix & Match Deal," where you can combine menu items for $5.
If you live in South Carolina or Texas, you're in luck. Reportedly, locations in both states are currently offering cheeseburgers and sweet tea for $1. A McDonald's in Brooklyn, New York is offering four-piece chicken nuggets for $1 as well.
What do you think? Have you noticed that McDonald's prices are creeping up? Have you started eating at another fast food place because of this? Perhaps the prices are going up because McDonald's is offering new technology like their drive-in menu.
If you found this article informative, please SHARE with your friends and family who have been complaining about the price increase at McDonald's lately!
Watch the video below to learn more about the truth about their Dollar Menu: