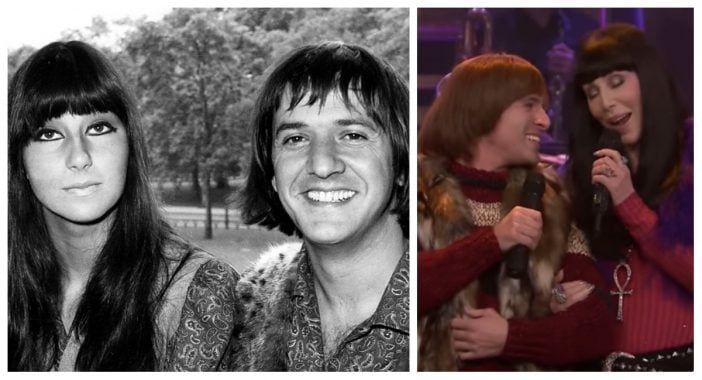 The cast of The Cher Show on Broadway took to Jimmy Fallon's The Tonight Show to perform Cher's hit "I Got You, Babe," originally by Sonny and Cher. However, all eyes were on the original Cher as she took the stage mid-song with Broadway's Sonny to finish up the rest of the song… in a recreated look, no less!
Jimmy Fallon welcomed the cast of The Cher Show, namely Jarrod Spector, who plays Cher's first husband, Sonny Bono, and Micaela Diamond who plays Cher. They were in full costume, ready to perform "I Got You, Babe." The duo sang about halfway through the song before the real Cher came out to sing!
A surprise entrance! @Cher joins to sing "I Got You Babe" https://t.co/bT99LY5d6U #FallonTonight pic.twitter.com/btRcLOxZ0O

— The Tonight Show (@FallonTonight) April 16, 2019
Cher, who is turning 73 years old soon, channeled her 19-year-old self perfectly, proving she's still got it going on! As TODAY describes it, the singer was "decked out in her own throwback fashions, from striped hip-huggers with a faux-fur vest to an ankh necklace and smoothed-down 'do."
She finished out the set with Broadway's Sonny and earned a standing ovation from the audience. Even Jimmy Fallon couldn't help but rave about the singer.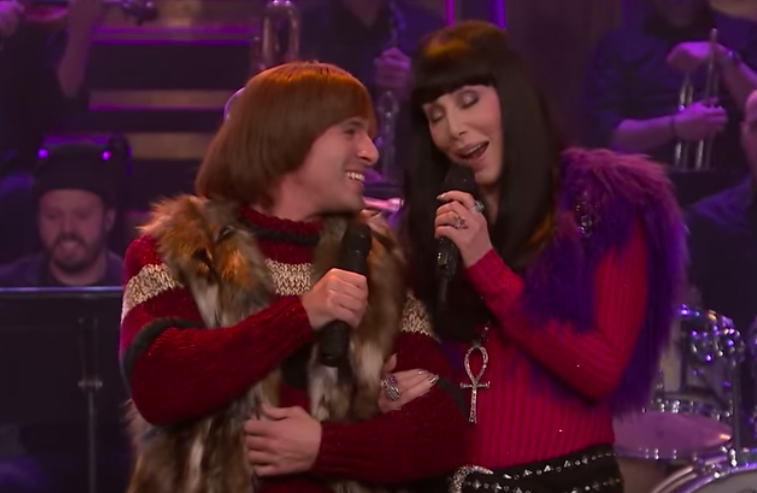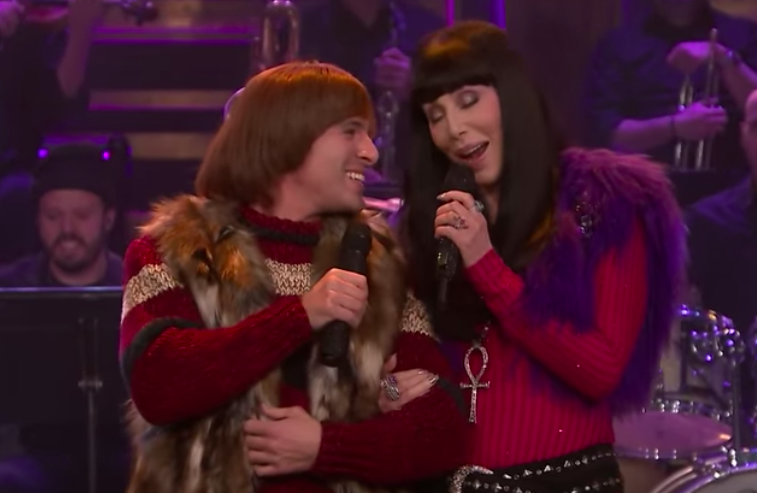 In another segment of the show, host Jimmy Fallon was raving about her, as previously mentioned. "I'm just a huge fan," he said, "Your music, you're a style icon, and you have the new Broadway musical — you're on Broadway! You're on tour! You're a movie star! You won an Oscar! Are you kidding me? Don't get me started on Moonstruck."
Then, in classic nostalgia fashion, she referenced the film and slapped Fallon across the face, twice, and told him to "snap out of it." Don't worry, we're fairly certain it was just a face-touch with a sound effect.
People on YouTube have been commenting about the performance and how it's been taking them back in time.
One commenter said, "A true legend. I remember her singing this song the first time around and she doesn't seem to have aged a day. What is her secret? Embalming fluid or eternal youth?"
Another person said, "Such an AWESOME show tonight Jimmy!! Loved every minute of it! Took me back to a time in life when life was easy, carefree and so less political…so less scary…thanks for making me smile tonight Mr. Fallon and of course, the one and only CHER!"