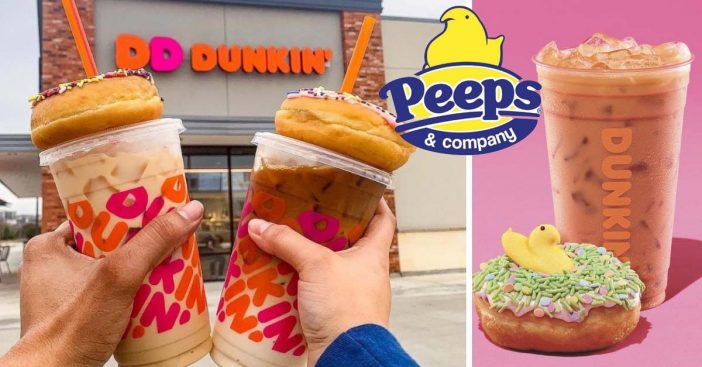 If you devour Peeps around Easter, you'll want to head to Dunkin' starting on April 1, 2019. Dunkin' is releasing new Peeps-flavored coffee drinks and donuts. They are aiming to celebrate spring with this new line of products and they will only be available for a limited time. So, don't miss out!
First up is their vanilla Peeps donut. The round donuts that you know and love from Dunkin' will have white icing, festive spring sprinkles, and a yellow Peep on top. They are also offering several new beverages with a Peeps twist.
Whether you go for hot coffee, iced coffee, espresso drinks, frozen chocolate or coffee drinks, you can order it with marshmallow Peeps flavor. If you love marshmallows, this will be a great new flavor to try at your local Dunkin'.
Dunkin' is releasing tons of new products in April
View this post on Instagram
April 1st will also be the release of several other non-Peeps related products at Dunkin'. The new products include a Chocolate Cherry Cold Brew, Iced Tea Lemonade, Frozen Lemonade, and the Sweet Sriracha Bacon Breakfast Sandwich.
Which one sounds good to you? My mouth is watering right now!
Peeps is also releasing new flavors for Easter
View this post on Instagram
If you love Peeps, keep in mind that they are releasing seven new flavors this year too! Look for new Peeps with the following flavors for Easter this year: cotton candy, pancakes & syrup, orange sherbet dipped in crème flavored fudge, root beer float, vanilla crème, chocolate caramel swirl, and blue raspberry.
What new Peeps flavor are you hoping to try this year? They all sound so delicious!
View this post on Instagram
Easter is on April 21 this year. Will you be purchasing Peeps or maybe even a Dunkin' gift card for the Easter baskets you're making? Keep in mind that the Peeps-flavored products at Dunkin' are only available for a limited time while supplies last and only available at certain locations in the United States.
Hopefully, the closest Dunkin' location will have the new products on April 1st for you to try!
View this post on Instagram
What do you think about Peeps teaming up with Dunkin' to release new coffee flavors and a new donut? Are you excited for all of the new Peeps flavors too? Please SHARE with your friends and family who love Peeps and/or Dunkin' Donuts!
Check out this video of a taste test of the new Peeps donuts from Dunkin'. Some of the locations are offering donuts with yellow AND pink Peeps: