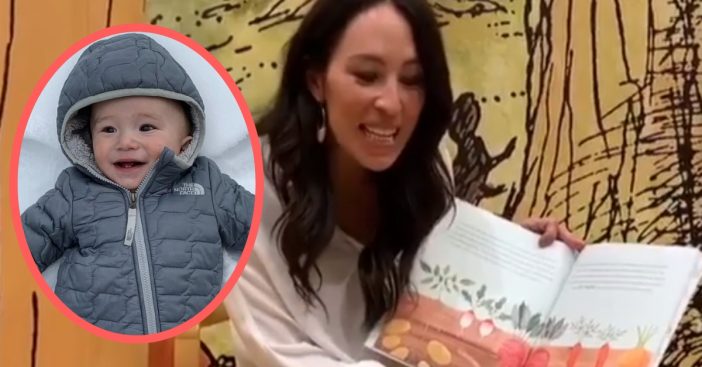 Before their latest addition, it had been almost a decade since Chip and Joanna had a baby. Needless to say, little Crew Gaines was a surprise for the famous family. Joanna recently revealed her true thoughts on having a baby at 40 years old. She said it was the secret to feeling… more relaxed?
Joanna Gaines has a lot on her plate. She owns a company with so many different facets to it including real estate, interior design, lifestyle items, books, and much more. She also has five children with her husband Chip. Having five kids alone is a lot of work, not to mention everything the Gaines family has going on! They are even working on their own lifestyle network!
A new baby made her feel young again
https://www.instagram.com/p/BsGO1rdH457/
Joanna told PEOPLE that she tells others, "If you ever want to feel young again, have a baby at 40." She calls baby Crew a special gift for her family. She also shares that having him has actually made her a lot more laid back than she was.
She admits she was once very rigid with schedules and plans. Having another baby has made her realize how spontaneous life can be and she is going with the flow!
Jo is going with the flow
https://www.instagram.com/p/BsirTezHRfu/
Chip and Joanna's other children are Drake, 13, Duke, 9, Ella, 12, Emmie, 8. She says that they love their baby brother so much and love playing with him. It is so nice that the kids love Crew! Sometimes an unexpected baby can cause turmoil in the family, but the Gaines seem like such a sweet, tight-knit crew.
https://www.instagram.com/p/BvUpbRin7LO/
Joanna has also said that she feels almost like a new mom again. Things have changed since she had her last child, so she has started to research things all over again. She also says that she is softer with Crew, where she had more of a tough love approach with her other kids.
https://www.instagram.com/p/BtZyGOWHqIo/
Joanna also jokes that maybe they will keep expanding their family.
When asked if she would consider a sixth kid she said, "I thought I was done, and then we had Crew. But Chip's always joking that he wants him to have a little sister. No plans for another baby, but then again, we've never been planners anyways."
https://www.instagram.com/p/BvfjXgzFhDM/
Would you love to see Chip and Joanna have another baby? They seem like such a nice family! Remember that Joanna and her kids recently released a children's book. Did you buy it?
If you enjoyed this article, please SHARE with your friends and family who love the Gaines family!
Learn more about what Joanna has said about having a baby in her 40s: