Budweiser, the popular beer company, shares many heartwarming commercials with their signature Clydesdale horses. Recently, Budweiser announced that their first baby Clydesdale has been born this year. The Budweiser Clydesdales made their first appearance on April 7, 1933. Now, almost 86 years later, the tradition is still going strong.
The first Budweiser Clydesdales were a gift from August A. Busch, Jr. and Adolphus Busch to their father to celebrate the end of prohibition in 1933. He was so happy to receive the gift, he cried with joy. It is said that is where the saying "crying in your beer" came from.
Learn More About The Newest Clydesdale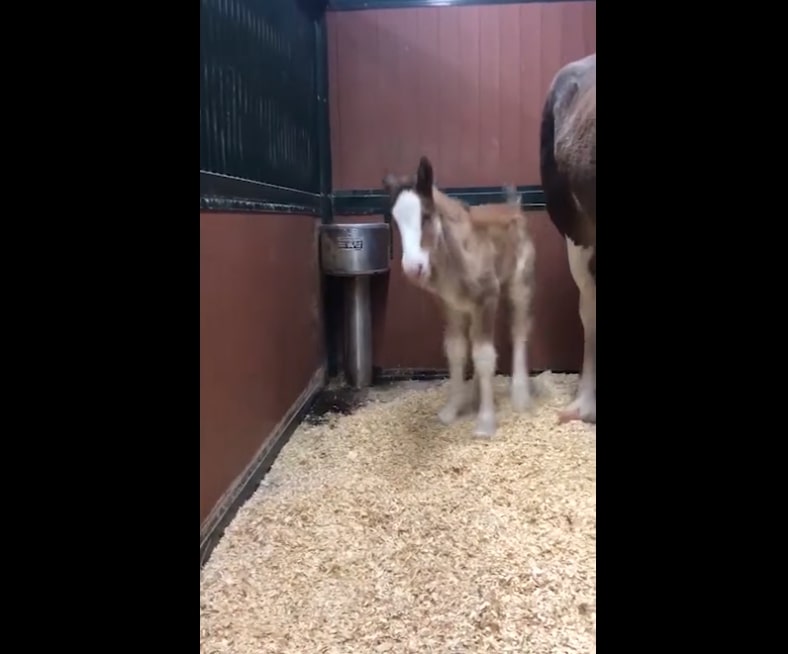 The newest Budweiser Clydesdales was born on March 13, 2019. Her name is Carly and she is so adorable! She was born at Warm Springs Ranch in Montana, which is the home of the Budweiser Clydesdales. However, she must first grow into her role as a Budweiser Clydesdales. Nothing is guaranteed!
What do you think about Budweiser beer and their iconic Clydesdales? Are you excited to learn that a new baby has been born? If you enjoyed this article, please SHARE with your friends and family who can't get enough of the Budweiser Clydesdales!
Check out this video below of Carly the Clydesdale's first moments on Earth:
There are specific criteria that the horses must meet to become an official Budweiser Clydesdale. They must be at least six feet tall, at least four years old, have a black mane and tail, and have some white markings on their face. Hopefully, Carly will join the ranks in about four years! For now, she is just so cute to watch.
Reminisce About Old Budweiser Commercials Starring Their Clydesdales
https://www.instagram.com/p/BjsF-cmFDSk/
There have been so many hilarious and heartwarming commercials about the Budweiser Clydesdales. For example, in 2004 Budweiser shared an ad that featured a donkey, not a Clydesdale. It was the donkey's story about his dreams of becoming a Budweiser Clsydese and boy, did it make us laugh!
https://www.instagram.com/p/BtWnBItg9TP/
Another great commercial was from 2013. It featured a farmer and his Clydesdale on the farm, where they were best friends. Do you remember any of these commercials? Which ones were your favorites?
https://www.instagram.com/p/Bs8uXG1AYdu/
There are actually Budweiser events that you can attend all over the country to see the gorgeous Clydesdales in person. Check their schedule to find out if they are coming to a city near you this upcoming year! It would be so cool to see these beautiful creatures up close and personal!
https://www.instagram.com/p/Bu9xVJoHym5/