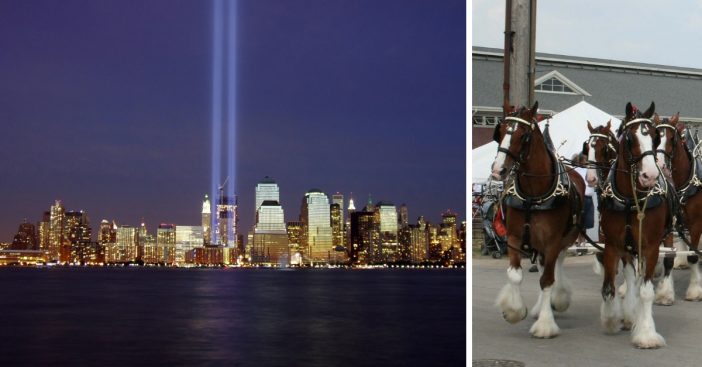 Every year Americans around the country pay tribute to the tragic events that happened on September 11, 2001, or 9/11. Every so often, an interesting advertisement pops up on your television that discusses 9/11. Even more interesting, sometimes those ads only appear once and then disappear forever. Luckily, with social media, we can recover some of these iconic videos.
During the 2002 Super Bowl, a Budweiser ad surfaced that showed the classic Budweiser Clydesdales traveling to New York City and bowing to the lower Manhatten skyline. This was a sign of respect and a tribute to those we lost during those horrific events. Budweiser didn't want to make any money off the advertisement. They just wanted to pay tribute in a classy way.
The ad was meant to appear only once. According to Business Insider, the Vice President of Marketing at the time revealed why. "With this tribute, we wanted to respectfully honor those affected by the events of September 11th," Jorn Socquet, vice president of marketing at Anheuser-Busch said in an email to Business Insider. "While the original ad aired just once, the Budweiser Clydesdales delivered our sentiments in a moving way that continues to resonate."
Even though the ad only appeared once on television, it usually resurfaces each year, thanks to social media. A video of the ad was uploaded years later in 2008. It now has over 21 million views on Youtube. Even though the video is not the best quality, the sentiment is definitely still there and will be for many years to come.
You might also remember a newer version of the ad. Budweiser updated it and aired it in 2011 as a tribute for the 10th anniversary. The updated version was released to raise awareness for the fundraising campaign for the National September 11 Memorial and Museum.
Many people on social media share their reactions to the videos all these years later. Many still love the video and think it is an appropriate tribute to those sad times. What did you think of the ad? If you haven't seen it in a while or have never seen the ad.
As always, we remember 9/11 here at Do You Remember? and we send our thoughts to those who were affected by the tragic events.
Please SHARE if you loved this Budweiser commercial that was a tribute to 9/11 and if you are sending peace out to our country.