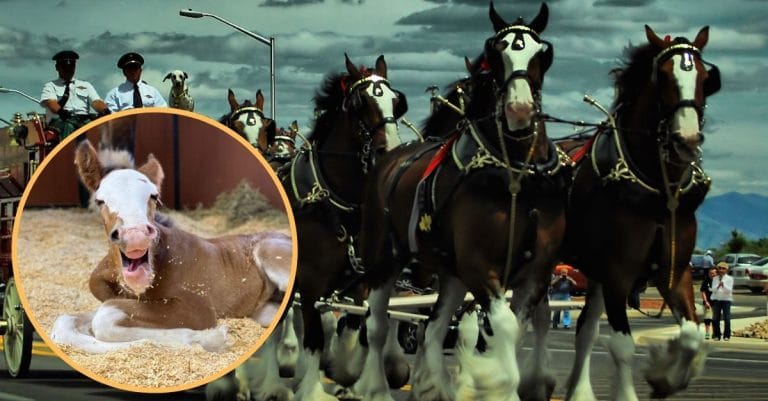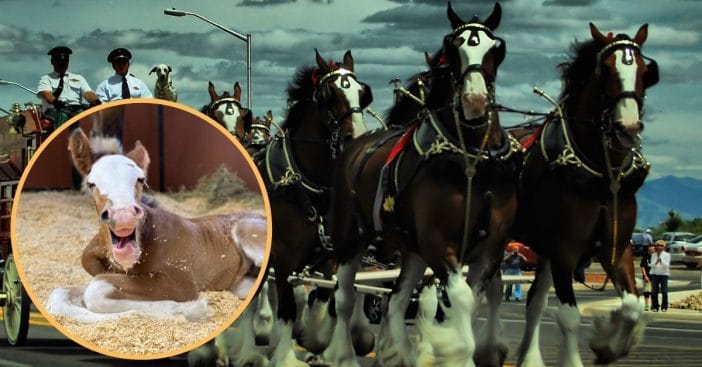 Warm Springs Ranch officially shared some new photos to their Facebook page of Budweiser's newest baby Clydesdale. Located in Boonville, Missouri, it's the main ranch used for breeding and training for Budweiser Clydesdales.
The foal's name is Eminem, born to Marcie and Myles whose names also start with an "M" hence why they chose that name, but specifically spelled like the rapper's name.
Meet the newest baby Clydesdale, Eminem
Eminem sure looks like a healthy and happy little horse! The ranch says that Eminem will undergo years of training before he tries out for the Clydesdales traveling team. At full size, his back and shoulders should reach 6 feet tall and he should weigh a total of around 2,000 lbs. Clydesdales were first introduced to the American public on April 7, 1933, to celebrate the repeal of Prohibition.
RELATED: The Story Behind The Budweiser's Clydesdale 9/11 Ad That Only Appeared Once
August A. Busch, Jr first got these horses for his father. His dad thought he was going to buy him a car, but instead, Jr pulled up with a red, white, and gold beer wagon being pulled by the famous horses. The rest truly is history for Budweiser, a brand that was actually founded back in 1876 and continues to be a popular, go-to beer today.
Even though these horses were not publicly introduced until the 1930s, the name 'Clydesdale' dates all the way back to 1826, where the horses spread through much of Scotland and into northern England, according to Wikipedia. In the early 20th century, numbers of Clydesdales began to fall due to being taken for use in the First World War and also increasing mechanization of agriculture. By the '70s, Clydesdales were considered to be vulnerable to extinction by the Rare Breeds Survival Trust. While numbers have increased ever so slightly, they're still considered an endangered breed.
RELATED: Budweiser Modernizes Controversial Vintage Ads For International Women's Day